The tendency of the media to connect any major Middle East event to biblical prophecy has itself become predictable. Since the first bombs began falling in Baghdad, journalists working the end-of-the-world beat have been calling evangelicals for comment.
"War in Babylon has evangelicals seeing Earth's final days," says the San Francisco Chronicle. "Direst of predictions for war in Iraq," a Washington Post headline reads. Even Connecticut's Norwich Bulletin says, "Are these the last days? Some Christians say so."
Do many evangelicals really see end times indicators in this second U.S. invasion of Iraq?
To find out, Christianity Today assistant online editor Todd Hertz interviewed two representatives of dispensationalism, a movement known for speculating about end-times prophecy: Todd Strandberg, the founder of the online Rapture Index and Dr. Mark Bailey president of Dallas Theological Seminary, a school widely known for dispensationalist teaching.
Bailey began at Dallas in 1987 as a professor, and in 2001 became the seminary's fifth president. Bailey's writings include essays in the books Countdown to Armageddon (Harvest House, 1999) and The Road to Armageddon (Word, 1999).
Have you seen much media attention regarding biblical prophecy and the war in Iraq?
Our faculty has had ten major media interviews in the last week. We have been in touch with Time magazine and a number of both local and national media outlets. There is always interest when there is war in the Middle East.
How does the amount of evangelical speculation differ now compared to the first Iraq war?
It is not a lot different now. Because [the first Iraq war] was so quick and new, there was probably a bigger splash. With this new conflict and the absence of Israeli events, the discussions seem less speculative.
Because the first was in the Persian Gulf region, involved others in the Middle East, and with a present city and old ruins of Babylon being located in Iraq, you had a lot of speculation in 1991. Part of that then was Hussein-created because he claimed to be the new Nebuchadnezzar of a neo-Babylonian empire. There were a number of books dialoguing with that.
Does war with Iraq appear in end-times prophecy?
I don't think Iraq or the United States are specifically identified within Scripture. So is war between the United States and Iraq predicted in the Bible? No.
What the Bible speaks to is the invasion of Israel from the North, from the East, and the coalition from the West. The regions are referred to as they relate to Israel, but there are no specific identities that would be identified as Iraq or the United States.
Jesus in Mathew 24 said that as we approach the time of his return to the Earth, there would be an increase in wars. He said these things must happen. Jesus predicted the frequency of wars, but he is the same one who said, "You don't know the day or the hour." Therefore, date setting is not a part of our priorities.
With this in mind, how should Christians respond to this war?
What we as Christians ought to be praying for are peace, righteousness, and justice. If America or any other participant in this war will obey God and do it God's way, then the result will be peace, righteousness, and justice.
From a Christian perspective, it is not whether one nation wins or loses. The question is: What does God require? A man who does justice, loves kindness, and walks humbly. Since Christ's reign will be demonstrated, according to Scriptures, by peace, righteousness, and justice, that ought to be what we pray for.
What could happen in this conflict with Iraq that could heighten dispensationalist speculation?
Since we believe in the imminent return of Christ, we are to expect him at any moment. Whenever God decides to start that clock of end time events, he will use whatever or whomever are in place. There are some who have thought the world has never been more ready than now, but in my father's generation and his father's generation, whether it was with Stalin or Khrushchev, this was said too.
It is one of the ironies of Christian life that we ought to expect that today could be the day and if it were, the events of prophecy could march at a pretty rapid rate to their fulfillment. To say this is the day is presumptuous.
If God chose for it to begin today, then everybody who is in play as it relates to Israel could be become part of end time fulfillment. But we really don't know that until it happens. The spirit of the antichrist has always been here. Anyone who denies that Jesus Christ has come in the flesh is of the spirit of antichrist.
There was a recent news article claiming that some evangelicals believe Saddam is the antichrist. Have you heard serious discussion of this?
No, but because Mussolini, Hitler, Gorbachev, and all of those were similarly posited, it doesn't surprise me. For some people, they take that jump in saying, "Let's assume the rapture happened today—who would be in position to be the antichrist?" Who knows who that would be? Too often this kind of speculation comes out of the Christian community and many times to the discrediting of the Biblical faith.
How should Christians deal with end times speculation in war?
Jesus said wars and rumors of war would take place and there would be speculation about even Himself or claims of others to be the Christ. But that would not be the end. Many false Christs and prophets will arise. Even in the days of the tribulation when you have the type of build up that is accurately described in the Bible, such as in Matthew 24:4-28, Jesus says one will still not be able to know.
Don't assume. The end is not yet. Jesus says that even with war and the rumors of war and famine, that is not the end. Even if you think you're in the middle of that seven-year build up of tribulation, you can't presume to know when it will happen. We heed the warnings of Christ not to speculate as to time and not to speculate as to identities.
Related Elsewhere
Earlier Christianity Today articles about prophecy include:
Newspapers Miss the Real End-Times Story | Plus: Not all pastors preached about Iraq on Sunday, and other stories from online sources from around the world. (March 25, 2003)
Was September 11 the Beginning of the End? | Observers say geography and gravity of attacks have led to little prophecy speculation. (September 19, 2001)
The Rapture: What Would Jesus Do? | An end-times pilgrim counts the cost of discipleship. (Feb. 6, 2001)
Scholars Dispute Fatima Prophecy | Many question whether attempted assassination of Pope fulfilled prophecy. (Aug. 11, 2000)
What Hal Lindsey Taught Me About the Second Coming | At UCLA, amid war protests and police helicopters, teachings on an imminent end made a lot of sense. (Oct. 25, 1999)
Apocalypse Now | Worried about the future? Revelation says more about church life today than about how the world will end. (Oct. 25, 1999)
Stop the Dating Game | Don't do what Jesus said can't be done. (Oct. 25, 1999)
Reflections: End Times Edition (Oct. 25, 1999)
Is Revelation Prophecy or History? | Some events described in Revelation occurred contemporaneously with the prophecies themselves. (Oct. 25, 1999)
Inside CT: Obsessed with the End Times (Oct. 5, 1998)
How Evangelicals Became Israel's Best Friend | The amazing story of Christian efforts to create and sustain the modern nation of Israel. (Oct. 5, 1998)
The Bible Study at the End of the World | Recent novels by evangelical leaders say more about popular American Christianity than about the end times. (Sept. 1, 1997)
Issue 61 of Christianity Today sister publication Christian History examined how Christians have perceived prophecies about end of the world.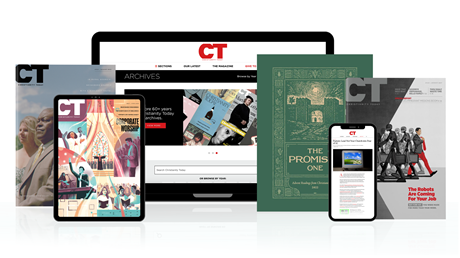 Subscribe to Christianity Today and get access to this article plus 65+ years of archives.
Home delivery of CT magazine
Complete access to articles on ChristianityToday.com
Over 120 years of magazine archives plus full access to all of CT's online archives
Subscribe Now
The End Is Not Yet
The End Is Not Yet