Prayers of Kenyan truckers captured by Iraqis answered
Last Thursday, David Shira Mukaria and Jakubu Maina Kamau were shown on the Arabic satellite television channel al-Jazeera along with the bodies of slain British soldiers. But Mukaria and Kamau weren't soldiers—they were Kenyan civilians who work for the Springfood company in Saudi Arabia. As part of their job, they'd been contracted to bring water and food from Camp Rhino in Kuwait to U.S. troops in Iraq. (Earlier reports said they were bringing water and food aid to Iraqi prisoners of war.)
"The other trucks [in the convoy] finished unloading before us," Mukaria explained. "On the way back we lost the way. The convoy switched off the lights and they were driving too fast."
Outside Basra, they were captured. "They beat us, tied us up, tied our hands and feet and covered our eyes and they took everything we had," Mukaria told The Scotsman. "They kept us there for 10 days. We had no food or water, nothing. We decided, because we are Christians, we would ask God to save us or take our souls to heaven. We prayed to God every day. We could not see them but we heard them talking. Some of them were speaking in English. Some of them said 'Kill them,' some of them said 'No.' We just prayed and prayed."
Their prayers were answered. "David and I are both Christians, and this morning I said, 'We must pray together for a miracle,'" says Kamau. "So we prayed, and 30 minutes later the door swung open, and there were two British soldiers standing there. God must have given them the power to save us. It really was a miracle that they came."
The story appears in several places today, but almost all are written by The Scotsman's Gethin Chamberlain, who is embedded with the Black Watch regiment. The BBC, however, has video.
Franklin Graham under fire for plans to aid Iraq
As we noted earlier, Franklin Graham's Samaritan's Purse plans to bring drinking water systems, shelter, household items, and medical kits to Iraq as soon as the fighting abates. The group also plans to bring spiritual relief.
"We go where we have the opportunity to meet needs," Ken Isaacs, international director of projects for Samaritan's Purse, said in a Religion News Service article posted on our site last week. "We do not deny the name of Christ. We believe in sharing him in deed and in word. We'll be who we are."
Such an effort horrifies some, and a backlash is appearing in the press.
"Franklin Graham obviously thinks it is a war against Islam," Ibrahim Hooper, spokesman for the Council on American-Islamic Relations, told Beliefnet (see World's recent cover story on Hooper's organization). "This is a guy who gave the invocation at President Bush's inauguration and believes Islam is a wicked faith. And he's going to go into Iraq in the wake of an invading army and convert people to Christianity? Nothing good is coming of that." Groups like Graham's, he says, "go after [Muslims] when they're most vulnerable and hope they can get them to leave their faith. It's a very despicable practice."
Hooper also talked to The Washington Post, calling Graham's plan "a colossally bad move."
He's not the only one complaining. In an MSNBC opinion piece, Ira Rifkin says Graham's plans (as well as similar ones from the Southern Baptist Convention) are "the last thing the Bush administration needs. … Should he acquiesce to evangelical demands, the result would be untold damage to American interests worldwide that no amount of presidential posturing about Islam being 'a religion of peace' would undo."
The condemnations have also been picked up by Reuters, USA Today, The Denver Post, and other media outlets.
But Graham and his organization say the story isn't much of a story. He told Beliefnet that he first went to Baghdad 30 years ago, and that Samaritan's Purse has been working closely with Christians in Iraq since the last Gulf War. "I know exactly what the situation is, and I've briefed my people very well on it," he said.
And he's well aware of potential problems of combining evangelism with relief work. After all, this isn't Samaritan's Purse's first relief effort—it isn't it's first war relief effort, either. "I would not take advantage of these people in their hour of tragedy to force them or coerce them to make them Christian converts," Graham told USA Today. "I don't do that at any time."
"We are an evangelical organization, nobody denies that," Isaacs told The Washington Post. "At the same time, I think it's important to recognize we're a very experienced relief organization. Compassion and service is a vital expression of Christianity. We don't have an evangelism strategy. We don't have a strategy to share our faith. … We don't have Bibles waiting in the wings, or Christian literature waiting in the wings."
Besides, says Isaacs, Samaritan's Purse is already working in several Muslim countries. "Muslims in positions of authority know what Franklin has said, and they have confronted us with it. And I just say, 'You know what? Our work will speak for itself.'"
Roy Oksnevad, director of the Ministries to Muslims Department at the Billy Graham Center at Wheaton College, says meeting spiritual needs while meeting physical ones isn't "despicable" at all. "Oftentimes, in times of crisis, it's important for us as Christians to walk with people and pray with them and help them find peace," he told The Denver Post. "And ultimately peace is found in Christ."
Still, says Fuller Seminary president Richard Mouw, it's about both spiritual and physical relief—and relief organizations must remember both. "We must do this with a genuine desire to serve human needs. If this is viewed as a pretense for evangelism, it will only hurt the Christian cause—and perhaps further endanger the lives of the 600,000 Christians in Iraq," he says in a Beliefnet piece. "I rejoice in the stated purposes of the Southern Baptists and Franklin Graham's ministry. And I will pray that these evangelicals will be given both the wisdom and courage to witness silently but compellingly to the spirit of Jesus as they perform this crucial humanitarian work."
More articles
Christians for and against Iraq war:
Spirituality in the military:
Sermons and prayers about war:
Missions and ministry:
Crime:
Marriage and family:
Clergy sex abuse:
Other religions and interfaith relations:
Education:
Related Elsewhere
Suggest links and stories by sending e-mail to weblog@christianitytoday.com
See our past Weblog updates:
March 31
March 28 | 27 | 26 | 25 | 24
March 21 | 20 | 19 | 18 | 17
March 14 | 13 | 12 | 11 | 10
March 7 | 6 | 5 | 4 | 3
February 28 | 27 | 26 | 25 | 24
February 21 | 20 | 19 | 18 | 17
and more, back to November 1999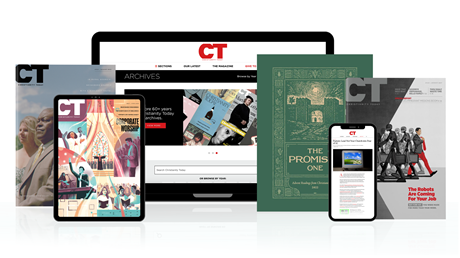 Annual & Monthly subscriptions available.
Print & Digital Issues of CT magazine
Complete access to every article on ChristianityToday.com
Unlimited access to 65+ years of CT's online archives
Member-only special issues
Subscribe
Freed Kenyans Thank God For Iraq Rescue
Freed Kenyans Thank God For Iraq Rescue