The New York Times focuses on evangelical attempts to "woo" Muslims
In May 2002, Mother Jones ran a cover article titled, "False Prophets: Inside the Evangelical Movement That Aims to Eliminate Islam." The shocking revelation of the article was that evangelical missionaries, in a "stealth crusade," are serving in Muslim countries and sharing their faith. It reported that the mission was to "wipe out Islam."
In reaction, Books & Culture executive editor Michael G. Maudlin wrote, "The religious illiteracy demonstrated by Mother Jones should be embarrassing. What did they think missionaries do? … If this is our attempt to eliminate Islam, then we are guilty as charged. In the same vein, then, Pepsi is guilty of wanting to eliminate Coke drinkers."
Amazingly, a year later, many of the same charges have made the front page of today's New York Times. The headline reads: "Seeing Islam as 'evil' faith, evangelicals seek converts." The article, its captions, and its jump headlines refer to evangelical attempts to "lure" and "woo" Muslims.
Religion reporter Laurie Goodstein's piece begins at an Ohio training seminar on Muslim evangelism. The teacher discussed the need for a respectful, loving approach, Goodstein writes, but—shockingly—focused on Islamic teachings that show it to be fraudulent and violent. Goodstein argues that the unnamed instructor fails to give the full picture of Islam and intermingles "accepted facts with negative accounts of Islamic teaching, history, and tradition."
Goodstein uses this training session to demonstrate her thesis: "At the grass roots of evangelical Christianity, many are now absorbing the antipathy for Islam that emerged last year with the incendiary comments of ministers … Evangelicals have always believed that all other religions are wrong, but what is notable now is the vituperation." As proof, the Times pulls out all the old quotes about Islam from Franklin Graham, Pat Robertson, Jerry Vines, and Jerry Falwell. (Oddly, none of the vituperation from Islamic clerics—such as the fatwa that declared Falwell "must be killed"—was quoted.)
Other supposed evidence of evangelicalism's growing focus for Islam are the increasing numbers of books and lectures criticizing Islam since 9/11. Granted, there has been increased awareness and interest in Islam. (Christianity Today has published three cover stories on it since September 11, 2001.) But does this equal vituperation, which the fourth edition of the American Heritage Dictionary defines as "sustained, harshly abusive language?"
"The oratorical tone of these authors and lecturers varies," Goodstein writes. "But they share the basic presumption that the world's two largest religions are headed for a confrontation, with Christianity representing what is good, true, and peaceful, and Islam what is evil, false, and violent."
So Christians believe in Christianity—there's a surprise. In the middle of the story, Goodstein admits that, "in interviews, evangelical authors and lecturers said their work did not denigrate Islam as much as share the truth about Christianity." That Goodstein questions this notion is clear.
But why are evangelicals now concerned with Islam? Goodstein says that evangelicals cite a combination of the war with Iraq, the September 11 attacks, the growing numbers of U.S. Muslims, and the demise of communism, which was evangelicalism's public enemy no. 1.
While Goodstein attended the missionary training seminar and discusses the recent National Association of Evangelicals' conference on Christian-Muslim dialogue, she only quotes one notable evangelical leader, Rich Cizik, vice president for governmental affairs of the National Association of Evangelicals (NAE). He comments that Islam has replaced the Soviet Union as a major focus of concern for evangelicals.
In addition to Cizik, Goodstein quotes Akbar Ahmed, chairman of the Islamic studies department at American University and author of Islam Under Siege, Charles Kimball, writer of When Religion Becomes Evil, and Robert Edgar of the National Council of Churches.
Goodstein uses Edgar to stress the "interfaith understanding" of liberal and mainline Protestant and Catholic denominations. "These churches acknowledge theological differences … but stress common roots and essential compatibility," Goodstein writes. She contrasts it with the evangelical view.
"The National Association of Evangelicals called on Christian leaders this month to temper their anti-Islam oratory, saying it had been unhelpful to interfaith relations, and dangerous to Christians spreading the gospel to Muslims," the story says. "While some evangelical leaders welcomed the criticism, others bristled and said that it was not the Christians but the Muslims who must stop the hate-speech."
What Goodstein fails to mention is that the NAE guidelines that came out of the meeting comment more on efforts at interfaith understanding than the negative sound bytes by evangelists like Graham and Falwell. The guidelines also point out that in Muslim-Christian dialogue, Christians must "give testimony to the Gospel of Jesus Christ, because it is our duty to do so." More vituperation, it seems.
Related Elsewhere
Suggest links and stories by sending e-mail to weblog@christianitytoday.com
Check out Books & Culture's weblog, Content & Context.
See our past Weblog updates:
May 23 | 22 | 21 | 20 | 19
May 15 | 14 | 13 | 12
May 9 | 8 | 7 | 6 | 5
May 2 | 1 | April 30 | 29 | 28
April 25 | 24 | 23 | 22 | 21
April 17 | 16 | 15 | 14
April 11 | 10 | 9 | 8 | 7
and more, back to November 1999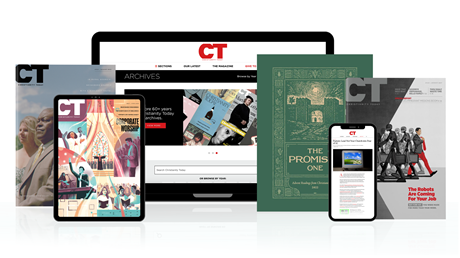 Annual & Monthly subscriptions available.
Print & Digital Issues of CT magazine
Complete access to every article on ChristianityToday.com
Unlimited access to 65+ years of CT's online archives
Member-only special issues
Subscribe
The New York Times Breaks the News That Christians Evangelize Muslims
The New York Times Breaks the News That Christians ...