On September 3, 1901, Macedonian guerillas captured an American missionary named Ellen Stone and her traveling companions and dragged them into the mountains of their Turkish-controlled Balkan province. From the moment during the abduction when the revolutionaries brutally killed a Muslim trader who wandered onto the scene, things looked bad for Miss Stone and her party.
This was the first time America found itself facing the capture and holding for ransom of an American missionary on foreign soil. It was the first time, but—as we are reminded by Martin and Gracia Burnham's tragic story—not the last, that American missionaries would pay the price of citizenship in a superpower. For it was not the gospel she brought but the perceived power and wealth of her nation that made Ellen a target.
We see this, and much else, with greater clarity in the account of the "Miss Stone Affair" recently published by Pulitzer prize-winning author Teresa Carpenter.
Carpenter's book, The Miss Stone Affair: America's First Modern Hostage Crisis (Simon & Schuster, 2003), tells how Stone, a Massachusetts-born descendent of Miles Standish who had dedicated her life to teaching the Bible to young women at schools in the Balkans, found herself caught up on that brisk fall day in 1901 in the region's political unrest.
Like the many other American missionaries who would experience a similar captivity, Stone was victimized by insurgents who believed the injustices they had faced justified using human lives as negotiating chits. And in becoming one of those chits, Stone found that what had before seemed a lonely pursuit of a divine calling had now brought her into the international spotlight.
As Miss Stone's captivity dragged on, she found herself—as would others after her—helplessly watching powerful factions wrestling over her very life. The story is far too complicated to tell here; and besides, I don't want to spoil Carpenter's compelling narrative. But the "usual suspects" and their motivations emerge early in the tale.
These include, of course, the thuggish captors exploiting, for political and economic gain, the publicity sparked by their deeds. They also include the government of the soil where the capture occurred—in this case, the Ottoman Turks—driven by their concern for law and order to pursue policies of force that endangered the lives of the captives.
They include, too, a missionary establishment afraid that any ransom, once publicized, would court an "open season" on American nationals spreading the gospel abroad. Indeed, in the Miss Stone Affair, missionaries in the field petitioned the American Board of Foreign Missions to reject the revolutionaries' demands and leave the captives to their fate, rather than to set such a dangerous precedent.
Here, too, we find the opportunistic media powers—the Pulitzers and Hearsts and McClures, doggedly pursuing and sometimes influencing the course of "The Story." Carpenter convincingly shows how these moguls engaged in their own parody of the hostage negotiations, seeking not the release of a captive, but the latest juicy details or, after the fact, the exclusive rights to the survivors' stories.
The American government, of course, was soon whirled into its own delicate dance of negotiation, caught between public opinion at home and diplomatic exigencies abroad. The famously macho president Theodore Roosevelt, unschooled in the egalitarian annals of Christian martyrdom, grumbled that women should not be trekking into harm's way and resisted any but a token American involvement. (His exact words were, "Women have no earthly business to go out as missionaries into these wild countries.")
When the tabloids of Pulitzer and Hearst made Miss Stone's plight a cause celebre, however, Roosevelt, though still insisting "of course the government has no power whatever to guarantee the payment of the ransom," began to consider sending warships to the area to cow the Turkish government into action. (He never did it.)
Finally, Carpenter allows us to peer back through the years at a gaping Victorian public. Ordinary Americans looked on as the details of their compatriots' ordeal unfolded—drawn magnetically by life-and-death negotiations charged with political, economic, and religious interest.
Banner headlines and appeals from Christian pulpits kept Stone's plight before this concerned public, and soon even children were emptying pennies from their piggy banks into collection plates. Unfortunately, the amounts raised through such appeals were published in the American papers, and the kidnappers, reading the figures, proved less and less motivated to release their captives any time soon.
Ellen Stone's ordeal ended as well as possible. Through complex political negotiations, the money was raised and delivered, and the captors, after several weeks' delay, released the missionary and her companions. (Reaching this point in Carpenter's masterful telling, I finally felt free to exhale.)
In the intervening years, not all such crises, of course, have ended so well. Today we still mourn with Gracia Burnham over the loss of her husband Martin. Whenever a new hostage situation grabs the headlines, we are cast back into the same web of conflicted interests and difficult decisions that Carpenter details so vividly in The Miss Stone Affair.
And the answers haven't gotten any easier.
Chris Armstrong is managing editor of Christian History magazine. More Christian history, including a list of events that occurred this week in the church's past, is available at ChristianHistory.net. Subscriptions to the quarterly print magazine are also available.
Related Elsewhere:
Other stories appearing on our site today include:
Did Martin Die Needlessly? | Gracia Burnham believes her husband would be alive today if someone had paid the proper ransom—but mission agencies wonder how many other missionaries would have been kidnapped as a result.
Gracia Burnham: 'I Speak My Mind' | The former hostage talks openly about what she learned about God, her Muslim captors, and herself during her captivity.
Dogging the Story | Christian media can play a special role in cases like the kidnapping of the Burnhams.
Christian History Corner appears every Friday at ChristianityToday.com. Previous editions include:
When World Leaders Pray | Some observers are upset with Tony Blair's recent public avowal of faith. But what impact has Christianity really had on our leaders? (May 16, 2003)
Got Your 'Spiritual Director' Yet? | The roots of a resurgent practice, plus 14 books for further study. (May 2, 2003)
Missionary Tales from the Iraqi Front | The modern Anglican mission to Iraq met with initial success, but its story sounds a cautionary note. (April 25, 2003)
The Goodness of Good Friday | An unhappy celebration—isn't that an oxymoron? (Apr. 17, 2003)
Top Ten Entry Points to Christian History | Some enjoyable ways to get the most out of the work of church historians. (Apr. 11, 2003)
Top Ten 'Starter Books' | Get rooted in the Christian past with these riveting reads of primary sources. (Apr. 4, 2003)
Top Ten Reasons to Know Christian History | War reports deluge us every hour. Why should we read "old news?" (Mar. 28, 2003)
Saint J. R. R. the Evangelist | Tolkien wanted his Lord of the Rings to echo the "Lord of Lords"—but do we have ears to hear? (March 14, 2003)
Iraqi Christians' Path of Persecution | Not heresy hunters, nor Islamic purges, nor even Mongol hordes could wipe Christianity from Iraq. (March 7, 2003)
Article continues below
Heresy, Salvation, and Jack the Ripper | Why heresy trials will have to do, until something better comes along (Feb. 28, 2003)
Hajj, Feasts, and Pilgrimage | Why Muslims, Jews, and Christians still yearn for their holy places. (Feb. 21, 2003)
Play Me That Hot Puritan Love Song | A little-read book of the Bible reminds us of the astonishing intimacy we enjoy with Christ (Feb. 14, 2003)
Iraq's Christians Caught in the Middle, Again | If the looming war breaks out, 350,000 Iraqi Christians will be caught in a West-East conflict eerily similar to 4th-century events. (Feb. 7, 2003)
Finding God in a Box | Have archaeological discoveries like the James ossuary served or obscured the quest to verify the Bible? (Jan. 31, 2003)
Sex, Politics, and the Bible | Some words just don't mean what they used to (Jan. 24, 2003)
Caveat Gyrator (Elvis Priestly, Part II) | So you've got an evangelistic pop-culture act ready for prime time. Here's a historical pause for reflection. (Jan. 17, 2003)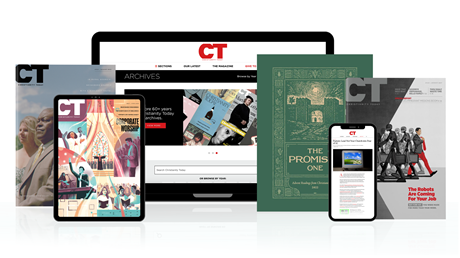 Annual & Monthly subscriptions available.
Print & Digital Issues of CT magazine
Complete access to every article on ChristianityToday.com
Unlimited access to 65+ years of CT's online archives
Member-only special issues
Subscribe
The Day the Ransoming Began
The Day the Ransoming Began