Yesterday Weblog reported that Chester police were investigating Rev. Peter Forster, Bishop of Chester, for saying homosexuals can "reorientate themselves." Today, British papers report Forster will not face hate crimes charges for saying homosexuals don't have to be homosexuals. The Cheshire police investigated a complaint about the bishop's remarks but said, "The Crown Prosecution Service has been consulted at length and Cheshire police are satisfied that no criminal offence has been committed, as current public order legislation does not provide specific offences based on sexuality."
Forster had told the Chester Chronicle "Some people who are primarily homosexual can reorientate themselves. I would encourage them to consider that as an option, but I would not set myself up as a medical specialist on the subject - that's in the area of psychiatric health. We want to help them but I don't offer it as a panacea. I am about giving honor to marriage." He also emphasized "maximum tolerance" for those who "choose not to conform to matrimony." Forster did not comment after the investigation.
It looks as though the bishop did not commit a hate crime only because there are no laws prohibiting "inciting hatred" against the gay community. "Although it is illegal to incite racial hatred, there is at present no equivalent ban on inciting hatred against the lesbian and gay community," says the Chester Chronicle. Therefore Forster could not be charged with inciting hatred by saying gays can change, if they want to.
As proof of the absurdity of homosexuals changing their sexual orientation, the BBC is reporting on the many ways psychiatrists have tried to "treat" homosexuality in the past including brainwashing, electric shock aversion therapy, hallucinogenic drugs, and odd surgical means of boosting testosterone. But the article does admit it is not politically correct to say gays can change because it denies gay activists' claim that homosexuality is not a choice.
The BBC quotes Robert Spitzer, who says that 78 percent of gay men reported a change in homosexuality after undergoing therapy. The BBC better be careful who they quote if they want to publish anything in Colorado, where a woman may violate a court ruling if her daughter reads it …
Court raps mom on homophobic leaflets
Last week Weblog reported that a Colorado judge forbade Dr. Cheryl Clark from exposing her child to anything that might be considered homophobic. Yesterday, The Washington Timesreported he specifically meant Focus on the Family and Promise Keepers materials. (PK materials use Robert Spitzer's research, you'll have to scroll down a bit to find it.) The Washington Times says, "it was those materials that prompted a Denver judge to forbid Dr. Clark from exposing her daughter to anything 'that can be considered homophobic.' "
Clark recently appealed the ruling with the help of the Liberty Counsel. The Colorado Court of Appeals has agreed to hear the case.
Weblog could not find a response on the Focus on the Family website, but Bill Maier, Focus' vice president toldThe Washington Times, "The purpose of Focus on the Family is to strengthen the family in America. It is a sad commentary when a judge would consider a church homophobic because they display our materials."
Focus recently had a lawsuit reinstated, in which a bus company refused to post advertisements for a Focus on the Family conference on homosexuality called, Love Won Out.
"Denver District Court Judge John W. Coughlin issued his order after Miss McLeod [Clark's former lover] testified that the religious materials at Dr. Clark's church were 'somehow improper,' according to the appeal," reports The Washington Times. "[Miss McLeod] did not think Dr. Clark's church was appropriate because it had Promise Keepers pamphlets in the foyer," the appeal states. No response on the Promise Keepers website.
Matthew Staver, president of the Liberty Counsel said, "We think this is the first case of its kind in the country that has gone that far. We believe it sets a dangerous trend to undermine the rights of parents and religious freedom." Also at issue is whether Clark's former lover, who did not adopt the child, has any right to custody.
According to the Associated Press, "University of California at Berkeley law professor Joan Hollinger, said, 'It seems way beyond the authority of a court to attempt to control the content of religious instruction, or the lack thereof.' "
Related Elsewhere
Suggest links and stories by sending e-mail to weblog@christianitytoday.com
Check out Books & Culture's weblog, Content & Context.
See our past Weblog updates:
November 7b | 7a | 6 | 5 | 3
October 31 | 30 | 29 | 28 | 27
October 24 | 23 | 22 | 21
October 17 b | 17a | 16 | 15 | 13
October 10 | 9 | 8 | 6
October 3 | 2 | 1 | September 30 | 29
September 25 | 24 | 23 | 22
and more, back to November 1999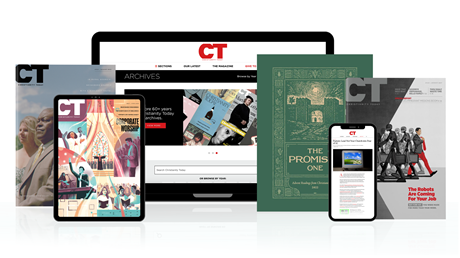 Annual & Monthly subscriptions available.
Print & Digital Issues of CT magazine
Complete access to every article on ChristianityToday.com
Unlimited access to 65+ years of CT's online archives
Member-only special issues
Subscribe
Bishop Committed No Hate Crime Saying Gays Can Change
Bishop Committed No Hate Crime Saying Gays Can Change