Federal appeals court says RLUIPA is unconstitutional
The battle over the Religious Land Use and Institutionalized Persons Act of 2000 continues, this time with a major setback to the law. Last Friday, a three-judge panel of the 6th U.S. Circuit Court of Appeals ruled that the law is "unconstitutional because it has the primary effect of advancing religion."
Four Ohio prisoners—a white supremacist, a Norse pagan, a Wiccan, and a Satanist—had sued the state under RLUIPA, alleging that they were denied religious literature and an opportunity to conduct religious services. The state said that the prisoners were simply gang members using the law "to claim religious status in order to insulate their illicit activities from scrutiny."
The court ruled that such a shield "giv[es] religious prisoners a preferred status in the prison community," and that it unconstitutionally grants "greater protection to religious rights than to other constitutionally protected rights."
While the 6th Circuit's decision is limited to the "institutionalized persons" sections of the law, the score is now 2-1: the 9th Circuit and 7th Circuit courts of appeal have upheld RLUIPA. Another case is pending in the 4th Circuit, appealing a negative ruling from a U.S. District Court judge.
All this means that there's a good chance that the Supreme Court will have to hear one of these RLUIPA cases to get everyone on the same page.
If you're really interested in the battle over this law, which also has huge implications for church battles against city zoning, among other issues, check out the Becket Fund's site wholly devoted to the subject.
The missing piece
The Religion Newswriters Association recently announced that Jeff Sheler would serve as its new president. Yes, the same Jeff Sheler known for his excellent religion reporting over at U.S. News & World Report. But no longer. Though he was responsible for several of the magazine's best-selling issues ever, the magazine included him in a recent round of layoffs.
That means that staffing for religion writers at top newsweeklies has fallen to its lowest levels in more than 50 years, the RNA's Debra L. Mason noted. The only full-time religion reporter is Time's David Van Biema—but the RNA says that his job is only "primarily" on faith.
U.S. News's Sara Sklaroff told the RNA not to worry: some "incredible generalists" on staff will maintain its level of religion news. But an incident this week shows the magazine could use a full-timer. The publication just released the bookazine Mysteries of Faith, a collection of its religion articles. Among the inclusions was a 2000 cover story, "The Mormon Way," retitled "In John Smith's Steps." Uh, might they be referring to Mormonism founder Joseph Smith? Oops. Then there's this new caption on a photo: "A statue of Joseph Smith flanks the Mormon Tabernacle in Salt Lake City."
"The caption manages to contain two errors in 13 words," notes the Deseret Morning News (that's actually Brigham Young in front of the Mormon Temple). "At least they got the city right. Heck, the temple might have suddenly been moved to Denver."
Then there's some religion called "Catholism" in the table of contents.
"Somebody took a snooze at the keyboard," magazine spokesman Richard Folkers explained. "Yeah, there are all the excuses about having a small staff that's overworked and all that, but the bottom line is we're paid not to have this happen."
Of course, the truly sad story about this reduction in staffing won't be in the typos the magazine makes, but the important stories that it misses by not having a religion reporter constantly pounding the pavement on the religion beat.
More articles
Politics and law:
10 Commandments, Roy Moore:
Missions:
Messianic Judaism:
Anglican fallout:
Catholicism:
Clergy abuse:
Science and religion:
Music:
Related Elsewhere
Suggest links and stories by sending e-mail to weblog@christianitytoday.com
Check out Books & Culture's weblog, Content & Context.
See our past Weblog updates:
November 11 | 10
November 7b | 7a | 6 | 5 | 3
October 31 | 30 | 29 | 28 | 27
October 24 | 23 | 22 | 21
October 17 b | 17a | 16 | 15 | 13
October 10 | 9 | 8 | 6
October 3 | 2 | 1 | September 30 | 29
and more, back to November 1999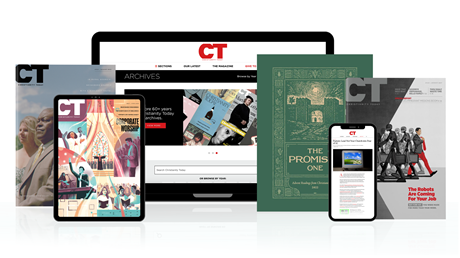 Annual & Monthly subscriptions available.
Print & Digital Issues of CT magazine
Complete access to every article on ChristianityToday.com
Unlimited access to 65+ years of CT's online archives
Member-only special issues
Subscribe
The Messy Battle Over Federal Religious Freedom Law
The Messy Battle Over Federal Religious Freedom Law