true
This week, Elf, Love Actually, and that Matrix flick are inspiring so much discussion that Film Forum will wait until next week to focus on the next potential blockbusters of the Oscar season.
But if you're eager to get the scoop on Peter Weir's Master and Commander: The Far Side of the World, a spectacular and suspenseful high-seas adventure starring Russell Crowe and Paul Bettany, my full review of the film is posted here, and Michael Elliott's review is up at Movie Parables.
Similarly, for parents curious about whether to take the family to see Looney Toons: Back in Action, Michael Elliott's enthusiastic review is also available.
Christian film critics differ over whether there's enough Jesus inElf
"If you're looking to get in the holiday spirit," writes Cliff Vaughn (Ethics Daily), "check out Elf. [It] hearkens back to classic Christmas films and manages to capture some of that magic. Elf delivers some genuine laughs and is diminutive only in name."
Michael Elliott (Movie Parables) calls it "a feel good holiday movie with charm to spare. Will Ferrell is perfectly cast as the ever cheerful, overly-excited, human elf. Even if a joke or gag is lacking, Ferrell's consistency in his characterization sells it to us and makes it work. It's a giddy performance. [The movie is] remarkably inoffensive in its content."
Bob Waliszewski (Plugged In) notes that "positive lessons about the importance of the family—especially bonding with a father—are underscored. Still, Elf is not as pure as the driven snow. Some mild language problems, a wink at inebriation and a complete avoidance of the season's Bethlehem roots mix some mud into it."
Apparently some critics really do wish this fantasy world where Santa lives still included the real-world details of Christ's birth. David DiCerto (Catholic News Service) issues a complaint: "Regrettably, while Elf is full of Christmas spirit, spirituality is noticeably absent. Searching for a Nativity or another even remotely religious symbol in the film's winter wonderland is like trying to find a wrapped gift in Whoville after the Grinch came to town."
This doesn't bother Holly McClure (Crosswalk), who exclaims, "I can't say enough good things about this movie! I consider this to be the perfect holiday present for the whole family! Give yourself the gift of Elf for Christmas and discover the simple pleasure of believing in the spirit of Christmas!"
"Whether or not you support the idea of Santa Claus at Christmas," says Chris Monroe (Christian Spotlight), "this film at least uses it to promote a clear biblical concept: faith. Overall Elf inspires us to think about what true goodness can do to affect even the most hardened people."
My review is at Looking Closer.
Love Actually … or is it lust, actually?
Director Richard Curtis hit home-runs at the box office with his romantic comedies about stuffy Brits and reckless Americans. Four Weddings and a Funeral, Notting Hill, and Bridget Jones's Diary have all become lasting audience favorites. His latest, Love Actually, features his biggest cast of stars yet.
Hugh Grant plays the new British prime minister, who falls for a member of his staff (Martine McCutcheon). Colin Firth is a writer whose battlescarred heart finds love again. Emma Thompson, whose absence from screens in recent years has been obvious, plays a woman whose relationship with her husband (Alan Rickman) is showing signs of wear and tear. Pirates of the Caribbean's Keira Knightly plays a newlywed, Liam Neeson has a role as a widowed stepfather, Laura Linney plays a woman with a long-concealed crush, and Bill Nighy is a hit as a rock star past his prime but attempting a tacky comeback.
Romance films are always popular during the holiday season, and Curtis is considered a champion of the genre. But mainstream press critics have mixed feelings about Love Actually. Religious press critics are mostly displeased with what they argue has little to do with real love.
Michael Elliott (Movie Parables) writes, "There are humorous moments to be sure. There are also some genuinely sincere, heartfelt sentiments expressed. Certainly, some stories are more effective than others and some are funnier. But they all share one thing in common. Oddly enough—it isn't love."
Anne Navarro (CNS) disagrees. "It doesn't confine itself to romantic love … but allows for the true love that exists among friends, that flows from parents to children, and is present between siblings. The film's driving force is that love in its every form is within grasp, if only we reach for it. Clever dialogue, several perfectly delivered zingers and fine performances camouflage the narrative's flimsy parts." But she does have one objection: "The film is seriously marred by the inclusion of the unwarranted, brazen sexual visuals."
Michael Medved (Crosswalk) says it "represents the cinematic equivalent of one of those elegant, charming Christmas confections … gorgeous to the eye and sweet to the taste, but providing almost nothing in terms of substantive nourishment."
Steven Isaac (Plugged In) says, "Love is all that matters here. Morals don't matter. Respect doesn't matter. Propriety doesn't matter. Marital status doesn't matter. Gender doesn't matter. It's a disgrace to even call it love under such conditions. Lust and codependency would do much better."
Mainstream critics tend to agree the film spreads its many plots rather thin, but they differ over the success of this approach. Ryan Gilbey (The Independent) is unimpressed with "its self-referential irony, its preference for tics and eccentricities over flesh-and-blood characterisation, and its escalating structure of competing climaxes. Love Actually is the Kill Bill of romantic comedies."
Critics sing along with Anything But Love
Bringing back the style and glamour of '50s-era Technicolor musicals, Anything But Love follows the story of a young cabaret singer with a dream of the big time. Isabel Rose plays Billie Golden, a present-day music lover who wants to return to days gone by in hopes of becoming the next Rita Hayworth. Charmed by a young hotshot (Cameron Bancroft) and then befriended by a talented pianist (Andrew McCarthy), she finds herself torn between love and opportunity.
Gerri Pare (Catholic News Service) says, "The movie's modest charms lie not in the familiar love triangle but in the creative way director Robert Cary has stretched his low-budget film to include fantasy musical sequences and period detail from 50 years ago that make Billie's love of that era so convincing. While the ending is too pat and cuddly, it's hard not to enjoy the plucky spirit of this feel-good movie."
Movieguide's reviewer says it's "not a horrible film," but concludes that it is "easily forgettable, somewhat amateurish, and contains some content for mature audiences."
Mystery, madness, and skin disease in The Singing Detective
Dan Dark is a detective-story writer who has suffered since childhood from psoriatic arthorpathy, a degenerative disease of the skin and bones. In Keith Gordon's film based on Dennis Potter's popular British television miniseries The Singing Detective, Dark finds himself in the hospital, his disease progressing. In his delirium, he struggles to make sense of his life, and the lines between truth and fiction begin to blur.
In the miniseries, Dark was portrayed by Michael Gambon (Open Range, The Insider, Gosford Park.) Here, the role goes to the notorious Robert Downey, Jr. Katie Holmes (Pieces of April) plays his nurse, Mel Gibson appears as his psychiatrist, and Robin Wright Penn plays his ex-wife whom he suspects has stolen his screenplay. Tormented, Dark slips into a hallucinatory re-imagining of his own detective yarn, and these dream sequences feature appearances by Jeremy Northam, Adrian Brody, and John Polito. It's a bizarre and surrealistic trip through "dark" comedy, investigations, melodrama, film noir conventions, and 1950s rock-and-roll.
David DiCerto (Catholic News Service) calls it an "unevenly engaging, at times morally abrasive, genre-defying cocktail." He cautions viewers about "a particularly raunchy sex scene," but concludes that the film "closes on a hopeful note. This glimmer of redemption imbues the narrative with allegorical import, reminding viewers that there is no heart so scarred by personal pain that it can not be made clean by the balm of love."
But Movieguide says, "The movie's slightly moral, redemptive ending cannot overcome the movie's humanist outlook on personal trauma, or its strong foul language, explicit sex scenes, and very gross images of the hero's terrible skin disease."
More disappointment over The Matrix Revolutions
Christian press critics continued chewing on the latest and last episode in the Matrix trilogy this week. And, unlike those who gave The Matrix Revolutions limited praise in last week's Film Forum, this week's reviews are almost all quite dismissive of the effort. But regardless of the overwhelmingly negative response to the film in the mainstream press, the film broke box office records this week, more than $204 million between Wednesday and Sunday, the most ever made by a film in its first five days.
"Revolutions is better than many of the summer's action blockbusters," says J. Robert Parks (The Phantom Tollbooth), who offers the most positive review of the bunch. "The acting is good across the board … and the movie attempts to offer a commentary on our world and will certainly provoke some discussion. The movie's potentially Christian allegory will inspire many a late-night argument. Unfortunately, the movie itself doesn't inspire much else." At the same site, Trae Cadenhead calls it "conclusive yet unsatisfying."
Andrew Coffin (World) says, "The philosophical depths at which the first film hinted turn out to be as artificial and overblown as the special effects that have defined the series. But audiences are unlikely to care much after wasting two hours with this derivative, repetitive, mess of a film."
"[It] gets right a lot of what its predecessor got wrong," writes Steven D. Greydanus (Decent Films). "But The Matrix Revolutions hardly makes a convincing existentialist tract. For that matter, it hardly makes a convincing conclusion to the Matrix trilogy. I would rather think of [it] not as the conclusion of a trilogy per se, but as part a of misguided two-part sequel to an original, groundbreaking film."
"Who'd have thought that when it was all said and done, The Matrix would turn out to be about love?" asks Steven Isaac (Plugged In). "Revolutions leaves moviegoers with the indelible impression that love conquers all." But he concludes, "Don't let flimsy allusions to theological truth inspire you to see this chaotically violent head trip."
"The film never pays off," writes D. J. Williams (Christian Spotlight). "Though there is no doubt that Revolutions is a spectacular achievement in action films, as the end of an epic trilogy it is found significantly lacking. Though I'm sure the ending makes perfect sense to the Wachowskis … they forgot to tell the rest of us exactly what it means—leading to a conclusion that leaves viewers feeling cheated."
Steve Lansingh (The Film Forum) says, "The Matrix was a film that helped enrich my conception of a human being living with saviorhood looming over him. But by the time we get to Revolutions, Neo stoically heads off on his preordained path with virtually no emotion; the script told him what to do and so he's doing it. The Wachowski brothers seem to be involved mainly in universe-building, in expanding the palette of places and people in their fiction. Their main story—the one about overcoming our human resistance to belief, to prophecy and destiny—fades away."
My full review is at Looking Closer.
For an interesting, and humorous, comparison of the three Matrix films, look at the compare/contrast chart posted at Metaphilm.
Mad about Mystic River
Clint Eastwood's Mystic River, which took some hits from religious press critics a few weeks back, earns a rave review this week from Carole McDonnell (The Film Forum). She writes, "The slow dissection of the grief and pain surrounding a murder is heart-wrenching under the hand of director Clint Eastwood. The film has many themes: guilt and expiation, ancestral sins, community and belonging. But it is only at the end that the film's major theme is apparent. And that theme is what gives the movie its last good punch. The mystic river is the emotional river of human rationalizations, especially the rationalizations made by Christians who take grace for granted and who create their own ways of atoning for their sins."
Next week:Master and Commander: The Far Side of the World heralds the return of Peter Weir and Russell Crowe.
Also posted today is an interview with Elf producer Todd Komarnicki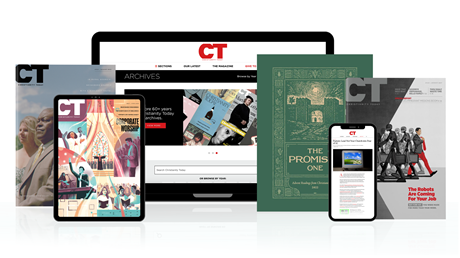 Annual & Monthly subscriptions available.
Print & Digital Issues of CT magazine
Complete access to every article on ChristianityToday.com
Unlimited access to 65+ years of CT's online archives
Member-only special issues
Subscribe
Can Elf's Jesusless Christmas Still Be Good?
Can Elf's Jesusless Christmas Still Be Good?