When fires swept through Harbison Canyon near San Diego, October 25 and 26, it destroyed almost half of the homes in the community—along with the canyon's only church. Mark Mueller, pastor of Emmanuel Christian Church, was on vacation in Lake Tahoe with his family when they learned of the inferno. A friend from their church saved some of the family's most important items, but could not prevent the church and the Muellers' home from burning down, along with those of nine other church members—more than a third of his 25-family congregation.
On their return, Mueller tried to prepare his three children to see their home in ashes. But, he says now, he was not prepared for the outpouring of compassion from churches around the country, nor for the opportunities Emmanuel Christian Church would have to become more involved in the lives of the residents of Harbison Canyon.
The part of the so-called Cedar fire that raged through Harbison Canyon destroyed more than 280,000 acres, 2,232 residences, cost $27 million, left 14 dead, and injured 104 firefighters before they finally brought it under control. The California Department of Forestry said it took 1,478 firefighters to combat the blaze. According to residents who stayed, says Mueller, the fire swept down the 500-foot hills in seconds. The intense heat melted his family's play set that remained 50 feet away from the flames, leaving only a puddle of plastic.
When Red Cross volunteer Jim Garlow arrived in the canyon, he saw no emergency services. Garlow, who is also senior pastor of Skyline Wesleyan Church in La Mesa, was sent by the Red Cross to help the residents of Harbison Canyon. "I was absolutely stunned," Garlow said. "It was considerably worse than I expected. I could hardly find any homes standing." He contacted the Red Cross and asked if his church could "adopt" the canyon. The Red Cross was stretched so thin, Garlow said, they encouraged Garlow and his church to do whatever they could. Within two hours, 10 people had come to help. The next morning, October 31, 75 people came to counsel residents, clean up, and provide food and shelter. By the end of the weekend, more than 500 Skyline members had come to help, with more turned away because there was nothing left to do.
Care and Cleanup
As soon as Mueller arrived home with his family, he got involved with the community leadership arranging shelter for families, providing counseling, helping people apply for loans from the Federal Emergency Management Agency or the Small Business Administration. "I was working many hours a day taking different assignments to call agencies and contact officials, reach out to individuals. A lot of people who just needed to talk to somebody, or who needed specific help, would be directed my way, so I'd sit down and try to pull something together for them."
Mueller's Emmanuel Christian Church joined Garlow's Skyline Wesleyan Church in setting up a relief camp in a canyon park. By Saturday, less than a week after the fire, hundreds of people from Skyline arrived in the canyon. "We tried to get as many people as we could to simply walk the sites, carry pizzas, carry water, love them, laugh with those who laugh and cry with those who cry," Garlow said. He also called Ray Guinta, whom he had met at the former World Trade Center site following 9/11. Guinta, who has followed disasters as a chaplain for 15 years, trained Skyline members to counsel Harbison Canyon residents.
Several larger churches, including Skyline and Shadow Mountain Community Church, adopted other area communities. "They've got crews cleaning up lots and debris," Mueller said. "When you're in a community that looks like it's been attacked, getting that debris removed is really important for emotional recovery. At least you're back down to the bare dirt and ready to rebuild." Shadow Mountain also committed to rebuilding Emmanuel Christian's chapel. "They're adopting us as a congregation," said Mueller. "They are going to do whatever it takes to get my home and our chapel rebuilt as soon as possible. That's phenomenally loving and generous for them to do that."
The building was insured, and Mueller has not yet applied for federal assistance in rebuilding. The congregation is still deciding considering its options, he said.
New opportunities
Meanwhile, the assistance has been opportunity for evangelism. "The fact that the larger body of Christ came in and lent so much help is showing people the side of Christianity some of them didn't know about," Mueller said. "A lot of the smaller churches from as far away as Pennsylvania have called to offer assistance. Our congregation has been working long hours every day just helping the community. I've become a lot better known. They see that I'm trying to help the community, working really hard, available for people, serving." Mueller said Emmanuel Christian now has more opportunities to reach out to the community than in the church's eight-year history there.
Emmanuel Christian Church moved to Harbison Canyon after a couple from the church moved their family to the rural community. Mueller said many people thought the couple was crazy to try and raise a family in the notoriously rough town. "The community used to have a bad reputation. It had a lot of police calls, drug activity, bikers, a nudist camp down the road, the bar scene." But Mueller said since the church bought a chapel, the community has become much more family friendly. Other families in the church also moved to Harbison.
Still, it has been a difficult place for the 90-member church to share the gospel. It is the only church in the town of about 400 residences, nearly 200 of which were destroyed in the fire. Mueller said, in that respect, the fire has had some positive effects. "It's a small community, but my take on it is that the Lord loves people in every nook and cranny on the earth. He loves them enough to send me here and our congregation to work among them. We're committed to rebuilding and taking advantage of the new relationships we have with members of the community that we didn't have formerly."
Despite the difficulties, Mueller said God has given him an opportunity to learn lessons he could not have otherwise learned. "What I preached the first Sunday after I got back was that the early believers suffered the loss of their property with joy, knowing they have a better possession. We're to be content with food and covering. Our life doesn't consist of the abundance of our possessions. My emphasis was that what's really valuable we still have intact and that's our relationship with the Lord. This is an opportunity to live out and walk through the Scriptures that say count it all joy."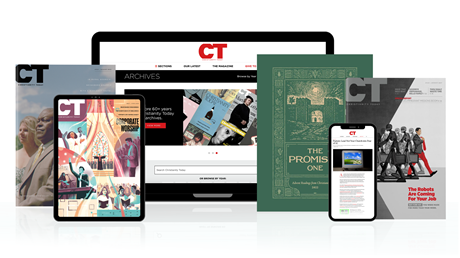 Subscribe to Christianity Today and get access to this article plus 65+ years of archives.
Home delivery of CT magazine
Complete access to articles on ChristianityToday.com
Over 120 years of magazine archives plus full access to all of CT's online archives
Subscribe Now
Churches Respond After the California Fires
Churches Respond After the California Fires