Forty years after the assassination of President John F. Kennedy, only half of Americans are alive to remember it, and many Americans are looking away from the Kennedy's Camelot to the fairytales of another man who died that day: Clive Staples Lewis.
C.S. Lewis's death was overlooked on that November 22 in 1963, but historian Mark Summers of the University of Kentucky argues that today Lewis is more relevant to those who cannot answer the question "where were you when JFK was shot?" "In terms of how he's affected the kids of my generation and the rest, I have a feeling that C.S. Lewis may have affected them more than John Kennedy." Summers told The Louisville Courier-Journal.
The attacks on September 11 have provided a new point of reference, but Joe Loconte argues that C. S. Lewis continues to teach us about faith at a time when "sane thinking about religion" is especially needed. Lewis's late conversion to Christianity allowed him to see clearly when the faithful saw only cliché, Loconte says.
A British soldier in World War I, Lewis came of age during the rise of communism and fascism. Along with his generation, Lewis saw evil as a potent force, which he confronted in his books of apologetics and fairytale.
In Saturday's New York Times, Loconte writes, "In a harrowing scene from his science fiction novel Perelandra, the protagonist, Prof. Elwin Ransom, battles a mad scientist horribly disfigured by his lust for power. Lewis writes: "What was before him appeared no longer a creature of corrupted will. It was corruption itself to which will was attached only as an instrument." It was the tragedy of human nature to have the free will to choose, and to choose evil. Loconte says, "While Oxford agnostics howled, Lewis gave BBC talks on theology that were a national sensation. Even his beloved children's stories, The Chronicles of Narnia, ring with biblical themes of sin and redemption. No one did more to make 'the repellent doctrines' of Christianity plausible to modern ears."
In fact, it was Lewis who brought Charles Colson bawling to God. Colson wrote last week, "In 1973, in the midst of the Watergate crisis, I visited the home of a friend who read to me from Mere Christianity. In that book, I encountered a formidable intellect and a logical argument that I found utterly persuasive. That night in the driveway of my friend's home I called out to God in a flood of tears and surrendered my life to Christ."
Colson argues, "Lewis's influence in the marketplace of ideas spreads daily." Though Lewis may not have imagined that his own church would be suffering from a potential breakup over gay clergy and gay marriage, Lewis still has something to say on the matter. In an opinion piece this weekend, Dallas-Fort Worth Star-Telegram writer Alan Cochrum looks to Lewis for help as the nation debates gay marriage. In Mere Christianity Lewis writes, "Churches should frankly recognize that the majority … are not Christians and, therefore, cannot be expected to live Christian lives. There ought to be two distinct kinds of marriage: one governed by the State with rules enforced on all citizens, the other governed by the Church with rules enforced by her on her own members."
Though Lewis was considering divorce, his words still guide our reflection on issues of today. Cochrum says, "Christian thinkers should keep two factors in mind: Laws against acts by willing adults, however well-founded morally, are notoriously hard to enforce; and such regulations, once they lose the support of the populace, may birth contempt for morality and the law itself. (See: Prohibition.) … But marriage is fundamentally the crystallizing of a relationship, with its attendant roles, responsibilities, possibilities. Changing the players changes those factors, and it changes society as elements play themselves out and as the ripple effects spread in unexpected but logical ways."
And it is not simply the logic of Christian thinkers that Lewis continues to shape, but the imagination of the culture. In the recently released DVD of the extended version of Peter Jackson's film adaptation of J.R.R. Tolkien's The Two Towers, C.S. Lewis plays a part. One reviewer writes, "There's an informative discussion with literary scholars about how conversations between authors J.R.R. Tolkien and C.S. Lewis—and their frustration about the lack of stories they liked to read—became the catalyst for the authors to create their masterworks The Lord of the Rings and The Chronicles of Narnia, respectively."
While evangelical Christians keep writing and writing about engaging culture and finding God in popular culture, C.S. Lewis has been there, done that. The Chronicles of Narnia boxed set (one of many offerings) maintains an Amazon.com "sales ranking" of 65; according to one estimate, this easily translates into hundreds of sales per day. In comparison, the wildly popular Left Behind novel ranks 2,077, translating to a about a dozen sales per day. In addition, there are rumors that Peter Jackson's company Weta Workshop has already begun working on the first of five film adaptations of Lewis's Chronicles of Narnia. The project may be as big as The Lord of the Rings movies, and if so, the influence that C.S. Lewis has on culture will have only just begun.
More Articles
Sexual ethics:
Colin Powell reveals he teaches sexual abstinence to girls | "Abstinence is a good thing to teach young people before they're ready for the responsibilities of sexual activity," Mr Powell said. "Abstinence works. We know it works … and it is a perfectly sensible strategy to take to young people." (The Independent, London)
Also: Powell defends US policy on Aids | American Secretary of State Colin Powell has said the US is making a greater contribution to fighting HIV/Aids than any other country (BBC, audio)
Troublesome archbishop runs a little further from grace | Archbishop Emanuel Milingo has done it again: run off with a woman (The Age, Melbourne, Australia)
Church counselor charged in sex abuse | A counselor at an East End church has been charged with sexually abusing three young girls over the past several years (Newsday)
Hefner ads too close for college's comfort | Andrew Puzder, president and chief executive of CKE Restaurants Inc., which owns Carl's Jr. and has featured Hefner in recent commercials, resigned this week from Thomas Aquinas College's board of governors (Los Angeles Times)
Key criminal cases of clergy sexual abuse | Highlights of criminal cases since January 2002 involving U.S. Roman Catholic officials' handling of sexual misconduct allegations against clergy (Associated Press)
Cincinnati archdiocese fined for covering up abuse (Reuters)
2 former students accuse priest of molestation | Two former students of a Roman Catholic school have filed suit against a priest who taught there and the school's religious order, alleging he abused them. (AP)
Gay Marriage:
Battle fronts form over marriage laws | Traditional-marriage advocates who are taking their battle against California's new domestic-partnership law to the streets and the courts face several important deadlines next month (The Washington Times)
Decision on gay marriage creates a thorny issue for 2004 race | Most of the Democratic presidential candidates went to great lengths on Tuesday to emphasize that they opposed gay marriage, even as they restated their support for some forms of legal rights for same-sex couples (The New York Times)
Gays' victory leaves Massachusetts lawmakers hesitant | The Massachusetts legislature was awash in turmoil and indecision on Wednesday as lawmakers struggled to come to terms with the meaning of the court ruling that legalized gay marriage in the state (The New York Times)
Conservatives mobilize against ruling on gay marriage | Representatives from half a dozen conservative groups met on Wednesday to plan a national strategy to counter it, focusing their initial efforts on a federal constitutional amendment to ban gay marriage (The New York Times)
Gay marriage ruling up against an array of legal barriers | Legal experts stressed Tuesday that while the courts have had the first word on whether same-sex couples may wed, they may not have the last (Los Angeles Times)
Parties uneasy over politics of gay marriage | Opposition may make GOP seem intolerant. Democrats fear it could pry voters away (Los Angeles Times)
Marriage:
The trouble with marriage | Laura Kipnis has provoked a storm in the US with a new book attacking marriage. Here, she explains why monogamy turns nice people into household tyrants (The Age, Melbourne, Australia)
Rules on marital status bias vary by area | Can a landlord turn down an otherwise qualified couple because they can't produce a wedding license? That depends on where they were applying for housing. (Los Angeles Times)
Religion and politics:
5th Circuit: Texas can keep religious codes at Capitol | Thomas Van Orden had sued to have Ten Commandments monument removed, calling it endorsement of Judeo-Christian beliefs by state government (Associated Press)
Tennessee county officials withdraw God resolution | Knox County commissioners' 10-9 vote against Resolution 101 brought standing ovation in the half-filled auditorium (Associated Press)
A new moral majority? | The president of the Christian Coalition is a big supporter of Bush (no surprise). But she's also happy to work with Hillary (big surprise) (The New York Times Magazine)
Blair a 'man of strong faith', says Bush | President visiting Britain Tuesday (AFP)
Clergy group to counter conservatives | Clergy Leadership Network will operate from an expressly religious, expressly partisan point of view (The New York Times)
Social justice:
Churches ally against crime | Ivey gives faith leaders a role in addressing social problems (The Washington Post)
'In service of God,' more could be sharing their blessings | Volunteers needed to help serve poor (The Washington Post)
Faith and the struggle for social justice | Jim Sleeper reviews A Stone of Hope: Prophetic Religion and the Death of Jim Crow by David L. Chappell (Los Angeles Times)
Dreams begin anew on a half-acre lot | For three families, Habitat for Humanity homes are life-changers in Costa Mesa. The L.A. chapter builds its 100th (Los Angeles Times)
Rising demand squeezes food banks | In the last decade, government has shifted onto charities the job of making food available to the poor, unemployed, disabled and housebound (The New York Times)
Religious leaders attack rules on housing for New Jersey poor | They say proposed new rules for providing more low- and moderate-income housing would further concentrate poverty in the cities, and they called for a show of opposition at public hearings next week (The New York Times)
Ethnic churches:
Church offers haven, link to heritage | Large Korean congregation provides language lessons and other services while becoming a community force (The Washington Post)
One man's goal: For a tribe to pray in its own language | Fewer than 600 people in the Passamaquoddys' indigenous land — eastern Maine and the adjacent region of Canada — now speak Passamaquoddy or Maliseet, a dialect. And of those who do, fewer still can pray in the language, in part because most prayers were taught their ancestors in either Latin or English, by the Jesuits and the Anglicans who followed (The New York Times)
Religious sites showcase L.A.'s ethnic diversity | For nearly four years, architectural photographer Robert Berger drove all over Los Angeles, looking for historic houses of worship to capture on film (Los Angeles Times)
Black churches:
A family life filled with faith | Black churches returning to historical role as providers of sanctuary and aid to members (The Washington Post)
Churches tend to sway voters, but not policy | The importance of large black churches during political seasons stems from their role as the primary destination for tens of thousands of potential local voters on Sundays (The Washington Post)
Education:
Colleges fail to encourage spiritual ideas, study finds | Students in UCLA survey say they value religious beliefs but that schools evade the issue (Los Angeles Times)
Colleges rarely delve into spiritual issues, students say in poll (The New York Times)
Testaments to a teacher | As divinity professor nears half-century at Howard, his lessons still illuminate (The Washington Post)
Republicans revive D.C. voucher plan | Congressional passage sought this week (The Washington Post)
Students strike selfish pose | Just think how much more money schools could spend on educating children if they weren't besieged by lawsuits from parents seething because they and their children weren't given their own way (Editorial, Los Angeles Times)
Republicans reach deal on D.C. vouchers plan | They'll roll the $13 million measure and the District's $5.6 billion budget into a giant federal spending bill that Democrats conceded they would not filibuster (The Washington Post)
Giving:
Charitable contributions vary by racial group and ethnicity | Study Finds older Hispanics give more time, less money (The Washington Post)
Many churches look to tithing to help meet needs | While many houses of worship offer some type of public accounting, especially those that are part of larger denominations, other churches operate more secretly (The Washington Post)
Good faith formed between churches, banks | Financial collective opens avenues for members (The Washington Post)
Reaping a joyful return on tithing | Normally, a guy buying a new car doesn't stoke my interest. Then I checked the price tag: $350,000 out the door. And then the buyer: John Crean. (Dana Parsons, Los Angeles Times)
New equation for charities: More money, less oversight | America has the world's biggest collection of charities, but oversight of the nonprofit sector is parochial, piecemeal, political and, at times, accidental (The New York Times)
Giving | A New York Times special section (The New York Times)
Related Elsewhere
Suggest links and stories by sending e-mail to weblog@christianitytoday.com
Check out Books & Culture's weblog, Content & Context.
See our past Weblog updates:
November 21 | 20 | 19 | 18 | 17
November 14 | 13 | 12 | 11 | 10
November 7b | 7a | 6 | 5 | 3
October 31 | 30 | 29 | 28 | 27
October 24 | 23 | 22 | 21
October 17 b | 17a | 16 | 15 | 13
October 10 | 9 | 8 | 6
and more, back to November 1999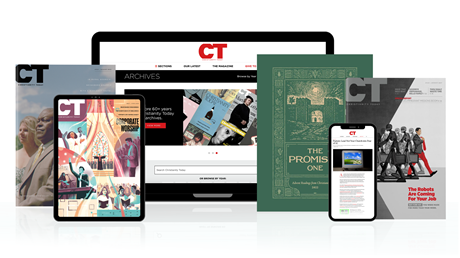 Annual & Monthly subscriptions available.
Print & Digital Issues of CT magazine
Complete access to every article on ChristianityToday.com
Unlimited access to 65+ years of CT's online archives
Member-only special issues
Subscribe
"Weblog: Forty Years Later, C.S. Lewis's Influence Tops JFK"
"Weblog: Forty Years Later, C.S. Lewis's Influence Tops JFK"