Fourteen Thanksgivings ago in the pages of Christianity Today, Philip Yancey shared a powerful meditation on giving thanks in a time of suffering and fear. Its source was one of Christianity's most complex and compelling poets: John Donne.
Born in England in 1571, "Jack" Donne spent his youth in dissoluteness and rebelliousness, expressed in witty erotic poetry. Turning at last to Christ, Donne came to see himself as a prodigal saved only by grace.
Through a middle age marked by increasing devotion to Christ—but also by poverty and discouragement—he turned his evident poetic skill to the great themes of love, death, and God's mercy. Then in 1615 he became an ordained Anglican priest, whereafter he poured his creative energies more into sermons than poems.
During a near-fatal illness in the year 1623, however, Donne turned again to poetry, completing his most famous volume, the Devotions upon Emergent Occasions. Each day, the bedridden clergyman heard from his window the church bells of London announcing that the Black Plague—then scourging Europe—had taken more victims. Donne was convinced he, too, had the plague and would soon die (in his famous phrase, the person "for whom the bell tolled" was himself).
It turned out that he did not die quite yet; he recovered, living on to the age of 59 or 60. But in the teeth of his suffering and fear, Donne poured out verses reaching towards God.
These poems speak, as Yancey says, to "the guilt and fear and helpless faith that marked [Donne's] darkest days." They also answer one of the toughest questions we can face, "In the midst of plague times, how can we give thanks?"
Here are the three poems excerpted by Yancey, with his clarifying revisions of Donne's eighteenth-century language:
O eternal and most gracious God, you have reserved your perfect joy and perfect glory for the future when we will possess, forever, all that can in any way conduce to our happiness. Yet here also in this world, you grant us earnests full of payment, glimpses of that stored treasure. Just as we see you through a glass darkly, so also do we receive your goodness by reflection and by your instruments.
Nature reaches out her hand and offers corn, and wine, and oil, and milk; but it was you who filled the hand of nature with such bounty. Industry reaches out her hand and gives us fruits of labor for ourselves and our prosperity; but you guided the hands that sowed and watered, and you gave the increase. Friends reach out their hands to support us; but your hand supports the hand we lean on.
Through all these, your instruments, have I received your blessing, O God, but I bless your name most for this, that I have has my portion not only in the hearing, but in the preaching of your gospel.
O most gracious God, on this sickbed I feel under your correction, and I taste of humiliation, but let me taste of consolation, too. Once this scourge has persuaded us that we are nothing of ourselves, may it also persuade us that you are all things unto us.
In a brief few hours you have shown me I am thrown beyond the help of man, so much so that the physician himself had to send for assistants. By that same light, let me see that no vehemence of sickness, no temptation of Satan, no guiltiness of sin, no prison of death—not this first, this sickbed, nor the other prison, the close and dark grave—can remove me from the determined and good purpose that you have sealed concerning me.
I can read my affliction as a correction, or as a mercy, and I confess I know not how to read it. How should I understand this illness? I cannot conclude, though death conclude me. I f it is a correction indeed, let me translate it and read it as a mercy; for though it may appear to be a correction, I can have no greater proof of your mercy than to die in you and by that death to be united in him who died for me.
Your son felt a sadness in his soul unto death, and a reluctance, even fear, as that hour approached. But he had an antidote too: "Yet not my will, but thine be done." And although you have not made us, your adopted sons, immune from infectious temptations, neither have you delivered us over to them, or withheld your mercies from us.
You, O Lord, who have imprinted medicinal virtues in all creatures, so that even the juices of plants and the venom of snakes may assist in healing, are able to transform this present sickness into everlasting health, and to make my very dejection and faintness of heart a powerful anodyne. When your Son cried out "My God, my God, why hats thou forsaken me?" you reached out your hand not to heal his sad soul, but to receive his holy soul. Neither did he desire to hold it from you, but surrendered it to you.
I see your hand upon me now, O Lord, and I ask not why it comes or what it intends. Whether you will bid my soul to stay in this body for some time, or meet you this day in paradise, I ask not. Curiosity of mind tempts me to know, but my true healing lies in silent and absolute obedience to your will, even before I know it. Preserve that obedience, O my God, and that will preserve me to you; that, when you have catechized me with affliction here, I may take a greater degree, and serve you in a higher place, in your kingdom of joy and glory. Amen.
Chris Armstrong is managing editor of Christian History magazine. More Christian History, including a list of events that occurred this week in the church's past, is available at ChristianHistory.net. Subscriptions to the quarterly print magazine are also available.
Related Elsewhere
Last year, Christian Historywondered what the Pilgrims would think about modern Thanksgiving traditions. (Nov. 21, 2001)
Christian History Corner appears every Friday on Christianity Today's website. Previous editions include:
Good News to the Jew First | Critics of The Passion of Christ assume the story embodies an anti-Semitic message. But does it? (Nov. 21, 2003)
Thanks, Da Vinci Code | Tbe book sends us back to Christianity's "founding fathers"—and the Bible we share with them. (Nov. 14, 2003)
Breaking The Da Vinci Code | So the divine Jesus and infallible Word emerged out of a fourth-century power-play? Get real. (Nov. 7, 2003)
Not a Mercy but a Sin | The modern push for euthanasia is a push against a two-millenniums-old Christian tradition (Oct. 30, 2003)
John Paul II's Canonization Cannon | Why and how this pope has made over 470 saints. (Oct. 24, 2003)
Will the Next Pope Be an African? | Sixty-four years ago, the Roman Catholic Church consecrated its first black African bishop. Is it time now for the next step? (Oct. 17, 2003)
When Denominations Divide | The two-century-old "Unitarian controversy" suggests a grim prognosis for the current crisis in the Episcopal Church (Oct. 10, 2003)
Our Brothers and Sisters, the Episcopalians | The Episcopal Church needs our help. Here's why we should give it (Oct. 3, 2003)
Six 'Faith-based' Stories and a Moral | Are Christian social ministries worth fighting for? (Sept. 26, 2003)
Breaking Down the Faith/Learning Wall | How the history of Christians in higher education has stacked the deck against Robert Sloan's "new Baylor." (Sept. 19, 2003)
Learning From the Other 9/11 | Words kill. So teachers, watch what you say. (Sept. 11, 2003)
The Lord of the Rings: What Harvest? | A reader's guide to the best of epic fantasy (Sept. 5, 2003)`
J.R.R. Tolkien and C.S. Lewis, a Legendary Friendship | A new book reveals how these two famous friends conspired to bring myth and legend—and Truth—to modern readers (Aug. 29, 2003)
Article continues below
The Ten Commandments, How Deep Our Debt | The words of the Decalogue run like a river through not only the church but also English and American history. (August 22, 2003)
Muscular Christianity's Prodigal Son, College Sports | In the wake of a basketball scandal at a prominent Christian university, we take time to remember the Christian roots of college athletics. (August 15, 2003)
Palestinian Christians, Strangers in a Familiar Land | They've called the Holy Land home for centuries, but they've never actually governed themselves. (August 8, 2003)
Liberia's Troubled Past—and Present | The nation's history explains why the current conflict succumbs to, yet simultaneously transcends, the stereotype of African tribal wars. (August 1, 2003)
Medical Missions' African Legacy | For generations, missionary doctors have healed body and soul in Africa. (July 25, 2003)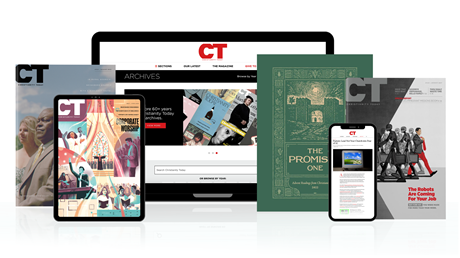 Annual & Monthly subscriptions available.
Print & Digital Issues of CT magazine
Complete access to every article on ChristianityToday.com
Unlimited access to 65+ years of CT's online archives
Member-only special issues
Subscribe
Thanksgiving in the Midst of Fear
Thanksgiving in the Midst of Fear