After eight years of intense effort by pro-life groups, President Bush signed a ban on partial-birth abortion yesterday. Bush said, "The best case against partial birth abortion is a simple description of what happens and to whom it happens. It involves the partial delivery of a live boy or girl, and a sudden, violent end of that life. Our nation owes its children a different and better welcome."
As pro-life organizations expected, abortion-rights groups have already filed suit to overturn the ban. A Nebraska judge issued a restraining order to exempt the law from applying to the four doctors who brought the suit. Judge Richard Kopf, a George H. W. Bush appointee, said, "While it is also true that Congress found that a health exception is not needed, it is, at the very least, problematic whether I should defer to such a conclusion when the Supreme Court has found otherwise,"
The Supreme Court earlier overturned a Nebraska ban on partial-birth abortion. President Clinton vetoed two other bills that banned the procedure. A third stalled in Congress after the Nebraska ban was overturned. According to the New York Times, "Mr. Bush's signing was an ideological and emotional bookend to a veto ceremony in April 1996. On that occasion, Mr. Clinton brought to the Roosevelt Room in the White House five women who had undergone the type of abortion in dispute and who spoke tearfully of the agonizing decisions they had faced in dealing with disorders that had threatened them and their fetuses."
Other lawsuits have been filed in New York and San Francisco, and judges there may block enforcement of the bill. "At issue in all three suits is whether the ban includes an exception under which physicians could perform the procedure to protect the health of the mother," said the Los Angles Times "The groups contend that the new law contains no such exception and is therefore unconstitutional under existing legal precedents." But the bill includes findings that partial-birth abortion is never medically necessary, though it allows the procedure in order to save the life of the mother.
Abortion-rights groups are furious over the ban, saying it chips away at women's rights. "This law would force doctors to choose between exercising their best medical judgment or going to jail," said Vickie Saporta, president of the National Abortion Federation, one of the groups that is suing to block the ban." The Chicago Tribunereports, "Ralph Neas, president of the People for the American Way, called the measure 'an affront to women,' while June Walker, national president of the Jewish women's group Hadassah, said it 'deals a stunning blow to women's health.' "
Pro-life groups have fought step by step to turn back Roe v. Wade. The debate alone has opened Americans' eyes, Douglas Johnson, legislative director for the National Right to Life Committee, told the New York Times. Now seven of ten Americans oppose partial-birth abortion, but the Supreme Court remains to be convinced. "Which, of course, leads to the ultimate incrementalist strategy — changing the Supreme Court, seat by seat," says the New York Times.
Bush has vowed to enforce the ban, and Attorney General John Ashcroft assigned responsibility to the Justice Department's civil rights division, not the criminal division. That will extend the civil rights of the unborn, "but creates a potential conflict of interest for the civil rights division's criminal section. That section is also responsible for prosecuting those who block access to abortion clinics," said the Washington Post.
Language bias
In many headlines, newspapers have refused to call it "partial-birth abortion," saying instead "a type of abortion" or an abortion procedure. Chicago Tribune columnist Don Wycliff admits some unintentional bias in that terminology. He says, "The perspective of those who define the issues involved in terms of 'choice' was taken as normative [in such headlines], and the position of those who disagree with them and define the issues differently was characterized in 'choice' terms."
Wycliff says the Tribune stylebook requires using "late term abortion" or a medical term instead of the familiar term "partial birth." He asks, "Why … is "pro-life" forbidden but "pro-choice" is not?—it merits asking whether we have become so obsessed with what we believe to be neutrality on this topic that we have become inscrutable."
And in the midst of the name calling and bitter sentiments over abortion, another Tribune columnist, John Kass, says the right to life is God-given, and enshrined in the Declaration of Independence. But political battles will not stop abortion, only love. "It is appalling and terrifying. Whether you're religious or not, whether you support abortion rights or oppose them, there is a price to be paid by a culture that condones such things. It coarsens us. It brutalizes us.
"We say we care about children, but then we fight about the right to do this to them. I'm sorry, but I can't reconcile it."
Amen.
Article continues below
More Partial-Birth Abortion Ban Articles
In Anti-Abortion Campaign, One Leap for Incrementalism | President Bush's signing of the Partial Birth Abortion Ban Act on Wednesday was a moment of political triumph for the anti-abortion movement, a reflection of its influence with a Republican-controlled Congress and a Republican president. (New York Times)
Extent of Ban Is Questioned | The abortion ban that President Bush signed into law yesterday is meant to cover a technique used to end a pregnancy that has advanced beyond 18 to 20 weeks. But confusion remains over whether the ban would also cover a more common form of second-trimester abortion.
Bush signs law banning `partial-birth' abortions | President vows `all resources' to defend rule
Bush signs partial-birth ban | President Bush yesterday signed into law a ban on partial-birth abortion, vowing to "vigorously defend this law against any who would try to challenge it in the courts." He didn't have to wait long.
Critics challenge US abortion ban | Opponents have mounted a series of legal challenges to a new United States ban on late-term abortions. (BBC)
Kerry hits ban on abortion procedure | Just hours after President Bush signed a law banning what critics of the procedure call "partial-birth abortion," Senator John F. Kerry declared last night "there is no such thing as a partial birth," as he and the other Democratic presidential contenders sought the political support of women voters. (Boston Globe)
Bush Signs Partial-Birth Abortion Ban | President Bush signed into law the most far-reaching abortion restrictions in three decades Wednesday, an emotionally charged measure already challenged in three federal courts. (AP)
Bush Signs Anti-Abortion Bill, to Fight in Court | As protesters denounced him, President Bush (news - web sites) on Wednesday signed a ban on a type of late-term abortion and promised to defend it in court despite an initial legal setback. (Reuters)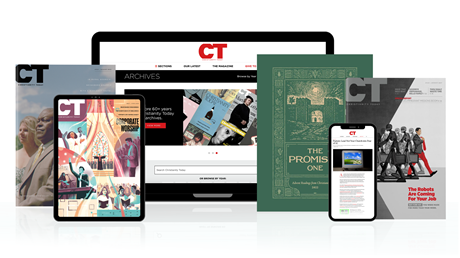 Annual & Monthly subscriptions available.
Print & Digital Issues of CT magazine
Complete access to every article on ChristianityToday.com
Unlimited access to 65+ years of CT's online archives
Member-only special issues
Subscribe
Bush Signs Partial-Birth Abortion Ban
Bush Signs Partial-Birth Abortion Ban