Lebanon acquits Canadian missionary
Citing a "lack of evidence," a Lebanese military tribunal on Monday cleared Canadian missionary Bruce Balfour, who went to the country to replant its biblical cedars, of charges that he was a spy for Israel.
However, the court convicted him of "inciting sectarian sentiments [through] activities that stirred confessional dissension," and barred him from returning to the country for five years. He was deported this morning. The court also sentenced him to a year's imprisonment on the religious charge, but said the seven weeks he'd served in jail were punishment enough. He was also ordered to pay a #100,000-fine (about $66, or CA$92).
"This sentence does not fall under the privileges of the military court," one of Balfour's lawyers, Ibrahim al-Hariri, told Reuters. "This is a foreigner who is not subject to that court."
One of Balfour's coworkers, tried in absentia, received the same verdicts and sentences.
Murderer will be executed today—and prolife organizations don't support him
Perhaps if prolife organizations were more proactive in their denunciations of psychopaths like Paul Hill rather than waiting for reporters to call, media outlets wouldn't be quite so prone to portray antiabortionists as supportive of his actions. Or at least reporters would be less able to portray the movement as divided.
But probably not. So long as there's a kook out there who says violence against abortionists is justified, he'll get quoted and given equal weight with organizations that have actual constituencies.
For the record, here's what some of those organizations are saying about Hill, who will be executed this evening for his 1994 murder of a doctor and an abortion clinic volunteer in Pensacola, Florida:
"We and other prolife organizations are against violence, period. What he did is definitely not anything that anyone I know of supports."— Erik Whittington, American Life League, to WJXT.
"Prolife means that you think that every life is created by God and it is sacred because it was created by God, so we wouldn't advocate the killing of anybody, regardless of what they had done. Obviously, some people are trying to make Paul Hill out to be some kind of martyr. He's not; he's a murderer who deserves whatever punishment the state deems appropriate." — American Life League Vice President Jim Sedlak, to CNSNews.com.
"He's not a prolifer, as far as I'm concerned. Osama bin Laden acted out of conviction, too." —Tom Glessner, director of the National Institute of Family and Life Advocates, to WJXT.
"If you are prolife, you do not kill to defend life. That is absurd. To say that you are going to take the life of an abortionist because it is justifiable is a contradiction." — Lynda Bell, spokeswoman for Florida Right to Life, to CNSNews.com.
"Paul Hill did our cause no favors. You don't kill abortionists. You try to convert them peacefully." — Joe Scheidler of the Prolife Action League, to The Christian Science Monitor.
"By unloading his shotgun into Dr. Britton's car that day, he committed a supreme act of cowardice and became the very thing he said he despised. He became a murderer, just like the doctors who carry out abortion and just like the women who choose it." — Operation Rescue executive director Flip Benham, to

The Christian Science Monitor

.
"Not only do I not agree with Paul Hill, I consider him a heretic." — Benham, to Reuters.
"Christ did not come to save us with a Molotov cocktail in one hand and a dagger between his teeth; he came to lay his life down so that others might live. What Paul Hill did was directly the opposite." — Benham, to The Washington Post.
"It's wrong to take the life of an unborn child, but it is equally wrong to take the life of an abortionist or his worker." — Ed Martin, head of Rescue America, to The Orlando Sentinel.
"I don't see him as a martyr for the cause. He deserves the death penalty. What he did was not right, and capital punishment is God's mandate" — Legal Action for Women founder Vicki Conroy, to The Orlando Sentinel.
"He won't be a martyr for me. He had no authority to take those two lives, at least not in my mind. I believe that justifiable homicide involves a spontaneous action, not lying in wait like he did." Meredith Raney, spokeswoman for Christians for Life in Melbourne, Fla., to Florida Today.
Weblog has been unable to turn up any media comment or online press releases from most of the major prolife organizations. This may be because the prolife community is truly divided on capital punishment—but it is absolutely not divided on abortion violence.
"The sooner I'm executed, the sooner that whatever will happen next will happen," Hill told reporters yesterday. "I expect a great reward in heaven." Reward is absolutely the wrong word. Today, the prolife community is united in grieving for the 4,000 children aborted today, for the families of those murdered by Hill, and for the divine judgment Hill is about to receive.
Shari'ah's slippery slope
Remember when Nigeria's Muslims promised that Islamic law in that country's northern states would apply only to Muslims? And remember when Christians expressed doubt? Guess who was right.
More articles
Ten Commandments: Roy Moore:
Ten Commandments: What's next?:
Ten Commandments: Other personalities:
Ten Commandments: Oppositional opinion:
Ten Commandments: Other opinion:
Ten Commandments: Recent developments:
Ten Commandments: Other stories:
Ten Commandments: Church and state:
Ten Commandments: The protesters:
Commandments: Controversies outside Alabama
Did gospel music come from Scotland?
Religious weblogs:
Suggest links and stories by sending e-mail to weblog@christianitytoday.com
Check out Books & Culture's weblog, Content & Context.
See our past Weblog updates:
September 2
August 29 | 28 | 27 | 26 | 25
August 22 | 21 | 20 | 19 | 18
August 15 | 14 | 13 | 12 | 11
August 8 | 7b | 7a | 6 | 5 | 4
July 30 | 29 | 28
July 25 | 24 | 23 | 22 | 21
and more, back to November 1999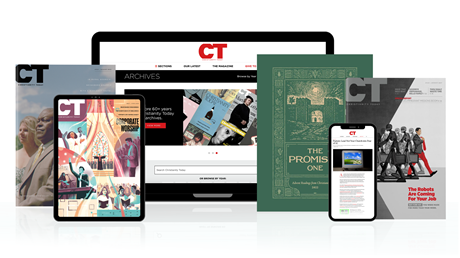 Subscribe to Christianity Today and get access to this article plus 65+ years of archives.
Home delivery of CT magazine
Complete access to articles on ChristianityToday.com
Over 120 years of magazine archives plus full access to all of CT's online archives
Subscribe Now
Missionary Accused of Spying Returns to Canada
Missionary Accused of Spying Returns to Canada