Archbishop of Canterbury predicts "new alignments"—but do orthodox believers want an alternative, or something wholly new?
Much play is being given to a new article by Archbishop of Canterbury Rowan Williams, spiritual head of the Anglican Communion worldwide. In what's being called his "bleakest assessment yet," Williams wrote in an article for the conservative publication New Directions that he doesn't expect "the next few years to be anything other than messy." Especially notable is this paragraph:
I suspect that those who speak of new alignments and new patterns, of the weakening of territorial jurisdiction and the like, are seeing the situation pretty accurately. But what then becomes the danger to avoid is an entirely modern or post-modern map of church identity in which non-communicating and competing entities simply eradicate the very idea of a 'communion' of churches.
Various British newspapers try to discern his meaning. Says The Telegraph, "He hints that he is prepared to see the creation of a Church-within-a-Church to allow liberals and traditionalists to co-exist. Previously this has been ruled out as too radical."
The Guardian sees the situation as much more dire, titling its article "Archbishop dares to speak its name: the breakup of the Anglican church." The paper complains of Williams' "customary opacity," and says its interpretation is varied:
The journal, published by a group which a decade ago opposed the ordination of women but ultimately did not leave the church, may have been chosen as a means of preaching to would-be splitters. Or, as some at Lambeth believe, it may have just been an opportunity that presented itself to the unworldly archbishop. He is understood not to have consulted staff before writing the article shortly before last month's U.S. decision.
A source close to Williams tries to help The Guardian out. "There has been a lot of loose language on both sides about excommunication, but the article represents a recognition by the archbishop that this is not a bluff and people ought to consider that," the unnamed source said.
But it's The Times of London that provides some important insight (the article isn't available at the Times site for nonpaying American readers. Fortunately, Classical Anglican Net News has posted it):
Dr. Williams' article and his reference to 'new alignments' indicate that the solution for which he might argue when the primates meet in London is a new province that crosses national boundaries that would act as a haven for traditionalists and evangelicals who oppose Western liberal developments such as the election of non-celibate gay bishops. However, most evangelicals are unlikely to support this solution as they do not want to be officially sidelined into a sectarian wing within the wider Church, and would prefer to work on transforming structures from within.
That's right. All this talk of "alternative oversight" and "flying bishops" and whatnot is probably beside the point now. Yes, the liberals had the votes to approve the openly gay Gene Robinson as bishop. But orthodox Christians make up the majority of the Anglican Primates (leaders of the international Anglican provinces, such as the Church of Nigeria, the Episcopal Church USA, etc.). And they'd rather see the Episcopal Church USA declared non-Anglican and start afresh with an orthodox church than to let the Episcopal Church USA's Robinson decision stand and merely set up an alternative church for those opposed to gay bishops and marriages.
"A senior Anglican source in London confirmed [Southern Cone Archbishop Gregory] Venables's assessment that at least 22 of the [38] primates would demand the breach with America," says The Times. (Archbishop Drexel Gomez, the Primate of the West Indies, only counted 14-20 in an interview with The Telegraph.)
The Times story ends with a harrowing side-note: "The Lesbian and Gay Christian Movement is asking David Blunkett, the home secretary, to bar [Archbishop of Nigeria Peter] Akinola from entering Britain in October on the grounds that he might incite hatred of gay people." Um, isn't it Akinola who has more to fear from the visit?
NYT: Many homosexuals don't believe in marriage
Canadian homosexuals haven't rushed to the altar largely because many of them don't believe in marriage, The New York Times reported Sunday. "I'd be for marriage if I thought gay people would challenge and change the institution and not buy into the traditional meaning of 'till death do us part' and monogamy forever," said Mitchel Raphael, editor of the Toronto gay magazine Fab. "We should be Oscar Wildes and not like everyone else watching the play."
David Andrew agrees. "Personally, I saw marriage as a dumbing down of gay relationships," he said. "My dread is that soon you will have a complacent bloc of gay and lesbian soccer moms."
At issue, isn't really marriage, it's monogamy. "I can already hear folks saying things like: 'Why are bathhouses needed? Straights don't have them,'" University of Toronto sociologist Rinaldo Walcott wrote in Fab. "Will queers now have to live with the heterosexual forms of guilt associated with something called cheating?"
"First of all, it's not 'something called cheating,' it's cheating, pure and simple." responds National Review Online's Jonah Goldberg. "What such cutely ironic post-modern quips reveal is that many in the gay community don't really mean it when they say they want access to the institution of marriage. … If the activists think marriage can still be something called marriage, after the folks at Fab magazine rewrite all the rules, then they are the ones who just don't get it."
More articles
More on the Anglican Church breakup:
Other churches and sexual ethics:
More on gay marriage:
Sexual ethics:
Sexual abuse:
Politics and law:
Public religion:
'Christian' Europe:
Religion and politics in Australia:
Education:
Church life:
Aging and ministry:
Pop culture:
Christian comedians:
Gibson's The Passion:
Catholicism:
Science:
Other articles of interest:
Suggest links and stories by sending e-mail to weblog@christianitytoday.com
Check out Books & Culture's weblog, Content & Context.
See our past Weblog updates:
September 3 | 2
August 29 | 28 | 27 | 26 | 25
August 22 | 21 | 20 | 19 | 18
August 15 | 14 | 13 | 12 | 11
August 8 | 7b | 7a | 6 | 5 | 4
July 30 | 29 | 28
July 25 | 24 | 23 | 22 | 21
and more, back to November 1999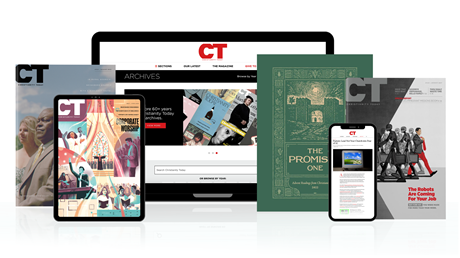 Annual & Monthly subscriptions available.
Print & Digital Issues of CT magazine
Complete access to every article on ChristianityToday.com
Unlimited access to 65+ years of CT's online archives
Member-only special issues
Subscribe
Will Orthodox Anglicans 'Settle' for International Alternative Province?
Will Orthodox Anglicans 'Settle' for International ...