The Laramie Westlake Project
If Laramie, Wyoming, is now faced with a longtime reputation as the place where homosexual student Matthew Shepard was killed, the Cleveland suburb of Westlake is possibly gaining a reputation as America's worst place to be if you're an orthodox pastor.
As earlier noted by Weblog, a janitor at the nondenominational Church on the Rise was beaten in mid-August by three men, apparently in retaliation for the church pastor's sermon comments opposing homosexual clergy.
Friday, less than three miles away, a man called St Paul Lutheran School with a bomb threat. "The specific threat was that if the pastor did not come on TV and say that he supported gay marriage, that the entire school would be blown up," Westlake Police Captain Guy Turner said, according to 365Gay.com.
No bomb was found after the school's 270 students were evacuated.
(Weblog can't find any mention of the incident in the mainstream press, or much comment, apart from one at Ex-Gay Watch. E-mail Weblog here.)
Texas church arson: Not gay terrorism?
In more positive news, in case you missed it, Pastor Scott Wooten is no longer sure that the incidents of arson and vandalism at his Episcopal Church of the Holy Spirit in Graham, Texas, were related to his stance against gay bishop Gene Robinson.
"Wooten said [Aug. 22] that he misunderstood the original chalk scrawl, that he was mistaken at a 'very emotional time' and that conservatives should 'stop the speculation' about whether the fires were anti-conservative hate crimes," reports Ft. Worth Star-Telegram columnist Bud Kennedy.
Apparently that message left by the vandals doesn't clearly say "God and Jesus Love Homosexuals" after all. According to one church member, the only clearly readable words were "God Jesus."
"We've had 20 people look at the photographs, and they came up with 20 different answers," Graham police Lt. and fire marshal Joey Parker told the Star-Telegram. Ironically, Kennedy's column apparently ran in the paper the same day as a news story tying the arson to the church's homosexuality stance.
Justice delayed
Many Christians monitoring international religious freedom issues are keeping an eye on the Indian trial over the murder of Australian missionary Graham Staines and his two sons. The proceedings, 30 months and counting, have been very troubling, with insane allegations and odd psuedo-confessions. It was due to end today with a verdict, but Judge M. N. Patnaik didn't show up at court. The judgment as been deferred for another week.
Meanwhile, Staines's widow has once again said that she has forgiven the killers of her husband and sons. "It goes through my mind sometimes but wondering about it doesn't really bring him back, so I don't spend a lot of time thinking about it. I am leaving that totally to the court," she told Australia's ABC Radio. "The Bible teaches us that we are to forgive others as Christ has forgiven us and I had the privilege and opportunity of growing up in a Christian family. I was taught from a very early age to follow what the Bible teaches. Jesus taught us to forgive and I realised that if we don't forgive, then we allow bitterness to come into our own lives. It wasn't something that I sat and thought about. It was something that just automatically came."
Suggest links and stories by sending e-mail to weblog@christianitytoday.com
Check out Books & Culture's weblog, Content & Context.
See our past Weblog updates:
September 5 | 4 | 3 | 2
August 29 | 28 | 27 | 26 | 25
August 22 | 21 | 20 | 19 | 18
August 15 | 14 | 13 | 12 | 11
August 8 | 7b | 7a | 6 | 5 | 4
July 30 | 29 | 28
July 25 | 24 | 23 | 22 | 21
and more, back to November 1999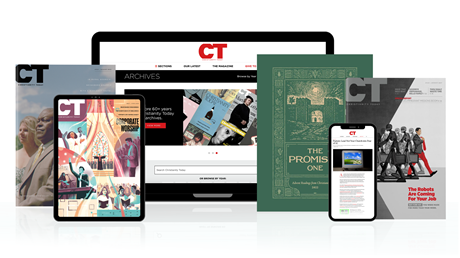 Subscribe to Christianity Today and get access to this article plus 65+ years of archives.
Home delivery of CT magazine
Complete access to articles on ChristianityToday.com
Over 120 years of magazine archives plus full access to all of CT's online archives
Subscribe Now
"Weblog: Church School Gets Bomb Threat, Apparently from Gay Activists"
"Weblog: Church School Gets Bomb Threat, ...