Roy Moore criticizes Commandments display
You would think that suspended Alabama Chief Justice Roy Moore would be happy about his governor's new display of the Ten Commandments, which was installed Tuesday in the old Supreme Court library room in the Capitol. But he's not. Actually, it's the posting of the Magna Carta, the Mayflower Compact, and the Declaration of Independence along with the Ten Commandments that Moore is upset about.
"To put things around the Ten Commandments and secularize it is to deny the greatness of God," Moore told supporters at a banquet to raise money for his legal defense.
Still, if Moore's main point was that Alabama law is based upon the principles in the Ten Commandments, isn't it also based on those other documents as well? That's the idea, says Gov. Bob Riley. "Just as the Ten Commandments are exhibited in similar displays in the U.S. Supreme Court and in our nation's Capitol building, I feel it is important to display them in our Capitol, as well," he said. "Visitors to Montgomery can now read and learn about those historical documents upon which our system of laws rests."
In related news, Arkansas judge David Pake has changed the Ten Commandments display on his courtroom law, adding the Declaration of Independence, selections from the codes of Hammurabi and Justinian, and quotes from British legal scholar Sir William Blackstone. Polk County, Florida, yesterday installed a 7-foot granite monument that includes the Ten Commandments, along with 11 other documents. That monument is being unveiled today. Other commandments controversies around the country keep rolling along, too.
California forestry service drops firefighter chaplains
Faced with a lawsuit from six state firefighters, the California Department of Forestry and Fire Protection has dropped its chaplain program. The complaining officers objected to the two-year-old program, saying chaplains should not be allowed to wear religious pins on their uniforms and should not be allowed to conduct Christian prayers at fire sites and graduation ceremonies.
The California Department of Forestry and Fire Protection now agrees, and says firefighters may only conduct moments of silence. Religion must be left off duty, and firefighters cannot use their uniforms during any ministry activity. The department will also pay the six plaintiffs $45,500 to cover legal fees.
"We believe this is the way to go: to separate any appearance of sponsorship of religion in the department," department spokeswoman Karen Terrill told the Los Angeles Times. "We stress that we will not prevent religious discussions or exchanges, but it will not be done on CDF time."
Passionrhetoric heats up
The New Yorker isn't offering online Peter J. Boyer's article "The Jesus War," but some quotes from Mel Gibson in defense of his Passion film are making the rounds. The chief line is his defense of Anne Catherine Emmerich, the early 18th-century stigmatic and ecstatic nun whose The Dolorous Passion of Our Lord Jesus Christ has apparently been so influential to the film.
"Why are they calling her a Nazi? Because modern secular Judaism wants to blame the Holocaust on the Catholic Church. And it's revisionism. And they've been working on that one for a while."
"To me, this [comment] is classic anti-Semitism," Anti-Defamation League head Abraham Foxman, one of the chief Jewish critics of the film, told the New York Daily News. "I think [Gibson] is on the fringes of anti-Semitism." (Is that better or worse than being in the mainstream of anti-Semitism? Does it make him an extreme anti-Semite? What's Foxman saying?)
That's exactly the kind of overstatement that Gibson says he's so upset about. There are "big realms that are warring and battling," he said. "You stick your head up and you get knocked. … I didn't realize [criticism] would be so vicious. The acts against this film started early. There is vehement anti-Christian sentiment out there and they don't want it."
Still, he says, "All the problems and the conflicts and stuff - this is some of the best marketing and publicity I have ever seen."
Of interest as well are Gibson's comments about why he left out that line from Matthew: "His blood be on us and on our children!"
"I wanted it in," Gibson told Boyer. "My brother said I was wimping out if I didn't include it. But, man, if I included that in there, they'd be coming after me at my house. They'd come to kill me."
Since that verse appears in Matthew, The Gospel of John, another new Jesus movie, won't have to deal with it. But as a word-for-word portrayal of the biblical text, the film still had to deal with some of the Jewish-Christian issues. A Canadian Press article explains a bit more how it works. First, it uses the American Bible Society's Good News translation, which refers to "Jewish authorities" rather than the more literal translation, "the Jews." Second, it kept the crowd yelling "Crucify him!" small and contained.
It also contains a disclaimer in the beginning of the film, noting that crucifixion was a Roman punishment not sanctioned by Jewish law, that Jesus and all his early followers were Jewish, and that the gospel was written "two generations after the Crucifixion," during a time of increasing conflict between early Christians and Jews, er, Jewish leaders.
Christian higher education is still booming
During a Newsweek.com live chat, Washington Post education columnist Jay Mathews received this question:
There seems to be two different types of schools, those run by beer swilling Greek systems, and those run by the last extreme Marxists who, if they noticed the Berlin wall falling, would blame it on the ghost of Joe McCarthy and bad dental hygiene. I would really prefer to send my daughter and my dollars to a school where the faculty doesn't hate the United States and the student body doesn't think huddling over the toilet, saying 'Coming right up, two beers,' passes for a civil engineering course. … Other than BYU, or Notre Dame, where can a socially conservative family send their children without supporting either Marxist dinosaurs or power puking muscle heads? I turn to you in our hour of need.
"The questioner was exaggerating the problem, of course, perhaps just to wake me up," Mathews wrote in Tuesday's Post. "But it is true, given the nature of American youth culture, that most colleges seem a bit too leftist and liquorish to parents like me. I thought the Carlsbad parent deserved a better answer than I could come up with that morning."
Mathews recommends the Princeton Review's The Best 351 Colleges, and a few other college guides, but he in addition to these he should have turned to the other newspaper in town. The Washington Times just finished an excellent three-part series on Christian colleges. The hook is the not-so-new fact that enrollments at such schools are booming, but there are many good insights and stories here. Those interested in higher ed—especially Christian higher ed—will want to take a look:
Part 1: A higher grounding | Today, Christian colleges are outfitted with gleaming glass buildings, modern science departments and, often, a more worldly joie de vivre (

The Washington Times

)
Part 2: Answer to a prayer | Increasing numbers of parents among the nation's 63 million Catholics are turning their backs on the traditional powerhouse Catholic universities (

The Washington Times

)
Part 3: Graduating in faith | There's an enrollment boom among evangelical Protestant and conservative Roman Catholic colleges as more baby boomers opt for a Christian education for their children (

The Washington Times

)
Other articles
More on education and schools:
Harvey Milk School opens:
Same-sex marriage:
More sexual ethics stories:
Politics and law:
Business and money:
Church life:
Health:
Art:
Catholicism:
Related Elsewhere
Suggest links and stories by sending e-mail to weblog@christianitytoday.com
Check out Books & Culture's weblog, Content & Context.
See our past Weblog updates:
September 10 | 9 | 8
September 5 | 4 | 3 | 2
August 29 | 28 | 27 | 26 | 25
August 22 | 21 | 20 | 19 | 18
August 15 | 14 | 13 | 12 | 11
August 8 | 7b | 7a | 6 | 5 | 4
July 30 | 29 | 28
and more, back to November 1999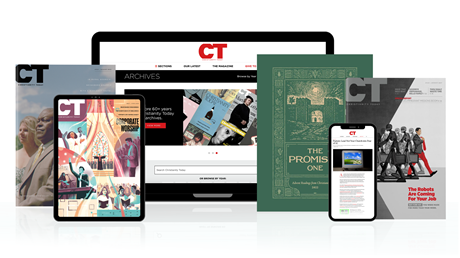 Subscribe to Christianity Today and get access to this article plus 65+ years of archives.
Home delivery of CT magazine
Complete access to articles on ChristianityToday.com
Over 120 years of magazine archives plus full access to all of CT's online archives
Subscribe Now
The Ten Commandments Display Roy Moore Doesn't Like
The Ten Commandments Display Roy Moore Doesn't Like