true
Bono and his band, U2, have been provoking audiences, including Christians, since they began playing in the '70s. After making clear their Christian influences early on, the band took on social justice concerns and explored the depths of pop culture in the '90s. With their album All that You Can't Leave Behind, U2 returned to exploring its spiritual roots. Bono then toured the United States asking Christians to step up the fight against AIDS in Africa.
All along, however, U2 has been a staple in sermons across the country, across denominations, and across generations. Get Up Off Your Knees is a collection of sermons from the U2 catalogue written by several authors. Co-editor Beth Maynard is the pastor of the Church of the Good Shepherd in Fairhaven, Massachusetts.
Your co-author, Raewynne Whiteley, has a piece on pop culture and preaching. What is the connection between those two?
Preachers are always looking for effective cultural connections that help people grasp the meaning of biblical text. One of the points that Raewynne makes is that not only do we take the biblical text out into the world, we bring our life experience and our experience of the world with us when we read biblical text. If you're a fan of U2, when you come to a situation of discouragement, when you need to be encouraged to persevere, you may come to that situation with "Walk On" in your head. There's just a natural connection that you make of these different texts and these different ways of telling the story of the world that we're in.
For people that aren't that familiar with U2, give a brief history of U2 and why it is that their lyrics so consistently convey biblical themes.
U2 is an Irish band, formed in the late '70s, out of the punk/new wave movement in Dublin. Very early on in their formation as a band, three of the members of the band became heavily involved in a Christian community called Shalom, which was non-denominational, and one can tell from their later comments was a very intense, influential experience. They ended up breaking with that community, it seemed, largely over the question of whether you could pursue a "secular career," such as rock music, and continue having a profession as a Christian.
In the '80s, U2 was known for being very straight ahead social justice, change the world, get out there and wave your white flag, and by the end of the '80s they were much critiqued for that self-righteousness. They completely re-invented themselves in the '90s, borrowing a page from C.S. Lewis's Screwtape Letters, and became the band of irony. At the end of the '90s, as the millennium came, they went back, in a sense, to wearing their heart on their sleeves with their most recent album, All That You Can't Leave Behind, which retains some of that subtlety and nuance that we came to associate with U2 in the '90s, but is also much more straight ahead about basic human values.
Steven Garber writes the chapter "To See What You See: On Liturgy & Learning & Life," and focuses on Psalm 123. He talks about a meeting in Washington, D.C., where Bono was going to come and talk about AIDS in Africa.
It's interesting, the actual context that he's in. He's a scholar and resident at Calvin College, and he was talking to the congregation of students there about building a Christian worldview, learning how to do what Bono says he wishes he could do in "When I Look At The World," to see the world the way Jesus sees, to understand how our world looks to Jesus Christ. Steven tells this story of his encounter with Bono at a meeting about AIDS in Africa in Washington, D.C. and then talks about a few other contemporary examples of people that he knows who also have worked at trying to build a Christian worldview. And then wraps that all up by exhorting his students to learn to see the world as Jesus sees it.
"Grace" has three expositions in this book, and they're all on different. Two of them are on Romans 5 and the other one is John 14 and wedding sermon. Talk about "Grace," and the different ways that the authors picked up on the importance of these lyrics.
In this book, we tried to bring together preachers who were very diverse theologically, very diverse denominationally, to sort of bear witness to the broadness of U2's appeal. And the sermons on "Grace" are a great way to illustrate that. We have Clint McCann, who talks about social justice. We have Wade Hodges, who preaches a very classic Romans 5 sermon about how "Grace removes the stain of sin." And then another one from Steve Garber, which addresses a very particular situation of a couple who are stepping into a risk of trusting each other and opening themselves to each other's love in a wedding.
It couldn't be more different, all of them are great readings of Scripture, all of them great readings of the song, but very diverse. The song itself, "Grace," is one of those U2 songs that's a natural to preach on. Sometimes you have to work harder at making a bridge from a song to scripture than other times. This is one which you could practically open up your Bible—I think probably particularly if you were reading The Message—and get a text very similar to this. It's just a straight-ahead exposition of amazing grace, of grace making beauty out of ugly things.
"I Still Haven't Found What I'm Looking For," ended up as an exposition of Philippians 3, Luke 15, Mark 14. Talk about how those lyrics were engaged in very different ways.
I think a great example there particularly is Steve and Darleen. Darleen is a professor at a Roman Catholic seminary. And Steve is the author of Walk On: The Spiritual Journey of "U2," from Relevant Books. And he looks at "I Still Haven't Found What I'm Looking For," in the context of Philippians 3 and the vow to keep pressing forward, to go on for the prize of the high calling of God in Christ. Darleen has a very charming, down-to-earth image of wandering sheep. She talks about the spiritual nature of Generation X and the constant questioning of life and how that song is used at X-er weddings and X-er funerals.
Anna Carter Florence, who is a professor of preaching, has a sermon, "The Voice You Find May Be Your Own." She talks about how the song enabled her to connect with some people who were outside of her experience and she was able to connect with them because they both loved the song. And her piece talks about the importance of having people find their own voice and their own experience.
Talk about your own treatment of "Tomorrow" in using John 20 and .
I have always thought "Tomorrow" reads very interestingly together with the story of doubting Thomas. That's a scripture that comes up in the lectionary, which my particular denomination happens to use Sunday after Easter every year. One has to think about this story every single year. "Tomorrow" is one of U2's earliest songs from their second album, "October." It puts us in a very similar situation to where Thomas is in a room after a death, waiting to see what's going to happen and afraid that nothing will ever be the same again.
What I do in the sermon is I read the Thomas story right alongside the song "Tomorrow." At the end of "Tomorrow," just as at the end of that chapter in John, there is a great epiphany of Christ, an epiphany that some people think is even a little too over the top for U2. It illustrates how that determination to encounter truth, whatever it costs (the line that I pick up on in the song is the vow, "I'm going out there, I'm going to open the door and go out and see what's there") and lo and behold, when the narrator opens that door, it's the door that Jesus has been standing at and knocking. And just like Thomas, he has an encounter with Christ.
Related Elsewhere:
Maynard keeps a blog of U2 sermons.
Get Up Off Your Knees is available from Christianbook.com and other book retailers.
Other Christianity Today articles about Bono and U2 include:
Bono's American Prayer | The world's biggest rock star tours the heartland talking more openly about his faith as he recruits Christians in the fight against AIDS in Africa. (Feb. 21, 2003)
Bono's Thin Ecclesiology | Any person can stand outside the church and critique its obedience to the gospel. (Feb. 21, 2003)
'Pop Music with Brains' | From the beginning, U2 has engaged spiritual questions. (Feb. 21, 2003)
'A Rock Band That's Good for Something' | The author of Walk On: The Spiritual Journey of U2 talks about why politicians listen to Bono. (April 19, 2002)
Bono Tells Christians: Don't Neglect Africa | He urges evangelicals to take a lead in fighting AIDS and poverty. (April 19, 2002)
Inside CT: Bono's Burning Question | Evangelicals and the U2 front man try to figure each other out. (April 19, 2002)
Honest Prayer, Beautiful Grace | The messianic and passionate U2 sounds like itself again. (Feb. 8, 2001)
Dick Staub is president of the Center for Faith and Culture, which examines intersections between popular culture and religious belief. Complete transcripts and audio versions of Dick Staub Interviews can be found at dickstaub.com. Recent Dick Staub Interviews for Christianity Today include:
Craig Barnes Is Getting Restless | The author of Sacred Thirst says modern life is nomadic, and we are all searching for a home we can't find on earth. (April 13, 2004)
Coming Back to the Heart of Worship | We can't not worship, says Harold Best. But we can worship wrongly. (April 06, 2004)
William Dembski's Revolution | The author of Intelligent Design set out to answer the toughest questions about the movement he helped promote (Mar. 30, 2004)
Steve Wilkens Loves Bad Christians and Pagans | The author of Good Ideas from Questionable Christians and Outright Pagans believes Christians can learn a lot from skeptics and non-Christians. (March 23, 2004)
Transforming Culture into God's Image | Gregory Wolfe, author of Intruding Upon the Timeless, has opted out of the culture wars in order to build a Christian culture for others to imitate. (March 16, 2004)
Article continues below
Heidi Neumark is Transfiguring the Bronx | After spending 20 years as pastor of a church in the Bronx, Heidi Neumark realized that sometimes people just need some Breathing Space (March 09, 2004)
Serving God Without God | The author of Running on Empty discusses his life in ministry with and without a walk with God. (March 2, 2004)
China's Christian Syndrome | David Aikman, author of Jesus in Beijing, says in 20 years Christians could have a major impact on China, and that could change the world. (Feb. 18, 2004)
The Gospel According to Tupac Shakur | Why do kids relate so well to hip-hop artists Eminem or Tupac? And what can a preacher learn from these modern-day prophets? (Feb. 10, 2004)
Craig Detweiler Finds Faith in Film | The co-author of A Matrix of Meanings talks about spirituality on screen. (Feb. 03, 2004)
Walter Wangerin Finds God Everywhere | The author of The Book of God discusses his newest novel—an ancient story with modern relevance. (Jan. 27, 2004)
Lauren Winner's Faith Still a Bit Jewish | The author of Girl Meets God discusses the Jewish habits that inform her Christianity (Jan. 20, 2004)
Ravi Zacharias's Wonderful World | The author of Jesus Among Other Gods explores God's gift of awe. (Jan. 13, 2004)
Michael Card Discovers St. Peter | In A Fragile Stone: The Emotional Life of St. Peter, Card says sinking is more important than walking on the water. (Dec. 16, 2003)
Mary Poplin Calls Claremont Her "Calcutta" | After seeking God through telepathic spoon bending exercises, this professor found God, and with the help of Mother Teresa, her calling. (Dec. 10, 2003)
The Dick Staub Interview
Dick Staub was host of a eponymous daily radio show on Seattle's KGNW and is the author of Too Christian, Too Pagan and The Culturally Savvy Christian. He currently runs The Kindlings, an effort to rekindle the creative, intellectual, and spiritual legacy of Christians in culture. His interviews appeared weekly on our site from 2002 to 2004.
Previous The Dick Staub Interview Columns: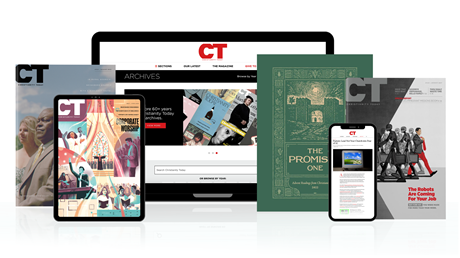 Annual & Monthly subscriptions available.
Print & Digital Issues of CT magazine
Complete access to every article on ChristianityToday.com
Unlimited access to 65+ years of CT's online archives
Member-only special issues
Subscribe
Exegeting U2
Exegeting U2