Six churches attacked during worship services
Six churches attacked during worship services
Terrorists in Iraq have attacked Christians before, but never like this. Previous attacks have focused on liquor stores, which tend to be operated by Christians since Islam forbids alcohol sales. Other attacks on Christians seem to have been more directed at general chaos or against foreigners. But yesterday's attack on six churches in Baghdad and Mosul was the first against native Iraqi Christians as Christians. (AP has video, BBC has a photo gallery.)
One church was in the middle of Communion. Another congregation was listening to the sermon. Still another was reportedly in the middle of a funeral service. By the end of the bombings, which were apparently coordinated over a 30-minute period, at least 11 people were dead and 52 injured. That number is expected to rise, says The Guardian. "We are expecting a huge number of casualties," an Interior Ministry official told Reuters.
The first attack was against the Armenian Catholic Cathedral in Baghdad's Karada district. As with four of the six attacks, it was a car bombing. It was about 6:30 p.m., and the service had only just begun. (Christian churches hold services in the evening because Sunday is a workday in Iraq; the weekend is Thursday and Friday.) After the explosion, parishioners ran outside, only to witness a similar attack on the Our Lady of Salvation Church Assyrian Catholic Church about 500 yards away. Shortly thereafter, St Peter and St Paul Church, next to the Chaldean Catholic Seminary in Dura district, and the St. Elijah of Heyra Church in the New Baghdad district were bombed. Most of the deaths occurred at St. Elijah's, since congregants were leaving the service when the bomb went off.
The attack wasn't limited to Baghdad: 220 miles north, in the city of Mosul, another car bomb exploded outside the Mar Polis (St Paul) Catholic Church. Here, unlike the other attacks, rocket-propelled grenades were also fired at the church.
Small graces
The attacks could have been much worse. Police found a bomb outside St John the Baptist Church in Dura (the only non-Catholic church targeted in yesterday's attack), but were able to defuse it before it went off.
The Times of London reports that the attacker of the Church of Our Lady of the Flowers, the Karada Armenian Catholic congregation, tried to get much further into the compound:
Muhammad Ali Mansour, a 25-year-old guard protecting a neighboring government building, said that the bomber, a heavily bearded Arab in a taxi, had begged him to be let through a street barricade.
"He pleaded repeatedly, saying, 'I have something to do inside.' But we know all the residents here and he was a stranger. He begged us three times but I sent him away and he went up another road," he told

The Times

.
The bomber instead targeted an electrical generator and its fuel tanks, but few were seriously injured and there and no deaths were reported. Another small grace: Police found four unexploded artillery shells in the remains of the car.
Regardless of whether the attack could have been worse, many Iraqis are predicting that it will get worse.
"I'm sure this is the beginning of a campaign against Christians," Lance Conway, a choir member at the Church of Our Lady of the Flowers, told the Chicago Tribune. "It was at a time when we were celebrating Mass so they were targeting people, not just the building."
Indeed, fellow parishioner Mazen Sami Hartayoun said the attack went beyond mere terrorism. "This is not an explosion to scare people," he told The Times. "If you want to frighten them you'd use a small bomb."
Like many interviewed by the Western press today, George Abouna, who attends St. Elya's Chaldean Church, said Iraqi Christians expected to be targeted soon. "We knew it was a matter of time before they got to us," he told The Telegraph. "They are trying to divide Iraq but they will never succeed. When will they learn that only peace and love can restore our country? I pray for their forgiveness."
Assigning blame
But who are they? So far no group has taken credit for the church bombings. Iraqis quoted in today's papers seem united in their assertion that the attack must have come from non-Iraqi troublemakers, but few details have yet emerged.
Iraqi national security adviser Mowaffaq al-Rubaie, however, lays the blame squarely on Abu Musab al-Zarqawi, the al Qaeda-linked Jordanian who has taken credit for several terrorist actions in Iraq, including several of the recent beheadings.
"There is no shadow of a doubt that this bears the blueprint of Zarqawi," Rubaie told Reuters. "Zarqawi and his extremists are basically trying to drive a wedge between Muslims and Christians in Iraq. It's clear they want to drive Christians out of the country."
Deputy Prime Minister Barham Saleh was less specific. "Sources of danger," he told the Associated Press, "are represented by al-Qaida's followers and supporters of the former [Saddam Hussein] regime."
Brother Louis, a deacon at Our Lady of Salvation, seemed to agree with Rubaie in surmising the terrorist's motivation. "What are the Muslims doing? Does this mean that they want us out?" he asked the Associated Press. "Those people who commit these awful criminal acts have nothing to do with God. They will go to hell."
Reemon Merghi, a Christian who saw the Armenian church bombing from his apartment, made a similar condemnation in an interview with The Washington Post. "This is God's house. Those who did this may think they will go to heaven, but they will go to hell. Maybe they think they are going to make Muslims and Christians fight each other, but we are like one family living in one house."
Others agree:
"We have lived with Muslims for thousands of years," he said. "Nothing like this ever happened before. They cannot be Iraqis. They came to make trouble in the country." — Christian businessman, Fadel Aziz, quoted by The New York Times.
"Whoever did this has no religion and principle. No religion accepts such acts of sabotage and murder. They want to create civil strife between us and the Muslims." — Samir Behnam, who was praying inside the Assyrian Catholic church when it was attacked, quoted by The Guardian.
"What are they targeting? Churches and mosques are places to give prayers to God. It's the same. These terrorists don't differentiate between anybody anymore, between innocent and guilty, Christian and Muslim." — Nazhat Abd, outside St. Elya's, quoted by the Los Angeles Times.
Some Iraqis, however, say Christians are being targeted because they share their religion with the occupying U.S. forces. A gruesome Washington Post sidebar describing the effects of the attack ends with this quote: "The Americans are responsible for this."
Deputy Foreign Minister Labid Abawi seems to have overstepped the facts in countering this line of thinking. The attack, he told the Associated Press, "isn't against Muslims or Christians. This is against Iraq." It sounds ridiculous, because of course the attack is against Christians. What else could a coordinated attack on church services be? But Abawi isn't wrong to include Muslims.
The attack on St. Elya's Chaldean Church, for example, did far more damage to an "adjacent Shiite mosque, its minaret almost nuzzling the church's cross," the Los Angeles Times reports. The mosque was reportedly in the middle of a funeral service at the time. A Muslim family of five living next door to one of the churches was also killed, says The New York Times, as was a Muslim passer-by.
Iraq's Muslim clerics are condemning the attack, however, not because it killed Muslims, but because it killed Iraqi Christians.
"We reject these criminal acts which want to create religious and sectarian strife in Iraq," Adnan al-Asadi, a senior member of the Shi'ite Dawa Islamic party, told Reuters. "We do not differentiate between these acts which are in violation of religious and Islamic laws because the perpetrators of these acts … are the same people who strike Iraqi mosques and centers for the internal security forces."
A spokesman for radical Shiite cleric Muqtada al-Sadr, told Al-Jazeera television, "This is a cowardly act and targets all Iraqis."
Grand Ayatollah Ali al-Husseini al-Sistani, Iraq's top Shiite Muslim cleric, was even harsher in his condemnation. "We condemn and reproach these hideous crimes and deem necessary the collaboration of everyone—the government and the people—in putting an end to aggression on Iraqis," he told the Associated Press. "We assert the importance of respecting the rights of Christian civilians and other religious minorities and reaffirm their right to live in their home country Iraq in security and peace."
Until then, however, it's likely that the Christian exodus from Iraq will grow. That is a tragedy, since Christians have been in the country since the first century—long before modern Iraq and the United States ever came into being. But it's more than a historical tragedy, Middle East Concern notes in a press release. Such an exodus "could harm Iraq's chances of becoming a pluralistic, tolerant society."
Related Elsewhere:
Suggest links and stories by sending e-mail to weblog@christianitytoday.com
Check out Books & Culture's weekly weblog, Content & Context.
See our past Weblog updates:
July 30 | 29 | 28 | 27
July 23 | 22 | 21 | 20 | 19
July 16 | 15 | 14 | 13 | 12
July 9 | 8 | 7 | 6
July 3 | 2 | 1 | June 30
June 25 | 24 | 23 | 22 | 21
and more, back to November 1999
Weblog
Launched in 1999, Christianity Today's Weblog was not just one of the first religion-oriented weblogs, but one of the first published by a media organization. (Hence its rather bland title.) Mostly compiled by then-online editor Ted Olsen, Weblog rounded up religion news and opinion pieces from publications around the world. As Christianity Today's website grew, it launched other blogs. Olsen took on management responsibilities, and the Weblog feature as such was mothballed. But CT's efforts to round up important news and opinion from around the web continues, especially on our Gleanings feature.
Ted Olsen is Christianity Today's executive editor. He wrote the magazine's Weblog—a collection of news and opinion articles from mainstream news sources around the world—from 1999 to 2006. In 2004, the magazine launched Weblog in Print, which looks for unexpected connections and trends in articles appearing in the mainstream press. The column was later renamed "Tidings" and ran until 2007.
Previous Weblog Columns: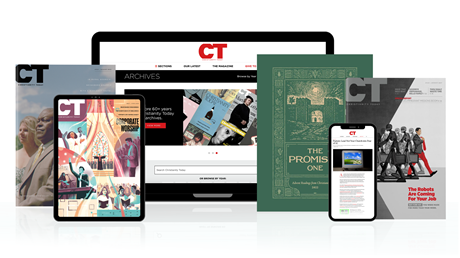 Annual & Monthly subscriptions available.
Print & Digital Issues of CT magazine
Complete access to every article on ChristianityToday.com
Unlimited access to 65+ years of CT's online archives
Member-only special issues
Subscribe
Iraq Churches Attacked
Iraq Churches Attacked