If you missed yesterday's Weblog on the Family Research Council's attack on Hillary Clinton, Bill Clinton's remarks on "bearing false witness," and the priest who interrupted the Olympic marathon, click here.
Finding comments about religion in press coverage of the Republican National Convention is kind of like finding comments about Kirk vs. Picard at a Star Trek convention. But there are some "interesting" comments being made, especially by Traditional Values Coalition head Lou Sheldon:
"Father, help us. Help us to save this nation, this nation that has always said that it was under you, under God. Help us to rise and to raise up the banner that will re-elect George W. Bush. … Yes, oh God, forgive us if we are too partisan. But we believe so much is at stake in having him there to guide us in what we believe."
—Sheldon, quoted in the San Jose Mercury News
"We are very pleased that [the] campaign and the convention committee has selected people like Giuliani, Pataki, and Schwarzenegger [all of whom support abortion rights] to speak. … Their talk is for the undecided people watching television. … The undecided are not conservative Christians. … Blacks and Hispanics love Mr. Schwarzenegger's 'Terminator' image and seeing him there is a chance for transferring the value of what George Bush needs for his vote."
— Sheldon, quoted by CBSNews.com
"Certainly Rev. Lou Sheldon and the Traditional Values Coalition will not reach that undecided small percentage of voters."
— Sheldon, again quoted by CBSNews.com
Here are some more notable quotes of the day:
"What's your plan for parenting & educating all the unwanted children you people want to bring into the world? Who will pay for policing our streets & maintaining the prisons needed to contain them when you, their parents & the system fail them? Oh, sorry. All that money has been earmarked to pay off the Bush deficit. Give me a frigging break, will you?"
—Todd Eastham, North American news editor for the Reuters news agency, in an e-mailed response to a National Right to Life Committee's e-mailed press release. The e-mail, which a Reuters spokesman called "unfortunate," was noted by Washington Post media columnist Howard Kurtz.
"The United States Supreme Court has held that the unborn are not included within the protection of the Fourteenth Amendment, which contains the Equal Protection Clause. That Court held in Roe v. Wade that the word person, as used in the Fourteenth Amendment, does not include the unborn. While the Supreme Court has acknowledged the state's interest in the life of a fetus before birth, it has never repudiated its holding in Roe that the Equal Protection Clause does not apply to a fetus. The Legislature may therefore extend wrongful death and survival causes of action only to persons that are born live without violating the federal Equal Protection clause."
—Texas Supreme Court, ruling (PDF) that parents of a stillborn child can't sue a Fort Worth hospital for negligence because their child was not a person. The Houston Chronicle notes that Texas is one of only 10 states that don't allow wrongful-death claims for stillborn children.
"There was one that mentioned, 'There is no God.' Another speaks to, 'Priests are known to have been molesting kids for years. If you don't know what molesting is, ask your mom.' "
—Don Williams, senior associate pastor of First Assembly of God in Fort Wayne, Indiana, which runs Cornerstone Daycare Learning Center. The daycare center was closed Friday morning after its yard was littered with antireligious messages and threatening messages were left on its voice mail. It reopened yesterday with police protection.
No quote yet from the story of "Terri's Law" heading to the Florida Supreme Court, but here are the main stories covering it:
Case of brain-damaged woman heads to court | The question before the court is whether the law Bush signed in October to keep the 40-year-old Schiavo alive violates her constitutional right to privacy and the separation of government powers (Associated Press)
Schiavo right-to-die case heading to Florida court | Arguments will begin on whether `Terri's Law' violates its namesake's constitutional rights (The Orlando Sentinel)
Court opens Schiavo case today | The Florida Supreme Court hears arguments today on whether Terri's Law, which allowed Gov. Jeb Bush to order that a severely brain-damaged woman be kept alive, is unconstitutional (The Miami Herald)
Disability groups back governor | The Supreme Court hearing on the Terri Schiavo case starts (Associated Press)
A place between life and death | Debaters and court tackle 'Terri's Law' (Tallahassee Democrat)
Battle over feeding tube heads to state's top court (Palm Beach Post)
Battle rages, but Schiavo's fate is sealed | Bush vs. Schiavo is a constitutional confrontation born out of crass politics, family discord, religious and medical ethical disputes and years of litigation (Fred Grimm, The Miami Herald)
Terri Schiavo case is really about disability rights | Disability organizations wish that the ACLU would challenge a wrongful death sentence for Ms. Schiavo as righteously as it does a wrongful Death Row judgment in criminal cases (Diane Coleman, Tallahassee Democrat)
Strike down 'Terri's Law' | Do Floridians, who may have to face such emotional moments within their own families, want the court to let stand a precedent that allows the state to butt in on such a personal decision, especially when the politics are exploitable? (Editorial, Palm Beach Post)
Related Elsewhere:
Suggest links and stories by sending e-mail to weblog@christianitytoday.com
Check out Books & Culture's weekly weblog, Content & Context.
See our past Weblog updates:
August 30
August 27 | 26 | 24 | 23
August 20 | 19 | 18 | 17 | 16
August 13 | 12 | 11 | 10 | 9
August 6 | 5 | 3 | 2
July 30 | 29 | 28 | 27
and more, back to November 1999
Weblog
Launched in 1999, Christianity Today's Weblog was not just one of the first religion-oriented weblogs, but one of the first published by a media organization. (Hence its rather bland title.) Mostly compiled by then-online editor Ted Olsen, Weblog rounded up religion news and opinion pieces from publications around the world. As Christianity Today's website grew, it launched other blogs. Olsen took on management responsibilities, and the Weblog feature as such was mothballed. But CT's efforts to round up important news and opinion from around the web continues, especially on our Gleanings feature.
Ted Olsen is Christianity Today's executive editor. He wrote the magazine's Weblog—a collection of news and opinion articles from mainstream news sources around the world—from 1999 to 2006. In 2004, the magazine launched Weblog in Print, which looks for unexpected connections and trends in articles appearing in the mainstream press. The column was later renamed "Tidings" and ran until 2007.
Previous Weblog Columns: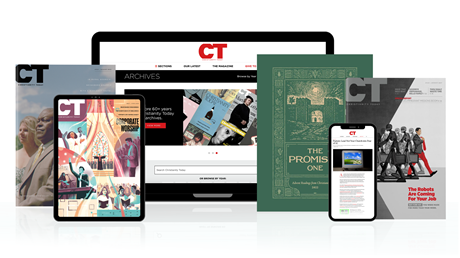 Subscribe to Christianity Today and get access to this article plus 65+ years of archives.
Home delivery of CT magazine
Complete access to articles on ChristianityToday.com
Over 120 years of magazine archives plus full access to all of CT's online archives
Subscribe Now
They Said It
They Said It