ABA proposed ethics code changes include "sexual orientation" rule
ABA proposed ethics code changes include "sexual orientation" rule
An Associated Press story from late Friday notes that among several proposed changes to the American Bar Association canons of conduct for judges is one prohibiting membership in groups that discriminate on the basis of sexual orientation. Here, according to the ABA's website, is the change (additions are underlined):
3.03 Affiliation with Discriminatory Organizations.

A judge shall not hold membership in any organization that practices invidious discrimination on the basis of race, sex, religion, or, national origin

, ethnicity, or sexual orientation, and shall not use the facilities of such an organization to any significant extent

.
Associated Press Gina Holland suggests some implications:
It is not known how many judges participate in groups such as the Boy Scouts that have policies against hiring gays or having homosexual leaders, or some veterans groups that restrict membership to heterosexuals. … The ABA is not expected to vote on any changes until next year. It would be the first overhaul of the rules in more than a decade, and any changes eventually could affect thousands of judges. …
The proposed change to membership in groups that discriminate against gays is energized in part by the Supreme Court's ruling a year ago that states cannot "demean" same-sex couples by punishing their sexual conduct. The leader of the ABA commission, Phoenix lawyer Mark Harrison, said that without getting into a political debate about the rights of gay couples to marry, the panel wants to "make sure that judges aren't viewed as bigots."
New York University ethicist Stephen Gillers is quoted in favor of the change, senior U.S. District Judge and University of Maryland senior judicial fellow and lecturer Frederic Smalkin is against it. Activists from the American Family Association and Lambda Legal are quoted on their usual perspectives.
But here's one problem with the report:
Smalkin said it could be difficult to define what organizations are acceptable. "Does that mean a judge could not belong to the reserves or National Guard?" he asked
No, since the proposed changes specifically say they can. Here's the proposed note to go with the new rule:
Membership of a judge in an organization that practices invidious discrimination gives rise to perceptions that the judge's impartiality is impaired. Whether an organization's practices are invidiously discriminatory is often a complex question. An organization is generally said to discriminate invidiously if it arbitrarily excludes from membership on the basis of race, religion, sex, national origin, ethnicity or sexual orientation individuals who would otherwise be admitted. Rule 3.03 does not prohibit a judge's membership in any United States military organization, an organization dedicated to the preservation of religious, ethnic, or legitimate cultural values of common interest to its members, or one that is in fact and effect an intimate, purely private organization whose membership limitations could not be constitutionally prohibited.
So a judge could still serve in the National Guard, belong to a Southern Baptist church, donate to Focus on the Family, or join any host of organizations that gay activists would probably rather prohibit judges from joining.
But what about the Boy Scouts? Is it sufficiently "dedicated to the preservation of legitimate cultural values"? Maybe. But activists would have a hard time making the case that it's "invidiously discriminatory." The New Jersey Supreme Court's ruling that the scouts' ban on gay leaders is based "on little more than prejudice" was overturned by the U.S. Supreme Court back in 2000.
So what group would judges be truly forbidden from joining under this new rule? Dunno. But California has "a 1-year-old rule requires state judges to disclose if they are members of groups like the Boy Scouts," says the AP. The Lambda Legal attorney explains, "It didn't convey the symbolic message that belonging to groups that discriminate based on sexual orientation is always unacceptable for a judge, but it essentially had the effect of making it difficult for judges to continue to belong." Which suggests that the new rule may be less about prohibition and more about pressure.
More articles
Sudan:
Frist calls Darfur killing 'genocide' | Senate leader tours a camp in Chad, cites Sudan's deadline to stop militia (The Washington Post)
Frist: Sanction threat won't end Darfur crisis | The U.S. Senate majority leader said on Tuesday the threat of sanctions against Sudan is not enough to stop what he called a campaign of genocide being waged by Arab militiamen in Sudan's western region of Darfur (Reuters)
Monitor blames Sudan for Darfur militia killings | U.N. awaits pact on steps to halt atrocities (The Washington Post)
EU mission sees abuses, but not genocide, in Darfur | The European Union Monday said it had found no evidence of genocide in the Sudanese region of Darfur, although killing was widespread, with little evidence of government efforts to protect civilians (Reuters)
EU: UN must decide on Darfur atrocities | The European Union said Tuesday that it would be up to U.N. experts to determine whether killings and other atrocities in the Sudanese province of Darfur amounted to genocide (Associated Press)
Sudan massacres are not genocide, says EU | The EU said yesterday there was widespread violence in the Darfur region of Sudan but the killings were not genocidal, a potentially crucial distinction which underlined its reluctance to intervene (The Guardian, London)
Arab League backs Sudan on Darfur | The Arab League has rejected any sanctions or international military intervention as a response to the crisis in Sudan's Darfur region (BBC, video)
Crisis in Sudan resists simple solutions | Haunted by memories of past American failures in Rwanda and other parts of Africa, administration officials say their complex diplomatic efforts have huge implications, not only for American ties with Muslims and Africans, but also for the effort to curb terrorism and the need to repair relations with Europe and the United Nations (The New York Times)
Luis Palau:
First the message now 'the call' | Volunteers phone those who 'made a decision' at Palau gathering (Pioneer Press, St. Paul, Minn)
At least 180,000 attend fest | 800 churches will follow up on response cards (Pioneer Press, St. Paul, Minn)
Also: Thousands hear Palau's message (Minneapolis Star-Tribune)
Skate park to get new home | A 16-year-old boy seals the deal for Palau festival ramps (Pioneer Press, St. Paul, Minn.)
Christians converge on Capitol | An estimated 80,000 gather for a festival combining music, sports and worship (Pioneer Press, St. Paul, Minn.)
Corporations keep evangelical festivals fueled | In a departure from other Christian evangelical events, Luis Palau Evangelistic Association (LPEA) festivals seek financial help from corporate sponsors (Minneapolis Star-Tribune)
Security officials had it easy at Palau festival | The estimated 200,000 people who flocked to an evangelical festival at the State Capitol grounds over the weekend created no serious crowd control, security or health issues, officials said Monday (Minneapolis Star-Tribune)
Stem cells:
Edwards, first lady at odds on stem cells | Democrat backs lifting research restrictions (The Washington Post)
Stem cell research gains political life | Kerry criticizes Bush's limits on the science. And as polls show voters favor less restrictive policies, the president aims to recast his stance (Los Angeles Times)
First lady bashes Kerry stem cell stance | First lady Laura Bush, defending her husband's policy on embryonic stem cell research, accuses proponents of overstating the potential for medical breakthroughs and says it is "ridiculous" for John Kerry to claim the president has banned the research (Associated Press)
Kerry calls for more stem-cell funding | John Kerry said Saturday the restriction on stem cell research imposed by President Bush was a triumph of ideology over science and "only adds to the loss and pain" of millions suffering from potentially curable diseases (Associated Press)
Reagan and P-I wrong about stem cells | For the American people to make a reasoned value judgment, they need all of the facts. The media, including Ron Reagan and the P-I, must do a better job (Wesley J. Smith, Seattle Post-Intelligencer)
Edwards pledges to lift Bush curbs on stem-cell work | Republicans countered by saying the policy is being misrepresented (The Washington Times)
Related Elsewhere:
Suggest links and stories by sending e-mail to weblog@christianitytoday.com
Check out Books & Culture's weekly weblog, Content & Context.
See our past Weblog updates:
August 9
August 6 | 5 | 3 | 2
July 30 | 29 | 28 | 27
July 23 | 22 | 21 | 20 | 19
July 16 | 15 | 14 | 13 | 12
July 9 | 8 | 7 | 6
and more, back to November 1999
Weblog
Launched in 1999, Christianity Today's Weblog was not just one of the first religion-oriented weblogs, but one of the first published by a media organization. (Hence its rather bland title.) Mostly compiled by then-online editor Ted Olsen, Weblog rounded up religion news and opinion pieces from publications around the world. As Christianity Today's website grew, it launched other blogs. Olsen took on management responsibilities, and the Weblog feature as such was mothballed. But CT's efforts to round up important news and opinion from around the web continues, especially on our Gleanings feature.
Ted Olsen is Christianity Today's executive editor. He wrote the magazine's Weblog—a collection of news and opinion articles from mainstream news sources around the world—from 1999 to 2006. In 2004, the magazine launched Weblog in Print, which looks for unexpected connections and trends in articles appearing in the mainstream press. The column was later renamed "Tidings" and ran until 2007.
Previous Weblog Columns: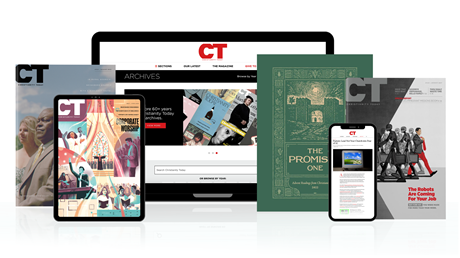 Subscribe to Christianity Today and get access to this article plus 65+ years of archives.
Home delivery of CT magazine
Complete access to articles on ChristianityToday.com
Over 120 years of magazine archives plus full access to all of CT's online archives
Subscribe Now
Will the American Bar Association Bar Judges as Scout Leaders?
Will the American Bar Association Bar Judges as Scout Leaders?