Religious conservative leaders to Bush: Back FMA or lose election
Upset that President Bush hasn't used stronger language to condemn gay marriages in San Francisco and Massachusetts, leaders of conservative Christian political organizations say they might as well let John Kerry win the election. That's the jist of a story in today's Washington Times.
The chief critics seem to be Sandy Rios and Robert Knight, both from Concerned Women for America.
"[The Bush campaign] can't possibly guarantee a large turnout of evangelical Christian voters if he does not do what is morally right and take leadership on this issue as he did on the [Iraq] war" Rios said. "The strength of this president is in his convictions, but our people do not admire his indecision and lack of leadership on an issue so basic as the sanctity of marriage."
Family Research Council President Tony Perkins made a very similar prognostication: "Social conservatives coalesce around strong leadership. That's what motivates and energizes them. And on their core issues, the leadership from the White House is not there right now." American Family Association founder Don Wildmon (who says Bush has "a major problem" with evangelicals), Christian Coalition activist Sadie Fields, and Gary Bauer are also quoted with critical marks, as is an unnamed "prominent evangelical leader" who says he's "just furious over what's going on in California and over what the President is not doing in California."
It looks like all those names are from what's called the "Arlington Group," a coalition of about 20 conservative religious political organizations that is pushing for a federal marriage amendment that would ban civil unions as well as homosexual marriages.
But while many of these groups have made gay marriage their top agenda item for this election year, the Times says they're upset by other issues too, where they say the Bush administration has wilted: pornography, abortion, funding of the National Endowment for the Arts, the Leave No Child Behind education bill, judicial nominees (they're upset about Bill Pryor and Bush's promise not to use a prolife "litmus test").
We've been here before, and it's all part of the political game. A candidate's core constituency is always going to complain that they're not getting enough, or not being paid enough attention, or that one comment (or lack thereof) is going to cause people to change parties or to stay home in protest. It's a way of keeping the candidate in line. In this case, it's an effort to get Bush to make a strong statement of support for a constitutional amendment against gay marriage.
But the each of these quotes tiptoes around the issue: Are these activists making a threat, or are they just playing pundit? Are they saying, "Religious conservatives aren't happy with Bush," or are they saying, "We're not happy with Bush, and we're going to do something about it"? If it's the former, then let's hear some numbers; let's get some polling data; let's call John Green. If it's the latter, why not take the gloves off? None of the quotes suggest that any of these organizations will work against Bush if he doesn't support the Federal Marriage Amendment. Ask yourself: why not? Could it be because these groups really don't want to see Bush lose to a guy who called the Defense of Marriage Act "unconstitutional, unprecedented, unnecessary and mean-spirited" and called the bill's supporters gay bashers?
You know what happens to the kid who keeps threatening to take his ball and go home? Eventually the other kids let him.
More articles
Gay marriage | Sexual ethics | Teen pregnancy | These kids today | Anglicans | Church life | Missions & Ministry | Lent | Bible | The Passion of The Christ | Film | Art | Music | Books | History | Christian TV | Christians and media | Pat Robertson | Culture | FCC | Business | Elevate 2004 | Education | Church and state | Roy Moore and the Ten Commandments | Religion and politics | Life ethics | Human cloning | Abortion | France headscarf ban | Islam | Christians in China | Christians in India | South Korea | Africa | Pastor's faked kidnapping | Night prayer ban in Kenya | AA pilot | Catholicism | Catholic/Orthodox relations | Abuse | Other articles of interest
flocking to San Francisco to get married, whether they'll be granted the rights and privileges that come with marriage is up in the air (

San Francisco Chronicle

)


Top state Dems criticize S.F. mayor | Politicians try not to anger voters

—


50% of Californians oppose same-sex unions (

San Francisco Chronicle

)


Some gay folks are saying 'I don't' or 'not now' | They worry about legal issues or are leery of marriage (

San Francisco Chronicle

)


Gay marriage in Chicago:
Daley on gay marriage: 'no problem' | Mayor Daley said Wednesday he would have "no problem" with County Clerk David Orr issuing marriage licenses to gay couples—and Orr said he's open to a San Francisco-style protest if a consensus can be built (

Chicago Sun-Times

)


Daley backs gay marriages, but can't give licenses | Mayor Richard Daley on Wednesday stepped into the fray over gay marriage, saying he has a "very open mind" and voicing support for a concept that is causing controversy from Massachusetts to California (

Chicago Tribune

)


More on gay marriage and other homosexuality issues:
Sexual ethics:
With this hubris | If the courts uphold San Francisco's flagrant violation of the law, what possible rational basis will there be for denying all sorts of other unconventional — and most would argue, immoral — unions? (Linda Chavez,

The Washington Times

)


Programs teach local teens that sex can wait | Aim for Success, an abstinence program, educates teenagers at Mount Ararat Baptist Church in Stafford County (

The Free Lance-Star

, Fredericksburg, Va.)


Cardinal criticizes 'obsession with sex' | Children's health and happiness are under threat from society's obsession with sex, Cardinal Cormac Murphy-O'Connor, the leader of the Roman Catholic Church in England and Wales, warned yesterday (

The Daily Telegraph

, London)


Cardinal attacks sex in the media | Cardinal Cormac Murphy-O'Connor said he suspected "more often than not" that there was "no real context" to the presentation of sex in the media (BBC)


Teens 'overexposed' to media sex | A federally funded research project has found that children and teens are constantly exposed to sexual images in the media, but warned that no conclusions can be drawn yet about any effects on their sexual attitudes and behavior (

The Washington Times

)


Brazil sex parade:
Brazilian group to tone down sex in parade | Grande Rio — whose carnival theme "Let's Wear the Little Shirt, My Love," slang for using a condom — will modify the explicit decorations on its floats, including a giant Adam and Eve copulating and sexual positions from the Kama Sutra, prosecutor Andrea Rodrigues Amim said (Associated Press)


Teen pregnancy:
These kids today:
Episcopal and Anglican division:
Other Anglican issues:
Church life:
Religion Today: The end of the Brownsville Revival? | nation's longest-running Pentecostal revival — which attracted throngs of crying, singing and shaking believers at its height — is rumbling on these days, but at a slower pace than it once did and now without the preacher who had led it since the beginning (Associated Press)


Hip religion:
Missions & Ministry:
Southern Baptists bring New York their gospel | To reach jaded, materialistic New Yorkers, missionaries are adapting to the local culture, by giving away free candy bars or doughnuts on wintry street corners, for example, or by applying fuzzy New Age lingo to a Sunday worship service (

The New York Times

)


Cheerleader for God | The metal amplifier is gone, but the unbridled energy and humor remain. The difference is that the 49-year-old Kandi Anderson is now cheerleading for God (

Sun Herald

, Biloxi, Miss.)


Lent:
Bible:
The Passion of The Christ:
Actor: 'Christ' may set language trend | "It could be a trendsetter in Hollywood," Caviezel joked Wednesday. "Next year, you may see comedies, thrillers, even musicals in Aramaic." (Associated Press)


The gospel truth | Gibson's movie won't destroy decades of fruitful Christian-Jewish dialogue; it will simply prove how crucial that dialogue is (Rob Eshman,

The Jewish Journal of Los Angeles

)


Mel Gibson:
Mel's father:
Gibson father: Holocaust mostly 'fiction' | Days before the release of Mel Gibson's film about the death of Jesus, which some critics say could fuel anti-Semitism, his father has told an interviewer that the Holocaust was mostly "fiction" (Associated Press)


Hutton Gibson's Passion | Mel Gibson's dad blasts Jews in radio talk show interview (

Newsday

)


Anti-Semitism:
Film:
Jesus' well-traveled cinematic road | Given that self-styled sophisticates shun religious films in general and Jesus stories in particular, there is no doubt that many people will view "The Passion of the Christ" in a cinematic vacuum without knowing how the looming question—of who bears prime responsibility for killing Jesus—has been dealt with in previous screen interpretations of the story (

Variety

)


Jesus resurrected | Reviewing Christ's other memorable screen appearances (

The Sydney Morning Herald

)


Stravinsky, playing with God | 'Rite of Spring' underscores a cinematic meditation on mortality (

The Washington Post

)


Art:
British art show updates images of Christ | The show, which includes 43 artists and 72 works from several mediums, will be shown in stages (Associated Press)


The real Caravaggio is . . . both of them | The troubled saga of whether Dublin or Rome owns the original of Caravaggio's masterpiece The Taking of Christ took what can only be described as an original twist yesterday. They both do. And, improbably, so does the Black Sea port of Odessa. (

The Telegraph

, London)


Music:
Books:
The end of the world | As belief in this end-times prophecy sees a resurgence among Americans - partly because of the phenomenal success of the "Left Behind" series of novels and the disturbing "signs" of terrorism and war - some are seeking to refute the apocalyptic theology (

The Christian Science Monitor

)


Spiritual book having strong influence on churches | Mel Gibson's movie

The Passion of the Christ

is part of a bigger Christian shockwave coming from California. At the epicenter is a wildly popular book on living, entitled

The Purpose-Driven Life

. (WFAA, Dallas)


History:
Christian TV:
Deadline changed for sale of KOCE | Responding to the threat of a lawsuit from a losing bidder for their TV station, the trustees for an Orange County community college district said Wednesday they would continue negotiating with a foundation that has promised to preserve the PBS-affiliation but set a March 10 deadline to complete the deal (

Los Angeles Times

)


Christian broadcaster disputes KOCE sale | Daystar Television is threatening to sue, saying it was the highest responsible bidder for the station (

Independent

, Huntington Beach, Ca.)


Court rules channels to stay on Dish | Bedford's Daystar Television Network and Southern Baptists' FamilyNet TV of Fort Worth will remain on the Dish Network after an appellate court reversed a court order Thursday that threw the Christian broadcasters off the nation's second-largest satellite provider (

Ft. Worth Star-Telegram

)


Christians and media:
Christian media can clean up culture | Job No. 1 for Christian broadcasters is to provide a fresh alternative for people turned off by what goes out over the secular airwaves. But it's not enough for Christian broadcasters to preach to the choir (Ken Garfield,

The Charlotte Observer

)


Pat Robertson:
Muslims angered by criticism of Islam | Israel's top tourism official honored evangelist Pat Robertson, who has helped steer evangelical Christians to the country, and both men criticized the morality of Muslims in the Middle East (Associated Press)


Israeli officials honor evangelist | Muslims angered by praise of Robertson, who criticizes Islam (

The Charlotte Observer

)


Culture:
FCC:
F. Graham says Bush will clean up airwaves | Franklin Graham supported but did not endorse President Bush in saying his re-election was the only way to stem "garbage" like that seen in Super Bowl halftime show, the evangelist's spokesman said Monday (

Asheville Citizen-Times

, N.C.)


Business:
Microsoft removes swastika from software | The swastikas appeared as options for users within a font called Bookshelf Symbol 7, one of a large number of character choices available in Office 2003 which went on sale at the end of last year (

Irish Examiner

)


Christian businesses have faith in 'Passion' | Firms rally behind Mel Gibson's account of Jesus' death as a way to spread their message and boost their profits (

The Baltimore Sun

)


Elevate 2004:
Education:
Church and state:
Roy Moore and the Ten Commandments:
Lawyer defends Moore's ouster | A Christian broadcaster's federal lawsuit seeking to reinstate ousted Chief Justice Roy Moore should be dismissed because her voting rights weren't violated, a state prosecutor said (

Montgomery Advertiser

, Ala.)


Politics:
International politics:
Political minnows unite 'to fight for God' | New Labour Party and Christian Democratic Party join, complaining that the "government has shown scant regard for religious values and instead opted for a type of liberalism, which is foreign to our people" (SAPA, South Africa)


Christians went to polls Friday | Iranian Christians turned out massively at the polling stations here Friday morning to cast their votes for the 7th parliamentary (Majlis) elections (Irirb, Iran)


Criminalizing words too close to thought control | LaPierre should realize his nasty comments speak louder against Bill C-250 than any argument I could make (Susan Martinuk,

The Province

, Vancouver, B.C.)


Life ethics:
Human cloning:
Dolly creator changes tack and backs baby cloning | In a dramatic reversal of his position three years ago, when he said he could see "no ethical or moral reason" to clone people, Ian Wilmut, a scientist at the Roslin Institute in Scotland, says today that cloning humans "would be desirable under certain circumstances" (

The Independent

, London)


Dolly expert backs baby cloning | The scientist who cloned Dolly the sheep said yesterday that the potential benefits of genetic engineering in curing hereditary diseases were so great "it would be immoral not to do it" (

The Daily Telegraph

, London)


Should we put a limit on cloning research? | Religious leaders respond (

Los Angeles Times

)


Abortion:
Roe v. Wade:
Court to hear case to reopen Roe v. Wade | federal appeals court has agreed to hear a request from the woman formerly known as "Jane Roe" to reconsider the 1973 U.S. Supreme Court decision Roe v. Wade that legalized abortion (Associated Press)


Reawakening 'Roe v. Wade' | For the first time in more than 31 years, an original litigant in Roe v. Wade will be before a federal appeals court asking it to reconsider the most controversial U.S. Supreme Court decision in modern history (Texas Lawyer/Law.com)


Roe vs. Wade hearing set in March | Appeals court to rule on Dallas woman's request to revisit abortion case (

The Dallas Morning News

)


'Jane Roe' takes her case back to court | Armed with more than 1,000 affidavits and 30 years of regret, the woman at the center of the landmark Roe v. Wade abortion case is returning to the courtroom in hope of overturning the U.S. Supreme Court's decision that made the procedure legal (

Houston Chronicle

)


Portugal abortions:
France headscarf ban:
Islam:
Different, banned | Muslims suffer religious persecution at the hands of other Muslims (Amjad M. Khan,

The Wall Street Journal

)


Hold the line on Sharia | Ayatollah Sistani, Islamic law, and Iraq's interim constitution (Paul Marshall,

National Review Online

)


No pigging out at KFC | Four KFC restaurants in Australia have taken bacon off the menu in favor of Muslim-friendly products (

Herald Sun

, Melbourne, Australia)


Christians in China:
Three Chinese Protestant leaders arrested | The China Aid Association, from its U.S. headquarters in Glenside, Pennsylvania, announced the arrest of 3 Chinese Protestant leaders in the province of Henan, a hotbed for Christian underground religious activity (AsiaNews, Italy)


Opening China to religion | You might expect a gathering of Chinese government-sanctioned religious leaders and U.S. Christian evangelists to disintegrate into a shouting match (

Houston Chronicle

)


Chinese pastors discuss revival | The faithful prefer supersized sermons (

Pittsburgh Post-Gazette

)


Christians in India:
Slightly tarnished | Not all reports from the US proclaim that India is shining (Bibek Debroy,

The Telegraph

, Calcutta, India)


US panel on religious freedom wants to visit India | The US Commission on International Religious Freedom has sought a fresh invitation to visit India for a firsthand assessment of the state of religious freedom in the country (

Hindustan Times

, India)


'Give us a place to bury our dead' | The East Indian community in particular and the Christian community in general, have organised a 'Gao Bandi,' protesting the lack of a cemetery in Mulund (

Mid-Day

, Mumbai, India)


South Korea:
Korean church's dream: 42,000-square-foot addition | Members of United Presbyterian Church have named their proposed new education and conference facility the Dream Vision Center, after a Bible passage that says young men shall see visions and old men dream dreams (

The Seattle Times

)


Prisoners beyond the heart | South Korea is rapidly moving towards becoming a Christian majority nation, a first for East Asia (Nathaniel Long,

The Korea Times

)


Africa:
Pastor's faked kidnapping:
'Hijack' dominee just wanted time alone | The former Pretoria dominee accused of lying to police about his "hijacking" on Thursday pleaded guilty in the Pretoria district court to a charge of perjury (

Pretoria Times

, South Africa)


Dominee lived 'double life' | Dominee Paul Beyl pretended he was the victim of a hijacking because he thought people would feel sorry for him and give him money to support him financially (

Beeld

, South Africa)


Night prayer ban in Kenya:
Banning 'kesha' will not solve anything | Whereas the directive against night prayers might be lauded in some quarters as bold and wise, many Christians, especially those in evangelical churches, are not convinced (Francis Ayieko,

The Daily Nation

, Nairobi, Kenya)


Ban on night prayers inspired | PCEA Moderator David Githii has some interesting news: night prayers within the church will be no more. To some, these are words of wisdom, but some religious zealots may see this as an affront to their faith (Editorial,

Daily Nation

, Nairobi, Kenya)


AA pilot:
Thy people's will be done | Flying the fanatical skies with American Airlines (Alan Bisbort,

Hartford Advocate

, Conn.)


Ask the pilot | Is it ever appropriate to praise the Lord over an airplane's P.A. system? (Patrick Smith, Salon.com)


Flying can be a spiritual experience | As if flying weren't stressful enough these days, what with security checks and the very real possibility that you will be seated next to someone wearing exploding shoes, you have to be careful which religion you bring on board (David Grimes,

Sarasota Herald-Tribune

, Fla.)


Catholicism:
On sex, celibacy and the papacy | My suspicion though is that, apart from people desirous of being Roman Catholic priests, but find the celibacy rule too harsh, most people who want priests to get married are women who are attracted to a priest (Michael Burke,

The Jamaica Observer

)


Married archbishop back at Vatican | Emmanuel Milingo, who has been living quietly in a 13th century monastery south of Rome in the last two years since he returned to the Catholic Church, attended Pope John Paul II's general audience with bishops from an ecumenical group of which he is a member (Reuters)


Also: Controversial Archbishop returns to Italy | The most famous stray of the Catholic Church, African archbishop Emmanuel Milingo, who rocked the Vatican by eloping then repenting, has returned to the fold again after reportedly fleeing to his native Zambia in late 2003 (

Zoomata

, Italy)


Catholic/Orthodox relations:
Abuse:
A probe at $770 per hour | All allegations of sexual misconduct against Bishop Howard Hubbard, head of the Albany Roman Catholic Diocese, will be looked into in detail, leaving no rock unturned, without fear or favor (

The Times-Union

, Albany, N.Y.)


Vatican to publish clergy sex abuse report | The Vatican will soon publish a report about clergy sexual abuse that draws heavily on scientific opinion, including experts skeptical about removing from the ministry any priest who has molested a child, a psychologist who helped edit the report said (Associated Press)


Mahony comes up short | The innocence of priests accused of pedophilia is not for Mahony or church lawyers to decide (Editorial,

Los Angeles Times

)


Other articles of interest:
Related Elsewhere:
Suggest links and stories by sending e-mail to weblog@christianitytoday.com
Check out Books & Culture's weblog, Content & Context.
See our past Weblog updates:
February 19 | 18 | 17 | 16
February 13 | 11 | 10 | 9
February 6 | 5 | 4 | 3 | 2
January 30 | 29 | 28 | 27 | 26
January 23 | 22 | 21 | 20 | 19
January 16 | 15 | 14 | 13 | 12
January 9 | 8 | 7 | 6 | 5
and more, back to November 1999
Weblog
Launched in 1999, Christianity Today's Weblog was not just one of the first religion-oriented weblogs, but one of the first published by a media organization. (Hence its rather bland title.) Mostly compiled by then-online editor Ted Olsen, Weblog rounded up religion news and opinion pieces from publications around the world. As Christianity Today's website grew, it launched other blogs. Olsen took on management responsibilities, and the Weblog feature as such was mothballed. But CT's efforts to round up important news and opinion from around the web continues, especially on our Gleanings feature.
Ted Olsen is Christianity Today's executive editor. He wrote the magazine's Weblog—a collection of news and opinion articles from mainstream news sources around the world—from 1999 to 2006. In 2004, the magazine launched Weblog in Print, which looks for unexpected connections and trends in articles appearing in the mainstream press. The column was later renamed "Tidings" and ran until 2007.
Previous Weblog Columns: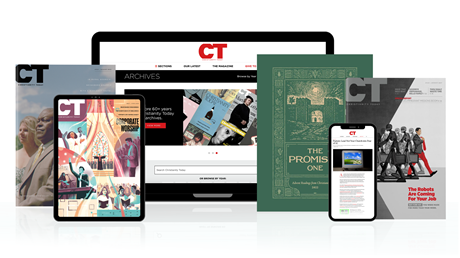 Annual & Monthly subscriptions available.
Print & Digital Issues of CT magazine
Complete access to every article on ChristianityToday.com
Unlimited access to 65+ years of CT's online archives
Member-only special issues
Subscribe
Religious Conservative Leaders Savage Bush
Religious Conservative Leaders Savage Bush