true
Craig Detweiler is uniquely equipped to examine the intersections of faith and culture. He's a screenwriter with a filmmaking degree. He also has a degree from Fuller Seminary as a follower of Jesus. He's taught at the LA Film Studies Center, is now Associate Professor of Mass Communications at Biola University. He's co-author with Barry Taylor of a provocative new book, A Matrix of Meanings: Finding God in Popular Culture.
What was the point at which you began to see these faith and film intersect?
I would say it was the moving Raging Bull. I saw it as a senior in high school. Martin Scorcese directing from a Paul Schrader script, and it was an ugly, tough, brutal film. It had two hours of boxer Jake LaMotta pounding his head literally against the wall. I have to tell you as a senior in high school, playing football, I actually related to all that aggression and frustration. At the end of the movie, after two hours of all this pain and suffering, the screen fades to black and something comes on the screen, and it says, "All I know is this: Once I was blind, but now I can see."
And I thought, boy, I understand blindness. I'm not sure what sight is. In a sense, the movie Raging Bull catapulted me on a serious search to learn to see, ultimately finding Jesus at the end of that journey.
I also studied a Master's of Divinity degree at Fuller, which is a full background in Bible, in church history and theology, and I really loved the depth of the understanding that I got about the kingdom of God and who Jesus was and who Jesus is and what does it mean to be followers of God in a community of faith. But it was a class on Christianity and pop culture that actually catapulted me to film school.
There are a lot of people that agree that there are themes in film that have theological implications, but you're really going farther than they are. You're saying that there's a process of revelation happening through popular culture. What do you understand about the nature of God's revelation in popular culture?
I certainly affirm the power of special revelation and Scripture and the centrality of that as a measuring stick to lead and guide our lives. But in the book I am definitely celebrating general revelation. It's a long tradition that's revealed in the Bible where God would choose to speak through a donkey, where he would free his people through a king of Persia like Cyrus, where the last couple chapters of Proverbs are coming out of Egyptian wisdom literature. God is speaking through unlikely people and means. And I think he's doing the same thing today. He's choosing Jim Carrey, in a movie like Bruce Almighty, to impart a message to millions of people.
Now, you've got a top 10 theology list, where you mention being post-national, post-rational, post-sexual and other posts. Why are those important to understand?
Well, much of evangelical Christianity has positioned itself, really starting with Darwin and Freud, to take on things like science and psychology. All that was very important at the turn of the last century. The turn of the new century it's no longer the modern era of Darwin and Freud and Communism, but it's a postmodern context. And so maybe science isn't as important as myth. Maybe the next generation doesn't worship at the church of Darwin, they actually believe in the power of story, rather than the power of proof. They might be less rational and more emotional. They might lead with their heart rather than their head. And to the degree the church has aligned itself with the struggles of the last century, we may be ill-equipped to respond to the challenges of the next century.
I find that I don't need to explain postmodernity to people under 40. They inherently understand that as the air that they breathe. I remember talking to a student about a film called Run Lola Run, this odd little German film, and how it's irrational and emotional and doesn't follow things in a linear line. And I said, "This represents a new way of thinking." And he said, "Well, what other way of thinking is there?"
At what point does a person of faith have to engage in a critical analysis and dialogue and even a rejection of some of the elements of postmodernism?
My hope is that there will be plenty of people who will take on the downside of postmodernism and point out where it's good to be rational and it's good to think with your head sometimes. We decided to celebrate what's right with it. Because in a sense, we're trusting that God is in it, that as people of faith our job isn't to oppose stuff, it might be to embrace stuff. My job might be to build bridges rather than erecting barriers.
You make reference to 1999 as the year that changed movies. And then you interact with some of the themes that emerged that year in film. Give us a little slice of why that was a year that changed movies.
The same year that The Matrix was released on Easter weekend, you also had films like American Beauty and Fight Club and Magnolia and Run Lola Run and Dogma, Sixth Sense, films that assumed life beyond what you could see. All of them dealt with the possibility of miracles beyond, of life outside of ourselves, as a search for something more. And I think that characterizes where we are in a culture right now. We have a spiritual culture, not necessarily a Christian culture, but a spiritual culture that assumes a certain respect for the mystery of the divine.
Related Elsewhere:
A Matrix of Meanings is available from Christianbook.com and other book retailers.
More information is available from the publisher.
Recent Dick Staub Interviews include:
Walter Wangerin Finds God Everywhere | The author of The Book of God discusses his newest novel—an ancient story with modern relevance. (Jan. 27, 2004)
Lauren Winner's Faith Still a Bit Jewish | The author of Girl Meets God discusses the Jewish habits that inform her Christianity (Jan. 20, 2004)
Ravi Zacharias's Wonderful World | The author of Jesus Among Other Gods explores God's gift of awe. (Jan. 13, 2004)
Michael Card Discovers St. Peter | In A Fragile Stone: The Emotional Life of St. Peter, Card says sinking is more important than walking on the water. (Dec. 16, 2003)
Mary Poplin Calls Claremont Her "Calcutta" | After seeking God through telepathic spoon bending exercises, this professor found God, and with the help of Mother Teresa, her calling. (Dec. 10, 2003)
Gordon Smith Hears the Voice of Jesus | The author of The Voice of Jesus talks about listening to God with discernment. (Nov. 18, 2003)
John Eldredge Is Wild at Heart | The author of Wild at Heart and The Sacred Romance discusses rediscovering the Gospel through a ransomed heart. (Nov. 11, 2003)
Pursuing God and Community | A self-described nerd says pursuing God and community is possible through commitment (Nov. 4, 2003)
Francis Bok Is Proof that Slavery Still Exists | After spending 10 years in slavery, the young Sudanese man is telling his story to the world. (Oct. 28, 2003)
Philip Yancey, the Rumor-Monger | The author's latest is written not for Christians, but for those on the "borderlands of belief" (Sept. 30, 2003)
Ken Gire's Lord of the Dance | Patch Adams and T. S. Eliot teach us to twirl with Jesus, says the author (Sept. 23, 2003)
Jerry Jenkins's Solo Apocalypse | His new novel, Soon, imagines a world where religion, blamed for war, is banned (Sept. 16, 2003)
Why Frederica Mathewes-Green Loves Icons | Yes, we ask the saints to pray for us, she says. They are still living members of the church after all. (Sept. 9, 2003)
Sheila Walsh Says Stop | The author, singer, and popular speaker talks about learning to put praise above performance (Sept. 2, 2003)
Trusting in a Culturally Relevant Gospel | Os Guinness says that evangelicals have never strived for relevance in society as much as they do now. Ironically, he says, they have never been more irrelevant (Aug. 26, 2003)
The Dick Staub Interview
Dick Staub was host of a eponymous daily radio show on Seattle's KGNW and is the author of Too Christian, Too Pagan and The Culturally Savvy Christian. He currently runs The Kindlings, an effort to rekindle the creative, intellectual, and spiritual legacy of Christians in culture. His interviews appeared weekly on our site from 2002 to 2004.
Previous The Dick Staub Interview Columns: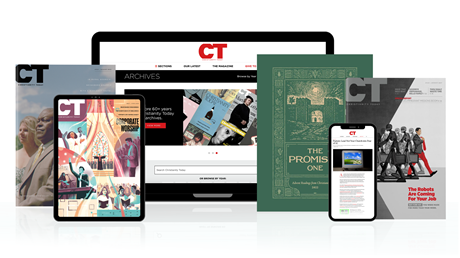 Annual & Monthly subscriptions available.
Print & Digital Issues of CT magazine
Complete access to every article on ChristianityToday.com
Unlimited access to 65+ years of CT's online archives
Member-only special issues
Subscribe
Craig Detweiler Finds Faith in Film
Craig Detweiler Finds Faith in Film