When the Afghanistan constitutional assembly, or loya jirga, decided on a new constitution for Afghanistan, everyone from the New York Times to President George W. Bush applauded the document for outlining a Western-style democracy for the country. However, some religious freedom watchers were not so pleased, and say it may provide the basis for a government only slightly less repressive than the Taliban.
The constitution, which isn't yet available online, sets up an elected bicameral legislature and a strong presidency, but it was criticized in its draft form by the United States Commission on International Religious Freedom. In February and April 2003 letters to President Bush, the commission warned of "troubling signs in the human rights situation in Afghanistan, including abuses against women and girls, torture and other human rights abuses committed by official agencies with apparent impunity, and public statements by the Afghan Chief Justice reminiscent of the Taliban period, including charging political opponents with blasphemy."
In an October New York Timesop-ed, members of the commission warned that the drafted constitution "does not yet provide for crucial human rights protections, including freedom of thought, conscience and religion." Because the draft enshrined Shari'ah (Islamic law), the commission worried that "Afghan citizens would continue to be in the hands of judges educated in Islamic law, rather than in civil law."
Now that the constitution has been ratified, religious freedom watchers say they are pleased that some elements of the constitution have been improved, but overall it leaves much to be desired—especially if Afghanistan is to be a model for an Iraqi constitution.
Shari'ah by any other name
Reports that the constitution declares that "no law can be contrary to the beliefs and provisions of the sacred religion of Islam" trouble Nina Shea, director of the Center for Religious Freedom at Freedom House. "That means to me that Islamic law is the supreme law of the land," she said. "The provisions of Islam are left undefined, and the interpreter of what they are is left unidentified." Though the final draft removed references to Shari'ah, the restriction (called a repugnancy clause) may be a cloak for Islamic law. Shea said, "It's not going to be the secularists who claim the right to interpret. It's going to be the hard line Shari'ah jurists."
Already, Shea said, Afghanistan's Chief Justice—the country's highest Islamic jurist—has ordered the execution of two journalists who questioned the compatibility of Shari'ah with democracy, and a female member of the interim administration has been charged with blasphemy. Shea said the U.S.-supported Karzai government has defended these actions and others.
Jeff King, president of International Christian Concern, shares Shea's concerns. "The proposal doesn't contain any provisions separating the mosque from the state or ensuring equal rights among the religious groups," he said. "They're running the risk of establishing a theocracy."
Afghanistan's ambassador to France denied the constitution set up a religious government. "There are always ways to abuse Islam," Zalmai Haquani told Reuters. "If, by some great misfortune, Afghanistan were again under the Taliban, they wouldn't look at the constitution," Haquani said.
Instead, said Haquani, Afghan jurists will use the Hanafi school of Islamic jurisprudence. "Hanafi is the most liberal jurisprudence in Islam," he told the news agency. "It allows a very wide range of interpretation according to where the law is applied."
That's part of the problem, says Shea. Using any single interpretation of Islamic law inhibits religious freedom, which must be individual, she said. Simply because Muslims can attend a mosque does not mean they are free to worship however they choose.
"It's the right of an individual to interpret the religion the way the individual wants to and not be put to death for blasphemy," she said. "If you don't want to go to prayers five times a day, if you don't want to go to church on Sunday, you should be allowed to interpret it the way you want."
Robert Seiple, president and founder of the Institute for Global Engagement, believes we should be grateful for the freedoms the constitution does allow and be vigilant to make sure the country implements them. "It's doubly important to watch how this unfolds, and to make sure that there is no additional inkling of what we experienced under the Taliban."
The limits of freedom
The constitution says that followers of other religions have the freedom to practice, but religious liberty watchdogs say context is key. Any non-Islamic religious practices, the document says, must be in accord with all other laws.
"That means anyone could pass a law that says, no you don't have a right to exercise your faith," says Shea. "All the rights in this constitution are couched in that language."
Though the constitution has significant problems, Seiple believes they can be addressed by continuing engagement with Afghanistan. "It's never a problem of: Do the words exist?" said Seiple, former U.S. Ambassador at Large for International Religious Freedom. "We certainly have enough laws on the books. The question really is, Will they follow them?"
The U.S. ambassador to Afghanistan, Zalmay Khalilzad, told The Washington Times that Afghans will not be forced to practice Islam—something proposed by some in the loya jirga. "But the majority of the Afghans, as reflected during the loya jirga, seek [a] moderate interpretation of Islam," he said. "They spoke forcefully and courageously in support of that and challenged extremist interpretations of Islam—and rejected it."
King disagrees. "It's a radical Muslim country whether the Taliban is in there or not. It's still a radical Muslim country with a fundamentalist mindset."
Despite its radical tendencies, Seiple notes, "the fact that we have a constitution two years after a major conflict is pretty amazing. Though the constitution follows Islamic law, it is not the hard edge of Shari'ah."
Shea, a member of the U.S. Commission on International Religious Freedom, says the Bush administration did not push hard enough for language beyond an allowance of religious exercise.
"The U.S. government seemed to think that if you could go to church you were free," she said. "There was no concept that religious freedom means educating your children in the faith or being able to possess religious literature, Bibles, being able to designate your leaders, being able to meet with co-religionists, being able to carry out charities, being able to raise money, or to take collections."
The U.S. government should be given credit, said Seiple, that the constitution has major improvements over its draft version. King agrees that the flawed constitution is a hopeful step.
"You look at where it came from and it's definitely a step in the right direction," he said. "They put women forward. At least on paper they made them equal citizens. They included them in the legislative body. And religious freedom doesn't exist in a vacuum—it's part of a human rights picture."
But even these gains may be temporary, says Shea. "[The constitution] says equality for women, but someone is going to have to interpret that in light of the provisions of Islam, which say that women have half the weight as men. Women's testimony in court has half the weight as a man's. A woman's life in a murder case is worth half the blood money as a man's. If you have an incorporation of the provisions of Islam and the incorporations of [human] rights, what prevails?"
A model for Iraq
The U.S. government's approval of the Afghan constitution will have implications far beyond Afghanistan, warns Shea. If the U.S. is willing to set up an Islamic state in Afghanistan, it signals its willingness to do the same in Iraq—something all the more problematic now that spreading democracy, not finding weapons of mass destruction, is the declared rationale for U.S. invasion and occupation. "It's going to be tragic if we influence [the region] by creating an Islamic state, sending the signal that the U.S. is willing to establish and support and tolerate a repressive Islamic state," she says.
However, Seiple believes that the problems with the Afghan constitution have encouraged more deliberation over Iraq's. "One of the reasons that people were jumping into the fray early on was because the Afghan constitution was so bad in terms of human rights." He said the State Department and the Pentagon are investing a great deal in Iraq's constitution. "History is being written, you only have one chance to get this right. I think you will see a great deal of involvement behind the scenes."
Rob Moll is online assistant editor for Christianity Today.
Related Elsewhere:
Recent Christianity Today coverage of Afghanistan includes:
Rebuilding Afghanistan U | How Christian scholars are using their heads to change people's hearts at universities worldwide-including the one Osama bin Laden used to roam. (Dec. 12, 2003)
Books & Culture's Books of the Week: Remember Afghanistan? | Two inside reports (Nov. 10, 2003)
Threatened Aid Groups Retreat from Afghanistan | In a "new and disturbing twist," rebel forces target international agencies (May 15, 2003)
Letter from Kabul | Religious freedom still in jeopardy under new Afghan government (Apr. 21, 2003)
Return to Kabul | Shelter Now's Georg Taubmann talks about ministry and security in the former Taliban state. (Jan. 17, 2003)
The U.S. State Department and U.S. Commission on International Religious Freedom both have reports on religious repression and freedom in Afghanistan.
For more news and analysis of the Afghan constitution, see Yahoo's full coverage and Google News. Recent coverage includes:
Afghan Envoy Defends New Constitution on Rights | The central role of Islam in the new Afghan constitution does not mean it is undemocratic or lacking in guarantees of human rights and religious freedom, Kabul's ambassador to France said Thursday. (Reuters)
Article continues below
Deal reached on Afghanistan constitution | Breakthrough paves the way for free elections (Associated Press)
President Commends People of Afghanistan for New Constitution | I congratulate the people of Afghanistan on the adoption of their new constitution. (Press Release)
UN women's rights expert says new Afghan Constitution heralds era of progress | Hailing the recent adoption of a Constitution for Afghanistan, the head of a United Nations women's rights committee today said the charter marks the beginning of a new era of gender equality in the country. (United Nations)
Security Council applauds new constitution for Afghanistan | The United Nations Security Council today commended the delegates to Afghanistan's Loya Jirga, or grand council, for reaching agreement at the weekend on adopting a new constitution for the war-wracked country. (United Nations)
Press statement on Afghanistan by Security Council president | Members of the Security Council welcomed the new Constitution agreed by Afghanistan's Constitutional Loya Jirga on 4 January. (Press Release)
Afghanistan's Milestone—state department | The constitutional loya jirga that concluded in Kabul Sunday was a milestone on the Afghan people's path to democracy. Afghans have seized the opportunity provided by the United States and its international partners to lay the foundation for democratic institutions and provide a framework for national elections in 2004. (Zalmay Khalilzad, The Washington Post)
Islamic Democracy | Afghanistan's new Constitution offers hope that the beleaguered nation can finally evolve into a modern, democratic state. (Editorial, The New York Times)
Afghanistan constitution a significant step in a troubled land, especially for women | Girls today in Afghanistan can find a glimmer of hope in a clause of their country's new constitution — approved Sunday despite tremendous language, ethnic and political hurdles — that says men and women will have ''equal rights and duties.'' (Editorial, Allentown Morning Call, Penn.)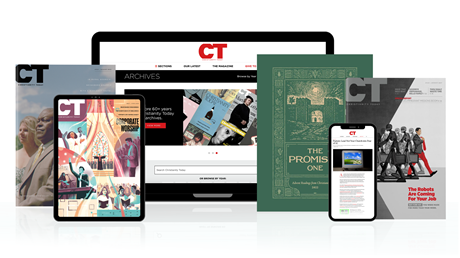 Annual & Monthly subscriptions available.
Print & Digital Issues of CT magazine
Complete access to every article on ChristianityToday.com
Unlimited access to 65+ years of CT's online archives
Member-only special issues
Subscribe
Afghan Constitution Provides Little Protection for Religion
Afghan Constitution Provides Little Protection for Religion