Before expected defeat, confusion for federal marriage amendment

Churches around the country on Sunday urged their parishioners to call members of the Senate in support of the Federal Marriage Amendment, which will likely go to the floor tomorrow.
Almost everyone expects the vote to fall far short of the 67 votes needed. (Some sources say it doesn't even have a simply majority yet, with just over 40 Senators promising to vote for it.) But despite this apparent inevitability, dissention continues among supporters over what the amendment should say.
The wording debate is pretty old, but Republican leaders eventually agreed with this text:
Marriage in the United States shall consist only of the union of a man and a woman. Neither this Constitution, nor the constitution of any State, shall be construed to require that marriage or the legal incidents thereof be conferred upon any union other than the union of a man and a woman.
On Friday, Democrats said they wouldn't block the vote—and here's the key phrase—so long as no changes are made to the amendment.
But that's exactly what some Republicans want to do. They propose dropping the second sentence entirely, to avoid confusion about the status of civil unions.
A widely quoted but unnamed Republican leadership aide says Senate Majority Leader Bill Frist has proposed voting on both versions of the Federal Marriage Amendment, with the first vote on the longer text. Democrats oppose this, and say it's evidence that the Republicans haven't thought this through.
"They can't get their act together; that's clearly the case here," Senate Minority Leader Tom Daschle told The Washington Times. "They can't agree on one version." He told The New York Times that allowing multiple votes would allow senators to, in the Times paraphrase, "rush in with a flood of other pet constitutional amendments."
But none of these is likely to pass anyway, right? If the point is less about actually passing the amendment than in revealing where fence-straddling legislators stand on gay marriage, what's wrong with multiple proposals?
For more on same-sex marriage the debate over the Federal Marriage Amendment, see Christianity Today's full coverage area.
More articles
More on the Federal Marriage Amendment:
Senate same-sex marriage debate:
Cloturekampf | Even a failed cloture vote will give the country an idea of which senators understand--and which do not--that the definition of marriage is now an unavoidably national issue (Editorial, The Weekly Standard)
Few attend gay marriage debate | Senate vote looms on proposed ban (The Boston Globe)
Senate opens gay marriage debate | Heated partisan battle expected (The Boston Globe)
Senate to debate marriage amendment | The Senate wades into an election-year debate Friday over whether to write into the Constitution that "marriage in the United States shall consist only of the union of a man and a woman" (Associated Press)
'Wedge issue' isn't grabbing conservatives | Senate vote on constitutional amendment set for Wednesday; ban appears doomed (San Francisco Chronicle)
New England senators form coalition on gay marriage | At least four of the region's five Republicans will join the six Democrats and one Independent and vote against the proposed constitutional amendment banning gay marriage this week (Associated Press)
Senators get earful on gay marriage | Coleman backs ban; Dayton opposes it (Pioneer Press, St. Paul, Minn.)
Saving marriage | The federal Defense of Marriage Act is unlikely to survive (Joshua Baker & Maggie Gallagher, National Review Online)
Churches lobby on gay unions | Churches across the country were encouraged by national evangelical Christian groups to rally their members to pray and speak up to their U.S. senators, who are scheduled to vote Thursday on the Federal Marriage Amendment (The Denver Post)
"Activist judges" difficult to define | As the debate on a gay-marriage ban heats up, legal experts say the term is, at best, imprecise and, at worst, used by people who simply disagree with a ruling (The Denver Post)
Saying 'I do' to marriage | In the face of this challenge, it's not only reasonable but obligatory that marriage be preferred and defended in the law — and protected in the Constitution (Edwin Meese III/Matthew Spalding, The Washington Times)
Bush & same-sex marriage:
Bush leads support against gay marriage | President Bush says legalizing gay marriage would redefine the most fundamental institution of civilization and that a constitutional amendment is needed to protect it (Associated Press)
Urged by right, Bush takes on gay marriages | President Bush is escalating his support for a constitutional amendment banning gay marriage, underscoring a critical difference between himself and Senator John Kerry (The New York Times)
Initiatives to ban gay marriage could help Bush in key states | Strategists hope ballot measures in electoral battlegrounds will boost conservative turnout (Los Angeles Times)
Bush urges passage of gay marriage ban | President Bush urged Congress yesterday to pass a constitutional amendment banning gay marriage, saying the legislation under debate this week in the Senate is the only way to stop judges in states such as Massachusetts from trying to ''change the meaning of marriage" (The Boston Globe)
Initiatives to ban gay marriage could help Bush in key states | Strategists hope ballot measures in electoral battlegrounds will boost conservative turnout (Los Angeles Times)
Bush pushes for ban on gay marriage | Vote on constitutional amendment could come this week (The Washington Post)
Bush mocks Kerry VP pick, chides Democratic duo on values | President made a point of limiting his criticism to gay marriage, not homosexuality itself (The Boston Globe)
Bush ads rip Kerry stands on abortion, gay 'marriage' | President Bush, who has not made a major issue of abortion during his first term, is aggressively using the issue against Sen. John Kerry, who supports abortion rights despite his assertion that life begins at conception (The Washington Times)
Kerry & same-sex marriage:
Kerry heads off platform squabble | Platform opposes the Federal Marriage Amendment, but delegates agree to forgo amendment on a broader call for same-sex unions (The Washington Times)
As liberals' champion, Kerry not the real deal | Real-life liberals have watched their supposedly liberal standard-bearer come out against gay marriage, declare that life begins at conception, join Bush in endorsing Israel's refusal even to negotiate over a Palestinian right of return, and slash back his promises on college aid and national service (Peter S. Canellos, The Boston Globe)
Same-sex marriage and divorce:
Ore. court orders gay marriages recorded | Oregon became the second state to register same-sex marriage licenses Friday after a state appeals court upheld a lower court order directing officials to record more than 3,000 marriage licenses issued to gay couples in Multnomah County (Associated Press)
Compassion trumps bureaucracy | Gay couples are bound to savor the day, even though the decision is not final (Editorial, The Oregonian)
Gays in New Jersey sign up for domestic partner law | About 400 same-sex couples, about half of them gay men and half lesbians, dug out their mortgage papers, last month's joint bank account statement or one of the other state-required documents proving their commitment to each other and registered for domestic partnership. It was the first time they could do so in New Jersey (The New York Times)
Gay couple's split brings divorce into marriage debate | They have lasted considerably longer than the 55 hours that pop singer Britney Spears stayed married, but a same-sex couple who tied the knot in San Francisco three months ago already are seeking to dissolve their union (The Boston Globe)
NAACP won't weigh gay marriage | The issue is nevertheless a hot one, pitting civil-rights convictions against Bible-based values (The Philadelphia Inquirer)
Reilly says curb on gay marriage blunts backlash | The state's lawyers will argue today that the 1913 law Governor Mitt Romney is using to block out-of-state gay couples from marrying in Massachusetts ''is an important tool in avoiding a national backlash" against gay marriage, because it will allow states to consider the contentious issue ''in their own due course" (The Boston Globe)
Lynne, Dick Cheney differ on gay marriage | Lynne Cheney, the vice president's wife and mother of a lesbian, said Sunday that states should have the final say over the legal status of personal relationships (Associated Press)
Homosexuality & religion:
Rift over same-sex ceremonies frays Colorado Episcopal diocese | Clergy exchange volleys as church weighs gay rights (Rocky Mountain News)
Homosexuality issue 'could overwhelm Church' | The Church was in danger of being overwhelmed by the issue of homosexuality, the Archbishop of York, Dr David Hope, warned the General Synod at the weekend (The Telegraph, London)
Also: Archbishop warns Church on gay schism | The Church of England is in danger of suffering a seismic rift over the issue of homosexuality, the Archbishop of York, Dr David Hope, said yesterday (The Times, London)
Marriage made in heaven | The suppression of ego demanded by a truly Christian union makes gender irrelevant (Karen Armstrong, The Guardian, London)
Virginia's anti-sodomy law challenged in state appeals court | A man convicted of soliciting sex in a department store bathroom is challenging the state's sodomy law, which prosecutors have continued to enforce a year after the Supreme Court's landmark ruling in Lawrence v. Texas (Associated Press)
Marriage:
Church backs marriage changes | The Church of England has said couples who want to marry in an Anglican church can choose where they would like the service to take place (BBC, audio)
Lies before the church wedding | The Church of England is considering relaxing rules that say the bride or groom must live or worship in a parish to use its church (BBC)
Ministers warn of legal risks of 'living in sin' | Government is launching a £100,000 publicity drive, using the slogan "Cohabit if you wish but beware of the risks", to dispel the widespread myth that lovers who live together have the same rights as husbands and wives (The Independent, London)
Heresy trials:
Clergy vote no to 'heresy courts' | It was a close-run thing, but Anglican clergy managed to defeat a plan for new "heresy courts" in the Church of England (BBC)
Synod rejects rules preventing teaching of homosexual 'heresy' | An attempt by the Archbishop of Canterbury to introduce disciplinary powers to prevent heretical teaching on homosexuality within the Church of England was rebuffed (The Telegraph, London)
Heresy trials plan is rejected by just four votes | An attempt to introduce heresy trials into the Church of England has been defeated narrowly at the General Synod of the Church of England, in spite of an endorsement from the Archbishop of Canterbury, Dr Rowan Williams (The Times, London)
Earlier: Concern at Anglican plan to reintroduce heresy trials | Both liberals and evangelicals fear any move to discipline clergy in the church over teaching, ritual or ceremonial issues could rebound on them (The Guardian, London)
No heresy (if that's OK) | Even if heresy trials were okayed, the tribunals' remit would likely be fudged in some way (Editorial, The Telegraph, London)
Adapt or wither | The Church must remember its duty to unbelievers (Editorial, The Times, London)
Narnia films:
The Lion, the Witch and the Wardrobe actors revealed | The four young stars in Andrew Adamson's The Lion, the Witch and the Wardrobe have finally revealed themselves to the world (The New Zealand Herald)
Second 'Narnia' movie script in the works | If The Lion, The Witch and the Wardrobe was successful, Buena Vista exec says, Disney might decide to film the next two at the same time (The New Zealand Herald)
The Chronicles of Narnia | There are 1,000 tales to tell in the land of Narnia. One is about to be told (License)
No room for Narnia beasts | Makers of The Lion, The Witch and The Wardrobe have been told they can't bring into New Zealand the 12 reindeer needed to pull the Ice Queen's sled (Sunday Star-Times, New Zealand)
Now New Zealand becomes Narnia | First it was Middle Earth, now New Zealand is turning into Narnia (PA, U.K.)
Bowing out of the death penalty:
Balancing jobs, beliefs difficult | Prosecutors find different answers to hard questions (Associated Press)
Prosecutor opposed to death penalty has new critic | Wife of slain commonwealth's attorney takes issue with religious justification (Lexington Herald-Leader, Ky.)
Earlier: Prosecutor won't mix death penalty, religion | Boyd attorney asks for recusal in murder case (Associated Press, June 11)
Boyd prosecutor scolded over death-penalty case | Peers say he must fulfill his oath of office (Associated Press, June 14)
New prosecutor found for possible death-penalty case | Predecessor said religious beliefs would hinder work (Associated Press, June 26)
Northern Ireland:
Catholics attack U.K. forces in N. Ireland | Catholic hard-liners attacked British soldiers and police Monday after daylong parades across Northern Ireland by the Orange Order, the province's major Protestant brotherhood (Associated Press)
Loyalist parade sparks riots in Catholic area | Street battles raged in north Belfast last night after a loyalist parade and supporters waving paramilitary flags were allowed to march past a row of Catholic shops (The Guardian, London)
Gun attack 'was sectarian' | A gun attack on a house in County Antrim was sectarian, police have said (BBC, audio)
Officers injured as trouble flares | Twenty-five police officers were injured after coming under attack from nationalist youths in north Belfast (BBC, video, audio)
Protestants parade through N. Ireland | Strutting to the sound of fife and drum, tens of thousands of conservative Protestants from the Orange Order brotherhood paraded peacefully Monday on Northern Ireland's most divisive holiday (Associated Press)
Thousands join Orange parade | Thousands of members of the Protestant Orange Order have taken part in an annual parade in County Donegal in the Republic of Ireland (BBC)
Headscarf bans:
EU Muslims demand headscarf right | Muslim activists from across Europe have met in London to defend the right of women to cover their heads (BBC)
Livingstone attacks French headscarf ban | Conference hears London mayor denounce legislation outlawing the hijab in schools, and attack 'demonisation of Islam' by parts of press (The Guardian, London)
Muslims rally to overturn Europe headscarf bans | Activists launched a campaign on Monday to protect the right of Muslim women in Europe to wear Islamic headscarves (Reuters)
U.K. religious hatred law:
Blunkett's ban will fan the flames | The British Government should not be in the business of helping coercive lobby groups further stifle debate (Mark Steyn, The Telegraph, London)
Speech impediments | David Blunkett could soon be putting a curb on free expression. And we've only ourselves to blame (Nick Cohen, The Observer, London)
We must be allowed to criticize Islam | A virulent hatred of Muslims can no more be racism than a virulent hatred of Marxists or Tories (Will Cummins, The Telegraph, London)
AIDS:
Abstinence, condom controversy erupts at AIDS meet | A controversy erupted at a global AIDS conference on Monday over whether abstaining from sex or using condoms was more effective to prevent the disease (Reuters)
Experts attack Bush's stance in Aids battle | US promotes abstinence as global conference opens in Bangkok (The Observer, London)
U.S. urged to increase payments to AIDS fund | Donations to multilateral effort called 'inadequate' (The Washington Post)
Bush's affair with abstinence | The foreign forays of the Bush administration have rarely been without controversy, and the president's global Aids initiative is no exception (BBC, video)
Anger at US ban on Aids scientists | Bangkok conference forced to cancel meetings and retract papers after authors stopped from attending (The Guardian, London)
America 'playing politics with Aids' | The world's biggest HIV/Aids conference opened yesterday with organisers bitterly criticizing George Bush's religious fundamentalist line on disease prevention (The Telegraph, London)
Brown takes his moral crusade to the Vatican | Gordon Brown called on international leaders and the world's most powerful institutions to join an "urgent" moral crusade to end world poverty as he promised yesterday to almost double spending on Aids to £1.5 billion over the next three years (The Telegraph, London)
Pastor against Christian burial for AIDS victims | The head of the Asuogyaman district Apostolic Church of Ghana, the Reverend Samuel Kofi Adjei, has suggested that no church member who dies of AIDS should be accorded a Christian burial, because it would be a disgrace to the church (Ghanaian Times)
Film & television:
A new market for bravehearts? | This year's two most audacious movies, Michael Moore's "Fahrenheit 9/11" and Mel Gibson's "Passion of the Christ," are also two of its most successful (The New York Times)
Two Americas of 'Fahrenheit' and 'Passion' | The two most surprising hit movies of 2004 offer an intriguing opportunity to examine the polarities among moviegoing Americans (The New York Times)
Jeff Smith, pastor, PBS' 'Frugal Gourmet,' dies at 65 | United Methodist minister got his cooking start teaching a course at the University of Puget Sound in Tacoma, Wash., titled "Food as Sacrament and Celebration" (Los Angeles Times)
Spirituality on celluloid | What would you consider the most spiritually significant movie that you have seen? (Daily Pilot, Newport Beach, Ca.)
Earlier: Moving pictures | These movies will keep your video player—and your conversations—going for a long time: the Arts & Faith Top 100 Spiritually Significant Films (Christianity Today Movies, June 22, 2004)
UPN announces its Amish show is ready to bow | They're proud to introduce this show? Really? (Lisa de Moraes, The Washington Post)
Book burning banned:
Fire codes prevent C.R. church's proposed book-burning | Instead, members of the church will dispose of the items by candlelight in the church parking lot (Gazette, Cedar Rapids, Ia., sub' req'd, blog repost)
Iowa city stops church's book burning plan | A church's plan for an old-fashioned book-burning has been thwarted by city and county fire codes (Associated Press)
Related Elsewhere:
Suggest links and stories by sending e-mail to weblog@christianitytoday.com
Check out Books & Culture's weekly weblog, Content & Context.
See our past Weblog updates:
July 12
July 9 | 8 | 7 | 6
July 3 | 2 | 1 | June 30
June 25 | 24 | 23 | 22 | 21
June 18 | 17 | 16 | 15 | 14
June 10 | 9 | 8 | 7
and more, back to November 1999
Weblog
Launched in 1999, Christianity Today's Weblog was not just one of the first religion-oriented weblogs, but one of the first published by a media organization. (Hence its rather bland title.) Mostly compiled by then-online editor Ted Olsen, Weblog rounded up religion news and opinion pieces from publications around the world. As Christianity Today's website grew, it launched other blogs. Olsen took on management responsibilities, and the Weblog feature as such was mothballed. But CT's efforts to round up important news and opinion from around the web continues, especially on our Gleanings feature.
Ted Olsen is Christianity Today's executive editor. He wrote the magazine's Weblog—a collection of news and opinion articles from mainstream news sources around the world—from 1999 to 2006. In 2004, the magazine launched Weblog in Print, which looks for unexpected connections and trends in articles appearing in the mainstream press. The column was later renamed "Tidings" and ran until 2007.
Previous Weblog Columns: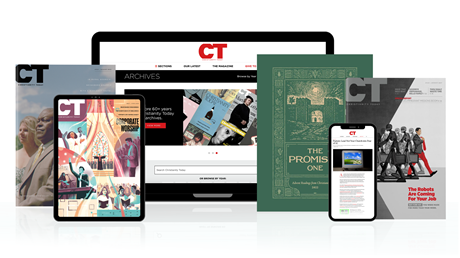 Annual & Monthly subscriptions available.
Print & Digital Issues of CT magazine
Complete access to every article on ChristianityToday.com
Unlimited access to 65+ years of CT's online archives
Member-only special issues
Subscribe
Which Federal Marriage Amendment?
Which Federal Marriage Amendment?