U.S. Appeals Court: Town council can't pray in Jesus' name
A three-judge panel of the 4th U.S. Circuit Court of Appeals has unanimously upheld a ruling against "sectarian" invocations at the Great Falls (S.C.) town council meetings.
A typical prayer went like this:
Our Heavenly Father we are here tonight to discuss town business. We ask that you would clear up our minds and our hearts from animosity that we might face these issues and address them with an open mind tonight. We pray that all decisions made tonight would be most beneficial for the town and the citizens. In Christ's name we pray. Amen.
Everything is constitutionally fine except for that penultimate sentence, the court ruled. "The prayers sponsored by the Town Council 'frequently' contained references to 'Jesus Christ,' and thus promoted one religion over all others, dividing the Town's citizens along denominational lines," Judge Diana Gribbon Motz wrote.
The Supreme Court has long made clear that the Constitution prohibits any such displays of "denominational preference" by the Government. … Public officials' brief invocations of the Almighty before engaging in public business have always … been part of our nation's history. The Town Council of Great Falls remains free to engage in such invocations prior to council meetings. The opportunity to do so may provide a source of strength to believers, and a time of quiet reflection for all. This opportunity does not, however, provide the Town Council, or any other legislative body, license to advance its own religious views in preference to all others, as the Town Council did here.
Town attorney Brian Gibbons called the ruling disappointing, and told The Herald of Rock Hill that he'll ask the full 4th U.S. Circuit Court of Appeals to hear the case. "If that petition is granted, we also may appeal to the U.S Supreme Court," he said.
Ten Commandments for sale on eBay
A lot of cool Hollywood props are going for sale on eBay—the KITT car from Knight Rider, the Ferrari from Magnum, P.I., Daryl Hannah's mermaid tail from Splash, Michael Keaton's Batman cowl, Spock's ears, Disneyland construction blueprints. … But this is a religion blog, so I'll mention that among the items are the "original 10 Commandments tablets" from Cecil B. DeMille's The Ten Commandments. So if you haven't bought Roy Moore anything yet for Christmas, you know where to go. Starting bid is $40,000.
Coming soon
Against expectations, Baylor's board of regents did not vote on removing Robert Sloan as president today. We have reporters on the scene, so be sure to come back this afternoon for the latest news.
Battle for Baylor:
Possible regent vote may set Baylor's future | Supporters of Sloan have been on the offensive, taking out full-page advertisements in the Tribune-Herald, extolling the administration's virtues and calling for a prayer vigil during today's much-anticipated meeting (Waco Tribune-Herald, Tex.)
Time to reunite | For the good of Baylor, which has risen to become one of America's top-flight universities, the regents need to lead by example by agreeing on a unified plan of action. (Editorial, Waco Tribune-Herald, Tex.)
Baylor turmoil eludes students | Most don't care about conflict over leader's plan, classmates say (The Dallas Morning News)
Another front: Baylor College of Medicine tosses another bomb at Methodist Hospital | Letter threatens legal action over 'interference' (Houston Chronicle)
More articles
House forbids courts to rule on same-sex marriage:
Marriage protection act passes | House bill strips federal courts of power over same-sex cases (The Washington Post)
House backs bill to limit power of judges | The House of Representatives joined the fight over gay marriage on Thursday, approving legislation that would prohibit federal courts from overturning parts of the federal Defense of Marriage Act (The New York Times)
House targets marriage validation | In a showdown on the role of Congress and the courts in defining marriage, the House voted yesterday to strip federal judges of the ability to rule on such cases, leaving the matter up to the states (The Washington Times)
House passes ban on gay marriage rulings | Would bar decisions by federal judges on states' recognition (The Boston Globe)
House okays gay marriage jurisdiction bill | Gay marriage opponents wanted more, but House Republicans gave them at least a symbolic election-year victory. Republicans passed legislation in the House on Thursday, 233-194, to prevent federal courts from ordering states to recognize same-sex unions that took place in other states (Associated Press)
House votes to curb same-sex marriage | The Republican-led U.S. House of Representatives approved a bill to curb same-sex marriage on Thursday after rejecting concerns the measure may be unconstitutional (Reuters)
Same-sex marriage:
'Marriage' suit draws critics | A Florida conservative group yesterday filed papers to intervene in what is thought to be the first lawsuit by a homosexual couple to gain interstate recognition of their Massachusetts "marriage" (The Washington Times)
Gay couple are first to get blessing by minister | A former soldier and his partner became the first same-sex couple to be blessed by a Church of Scotland minister, in a ceremony at a pub yesterday (The Scotsman)
Minister gives gay couple his blessing | The minister was also keen to point out that the ceremony, conducted before a makeshift altar, bedecked in candles, did not mean the couple were married (The Herald, Glasgow)
Kirk minister blesses gay 'wedding' | A Church of Scotland minister yesterday defended his decision to bless the union of a terminally ill former soldier and his partner at a gay wedding ceremony in a pub (The Times, London)
Ahmadis warn against gay marriages | An appeal has gone to elders of religions in Ghana to see the solemnization of homosexual marriages in America as a challenge, to preach against this phenomenon from taking root in the country (Ghanaian Chronicle)
Taking a stand where church and state collide | The Rev. Dawn Sangrey was one of two Unitarian Universalist ministers who performed weddings for gay and lesbian couples in New Paltz, N.Y., in March (The New York Times)
Marriage & divorce:
Divorce plan puts children first | Fathers' call for automatic 50-50 contact time ruled out (The Guardian, London)
Divorcing couples may no longer get legal aid | Injured patients could lose the right to legal aid to sue the NHS, and divorcing spouses on low incomes could be forced to borrow against family assets under government proposals to shave £41m off the £695m civil legal aid bill (The Guardian, London)
Canada wants to cut definition of spouse from Divorce Act | Two Toronto women who split up just five days after they got married in June of last year have found the act does not provide for same-sex divorce because it defines spouse as ''a man or a woman who are married to each other" (The Globe and Mail, Toronto)
Abortion:
Designer babies are not wicked: abortions are, though | Why is everybody making such a fuss about a couple of dozen parents who want to create new lives, at the expense of a few full-stop-sized embryos, when hardly anybody seems to notice the mass slaughter of highly developed foetuses that is going on every day of the week? (Tom Utley, The Telegraph, London)
My abortion: a woman affirms her decision | No one wants to have an abortion, but those who do have one deserve support (Cyndi Tebbel, The Age, Melbourne, Australia)
The cult of nature-worship | Many Americans view childbirth as a woman's unchanging contract with a God-like version of nature. And it's not just the Bible-thumping conservatives (Tracy Quan, AlterNet)
Democrats and abortion:
Pro-life Democrats can speak at convention, only abortion backers so far | The first list of convention speakers, released Wednesday, includes only one speaker, Rhode Island Congressman Jim Langevin, among 61 total, who is pro-life on abortion. Ironically, Langevin is expected to speak in favor of embryonic stem cell research, which the pro-life community strongly opposes (LifeNews.com)
Democrats aim to change perception of 'GOP: God's Official Party' | As Democrats gather in Boston next week for their convention, progressives are planning a serious effort to reclaim religion (Religion News Service)
One-on-one | Sen. John Kerry shares thoughts on abortion, entertainment industry, biggest speech of his life (ABCNews.com)
Catholic lawmakers ignore bishops' warning | Scores of leading Roman Catholic politicians across the country appear undaunted by election-year warnings from bishops that those who support abortion rights may be unworthy to receive Holy Communion (Associated Press)
Churches & campaigns:
GOP seeks Catholic parish directories | The Republican National Committee has asked Bush-backing Roman Catholics to provide copies of their parish directories to help register Catholics to vote in the November election, a use of personal information not necessarily condoned by dioceses around the country (Associated Press)
Translating values into votes, Republicans seek parish directories | Martin J. Gillespie, Director of Catholic Outreach at the RNC, made the request earlier this year (National Catholic Reporter)
Religion Today: Spies in the pews | Volunteers monitor sermons for political content (Associated Press)
Religion & politics:
Preacher to speak at convention | James Forbes, senior minister of Riverside Church in Manhattan and a well-known African-American preacher, said he was seeking to reclaim religion from the Christian right (The New York Times, fourth item)
The reverend is irreverent | The Church of Stop Shopping targets "George Bush and his thugs" (Jay Nordlinger, The Wall Street Journal)
At conventions, state behaves like church | The Democratic National Convention that convenes next week has much in common with Christian worship. Both are political events. Each is a religious experience. And both celebrate a victory that has yet to occur (Steve Gushee, Palm Beach Post)
The awful truth about AIDS | The activists attacking Bush's America for doing too little to fight AIDS have got it wrong (Sebastian Mallaby, The Age, Melbourne, Australia)
Pius Ncube fails dismally | Is the world listening for the right reasons? (Stephen T. Maimbodei, The Zimbabwe Herald)
Iraqi Christians:
Targeted violence sparks exodus of Christians | Abductions and killings drive many to flee Iraq (The Straits Times, Singapore)
Wave of attacks on Iraqi alcohol sellers | Not a single bottle survived the late night attack on Walid Jassem's once-thriving off-license (BBC)
Sudan:
In Darfur, appalling atrocity, but is that genocide? | Does the vicious mass killing and displacement of villagers in the Darfur region of Sudan amount to genocide? (The New York Times)
Pope appeals for end to Sudanese abuses | Adding to international appeals, Pope John Paul (news - web sites) II sent a special emissary Thursday to Darfur to express his solidarity with the stricken population, and called on the Sudanese government to put an end to violence and rights violations (Associated Press)
US Congress calls Darfur crisis 'genocide' | Genocide is being committed in Sudan's Darfur region, according to a new US Congress resolution (BBC, video)
Carnage in Sudan unabated | World pressure doing little to halt killings, experts say (Chicago Tribune)
Indonesia attack:
Police find bin Laden discs in hunt for Palu church attackers Police hunting the gunman who murdered a woman priest in an Indonesian church said Friday they have found video CDs of speeches by Osama bin Laden during their search (AFP)
Police offer protection for preachers in Palu, Indonesia | The Indonesian Police chief General Da'i Bachtiar said on Friday that the police would give protection on Protestant ministers in Palu, the capital of Central Sulawesi Province, following the shooting of a woman preacher last Sunday there (Xinhuanet, China)
Palu church target of bombing hoax | A church in East Palu was the target of a bomb hoax on Thursday, just two days after a female minister, Susianti Tinulele, was shot dead while giving sermon in Effata Church in South Palu (Jakarta Post)
Religious liberty and expression:
ACLU joins rehab appeal | Man claims program tried to convert him (The Flint Journal, Mi.)
Religion in the News: Adventists in Turkmenistan | Seventh-day Adventists have become the first organization registered under relaxed religious restrictions in this majority Muslim nation (Associated Press)
Concern over Bible-based lessons | The views of a fundamentalist Christian foundation which runs a series of state schools on Biblical principles have come in for renewed criticism (BBC)
'Glorious Appearing' | Comparing my book "Glorious Appearing" to "fundamentalist Islamic tracts" is a real stretch (Tim LaHaye, The New York Times)
Theology
Your spirit-powered resurrection body | Renowned Bible scholar N.T. Wright talks about what human bodies will be like when they rise (Beliefnet)
Evangelicals debate inadequacy of penal substitution | The Evangelical Alliance has arranged the event to look at issues raised by Steve Chalke's new book, 'The Lost Message of Jesus', which has provoked outcry from several Evangelical quarters (Ekklesia, U.K.)
Spong reshapes Christian thinking | Conservative Petoskey packs liberal's lectures (Detroit Free Press)
Church life:
Church buys lodge to house services | Aurora Community Church, which is suing the City of Aurora over a parcel of land the church owns and wants to rezone, has bought a former Moose Lodge (Chicago Tribune)
Archbishop is treated again for balance disorder | Archbishop Patrick Flores was injected with steroids in his inner ear Thursday to eliminate the dizziness, nausea and vomiting that had sent him to Christus Santa Rosa Hospital a day earlier, officials at the Catholic Chancery said (San Antonio Express-News, Tex.)
Unpacked and ready to roll | Romeo Velasco sets up at Salinas' First United Methodist Church (The Californian, Bakersfield)
12 church closings scheduled | Archbishop Sean P. O'Malley has decided that 12 parishes in the Archdiocese of Boston must close before Labor Day (The Boston Globe)
Crime:
Pastor injured in attack by intruder in Brooklyn rectory | The pastor of St. Brigid's Catholic Church was in high spirits despite serious injuries inflicted by a man who beat him, stole money from him and then fled (The New York Times)
Church rocked by theft of stones | Thieves have stolen at least 15 ornamental stones worth about £1,000 each from an Edinburgh church (BBC)
Sentencing today for woman who admitted thefts from church | Pamela Catlin was ousted in November as treasurer of the Christ United Methodist Church in Fairmount, Md. (Associated Press)
Teen not guilty in battery case | 'Justice did prevail today. But, boy, we went through so much. It's just amazing,' father says. (The Argus, Fremont, Ca.)
Pastor says he warned church members, was threatened with lawsuit | Investors and others wrapped up in the fallout from the bankruptcy of Carolina Investors told jurors in a criminal fraud trial Thursday that they were assured that all was fine with the failing company and a minister said he was threatened with a slander lawsuit after warning parishioners about the company (Associated Press)
Lafayette grandmother soothes burglar to sleep | Through prayer, milk and a banana, a 73-year-old Lafayette grandmother soothed a robber to sleep, according to Lafayette police (Bay City News, San Francisco, Ca.)
Abuse:
Orange County talks on abuse settlement collapse | Catholic diocese's insurers won't contribute financially, sources say. Lawyers talk of taking cases to trial (Los Angeles Times)
4 accuse archdiocese of shielding abusers | A Berks County law firm filed four lawsuits yesterday against the Roman Catholic Archdiocese of Philadelphia, claiming that church leaders failed to protect its clients from sexual assaults by two parish priests decades ago (The Philadelphia Inquirer)
Former priest faces new abuse lawsuit | A former Kansas City priest again was the target of a civil lawsuit Thursday, alleging that he molested two Independence boys on a summer trip in 1982 (The Kansas City Star)
Ex-Bishop Hafey principal gets house arrest over teen sex | The former Bishop Hafey High School athletic director and one-time principal was sentenced to six months of house arrest and two years of probation after pleading guilty Thursday to sexually assaulting a student (Times Leader, Wilkes-Barre, Pa.)
Suit claims Diocese of Allentown covered up abuse | Three priests with local ties accused (The Express-Times, Easton, Pa.)
Springfield diocese reaches $7M settlement | The Springfield Diocese on Thursday reached a proposed settlement worth more than $7 million with 46 people who accused priests of molesting them when they were children (Associated Press)
Missions & ministry:
Lay preacher to run a marathon of sermons | A Lay preacher is preparing for his most mammoth task yet - running the equivalent of a half marathon and preaching at nine churches along the way (The Bath Chronicle, England)
Church targets young adults by sharing spirits | Catholics say the `Theology-on-Tap' program has been successful at bolstering and regaining the faith of its members who are in their 20s or 30s (Chicago Tribune)
Getting to know Jesus | Youth ministry teaches kids Christian values (The Sun Herald, Biloxi, Miss.)
Amish in the City—news:
Wisconsin Amish man to be featured in reality TV show | There's no drinking, no sex and no knife-wielding roommates in the two-hour premiere. But there are bikinis, they're scanty and they're worn by the Amish women (Wisconsin Ag Connection)
'Amish in City' bypassed those from Pa. | There's good news for the Amish of Lancaster County: None of their children, at least, made the cut for UPN's controversial "reality" show (Philadelphia Daily News)
UPN gets the critics' 'Amish' up | UPN suits on Tuesday thumbed their noses at critics over the network's controversial reality series "Amish in the City," then whined when the critics got peevish (The Washington Post)
Ohio Amish women don bikinis for latest reality show | The latest reality television show has two Amish women from Ohio wearing bikinis (Associated Press)
Will plain Amish take a fancy to Los Angeles? | Critics seemed unoffended (USA Today)
Amish in the City—reviews:
Reality show moves us as it exploits Amish | Within the contrivance, the series manages to be disarming, touching, even moving. For young viewers unfamiliar with the Amish, it will be an eye-opener (The Denver Post)
Amish aren't the buggy ones on reality show | The twist here is that the so-called "city kids" often seem to be less in touch than their transplanted but earnestly grounded housemates (Chicago Sun-Times)
Amish give 'Real World'-style show a twist | Although it's not the abomination some feared, it's just as lame-brained as many reality shows (Pittsburgh Post-Gazette)
Amish kids come out winners in encounter with modern life | The most shocking thing about the show is that the people most likely to be offended aren't the Amish, but representatives of the modern world. We do not come off looking good, people (The Star-Ledger, Newark, N.J.)
Reality series seems to spare Amish | Young adults in world at large aren't exploited in two screened episodes (Akron Beacon Journal, Oh.)
Amish traditions no place for a reality show | This show will likely exploit a group of private, pacifist people whose main wish is simply to be left alone (Kevin Williams, The Times, Munster, Ind.)
'Amish' reality show's a bit buggy | Exposing young folks to L.A. just seems wrong (New York Daily News)
Amish TV show pure manure | The Amish are a faith-driven community with very strong feelings about the modern (English) world impinging on their lifestyle. I don't see why we can't let them alone to live their lives without turning them into a television spectacle (York Daily Record, Pa.)
More articles:
Churches buying 'Passion' DVD in bulk | Churches are being offered bulk discounts on The Passion of the Christ DVD in hopes that the second-biggest movie of 2004 will top DVD sales charts (USA Today)
When spirituality goes awry: students in cults | Adolescents are objects of recruitment for religious cults. Identifying new religious movements, cults, and dissenting religious groups, understanding their practices, and discovering reasons for their attractiveness to some students are helpful to the school counselor. Suggestions are offered as to how to identify which cults are destructive, and how professional school counselors can assist students involved with such group (Professional School Counseling, via Religion News Blog)
Morality tested now more than ever | Our world has gone from an existence that holds modesty as a norm and moved into one where sex is a focus and sexy a standard to attain. These days more people toy with immorality and pornography, even Christians (Kimberlie Zakarian, News-Press, Glendale, Ca.)
Once-atheist parents find relief in religion | Nine-year-olds have endless questions, big and small. One that Cecilia Zhang asked her mother was: "Do you believe in God?'' (The Globe and Mail, Toronto)
Religion news in brief | PCUSA vs. Jewish groups, After interfaith flap, Lutheran delegates accept new guidelines, Former Boston auxiliary bishop wants gays banned from priesthood, and other stories (Associated Press)
Related Elsewhere:
Suggest links and stories by sending e-mail to weblog@christianitytoday.com
Check out Books & Culture's weekly weblog, Content & Context.
See our past Weblog updates:
July 22 | 21 | 20 | 19
July 16 | 15 | 14 | 13 | 12
July 9 | 8 | 7 | 6
July 3 | 2 | 1 | June 30
June 25 | 24 | 23 | 22 | 21
June 18 | 17 | 16 | 15 | 14
and more, back to November 1999
Weblog
Launched in 1999, Christianity Today's Weblog was not just one of the first religion-oriented weblogs, but one of the first published by a media organization. (Hence its rather bland title.) Mostly compiled by then-online editor Ted Olsen, Weblog rounded up religion news and opinion pieces from publications around the world. As Christianity Today's website grew, it launched other blogs. Olsen took on management responsibilities, and the Weblog feature as such was mothballed. But CT's efforts to round up important news and opinion from around the web continues, especially on our Gleanings feature.
Ted Olsen is Christianity Today's executive editor. He wrote the magazine's Weblog—a collection of news and opinion articles from mainstream news sources around the world—from 1999 to 2006. In 2004, the magazine launched Weblog in Print, which looks for unexpected connections and trends in articles appearing in the mainstream press. The column was later renamed "Tidings" and ran until 2007.
Previous Weblog Columns: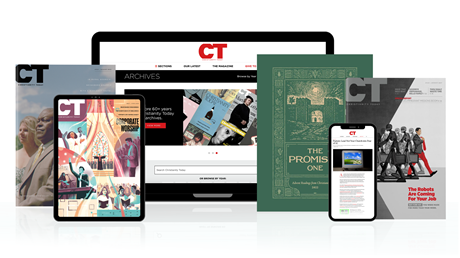 Annual & Monthly subscriptions available.
Print & Digital Issues of CT magazine
Complete access to every article on ChristianityToday.com
Unlimited access to 65+ years of CT's online archives
Member-only special issues
Subscribe
No Jesus Invocations, Says Court
No Jesus Invocations, Says Court