The power of a picture
Last month, Weblog's author wrote an article on the power of images, especially relating to the Abu Ghraib prison scandal. Now check out this powerful image: a 12-week-old unborn child walking in its mother's womb. The photo is from one of the new 3D/4D ultrasound scans, this one from the Create Health London Clinic, where Stuart Campbell is compiling the book Watch Me Grow. (Other photos and videos from Create Health are available here.)
Those images, combined with shocking statistics on the number of abortions being performed and updates on medical advances that have led to earlier viability of unborn babies, are leading the U.K. to reconsider its abortion laws. Earlier this week, the author of Britain's 1967 Abortion Act, David Steel, said the law was wrongly based upon the assumption that fetuses can't survive outside the womb before 28 weeks. "Since then," he wrote in The Guardian newspaper, "medical science has continued to advance, recording survivals at 22 weeks of pregnancy, and lurid publicity has been given to 'botched' late abortions." (In 1990, the Human Fertilization and Embryology Act prohibited abortion before 24 weeks. Pro-life activists had been pushing for a 22-week limit.)
He told the BBC, "I think people find it very repugnant to think you are getting close to the point where you are not dealing with a fetus but with the possibility of a baby." (The possibility of a baby? Considering the possibility of a baby is something people do before conception. Considering definitions of life and personhood is what's happening in this debate.)
Prime Minister Tony Blair has supported a review of the law. "I have not had an opportunity myself to study in detail the evidence that has been provided," he told Parliament this week. "But I am sure that if the situation does change then it would be advisable for us to have another look at the whole question. If the scientific evidence has shifted then it is obviously sensible for us to take that into account."
The BBC reports that Steel wants to push the limit back as early as week 12.
The Times of London reports, "In 2002, the latest year for which figures are available, 2,753 abortions were carried out [in Britain] at between the 20th and the 24th week of gestation."
Viability has been a key part of U.S. abortion law as well. In Roe v. Wade, the Supreme Court ruled that the government's interest in protecting human life becomes compelling when the fetus is viable outside the mother's womb. In Roe, the court put that date at six months. Later Court cases, such as the 1992 Planned Parenthood v. Casey, made the viability test less clear. States are still prohibited from banning abortions before fetal viability. But it's still hard to ban post-viability abortions, because the Court says even viable fetal life can be destroyed "to preserve the . . . health of the mother." Pro-life groups have noted that this renders the viability issue meaningless.
In discussing partial-birth abortion, for example, physician Warren Hern told a New Jersey newspaper, "I will certify that any pregnancy is a threat to a woman's life and could cause grievous injury to her physical health."
But as the debate in the U.K. signifies, the world is changing. Those ultrasound photos have potential to reignite debate over personhood on this side of the Atlantic, too. Fighting the "health of the mother" catch-all in light of astounding photos and earlier viability is no insurmountable task. At 12 weeks inside the womb, babies are taking their first steps. It's time for the pro-life movement to start taking its next ones.
More articles
Abortion:
Abortion rate soars | Most of the people who go for abortion in Kampala are victims of defilement, a survey by the Church of Uganda has revealed (New Vision, Kampala, Uganda)
Expendable women | One of the uglier aspects of the Bush administration's assault on women's reproductive rights is its concerted undermining of the United Nations Population Fund based on the false accusation that it supports coerced abortions in China (Editorial, The New York Times)
John Kerry & abortion:
Abortion double standards | If John Kerry can be "personally opposed," why can't GOP judges? (Editorial, The Wall Street Journal)
A question of choice | John Kerry now says he believes life begins at conception. He also claims this view does not conflict with his support of abortion rights. But abortion rights activists may have trouble buying that argument (David Asman, Fox News)
Kerry's Catholic question | Cardinal Edward Egan faces a defining moment in the 2004 race for the White House (The Village Voice)
Communion & abortion:
Burke's law | Burke's stance may not cause much actual public or political disruption. What it is causing is soul-searching among individual Catholics torn between their archbishop and their consciences. Their conclusions are their own and should be honored (Editorial, St. Louis Post-Dispatch)
Burke's stance on Kerry offers food for thought | The Archbishop has said that if you vote for John Kerry, you are committing a sin. Since some of Mr. Kerry's funding must come from his wife, would it not be a sin to support him by using ketchup? (Bill McClellan, St. Louis Post-Dispatch)
'Bad' Catholics | Marc Balestrieri, a canon lawyer and assistant judge of an ecclesiastical court in Los Angeles. He is filing "heresy" charges against Kerry with the Archdiocese of Boston, on the grounds of Kerry's pro-choice position (Jeff Fleischer, Mother Jones)
Should Communion be denied to Catholics who disagree with the church? | Readers respond (The Washington Post)
Should Communion be denied to Catholic politicians who disagree with Church teachings? | More readers respond (The Washington Post)
McCarrick tempered letter on pro-choice politicians | Washington Cardinal Theodore E. McCarrick downplayed a letter to the U.S. Catholic bishops from the Vatican's chief doctrinal watchdog on whether priests should refuse Communion to pro-choice Catholic politicians (The Washington Times)
A grave offense against the faith | We do indeed have separation of church and state in the United States of America, but we do not have separation of abortion and Democratic presidential candidates (Wesley Pruden, The Washington Times)
Abandoned baby:
Caregivers are celebrating baby's recovery | Abandoned infant leaves the hospital (The Boston Globe)
Approval of infant haven laws no longer a safe bet | The question of legalizing safe havens for abandoned newborns -- scheduled for debate in the state Senate today -- has aroused discussion on both sides of the issue, but perhaps nowhere so passionately as in Arlington (The Boston Globe)
Abstinence in theU.K.:
A plea for chastity, but will it play in randy Britain? | On its first overseas tour, the Silver Ring Thing's message of chastity has pitched the group into the center of a national debate on teenage sexuality and its attendant problems, on the efficacy of school-based sex education programs, and on the perceived American tendency to moralize (The New York Times)
Celibacy plea to young virgins | A team of 30 American Christians are in Manchester to persuade teenage virgins to abstain from sex before marriage (BBC)
US virgins deliver message | A group of Americans opposed to pre-marital sex are delivering their celibacy message to teenagers in Northern Ireland (BBC)
Sexual ethics:
Internet filters are: [good] [bad] [both] | ACLU, Justice Department have argued both sides (The New York Times)
Homosexuality & same-sex marriage:
Gay persecution rising around the world—book | A new book published by human rights group Amnesty International says despite widespread acceptance of gays and lesbians in some countries, violent persecution of homosexuals is on the rise and has reached "epidemic" levels in others (Reuters)
The ultimate wedding gift | Harvard religion professor Diana Eck and her partner, Episcopal priest Dorothy Austin wed (The Boston Globe)
Faith, the Fourth, and gay marriage | These two women are deeply -- and also widely -- religious. And neither is willing to cede faith to the religious right (Ellen Goodman, The Boston Globe)
Group questions churches' efforts after gay marriage vote | Electioneering could result in loss of tax-exempt status (KMBC, Kansas City)
Sideshow threatens elections | No offense to gay-rights advocates, but in light of all the other issues crowded at the top of the public agenda, it's pretty hard to think the debate over same-sex matrimony is all that "critical" (Mike Hendricks, Kansas City Star)
Earlier: Pastors decry 'scare tactics' | Plan to monitor sermons draws ire (The Kansas City Star)
Gay-marriage debate fuels Showtime drama | Showtime's "Queer as Folk" charges into the debate in the season's last two episodes, in which partners Michael and Ben ponder marriage and decide it's right for them (Associated Press)
It's not natural | The developing world's homophobia is a legacy of colonial rule (Jeremy Seabrook, The Guardian, London)
Federal Marriage Amendment:
Power to the people | The FMA vote is coming up soon — and you can bet your senators are listening (Stanley Kurtz, National Review Online)
Like it or not … | The marriage amendment is the democratic way (Orrin G. Hatch, National Review Online)
Bill would end courts' purview on marriage law | The House is expected to vote within weeks on legislation limiting federal court jurisdiction over cases involving marriage, and this fall, members will vote on a constitutional amendment defining the institution, a top Republican said yesterday (The Washington Times)
Suit challenges gay marriage ban | Nine couples, aided by ACLU, contend Md. law is unconstitutional (The Washington Post)
Lesbian couple seeks to maintain marriage | Eight couples have filed a lawsuit challenging a 1913 Massachusetts law that has been used to block out-of-state couples from marrying there (Associated Press)
Also: ACLU sues to allow gay 'marriage' | The American Civil Liberties Union yesterday sued the city of Baltimore and four Maryland counties to allow homosexual couples the right to marry(The Washington Times)
Also: ACLU sues for right of gays to marry (Associated Press)
Marriage:
Marriage gets a boost in Michigan | Supporters of traditional marriage in Michigan yesterday turned in some 475,000 signatures — far more than the 317,000 needed — to put a state constitutional amendment before the voters in November (The Washington Times)
Luther's enduring words | Sixteenth-century Christian reformer Martin Luther's writings on marriage and the family profoundly influenced European culture — and addressed many of the issues that are on the public agenda today, (Allan C. Carlson, The Washington Times)
Religion & homosexuality:
Presbyterians delay decision on gays | Presbyterian leaders decided last night to delay until 2006 a decision on whether to ordain homosexuals upon hearing multiple pleas by delegates to the General Assembly of the Presbyterian Church USA in order to keep unity in the fractured denomination (The Washington Times)
AME rejects same-sex unions | National convention forbids ministers from performing gay marriages (The State, Columbia, S.C.)
LDS Church supports gay-marriage bans | Official stand does not back specific amendments (Deseret Morning News, Utah)
Jeffrey John:
Gay cleric installed at St Albans | The openly gay canon who felt compelled to withdraw his candidature as Bishop of Reading is to be installed as Dean of St Albans on Friday (BBC, video)
Backlash over gay cleric move | Jeffrey John, the gay cleric who last year was forced to step down as Bishop of Reading, has been installed as Dean of St Albans to the resounding applause of many Anglicans, but the deep disquiet of others (BBC)
Gay cleric in bishop row takes up role of dean (The Guardian, London)
Gay dean is installed -- to praise not protest (The Telegraph, London)
Evangelical evisceration | Jeffrey John's beliefs are reasonable, moderate, and right (Editorial, The Guardian, London)
Anglicans asked to 'put differences aside' | Anglican leaders called on all members of the Church of England to put aside their differences on gay priests tonight as the controversial cleric Jeffrey John was installed as the new Dean of St Albans (PA, U.K.)
Anti-anti-gay parenting order thrown out:
"Psychological parent" prevails | Decision in custody case (The Denver Post)
'Two moms' ruling upheld | Parenting to be split; homophobic-teaching issue still undecided (The Rocky Mountain News, Denver)
Court backs 'psychological parent' | A Colorado court decision last week, which reversed an order forbidding a child from being exposed to anything "homophobic," is being cheered by liberal groups on another front — for granting the mother's former lesbian partner the status of "psychological parent" (The Washington Times)
Court throws out order stifling mom's 'homophobic' teachings (Associated Press)
A little girl trumps ideology | Narrow interpretations of the family and who is qualified to love a child are gradually - blessedly - becoming things of the past (Diane Carman, The Denver Post)
Abuse:
Former Md. priest accused of abusing 2 teens in '70s | A 67-year-old Illinois man who left ministry as a Roman Catholic priest about two decades ago has been arrested on charges of sexually molesting a teenage boy and girl when he was still a priest and serving as pastor of a Forestville parish in the 1970s (The Washington Post)
Brookyn priest pulled from ministry | Diocese finds brothers' abuse claims credible (The Boston Globe)
Catholicism:
O'Malley closes trip to Rome | He remembers Boston in Mass with kin, friends (The Boston Globe)
In Rome's shadow | Boston's former archbishop finds a new role in Eternal City (The Boston Globe)
Losing links to a city's past | Oblate parishes closing; aided immigrants (The Boston Globe)
Church critics pressure L.A. cardinal | victims of clergy sex abuse have asked Roman Catholic Cardinal Roger Mahony to step up efforts to find possible victims of a Mexican priest who previously worked in two Los Angeles parishes (Associated Press)
Paterson's bishop arrives, preaching and politicking | With a vow to uphold the Catholic Church's teachings against abortion and euthanasia, and a pledge to protect children from evil, the Rev. Arthur J. Serratelli was installed on Tuesday as the bishop of the Diocese of Paterson (The New York Times)
Pope may make first trip to Ulster | Speculation is mounting that Pope John Paul II will visit Ireland in the autumn and make his first journey to Northern Ireland, despite fears of Protestant protests (The Guardian, London)
Sharp fall in new priests 'due to child sex scandal' | Roman Catholic priests are rapidly becoming an endangered species, with the scandal over clerical child abuse exacerbating a long-term decline in vocations (The Telegraph, London)
Vatican funds:
Vatican budget in red, but church offerings up | The Holy See reported on Wednesday its third budget deficit in as many years with restoration works at the Vatican taking their toll on 2003 accounts despite a small increase in global church offerings (Reuters)
Vatican reports deficit for third year | In its annual financial report, the Vatican listed a 2003 deficit of about $11.8 million, 30 percent lower than than the 2002 figure (Associated Press)
Oregon diocese under bankruptcy:
Religious aspects complicate bankruptcy | Legal scholars say the Portland archdiocese's Chapter 11 filing will inevitably send the courts into unprecedented areas (The Oregonian)
Catholics puzzle over a bankruptcy filing | One day after the Archdiocese of Portland became the first in the nation to file for bankruptcy protection, Catholics expressed anxiety over what the move will mean (The New York Times)
For Portland Catholics, sadness and suspicion follow bankruptcy filing | A day after the Archdiocese of Portland filed for bankruptcy, some churchgoers express sadness and others question the motives of alleged abuse victims and their lawyers (Los Angeles Times)
Church must seek justice | Bankruptcy opens the archdiocese to unprecedented scrutiny, and does not preclude a deeper reckoning (Editorial, The Oregonian)
Crime:
Israel to fix vandalized Georgian fresco | Israeli officials say experts can repair vandalism to a priceless 13th Georgian fresco in a Jerusalem monastery, but probably not before the July 28 visit of Georgian President Mikhail Saakashvili (Associated Press)
Earlier: Georgian fresco defaced in Jerusalem | A priceless, 13th century Georgian fresco has been defaced three weeks before Georgia's president makes his first visit to Israel, an ambassador said Monday (Associated Press)
Jury acquits city man in robbery of church | Brooks' lawyer says priest was 'led astray' as witness; $7,500 was stolen in October (The Baltimore Sun)
Man accused of robbing church acquitted | A man accused of holding a gun to the head of a church secretary and robbing the church of Sunday collection money has been acquitted (Associated Press)
Earlier: Priest tells jury details of robbery at church | Man took parish's savings and smacked him, he says (The Baltimore Sun, July 3)
Vatican under glare of insurance scam | Financier's case leads to questions about money sent to church (Associated Press)
Sudan:
U.S. warns Sudan to halt attacks on refugees | The U.S. said Sudan must immediately end attacks on refugee camps in the Darfur region and give relief organizations access or face U.N. action (The New York Times)
Analysis: Defining genocide | Human rights campaigners accuse Sudan's pro-government Arab militia of carrying out genocide against black African residents of the Darfur region (BBC)
Zimbabwe:
African leaders failing Zimbabwe, prelate says | Zimbabwe's top Roman Catholic official accused African heads of state of complicity in prolonging repression there (The New York Times)
Zimbabwe bishop slams leaders | An outspoken critic of President Robert Mugabe has accused Africa's leaders of ignoring the crisis in Zimbabwe (BBC)
Religion & politics:
Catholicism plays new role in election—experts | Roman Catholics, who represent about a quarter of the U.S. electorate, are getting unprecedented attention (Reuters)
Hatch backs nominee who backs St. Paul | Reading from the Bible on the floor of the Senate on Tuesday, Sen. Orrin Hatch endorsed a federal judicial nominee who wrote that wives should have a subordinate role in marriage, with the Utah Republican emphasizing "millions and millions of people will agree with" that view (The Salt Lake Tribune)
Capitol missionary unfazed by critics | After barefoot lawmakers in floral aprons toted a toaster onto the floor of the Senate to protest his religious teachings, Ralph Drollinger, president of Capitol Ministries, refused to back down (The Sacramento Bee)
Bush poll campaign courts religious right | Evangelical 'mega-churches' may hold the key to the White House (The Guardian, London)
Christian Coalition releases first judge survey | In a closely watched attempt to install more conservatives on state courts, the Christian Coalition of Georgia released its first judicial voter guide Tuesday, a list of questions about social issues like gay rights and prayer in schools (Associated Press)
State GOP goes after Supreme Court seat | The Christian Coalition of Georgia asked both candidates to answer a questionnaire that seeks their opinions on high-profile U.S. Supreme Court rulings on such issues as abortion, school prayer and gay rights (The Atlanta Journal-Constitution)
Jesus and the patriots | What has right-wing America done to Christianity? (LA Weekly)
Minister denounces war during funeral:
Funeral outburst at Bush and Blair | A church minister has denounced Tony Blair and George Bush at the funeral of a Scottish soldier who died in a roadside explosion in Iraq (BBC)
Minister slams Blair and Bush at funeral of Scottish soldier | The Rev Dr John Mann spoke of his anger toward Tony Blair and George Bush as Fusilier Gordon Gentle, 19, was buried with full military honours at St James' Parish Church in Pollok, Glasgow (The Scotsman)
Church & state:
A flash for the ACLU: Cities are rooted in religion | Removing cross from county's seal is a slam to history (Joel Kotkin, Los Angeles Times)
"Under God" after all | The Pledge of Allegiance is constitutional as is (Jared N. Leland, FindLaw)
Education:
Colorado's choice | The political progress of school vouchers (Editorial, The Wall Street Journal)
Professor charges anti-Catholic bias | A college philosophy instructor says he filed a lawsuit in federal court after school administrators punished him for telling students that his personal philosophy is based on his Catholic faith (The Washington Times)
4th Circuit tosses order barring religious group's fliers | Divided panel says allowing Child Evangelism Fellowship to distribute literature in two Maryland schools wouldn't amount to unconstitutional endorsement of religion (Associated Press)
Demons attack Kiboga pupils | Primary school in Kiboga district was closed in May after parents reported that their children were being attacked by demons (New Vision, Kampala, Uganda)
Slot machines:
D.C. panel adds weight to slots foes' concerns | Officials with the D.C. elections board said yesterday that initiative campaigns must use District residents both to circulate petitions and witness signatures, a legal interpretation that conflicts with the explanation given by organizers of the petition drive for slot machines to justify their heavy use of out-of-town workers (The Washington Post)
Bill to allow slot machines is passed in Pennsylvania | Pennsylvania lawmakers enacted sweeping legislation yesterday that authorizes as many as 61,000 slot machines - the most in any state east of Nevada - for horse tracks, resorts and slot parlors across the state (The New York Times)
Global warming:
Church backing for climate plan | The Church of England has declared its support for a challenging proposal to tackle the threat of climate change (BBC)
Climate change threatens species, says archbishop | The viability of the human race is at stake because of "offences against our environment" which threaten the world with further wars and rising inequality, the Archbishop of Canterbury, Dr Rowan Williams, said (The Guardian, London)
Religious freedom:
Controversy erupts over Blunkett's plan against incitement | Consensus is likely to build up for proscribing groups, mainly Islamist organisations, in all EU members states that might be outlawed by one of the member countries (Hindustan Times, India)
New law to jail zealots | David Blunkett says law will apply "to far-Right evangelical Christians" (The Sun, U.K.)
Spirituality:
Baptism battle | Should we have our baby baptized even though we are agnostic and never attend church? (Randy Cohen, The New York Times Magazine)
Spiritual directors help in the quest for harmony | The process, about 1,900 years old, is expanding from Catholicism into other religions (Los Angeles Times)
Music & festivals:
Bushnell to keep Christian festival | Cornerstone director says rumor of event moving is not true (Peoria Journal-Star, Ill.)
Five inquiring youngsters, singing about writing to God | If there is such a place as hell on earth — or at least purgatory — it might consist of sitting through a musical adapted from the perennially popular book "Children's Letters to God." Instead, the experience turns out to be a mixed blessing (The New York Times)
Hallelujah palooza | Faith and rock mosh together at Christian music festival (The Washington Post)
At festivals, faith, rock and t-shirts take center stage | As festivals and tours have multiplied, drawing younger evangelicals who express their faith through alternative music, tattoos and skateboards, they have opened a market for products that do not fit easily into more decorous Christian bookstores (The New York Times)
Teenagers tune in for a summer of madness | More than 4,000 young people were turning the King's Hall in Belfast into a massive campsite today as Ireland's largest youth and Christian festival got underway (The Belfast Telegraph)
Also: City hosts Christian event | Up to 3,000 people are expected to flock to Belfast over the next few days to attend the largest Christian festival in Ireland (BBC)
Madonna cancels Portugal show because church already booked site:
Madonna cancels Portugal concert following row with church | After the concert had been announced, the Lisbon-based Mana Christian Church said it had already booked the Atlantic Pavilion for September 8-11 to hold a "Convention of Faith" (AFP)
Madge axes Portugal gig after church row | Pop superstar Madonna's upcoming concert in Portugal has reportedly been cancelled because a church group has already booked the venue where she was scheduled to perform - and they've refused to rearrange their booking (Irish Examiner)
Art & film:
Russian joy as icon comes home | Thousands of Orthodox believers will congregate in a small town in north-western Russia today to celebrate the return of the country's most mysterious icon, the Virgin of Tikhvin, reputedly painted by Saint Luke two millennia ago (The Telegraph, London)
Brian's back | The non-Messiah, 25 years on (Andrew Stuttaford, National Review Online)
Jesus actor mistaken for the real deal | According to Mexican newspaper Reforma, dozens of residents from villages throughout the state, one of the poorest in the country, asked Caviezel to heal the sick and perform other miracles as he passed through (Ananova)
Television:
KOCE buyer lacks down payment | The sale of the TV station is being challenged by Daystar Television Network, the world's second-largest Christian broadcaster (Los Angeles Times)
Miracle pastors want me dead | Following the ban placed on the broadcast of religious miracle programmes on television in the country, the Director-General of the National Broadcasting Commission, Dr. Silas Babajiya Yisa, has raised an alarm that some pastors are planning to kill him (P.M. News, Nigeria)
Church life:
Players give way to prayers | As teams abandon aging stadiums for newer digs, megachurches are moving in and filling the seats with a different sort of fan (Los Angeles Times)
Eight new AME bishops include 3 Africans | African Methodist Episcopal Church delegates elected eight new bishops Tuesday, including the first three "indigenous" bishops for Africa and only the second and third women to hold the post (Associated Press)
A divided congregation unites in Silver Spring | Church of immigrants together after discord (The Washington Post)
Banned Oasis Forum abandons name | The banned Oasis Forum says it has abandoned the controversial name and will this week convene in Lusaka to chart the way forward (The Times of Zambia)
Peter the preacher rouses true believers | Treasurer Peter Costello clapped his hands for God, shuffled to the beatific beat, then bounded on stage to address the true believers (The Sydney Morning Herald)
Search for holy grail enters new chapter | How a Scottish chapel is reaping the benefits of a blockbuster novel which has outraged the religious right (The Guardian, London)
Missions & ministry:
Creating a good time for all | Camp Re-Creation at the Orange Diocese pairs disabled adults and kids with volunteer counselors every year. It's unclear who has more fun (Los Angeles Times)
Charismatic preacher draws faithful en masse | Bishop T.D. Jakes combines religious revival with family reunion and fills a void (Chicago Tribune)
Faith-based stance on environment | A group of evangelicals meets to discuss a pro business, pro green agenda. It may be a pivotal move if they engage in policymaking (Los Angeles Times)
Journey of faith leads to Africa | When the parents of a 15-year-old girl pleaded with the Rev. Greg Jenks to persuade their daughter not to spend two months in Africa helping AIDS orphans, he saw it as a sign. A sign he needed to go himself (The News & Observer, Raleigh, N.C.)
In troubled times, they pray around the clock | Churchgoers fill shifts at a small chapel as a way, they hope, to create a better community (Los Angeles Times)
For some, summer is time to serve through religion | Hundreds of Las Vegas Valley residents -- many of them teenagers -- are giving up part of their vacation time this summer to serve others, discover other cultures or visit a historical religious site (Las Vegas Sun)
Summer a popular time for missionary, service work | Hundreds of local religious congregations are utilizing the summer months to do mission or service trips (Las Vegas Sun)
Keeping offenders off alcohol and out of prison | Through a mixture of principles of Alcoholics Anonymous, Christian faith and therapeutic role-playing, Arthur Pratt has directed many men out of crime and off the bottle (Russ Pulliam, The Indianapolis Star)
History:
Unnerving choices for church historians | Some argue that priests' misdeeds shouldn't erase achievements. Alleged victims disagree (Los Angeles Times)
Cologne cathedral threatened by tower blocks | Cologne cathedral, a masterpiece of Gothic architecture, was placed on Unesco's list of endangered World Heritage sites yesterday, its "visual integrity" threatened by skyscrapers being built on the opposite bank of the Rhine (The Guardian, London)
Blue laws in Virginia:
Va. error reinstates blue law | Workers can insist on Sundays off (The Washington Post)
Judge blocks Virginia's Sundays-off law | A legislative mistake that would require Virginia businesses to give employees Saturdays or Sundays off as a "day of rest" if they request it was blocked from taking effect this weekend by a judge Friday (Associated Press)
Va. workers seek Sundays off under law | Workers across Virginia have been telling their bosses that they want Sundays off after learning of a legislative mistake that resurrected a "day-of-rest" law for all employees (Associated Press)
Books:
Medical editor takes journey of faith | An interview with Timothy Johnson (The Boston Globe)
Voyage round a father of the church | Peter Stanford reviews Edward Stourton's In the Footsteps of Saint Paul (The Independent, London)
More articles:
Attempting to act naturally | "Natural law" has somehow got a bad name (Christopher Howse, The Telegraph, London)
Writing down a recipe for a life worth living | Ethical wills provide a chance to pass along heritage of values (The Washington Post)
Academics on the attack over religion journalism | There's nothing like a good academic spitball fight (James Warren, Chicago Tribune)
Former pro-euthanasia group leader to be expelled | The former chairman of Britain's leading pro-euthanasia group is to face expulsion from the society after admitting he has advised terminally-ill patients how to take their own lives, it emerged yesterday (The Scotsman)
Dmitry Dudko, priest and critic of Soviet atheism, dies at 82 | Russian Orthodox priest spent eight years in a Siberian labor camp in the 1950s (Los Angeles Times)
Related Elsewhere:
Suggest links and stories by sending e-mail to weblog@christianitytoday.com
Check out Books & Culture's weekly weblog, Content & Context.
See our past Weblog updates:
July 7 | 6
July 3 | 2 | 1 | June 30
June 25 | 24 | 23 | 22 | 21
June 18 | 17 | 16 | 15 | 14
June 10 | 9 | 8 | 7
June 4 | 3 | 2 | 1
and more, back to November 1999
Weblog
Launched in 1999, Christianity Today's Weblog was not just one of the first religion-oriented weblogs, but one of the first published by a media organization. (Hence its rather bland title.) Mostly compiled by then-online editor Ted Olsen, Weblog rounded up religion news and opinion pieces from publications around the world. As Christianity Today's website grew, it launched other blogs. Olsen took on management responsibilities, and the Weblog feature as such was mothballed. But CT's efforts to round up important news and opinion from around the web continues, especially on our Gleanings feature.
Ted Olsen is Christianity Today's executive editor. He wrote the magazine's Weblog—a collection of news and opinion articles from mainstream news sources around the world—from 1999 to 2006. In 2004, the magazine launched Weblog in Print, which looks for unexpected connections and trends in articles appearing in the mainstream press. The column was later renamed "Tidings" and ran until 2007.
Previous Weblog Columns: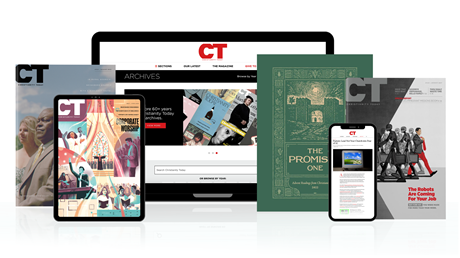 Subscribe to Christianity Today and get access to this article plus 65+ years of archives.
Home delivery of CT magazine
Complete access to articles on ChristianityToday.com
Over 120 years of magazine archives plus full access to all of CT's online archives
Subscribe Now
'Womb Walking' Ultrasound, Stats Prompt U.K. Abortion Rethink
'Womb Walking' Ultrasound, Stats Prompt U.K. Abortion Rethink