Robert Reich keeps calling for a war on evangelicals. Does he really mean it?
Writing for the liberal magazine The American Prospect, former U.S. Secretary of Labor Robert Reich calls for a war against conservative religious believers. "The great conflict of the 21st century will not be between the West and terrorism. Terrorism is a tactic, not a belief," he writes.
The true battle will be between modern civilization and anti-modernists; between those who believe in the primacy of the individual and those who believe that human beings owe their allegiance and identity to a higher authority; between those who give priority to life in this world and those who believe that human life is mere preparation for an existence beyond life; between those who believe in science, reason, and logic and those who believe that truth is revealed through Scripture and religious dogma. Terrorism will disrupt and destroy lives. But terrorism itself is not the greatest danger we face.
That's a remarkable comment, but even more remarkable is that Reich has been calling for—or at least predicting—this war for a long time. In the past, his use of war language has seemed rhetorical and metaphoric—but was it?. "The outcome of the 2004 presidential election will depend partly on what happens between now and Election Day in Iraq and to the U.S. economy. But it will also turn on the religious wars—fueled by evangelical Protestants, the ground troops of the Republican Party," he wrote in December.
Democrats can hold their own in these wars—if they respond vigorously to the coming assault. Democrats should call all this for what it is—a clear and present danger to religious liberty in America. For more than three hundred years, the liberal tradition has sought to free people from the tyranny of religious doctrines that would otherwise be imposed on them. Today's evangelical right detests that tradition and seeks nothing short of a state-sponsored religion. But maintaining the separation of church and state is a necessary precondition of liberty. … The religious wars aren't pretty. Religious wars never are. But Democrats should mount a firm and clear counter-assault. In the months leading up to Election Day, when Republicans are screaming about God and accusing the Democrats of siding with sexual deviants and baby killers, Democrats should remind Americans that however important religion is to our spiritual lives, there is no room for liberty in a theocracy.
The phrase clear and present danger isn't just a cute phrase. It's the phrase the Supreme Court used in the 1919 Schenck v. United States decision, allowing for the restriction of freedoms. In that decision, Justice Oliver Wendell Holmes wrote, "Words which, ordinarily and in many places, would be within the freedom of speech protected by the First Amendment may become subject to prohibition when of such a nature and used in such circumstances a to create a clear and present danger that they will bring about the substantive evils which Congress has a right to prevent."
That's a hint, then, that Reich really believes that religious speech should be curtailed, that religious conservatives should be limited in opposing gay marriage, abortion, and the free exercise of religion in public schools and elsewhere (three issues that Reich specifically mentions). "Democrats should be clear that the issues of abortion and stem-cell research are about religious liberty," Reich says. If either of these is limited in any way, he suggests, America becomes a theocracy, regardless of whether it officially sponsors a specific religion. And that, the logic necessarily follows, demands a revolution.
Can Reich really mean what he says, asks Ramesh Ponnuru in National Review Online. His most recent column
is a denunciation — as a graver threat than terrorists — of people who believe that the world to come is more important than this world, or that all human beings owe their allegiance to God. Many millions of Christians, Jews, Muslims, and other religious believers will reject Reich's witless rhetorical oppositions. One can believe in the political "primacy of the individual," the obligation of all people to answer to God, and the wrongness of any governmental attempt to make them answer to Him, all at the same time. But if our choice is between the primacy of individuals and the primacy of God — if, that is, we are to choose between individual human beings and God — then the vast majority of traditional religious believers would have to choose God. I certainly would. That would be the case for plenty of believers who are not sure what they think about abortion law, or want a higher minimum wage. All of us, for Reich, are the enemy.
Religious believers don't have to accept the battle cry, Ponnuru says. "Reich is not my enemy, although I certainly want most of what he stands for politically not to prevail. I don't think we have to have the battle he forecasts. I hope we don't. In fact, I pray we don't."
More articles
Presidential election:
Values become key campaign issue | Kerry, Bush show their differences (The Washington Post)
The pope and the president | In 44 years we have gone from the fear that a Roman Catholic president might take orders from the pope, to a Protestant president who asks the pope to order his bishops to help him get elected. Even as Roman Catholic bishops wield access to Holy Communion as an antigay political weapon, this clergyman asks, "What would Jesus do?" (Bruce J. Simpson, The Advocate, gay magazine)
Politics & law:
Ovadal loses lawsuit | Cops can remove "Homosexuality is a sin" overpass banners (The Capital Times, Madison, Wi.)
Also: Judge: It was OK to order anti-gay banners removed | Madison, Wis., police didn't violate minister's free speech, district judge finds, because banners on highway overpasses posed safety issue (Associated Press)
Archdiocese sues Louisville over control of its property | Church says government interferes with religious freedom by refusing to allow buildings to be leveled for parking (Associated Press)
Special session called in Va. to address 'day of rest' | Virginia Gov. Mark R. Warner on Thursday called a rare special session of the General Assembly to unravel legislation that mistakenly granted the state's private employees the right to time off on weekends (The Washington Post)
Religious ethics and the death penalty | Most major religions oppose the death penalty. However, most Americans overwhelmingly support it (The Express-Times, Bethlehem, Pa.)
Powell says Sudan failing on promises | Secretary of State Colin Powell said Thursday the Sudanese government has yet to follow through on promises to help those in the Darfur region who are "imperiled by violence, starvation and disease" (Associated Press)
President calls for prayers | President Ratu Josefa Iloilo yesterday called on citizens to pray for God's blessing on the nation (Fiji Times)
Exorcism death trial:
Court hears 'exorcism' death case | A court in the US state of Wisconsin has heard how an autistic boy died while being held down by worshippers and a priest during an exorcism (BBC)
Prosecutors in boy's death allow choice of lesser charge | Ray Anthony Hemphill, 45, still faces the original felony charge of child abuse-recklessly causing great bodily harm over the Aug. 22 death of Terrance Cottrell Jr. in a ritual in Hemphill's Faith Temple Church of the Apostolic Faith (Milwaukee Journal-Sentinel)
Prosecution rests in minister's abuse trial | Autistic boy's father weeps at details of his son's death at church (Milwaukee Journal-Sentinel)
Details of boy's death changed, witness says | At first, minister said boy collapsed while playing, firefighter says (Milwaukee Journal-Sentinel)
Preacher going on trial in autistic boy's death (Milwaukee Journal-Sentinel)
Medical examiner: Autistic boy suffocated during exorcism (Court TV)
Exorcist's brother says God claimed autistic boy's life, not defendant (Court TV)
Minister's lawyer says drugs, not exorcism, killed boy (Court TV)
Religious liberty:
Chinese woman 'beaten to death' for handing out Bibles: report | A 34-year-old woman has allegedly been beaten to death in jail on the day she was arrested for handing out Bibles in south-west China's Guizhou province, according to state media (AFP)
Evangelicals accuse Blunkett of terror slur | Evangelical Christians yesterday demanded that David Blunkett, the Home Secretary, withdraw "outrageous" comments that appeared to equate them with terrorists (The Telegraph, London)
You can't proscribe ideas | The government's decision to proscribe Oasis Forum is not only an exercise in futility but a foolish, stupid and desperate action (Editorial, The Post of Zambia)
Parliament passes conscience and worship freedom law | Angola's National Assembly (Parliament) recently in Luanda promulgated a law on freedom of conscience, worship and religion, through a dispatch printed in a recent edition of the State Gazette (Angola Press Agency)
France stands firm on scarf ban | France's education minister has vowed that a ban on Islamic headscarves in state schools will be enforced when the new term starts in September (BBC)
Zimbabwe:
Nuns in front line of Mugabe campaign to drive the last whites from Zimbabwe | The Roman Catholic Archbishop of Bulawayo has condemned an invasion of a white-owned farm led by two nuns, amid a fresh upsurge of violence against Zimbabwe's white farmers. At least 13 properties have been invaded in the past fortnight and several farmers have suffered beatings (The Independent, London)
Rogue nuns embarrassing church | Most clerics now appear bonded more to mammon than to the one true God (Mbulawa Moyo, The Financial Gazette, Zimbabwe)
Nigeria religious tensions:
Plateau assembly now backs emergency rule | The 24 members of the Plateau State House of Assembly currently on suspension yesterday paid a courtesy visit on the Deputy Senate President, Alhaji Ibrahim Nasir Mantu, and acknowledged that, "within the period of emergency rule, peace is being restored to our state" (This Day, Nigeria)
GKS hails ban on miracle broadcast | Ministers of the God's Kingdom Society, the Church of the Living God have ended their Ministers Annual Conference endorsing the ban on the airing of miracles on television even as they called for sustained action by the government to stem the scourge of corruption now crippling the country (This Day, Nigeria)
Churches threaten mayhem over planned demolition | Churches in Festac Town, Lagos, marked for demolition by the Federal Housing Authority and Federal Ministry of Housing have vowed to resist the move, saying that if carried out the community would be thrown into crisis (This Day, Nigeria)
Earlier 9 Churches face demolition in Festac (PM News, Nigeria, July 7)
Govt warns churches | Education Commissioner Antiabong Ekong said he was disturbed by the abuse of the school buildings by the churches in Akwa Ibom State (PM News, Nigeria)
Abortion:
European court denies fetus rights ruling | Europe's top human rights court rejected an appeal Thursday to grant full human rights to a fetus, saying that was a matter for national governments to decide (Associated Press)
Also: Ruling on fetus saves abortion laws | The European court of human rights in Strasbourg yesterday refused to declare an unborn child a person with a right to life, averting a ruling which could have thrown abortion laws across Europe into chaos (The Guardian, London)
Also: Europe rejects fetal rights bid | A woman whose pregnancy was wrongly terminated in a French hospital has lost her fight at the European Court to enshrine a fetus' right to life (BBC)
Cross-party abortion move to consider 24-week limit | A joint committee of peers and MPs was proposed last night as a way of determining whether the abortion law should change in the wake of marked scientific advances in the past 20 years (The Times, London)
Women's health groups urge foreign abortion funds from Bush | Women's health organizations are calling on the Bush administration to reconsider its refusal to give money to foreign organizations that provide abortion services or counseling and to pay out more than $8 billion in promised funds for female health care to developing countries (The Boston Globe)
Crime:
Missionaries from Evansville robbed in Guatemala | The group from the Lutheran Church of Our Redeemer said those robbed lost almost $5,000 in cash. The gunmen also took cameras, cellular telephones, a credit card, a guitar and cookies (Associated Press)
German bishop calls for German apology | For the first time a Lutheran Bishop in Germany has demanded that the German government should officially apologize for the genocide of the Herero people (The Namibian)
Man sentenced for clinic arson plot | Stephen John Jordi, 36, pleaded guilty in February to a single charge of attempted arson of an abortion clinic. He was sentenced Thursday to five years in federal prison (Associated Press)
Also: Creek man gets five years in clinic-firebombing plot | A federal judge Thursday sentenced a Coconut Creek man to five years in prison for devising a scheme to firebomb abortion clinics. His crime, the judge ruled, does not rise to the level of terrorism (The Miami Herald)
Abuse:
Blowing the whistle | Troubling information on priest could have made me a hypocrite (Rod Dreher, The Dallas Morning News)
Ex-bishop: Priest OK'd for duty | No abuse charges were filed against Christopher Clay, so former Bishop Timlin was set to give him a church. Clay went to Texas instead (Times Leader, Wilkes-Barre, Pa.)
Diocese asks priest to admit hiring error | The pastor of St. Mary the Virgin Catholic Church in Arlington has been asked by diocesan officials to tell weekend worshippers that he made a mistake in allowing a Pennsylvania priest accused of sexual abuse to assist at worship over the last year, an official of the Fort Worth Diocese said Thursday (The Dallas Morning News)
Priest accused of pedophilia released | Roman Catholic priest who was kicked out of Samoa last month for failing to disclose a 1994 child sexual assault conviction was released from custody here Friday ahead of a trial on similar charges (Associated Press)
N.S. diocese faces lawsuits by men who say priest sexually assaulted them | Three men who say they were sexually assaulted by a Roman Catholic priest when they were children are suing the Nova Scotia diocese that once supervised him (Canadian Press)
Monsignor in rare attack on Egan over suspension | Charles M. Kavanagh, who is the leading New York priest caught up in the church's sex abuse scandal, said the cardinal threatened to use further damaging information to keep him from fighting his suspension (The New York Times)
Phila. archdiocese: Chance to sue is over | C. Clark Hodgson Jr. on Thursday called the abuse "tragic" but said faded memories and the deaths of witnesses, including 10 of the accused priests, would make it impossible for the church to defend itself now (Associated Press)
L.A. archdiocese seeks to intervene in dispute | The Roman Catholic Archdiocese of Los Angeles has asked a federal judge in San Diego for permission to intervene in a dispute about a state law that opened the doors to hundreds of decades-old sexual abuse cases (Los Angeles Times)
Priest's penalty light, some say | An Arlington priest was reprimanded by the Fort Worth Roman Catholic Diocese for allowing a friend and fellow clergyman once accused of sexual misconduct to lead worship at his church (Ft. Worth Star-Telegram, Tex.)
Catholicism:
What happens when a church goes bankrupt | Move by an Oregon diocese will free it from some debt, but brings courts into religious and fiscal affairs (The Christian Science Monitor)
U.S. tops list of donors to Vatican | The United States remained the main source of donations to the Vatican despite the financial woes of the U.S. Church because of settlements in the sex abuse scandal, Vatican officials said Thursday (Associated Press)
A parish, and its faithful, in limbo | St. Susanna is one of 69 Catholic churches due to close in the Boston area. It's unbearable for those who have tied their lives to the institution (Los Angeles Times)
Catholic Church equates anti-Zionism with anti-Semitism | The Catholic Church condemned anti-Zionism as a cover for anti-Semitism in a joint statement issued by a forum of Catholic-Jewish intellectuals this week. The announcement was made at a gathering of religious, academic and other leading Jewish and Catholic figures in Buenos Aires (Haaretz, Tel Aviv)
Church life:
How to salvage a crippled church | Two years past his due retirement date Anglican Administrator John Collas has been thrust into the task of solving the worst crisis in the church's history in this state (The Advertiser, Australia)
Religion in the News: Looking for a sign | Motorists glance at them for just a moment, but ministers see church marquee messages as a great chance to attract people with a groaner of a pun or a thought-provoking phrase (Associated Press)
Preaching conference continues without E.K. Bailey | His widow and others carry on with revered pastor's work (The Dallas Morning News)
Black Baptists plan meeting of minds in Nashville | Twelve million black Baptists hope to unite their moral power in January when the four National Baptist conventions meet in Nashville to address political empowerment and U.S. inequities in education, jobs and the justice system (Sun Herald, Biloxi, Miss.)
Anglican leaders set to vote on women bishops | Legislation paving the way for women to be ordained bishops in the Australian Anglican Church has been finalised in readiness for the church's synod in Perth later this year (The Sun-Herald, Sydney, Australia)
Interfaith efforts:
World's varied religions gather for conference | Spiritual summitry at work in Spain (Chicago Tribune)
New center to promote studies of effects of prayer | In what could be a major step to broaden scientific inquiry of prayer, a panel of leading religious figures and medical researchers used a conference of the Parliament of World's Religions in Barcelona, Spain, to announce the opening of the Office for Prayer Research (The Christian Science Monitor)
Missions & ministry:
With crusade down to one day, they'll need amazing space | How would you fit 100,000 people in a stadium built for 50,000? Organizers of Orange County's annual Harvest Crusade may find out Saturday (Los Angeles Times)
Promise Keepers meeting opens Friday | Group encourages better husbands, but critics see right-wing agenda (The Charleston Gazette, WV)
Conversions continue to be rampant: Hindu leader | "It is time for Hindus to safeguard themselves from the onslaught of religious conversions, which are rampant in the country," Hindu Munnani founder Rama Gopalan has said (News Today, India)
Networking their faith | Doug and Marilyn Blauser wanted to know when God was speaking to them. They had no idea how much it was going to cost (Daily Herald, Chicago suburbs)
Marriage:
Church to debate rules on weddings | The Church of England General Synod is expected to discuss whether to relax marriage regulations and broaden the range of places where couples can wed (The Telegraph, London)
Church debates relaxing wedding rules | Couples could get married in the church of their choice under new plans to be considered by the Church of England (BBC, video)
Homosexuality:
Gay marriage to take center stage on pulpit | Colorado clergy on opposing sides of the gay-marriage debate will implore their flocks this weekend to contact their U.S. senators as a vote looms on a constitutional amendment that would define marriage as between one man and one woman (The Denver Post)
Senate braces itself for fight on gay marriage | Admitting upfront that they do not expect to win, conservatives are preparing to plunge the Senate into an election-year fight over a Constitutional amendment to ban gay marriage (The New York Times)
Marriage vote uncertain | Days before an expected vote on a constitutional amendment defining marriage as the union of a man and a woman, many senators this week were undecided, skeptical or simply reluctant to discuss the issue (The Washington Times)
N.J. to register gay couples in new law | New Jersey is the fifth state in the nation to officially recognize same-sex couples (Associated Press)
Policy on gays seen hurting military | Others with same skills are recalled (The Boston Globe)
Gay gamble | The amendment itself has scant chance of ever passing the Senate -- it needs 67 votes to stay alive, and an informal head count suggests that at least 40 Senators will oppose the measure (Mother Jones)
Both sides prepare for gay marriage showdown in Senate | "Call until the switchboard smokes," James Dobson told listeners (Religion News Service)
Senate showdown over same-sex marriage | Religious right mobilizing massive lobbying effort for federal marriage amendment (Bill Berkowitz, WorkingForChange)
Bad theology:
Liberals join conservatives' scholarly attacks on the best-selling `Da Vinci Code' | Even the Jesus Seminar says Dan Brown's claims are all fiction (Associated Press)
Christian teens? Not very | Many hold mushy beliefs antithetical to the creed (Dale Buss, The Wall Street Journal)
Film:
It's not 'The Passion' | But this underhyped indie movie does have a message for the faithful (Melinda Henneberger, Newsweek)
Passion of Christ gets nod, but censors restrict film to Christians | Mel Gibson's controversial film The Passion of the Christ, which sparked unprecedented debate following its release early this year, has finally arrived on Malaysian shores (The Star, Malaysia)
Jesus Christ, superstar | When Hollywood stopped making Bible movies, right-wing Christians took over (Amy Sullivan, Washington Monthly)
'Brian' a blasphemous blast from the blast | As far as a coherent, hilarious story line, as well as sheer blasphemous glee, you can't do much better than "Life of Brian" (The Oregonian)
Media and pop culture:
Omit unnecessary words | On the trail of faith and writing (Andy Crouch, Books & Culture)
Religion Today: Christian video games | How to make the jump to the mainstream, finding producers for Christian games and getting them on store shelves, will be the focus of a small conference this month in Portland that about 100 people are expected to attend (Associated Press)
Onward, Christian marketer | The success of Mel Gibson's film The Passion revealed opportunities in the Christian market (Inc.)
Selling a message | C28 offers hip clothes for teens—and the word of Jesus (Orange County Register, Ca.)
Christian comic summit drawn into debate on faith | I was fairly stunned to encounter a deep, theological discussion about the nature of faith and culture at my very first visit to a comic "summit." (Cathleen Falsani, Chicago Sun-Times)
Gospel label Verity Records celebrates 10th anniversary | This summer, Verity Records celebrates its 10th anniversary. The gospel label features popular artists likes of Vanessa Armstrong and Donnie McClurkin, among others (The Tavis Smiley Show, NPR)
Amish in the City:
UPN in 'Amish' country again | In a stealth move designed to head off potential critics, UPN and New Line Television have quietly wrapped production on a reality show mixing Amish youth with their urban counterparts (Variety)
UPN to air Amish reality series | A reality TV series about Amish teenagers exploring the world beyond their community and faith will debut this month despite protests by members of Congress (Associated Press)
Pol wants to pre-screen Amish show | The office of Rep. Joe Pitts (R-Pa.) has put in a call to UPN asking for a private screening of controversial new reality show Amish in the City. UPN announced a July 28 debut for the series Thursday (Broadcasting & Cable)
People:
Dimitry Dudko | Father Dimitry Dudko, Russian dissident and recanter, died on June 28th, aged 82 (The Economist)
From the Crystal Cathedral to Costco, he's a familiar face | For nearly 35 years, Robert Schuller has come into America's living rooms through his Hour of Power, broadcast from the Crystal Cathedral in Garden Grove, Calif (The Dallas Morning News)
Saved by faith | 'I wasn't as alone as I felt,' says this 57-year-old Lancaster Township woman. Her spiritual journey has brought her to a hard-fought and complex peace (Lancaster New Era, Pa.)
Christians in Israel:
Waiting for financial salvation | The Tourism Ministry's official data indicates a substantial increase in Christian tourist traffic, but for shopkeepers this does not quite ring true (Jerusalem Post)
Controversy surrounds planned Christian march in Jerusalem | A Protestant Christian group is planning to hold a march in Jerusalem and parts of Palestine. About 3,000 Christians will participate in the big event from August 7 to 10. However, the government requested that the event be put on hold due to security problems (The Chosun Ilbo, South Korea)
Other stories of interest:
Penn State cries uncle on Christian club | Until lawsuit, complained university had 'too many' groups of believers (WorldNetDaily)
Church wants family evicted | First, Joyce Meyer's Dream Center church fired Marilyn Hopgood. Now it wants her moved out of her home (St. Louis Post-Dispatch)
Religion news in brief | Kansas churches monitored for politicking, Faithful flock to Pittsburgh chapel to see religious relics, Woman leaves Methodist church $475,000 as thank-you for loan, U.S. Protestant executive named a president of World Council of Churches, and other stories from online sources from around the world (Associated Press)
Beer brewing monks battle over monastery's future | A power struggle at a monastery famous for producing beer is getting ugly. The future direction of the cloister is at issue: should the monks continue on a market-oriented path or return to a traditional life? (Deutsche Welle, Germany)
Snapshots of faith in America | Americans disagree on many spiritual matters, and on how faith should be applied in the political and social realms. In fact, it may be more remarkable to note the few ideals on which a majority overwhelmingly rules (The Dallas Morning News)
Related Elsewhere:
Suggest links and stories by sending e-mail to weblog@christianitytoday.com
Check out Books & Culture's weekly weblog, Content & Context.
See our past Weblog updates:
July 8 | 7 | 6
July 3 | 2 | 1 | June 30
June 25 | 24 | 23 | 22 | 21
June 18 | 17 | 16 | 15 | 14
June 10 | 9 | 8 | 7
June 4 | 3 | 2 | 1
and more, back to November 1999
Weblog
Launched in 1999, Christianity Today's Weblog was not just one of the first religion-oriented weblogs, but one of the first published by a media organization. (Hence its rather bland title.) Mostly compiled by then-online editor Ted Olsen, Weblog rounded up religion news and opinion pieces from publications around the world. As Christianity Today's website grew, it launched other blogs. Olsen took on management responsibilities, and the Weblog feature as such was mothballed. But CT's efforts to round up important news and opinion from around the web continues, especially on our Gleanings feature.
Ted Olsen is Christianity Today's executive editor. He wrote the magazine's Weblog—a collection of news and opinion articles from mainstream news sources around the world—from 1999 to 2006. In 2004, the magazine launched Weblog in Print, which looks for unexpected connections and trends in articles appearing in the mainstream press. The column was later renamed "Tidings" and ran until 2007.
Previous Weblog Columns: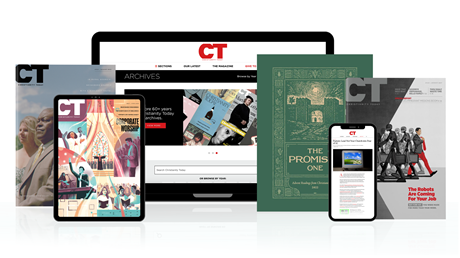 Subscribe to Christianity Today and get access to this article plus 65+ years of archives.
Home delivery of CT magazine
Complete access to articles on ChristianityToday.com
Over 120 years of magazine archives plus full access to all of CT's online archives
Subscribe Now
Former Labor Secretary Predicts Religious War in America
Former Labor Secretary Predicts Religious War in America