When he says broken communion, he means broken
Peter Akinola, primate (head) of the Anglican Church of Nigeria, is boycotting a meeting of his fellow Anglican church leaders because one of the attendees is Frank Griswold, presiding bishop of the Episcopal Church USA.
"Akinola has told friends that to attend the week-long gathering of primates and senior Church members would be a betrayal of his views and those of a majority of Anglicans worldwide," London's Telegraph reports.
One of Akinola's cohorts, Primate of Central Africa Bernard Malango, will attend the meeting, "but only after issuing a scathing attack on the American Church," says the Telegraph.
Telegraph religion writer Jonathan Petre says Akinola's "snub is the most dramatic indication yet of the splits at the heart of the worldwide Church, and it will fuel speculation that Archbishop Akinola is prepared to break away and lead a rival Anglican Church."
Yeah, especially if one of the U.K.'s largest newspapers spins the story that way. Let's be clear. In Akinola's view—and those of many orthodox Anglicans around the world—Griswold and the Episcopal Church USA broke away when it approved an actively homosexual bishop. In this perspective, it's ECUSA that's leading a rival Anglican church.
A commission set up by the primates last October is due to report in another seven months on what to do about ECUSA's breach of church teachings and the orthodox primates' opposition to it. The primates have encouraged all Anglicans not to act "precipitately" in the meantime, but that doesn't mean that church leaders won't continue to make their views known.
And it won't just be senior church leaders abroad. The Washington Times reports today that Thomas W. Logan Jr., rector of Calvary Episcopal Church on Washington, D.C.'s Capitol Hill, is rebuking his diocese, which has announced plans to create a same-sex marriage rite. Logan has sponsored a resolution declaring that "Holy Scripture does not support giving God's blessing to a sexual relationship outside marriage, be that relationship homosexual or heterosexual" and that "councils of the Episcopal Church have, and sometimes will, err."
The church was going to debate the resolution yesterday, but someone stole the photocopies of the resolution and threw them away.
The New York Times finds "ambivalent" evangelicals on gay marriage ban
The New York Times on Saturday discovered that evangelicals aren't monolithic on a federal marriage amendment. David Kirkpatrick, the Times's new "conservative beat" reporter, headed out to Grand Rapids, Michigan, and found several evangelicals who aren't crazy about such an action. Bush's support for the amendment, Kirkpatrick says, probably won't mean more votes.
"Almost all who identified themselves as conservative Christians immediately objected to gay marriage on biblical grounds," Kirkpatrick writes. "But most said they were already deeply committed to Mr. Bush's re-election. … More striking was the minority of evangelical churchgoers and even pastors who expressed ambivalence about the amendment. Some mentioned friends who are gay."
Kirkpatrick gets very, very close to the theology that's an important part of his story, but misses the point. "Grand Rapids is a long way from the traditional Bible Belt in the South. Conservative Dutch Calvinists settled the region in the mid-19th century and founded the evangelical Christian Reform Church here. The evangelical culture they imparted always placed a greater emphasis on education than similar evangelical denominations like the Southern Baptists," Kirkpatrick writes, paraphrasing Furman University political science professor James Guth.
Ah, but what about those differences? The Reformed folks, especially in Grand Rapids, tend not to stress personal morality in the same way that, say those Southern Baptists do. This is the reason that Calvin College allows student smoking on campus and other evangelical colleges don't. The reason is largely theological: Reformed evangelicals put a much stronger emphasis on the grace given to believers and on the "total depravity" of unbelievers. These Dutch Calvinists won't expect non-Christian homosexuals to adhere to biblical morality on sexual issues.
Still, Kirkpatrick would have found evangelicals ambivalent about the federal marriage amendment wherever he went, as well as many (an overwhelming number, Weblog imagines) who would have voted for Bush regardless of his vocal support of the amendment. Note, for example, CT's recent online (unscientific) poll, where 28 percent of our readers opposed the amendment.
Quoting Guth shows that Kirkpatrick knows good sources, but it would have been helpful to have some more specific numbers. Here's some fresh ones that just came out on Friday from The Pew Research Center for the People and the Press: "Two-thirds of white evangelical Protestant voters (67%) strongly oppose gay marriage; more than half (55%) say they would not back a candidate who does not share that opinion, even if the candidate's other positions are acceptable."
A November poll from the center looked at how religious beliefs shape voters' views on gay marriage.
Related Elsewhere:
Suggest links and stories by sending e-mail to weblog@christianitytoday.com
Check out Books & Culture's weblog, Content & Context.
See our past Weblog updates:
February 27 | 26 | 25b | 25a | 24 | 23
February 20 | 19 | 18 | 17 | 16
February 13 | 11 | 10 | 9
February 6 | 5 | 4 | 3 | 2
January 30 | 29 | 28 | 27 | 26
January 23 | 22 | 21 | 20 | 19
January 16 | 15 | 14 | 13 | 12
and more, back to November 1999
Weblog
Launched in 1999, Christianity Today's Weblog was not just one of the first religion-oriented weblogs, but one of the first published by a media organization. (Hence its rather bland title.) Mostly compiled by then-online editor Ted Olsen, Weblog rounded up religion news and opinion pieces from publications around the world. As Christianity Today's website grew, it launched other blogs. Olsen took on management responsibilities, and the Weblog feature as such was mothballed. But CT's efforts to round up important news and opinion from around the web continues, especially on our Gleanings feature.
Ted Olsen is Christianity Today's executive editor. He wrote the magazine's Weblog—a collection of news and opinion articles from mainstream news sources around the world—from 1999 to 2006. In 2004, the magazine launched Weblog in Print, which looks for unexpected connections and trends in articles appearing in the mainstream press. The column was later renamed "Tidings" and ran until 2007.
Previous Weblog Columns: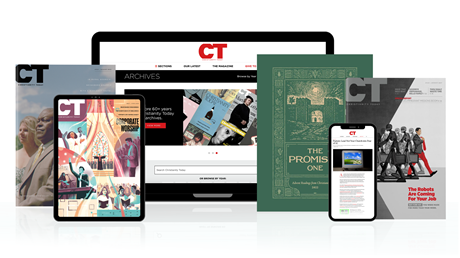 Subscribe to Christianity Today and get access to this article plus 65+ years of archives.
Home delivery of CT magazine
Complete access to articles on ChristianityToday.com
Over 120 years of magazine archives plus full access to all of CT's online archives
Subscribe Now
Nigeria's Anglican Leader Refuses to Attend Meeting with Episcopal Head
Nigeria's Anglican Leader Refuses to Attend ...