U.S. Supreme Court won't hear case of discrimination against Boy Scouts
It looks like one decision on the Boy Scouts' sexual conduct requirements is enough for the U.S. Supreme Court. At least for now.
In 2000, the justices court ruled that requiring the Boy Scouts of America to admit homosexual scout leaders was an unconstitutional violation of the right of association, and would "significantly burden the organization's right to oppose or disfavor homosexual conduct."
But that same year the state of Connecticut said the Scouts' ban on homosexual leaders violated state antidiscrimination law, and booted it from a list of 900 charities that may receive contributions from a state employee payroll deduction plan. Lower federal courts said Connecticut was within its rights to exclude the Scouts, and yesterday the Supreme Court decided not to hear the case.
"Connecticut has not prevented the BSA from exercising its First Amendment rights," the U.S. 2nd Circuit Court of Appeals ruled in July 2003. "It has instead set up a regulatory scheme to achieve constitutionally valid ends under which, as it happens, the BSA pays a price for doing so."
In other words, lawyer George Davidson, who represented the Boy Scouts, told the Associated Press, "government is entitled to make an organization that exercises its First Amendment right pay a price for exercising that right." So much for "free" speech, says Davidson. "What if a church softball league wanted to get a permit to use a ballfield in the park for a couple of hours? The religious organizations to which most Americans belong have the same view of the morality of homosexual conduct as the Boy Scouts do. What happens to them?"
(See more coverage of yesterday's Supreme Court denial from USA Today, The Boston Globe, Pittsburgh Post-Gazette, Toledo Blade, and the Reuters and Bloomberg news services. Local reaction is available from the New Haven Register and Salt Lake Tribune.)
But the Supreme Court may not be avoiding the scouting issue; it may simply be waiting for another one of the many related cases to work their way through the court system. For example, a case in San Diego is really heating up, with the U.S. Department of Justice last week issuing a brief supporting the Scouts. In that case, San Diego residents sued the city, claiming that Scouts are a religious organization, and therefore scouts' use of public property is a violation of church and state. Unbelievably, the city bought the argument and booted the Scouts.
"Quite simply, the Boy Scouts of America is not a church, and canoeing, kayaking and swimming are not religious activities," R. Alexander Acosta, Assistant Attorney General for the Justice department's Civil Rights Division, said in a press release. "Boy Scouts should not be prohibited from using public lands on an equal basis with other youth groups."
Nor should they be prohibited from inclusion in state employee payroll deduction plans. But for now, they can be.
Sandy Rios quits Concerned Women for America
Former radio talk show host Sandy Rios has unexpectedly resigned as president of Concerned Women for America, a conservative Christian political organization. The Illinois Leader, a conservative Christian publication, said she cited "'irreconcilable differences' concerning the administration of the organization."
The Leader also notes that Rios "is the third nationally known woman to have left [a leadership position at] Concerned Women for America … over the past few years."
A scan of the CWA web site did not turn up any information about the resignation or plans for Rios's replacement.
Mitch Albom more dangerous than Mel Gibson, says David Brooks
If Mel Gibson is a zealot, he's still not the biggest religious threat to America, says New York Times columnist David Brooks today. For the real danger, he says, look to Mitch Albom, author of Tuesdays With Morrie and The Five People You Meet in Heaven.
"I worry about Albom more, because while religious dogmatism is always a danger, it is less of a problem for us today than the soft-core spirituality that is its opposite," Brooks writes. "We do not live in Mel Gibson's fire-and-brimstone universe. Instead, we live in a psychobabble nation. We've got more to fear from the easygoing narcissism that is so much part of the atmosphere nobody even thinks to protest or get angry about it. … Americans in the 21st century are more likely to be divorced from any sense of a creedal order, ignorant of the moral traditions that have come down to us through the ages and detached from the sense that we all owe obligations to a higher authority."
Be sure also to read a similar commentary by David Kuo in the Los Angeles Times. "The biggest problem I have with The Passion, isn't the violence. It is with the protagonist," he writes. "The guy on the screen is nothing like that insipid, tunic-wearing, lamb-carrying, two-dimensional, felt-faced Jesus from Sunday school. That Jesus was easy. He could be molded and crafted like Play-Doh into anything I — or anyone else — wanted from him."
More articles
The Passion:
Religion and politics:
Fire at historic Greek Orthodox monastery:
Roy Moore:
Gene Robinson and ECUSA:
Gay marriage in Seattle:
Gay marriage:
Opinion:
Related Elsewhere:
Suggest links and stories by sending e-mail to weblog@christianitytoday.com
Check out Books & Culture's weblog, Content & Context.
See our past Weblog updates:
March 8
March 5 | 4 | 3 | 2 | 1
February 27 | 26 | 25b | 25a | 24 | 23
February 20 | 19 | 18 | 17 | 16
February 13 | 11 | 10 | 9
February 6 | 5 | 4 | 3 | 2
January 30 | 29 | 28 | 27 | 26
and more, back to November 1999
Weblog
Launched in 1999, Christianity Today's Weblog was not just one of the first religion-oriented weblogs, but one of the first published by a media organization. (Hence its rather bland title.) Mostly compiled by then-online editor Ted Olsen, Weblog rounded up religion news and opinion pieces from publications around the world. As Christianity Today's website grew, it launched other blogs. Olsen took on management responsibilities, and the Weblog feature as such was mothballed. But CT's efforts to round up important news and opinion from around the web continues, especially on our Gleanings feature.
Ted Olsen is Christianity Today's executive editor. He wrote the magazine's Weblog—a collection of news and opinion articles from mainstream news sources around the world—from 1999 to 2006. In 2004, the magazine launched Weblog in Print, which looks for unexpected connections and trends in articles appearing in the mainstream press. The column was later renamed "Tidings" and ran until 2007.
Previous Weblog Columns: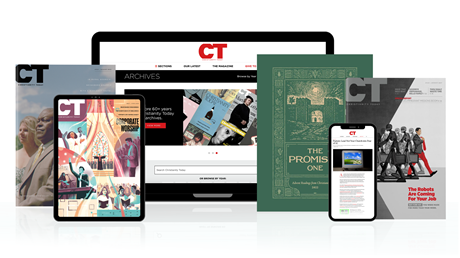 Subscribe to Christianity Today and get access to this article plus 65+ years of archives.
Home delivery of CT magazine
Complete access to articles on ChristianityToday.com
Over 120 years of magazine archives plus full access to all of CT's online archives
Subscribe Now
Supreme Court Turns Down Boy Scouts Case
Supreme Court Turns Down Boy Scouts Case