In almost any book of 36 essays, one is bound to find both good and bad. Such is the case with Intruding Upon the Timeless: Meditations on Art, Faith, and Mystery, Gregory Wolfe's collection of editorials from his stunning journal, Image. Sometimes Wolfe strikes gold, sometimes he simply digs.
Take, for example, Wolfe's incisive essay on sentimentality. The problem with kitsch, he writes in "The Painter of LiteTM," is "a misrepresentation of the world in order to indulge certain emotional states." The unreal reality created by this willful self-indulgence is not morally neutral—commenting on the work of Thomas Kinkade, Wolfe notes that the "The only folk who could ever have inhabited his cottages and lighthouses are prosperous white folk"—and can even nurture violence: "When we are too tender about something we can easily become too violent in seeking to defend or preserve it." Linking sentimentality, an emotion most consider harmless, to violence and prejudice, Wolfe establishes ethical critiques (beyond the merely aesthetic) of an artwork many blindly consider wholesome and religious. When Wolfe is good, he's very good.
But Wolfe is not always good. The recurring theme of Intruding Upon the Timeless is mystery in art: message flattens, but mystery opens. A dichotomy emerges between good art (reveling in mystery) and bad art (mired in didacticism)—a dichotomy, moreover, that simultaneously separates reason from imagination. Mystery is a place "where reason fails and only faith and imagination can go." Moreover, mystery encompasses the dogmas that might guide Christian art, for dogmas are "not really propositions, but symbolic mysteries." In other words, Wolfe removes reasoned propositions from the free play of imagination. The two, it seems, cannot be friends.
Dogmas are mysteries. True. But they are not merely mysteries. Instead, dogmas establish mysteries through propositions, which inspire the imagination. Consider, for example, Wolfe's claim that "Church Fathers like Augustine and Athanasius saw their mission not in making these mysteries explicit, but in protecting them from various forms of reductionism." How, then, does Wolfe explain Augustine's De Trinitate, a book of some 800 pages which attempts through the combined powers of reason and imagination to clarify the Trinity? Certainly it's a mystery, but that doesn't send Augustine's reason packing.
The coinciding divides between reason and imagination, message and mystery, lead Wolfe into the question of an artist's role within community. In back-to-back essays, Wolfe answers, it seems, by opting for contradiction. (He says upfront that "Image, being a journal of the arts and religion, would seem to have an uneasy foot in both camps." Yet the striking contrast between these essays suggests bi-location, rather than a straddling of the divide.) The first essay, a superb piece entitled "The Artist as Prophet," concludes: "The prophet and the artist may seek to disturb the existing order of things, but they should do so in the name of a deeper order, not in the name of their own genius," remembering "that even in biblical times the prophet was not completely independent of the community." Artists, in other words, have obligations.
On the other hand, in "Liturgical Art and its Discontents," Wolfe discredits most liturgical art: "Because it is art with a purpose—as an aid to worship—liturgical art subordinates the free play of the imagination to a specific end." In other words, Wolfe believes that having a "specific end" destroys "the free play of the imagination," as if trying to win a soccer game meant the players couldn't really play. Having just stated that defenders of the nea cannot move "beyond the idea of artistic autonomy," Wolfe suddenly defends precisely that autonomy—free from religious and communal restraints, free especially from purpose. Direction is destruction when it comes to art: It represents reduction to acceptability and accessibility by those who "fear the imagination."
But if "high art" is art defined against purpose and direction with words like "mystery," "indirection," "ambiguity," and "the numinous," how does Wolfe explain the high art of Paradise Lost, an epic filled with at least as much direction and didacticism as mystery and ambiguity? In the opening of the poem, Milton tells you precisely why he's writing it: "That … I may assert Eternal Providence, / And justify the ways of God to men." Milton writes with a purpose, but that purpose does not limit his imagination.
Indeed, the notion that that doctrine, dogma, and, in general, instruction of any kind are antithetical to art is a peculiarly modern one. Philip Sidney, after all, proclaimed that all good poesy "teaches, delights, and moves." Only since the era of Romanticism, it seems, have we stripped imagination of reason, abandoned teaching and direction, and reveled in whatever mystery remained.
Which raises a final and important question: Should that be the Christian stance? In fleeing the generally bad art of the cba, must we also flee any attempt to teach, to instruct, to present a message to the reader? Certainly, stories cannot be essays masked by a cast of faceless characters. But can mystery and message ever walk hand-in-hand? Too often, Wolfe sounds indistinguishable from the atheist poet Stephen Dunn, who calls spirituality in poetry "a journey through travail toward an understanding that leads back to mystery." Intruding Upon the Timeless seems to silence orthodoxy with its strident calls for "mystery"—a word repeated so often its weight lightens like a fading echo.
What is needed from Wolfe is a single book-length argument in which he takes on the specific relationships of message and mystery, reason and imagination, artist and community. Intruding Upon the Timeless, by the nature of its form, unfortunately achieves a fragmentation Wolfe repeatedly condemns, reflecting various thoughts at various times like shattered glass. The thoughts are often valuable—some are so penetrating they cut as deep as broken glass—but ultimately these essays need a sustained argument in which to cohere. That single piece of glass might offer better reflections on the meaning of mystery in art. Let's hope that Wolfe is at work on such a book right now.
Abram Van Engen will begin doctoral studies in English at Northwestern University in the fall.
Related Elsewhere:
Intruding Upon the Timeless: Meditations on Art, Faith, and Mystery is available from Amazon.com and other book retailers.
Wolfe was featured in a recent Dick Staub Interview.
Image journal has more information about Wolfe as well as content from the journal and its activities.
Books & Culture Corner appears every Monday. Earlier editions of Books & Culture Corner and Book of the Week include:
Celebrating Faith in Writing | A dispatch from Calvin College's biennial event. (April 26, 2004)
Shabbos, Sheitels, and Yarmulkes | A novel set in the world of Orthodox Judaism. (April 19, 2004)
The Naked City | The story of the 1977 blackout in New York-the occasion of widespread looting and destruction-has some surprisingly timely lessons for America in 2004. (April 19, 2004)
A Curious Contingency | Confessions of a wordsmith. (April 05, 2004)
"Trust but Verify" | Ronald Reagan's faith. (March 29, 2004)
Baseball Preview 2004 | Plus a look back with some Negro League veterans. (March 29, 2004)
How Do You Live with a Torturer? | A novel of Haiti by the brilliant young writer, Edwidge Danticat. (March 08, 2004)
Article continues below
God Is in the Details | A scientist affirms his faith. (Feb. 23, 2004)
History Repeats Itself, Sort of | How the fate of Eugene McCarthy's insurgency against LBJ sheds light on the 2004 presidential campaign. (Feb. 16, 2004)
The Worst President Ever? | Former Nixon aide John Dean attempts to rehabilitate the reputation of Warren G. Harding. (Feb. 09, 2004)
Wholly, Wholly, Wholly | Calvinists and conga drums in Grand Rapids: a report from the seventeenth annual Calvin Symposium on Worship and the Arts. (Feb. 02, 2004)
The Doom of Choice | Fate, free will, and moral responsibility in Tolkien. (Feb. 02, 2004)
A Rose Among Thorns | A new novel by the author of Father Elijah illumines the spiritual consequences of our simplest decisions. (Jan. 26, 2004)
Baptized in Fire | A new book on Martin Luther King, Jr., emphasizes his spiritual transformation. (Jan. 19, 2004)
O'Connor v. the Antichrist (Jan. 12, 2004)
Moody, the Media, and the Birth of Modern Evangelism | A cautionary tale. (Jan. 05, 2004)
A Few Coming Attractions from 2004 | Plus: What to buy with those gift cards, and some of the books in my to-read stacks. (Dec. 29, 2003)
The Top Ten Books of 2003 | Plus: The Worst Book of the Year, more good reading, digital books, and a little Christmas music. (Dec. 22, 2003)
Books at Warp Speed | We continue our annual roundup of noteworthy books. (Dec. 15, 2003)
Is "Sensual Orthodoxy" a Contradiction in Terms? | Read this unconventional collection of sermons and judge for yourself. (Dec. 8, 2003)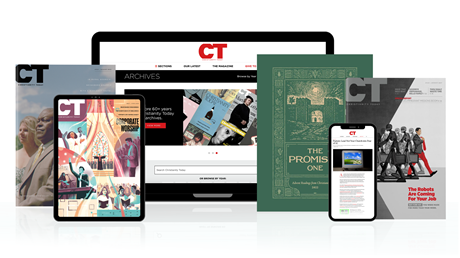 Annual & Monthly subscriptions available.
Print & Digital Issues of CT magazine
Complete access to every article on ChristianityToday.com
Unlimited access to 65+ years of CT's online archives
Member-only special issues
Subscribe
Read These Next
Trending

American Christians Should Stand with Israel under Attack

While we pray for peace, we need moral clarity about this war.

From the Magazine

The Unusual Epistle that Helps Me Counsel on Sexuality

Jude has strong words for immorality in the church. Yet he advocates for mercy for those who doubt.

Editor's Pick

Don't Miss These African Christmas Hits

Jam out this season to highlife, Afrobeats, jazz, a cappella, R & B, rap, dance, and hip-hop artists from Nigeria, South Africa, and more.
Mystery and Message
Mystery and Message