Baylor's president keeps post, but barely
It seems that with each meeting of the Baylor University Board of Regents, Robert Sloan's presidency and plans to reinvigorate the school get more and more precarious. Last September, amid calls from some regents for Sloan's removal and a no-confidence vote by the faculty senate, the board voted 31-4 to retain him.
In February, regents again rejected calls for the president's ouster, but issued several cautions, and slowed Sloan's Vision 2012 plan beyond its original 10-year mission. At the center of that plan—and at the heart of many (though certainly not all) anti-Sloan complaints—is an effort to make the Waco, Texas, school into a leading research university with a strong Christian identity.
At that meeting, the regents voiced support for Vision 2012, but afterwards expressed anger with the spin that Sloan's administrators put on their reports, and the omission of key phrases from an early press release describing the board's actions and directives.
"The Regents are more upset today than they've ever been," one member told television station KWTX.
Last week, following yet another no-confidence vote from the Baylor faculty senate, the university's board of regents again voted on whether to retain Sloan as president. Again, he won the day. But this time, the vote was 18-17.
A Baylor press release doesn't mention the vote, but Sloan told the Waco Tribune-Herald that he's still moving forward. "Building and restoring relationships does not happen overnight, but I am confident that over time we will see some really positive results," he said. "Because I think most people are committed to that."
"I think what you're seeing is just frayed nerves," Dary Stone, one of the founders of the pro-Sloan group Friends of Baylor, told the Ft. Worth Star-Telegram. "The university allowed a public debate of all of our dirty laundry. It's just a culmination of a very long year. I think the vast majority of the Baylor family still supports Dr. Sloan very strongly."
The board also chose a new regents chairman, whom Associated Baptist Press says "is considered a strong Sloan supporter, as is at least one of the three regents elected at the meeting."
Outgoing chairman Drayton McLane was eligible for another year in the post, but wouldn't say whether he was nominated. Still, he's upbeat.
"We're seeing the buildings that are developing, the economy is getting better, our development is improving, our investments are certainly improving as the economy gets more robust so there are a lot of really good things," he told KWTX. ""I've been in business a long time. One of the most difficult things is leadership. … Change things, improve things, move them forward. Doing bold things certainly excites a lot of people but as change happens, it causes some difficulties. We certainly understand that but we are sensitive to every group." The regents, he says, are "confident" in Sloan, and (in the words of KWTX), "will continue to evaluate the longer term of Vision 2012 … and President Sloan's leadership."
The battle for Baylor will continue.
More articles
India elections:
Jayalalitha backs off, withdraws controversial decisions | In a completely unexpected decision, Tamil Nadu Chief Minister took back an anti-conversion law that had been widely criticized (IANS, India)


Prayers answered in India? | For India's tiny Christian minority, as for the Muslims, the surprising defeat of the Hindu nationalist Bharatiya Janata Party may bring the end of a long nightmare, in which fanatics massacred Muslims, murdered priests and pastors, razed churches and ancient mosques, burned holy books and broke up religious services (Uwe Siemon-Netto, UPI)


Nigeria crisis:
Nigerian television:
Crackdown on Nigeria TV miracles | Nigerian broadcasters are no longer allowed to show miracles on television in a way which are not "provable and believable," say the authorities (BBC)


A man and his religion | When the NBC came up with their ban of on-air miracles a few weeks back, it was clear, in retrospect, that they expected much opposition. It was clear, also, that they were well prepared for this opposition, and the frame of their organizational mind was to push it to the very end (Morenike Taire,

Vanguard

, Lagos, Nigeria)


Religious freedom:
Gay marriage:
Gay marriage foes work to reverse ruling | The election battle will be waged on two main fronts: an effort nationally to elect congressional candidates supporting a constitutional ban on gay marriage, and an effort in Massachusetts to tilt the balance in the Legislature by ousting 10 to 20 lawmakers who opposed a state ban (Associated Press)


A 'marriage' proposal | By the judicial fiat of four activist judges, homosexual couples are now allowed to marry in Massachusetts. Monday, May 17 was both the culmination of the democratic process run amok, as well as a portent of what could come (Editorial,

The Washington Times

)


Gay marriage in Mass.:
Homosexuality & religion:
UK opens stem cell bank:
Life ethics:
Religion & politics:
Catholic church & politics:
Catholicism:
Bishops to allow auditing on abuse | Under public pressure from a lay advisory board, Catholic bishops have agreed not to delay plans for a second round of audits that will gauge the church's compliance with sexual abuse policy changes (Religion News Service)


Auxiliary bishop chosen for Washington | Pope John Paul II announced yesterday that the Rev. Martin D. Holley, a 49-year-old pastor in Florida, will become an auxiliary bishop in the Archdiocese of Washington (

The Washington Post

)


Judicial nominees:
Missions & ministry:
Missionary Flights seeks airport savior | The small, nonprofit Missionary Flights International has weathered Caribbean uprisings, tropical storms and a hijacking to keep its fleet of prop-driven cargo planes in the air. Now, the challenge for the 40-year-old flight service is to keep its planes on the ground at its home base at Palm Beach International Airport (

Palm Beach Post

, Fla.)


Jamaica honors N.Y.-born 'ghetto priest' | Starting with a soup kitchen in the 1970s, Monsignor Richard Albert has quietly but aggressively forged Jamaica's largest social outreach network through his privately funded St. Patrick's and Stella Maris Foundations (Associated Press)


Church life:
Online church:
Ship of Fools site rocked by rowdy parishioners | Organizers of the world's first virtual church have been forced to make emergency adjustments after rowdy cyber parishioners shouted profanities from the pews (

The Daily Post

, Liverpool, England)


Virtual devils curse Internet church | The world's first Internet church has fallen victim to a plague of virtual demons, some of whom have been logging on as Satan and unleashing strings of expletives during sermons (Reuters)


Daystar's station bid:
Crime:
Spirituality:
In prays of dance | The modern-dance work "Religilistic" celebrates the world's religions in music and movement (

Seattle Times

)


We believe but not in church | A new Home Office report has found that four out of five people in England and Wales say they feel an affiliation with an organized religion. The largest number - 74% - say they are Christians (BBC)


Film:
Books:
From 'DaVinci' to Masons | The author of the best-selling "The DaVinci Code" said last night that he ran across "intriguing and persuading" information that Jesus Christ survived the crucifixion, but it was too controversial to put in his novel (

The Union Leader

, N.H.)


No wizard left behind | Harry Potter and Left Behind are more alike than you might think (Steven Waldman,

Slate

)


More articles:
Christian music's Carman says fans find comfort in his show | Carman long has been able to draw concert crowds without having a surefire hit song all the fans simply must hear (

The Grand Rapids Press

, Mi.)


Professor yearned to find Noah's ark | Somewhere in the great beyond, if Aaron J. Smith isn't smiling, he must at least feel satisfaction that so many have followed him up that mountain (Jim Schlosser,

News & Record

, Greensboro, N.C.)


How is marriage doing? | More people are getting divorced, more kids are living with single parents and more grandparents are playing a mother or father role for their grandkids (Fox News)


Related Elsewhere:
Suggest links and stories by sending e-mail to weblog@christianitytoday.com
Check out Books & Culture's weekly weblog, Content & Context.
See our past Weblog updates:
May 18 | 17
May 14b | 14a | 13 | 12 | 11 | 10
May 7 | 6 | 5 | 4 | 3
April 30 | 29 | 28 | 27 | 26
April 23 | 22 | 21 | 20 | 19
April 16 | 15 | 14 | 13 | 12
and more, back to November 1999
Weblog
Launched in 1999, Christianity Today's Weblog was not just one of the first religion-oriented weblogs, but one of the first published by a media organization. (Hence its rather bland title.) Mostly compiled by then-online editor Ted Olsen, Weblog rounded up religion news and opinion pieces from publications around the world. As Christianity Today's website grew, it launched other blogs. Olsen took on management responsibilities, and the Weblog feature as such was mothballed. But CT's efforts to round up important news and opinion from around the web continues, especially on our Gleanings feature.
Ted Olsen is Christianity Today's executive editor. He wrote the magazine's Weblog—a collection of news and opinion articles from mainstream news sources around the world—from 1999 to 2006. In 2004, the magazine launched Weblog in Print, which looks for unexpected connections and trends in articles appearing in the mainstream press. The column was later renamed "Tidings" and ran until 2007.
Previous Weblog Columns: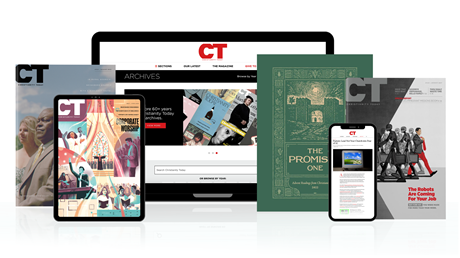 Annual & Monthly subscriptions available.
Print & Digital Issues of CT magazine
Complete access to every article on ChristianityToday.com
Unlimited access to 65+ years of CT's online archives
Member-only special issues
Subscribe
Baylor President Narrowly Survives Regent Vote
Baylor President Narrowly Survives Regent Vote