Tim and Jerry on the cover of Newsweek
What more can be said about the Left Behind series? Not much, though this week's Newsweekcover story tries to go for one less-played angle by profiling authors Tim LaHaye and Jerry Jenkins rather than focusing on the popularity of premillennial dispensationalism.
There's some nice bits in the piece, though LaHaye comes off as a bit caustic while Jenkins is the humble peacemaker. When it comes to salvation and eschatology, writer David Gates understands that they're talking about the same thing in different ways. But he misses the similarity when they start talking about themselves.
"Those millions that I'm trying to reach take the Bible literally," LaHaye says. "It's the theologians that get all fouled up on some of these smug ideas that you've got to find some theological reason behind it. It bugs me that intellectuals look down their noses at we ordinary people."
Ah, a heaping helping of anti-intellectualism, which Gates attributes to a "still-aggrieved sense of social class."
Jenkins says, "Pedestrian writing, thin characters—I can handle the criticism," he says. "I write to pedestrians. And I am a pedestrian. I write the best I can. I know I'm never going to be revered as some classic writer. I don't claim to be C.S. Lewis. The literary-type writers, I admire them. I wish I was smart enough to write a book that's hard to read, you know?" Gates characterizes this as evidence of Jenkins "chronic modesty," but misses the jibe. That's gloating, friend.
Ah, but while the magazine promises to show how the "contrasting sensibilities" of the "most successful literary partnership of all time … suggest the complexities of the entire evangelical movement, often seen as monolithic," it can't help but add to those same mistaken stereotypes. Newsweek explains that evangelicals are "Christians who say they have a personal relationship with Jesus Christ," while Fundamentalists are "Christians who believe the Bible is the literal, inerrant word of God."
In a sidebar, fundamentalists are contrasted with Eastern Orthodox Christians and Lutherans, as Lisa Miller explains that "Christian fundamentalists … are devoted to Revelation, and believe that the events it describes will come to pass—perhaps sooner rather than later."
There's a hint that LaHaye is supposed to represent fundamentalists while Jenkins is more of the evangelical fold, but there's little help for the reader who tries to discern the difference between the two groups, or whether one is a subset of the other.
Likewise, there's no hint about whether the critical "fellow Christians, who find the books more interested in God's wrath than God's love, as well as scripturally questionable" are evangelicals, fundamentalists, or some other breed. Over at GetReligion, Terry Mattingly rightly critiques the article as mischaracterizing the eschatology debate as one between liberals and conservatives. "Even in most Episcopal churches, the congregation still affirms its belief that 'Christ has died, Christ is risen, Christ will come again,'" he writes. "The disagreements center on what the world will look like until then."
Newsweek repeatedly suggests that Left Behind is popular because of global terrorism and the Iraq war. "That LaHaye and Jenkins's books are selling so briskly at a time of global chaos suggests that millions are taking refuge in literal renderings of Scripture, seeking a port amid the storm of the present," writes editor Jon Meacham. Problems like the abuse at Abu Ghraib prison raise "Difficult questions, with … few easy answers. Little wonder, then, that so many people are turning to fiction to alleviate the burden of fact."
Likewise, writes Gates, "As the world gets increasingly scary, with much of the trouble centered in the Mideast—just where you'd expect from reading the Book of Revelation—even secular Americans sometimes wonder (or at least wonder if they ought to start wondering) whether there might not be something to this End Times stuff."
One small problem with this theory, though: Left Behind first came out in 1995, and the series was a bestseller long before 9/11.
Miller has a different theory:
John [the Revelator] was a passionate, furious Christian, and he had a very clear message, one that resonates strongly with evangelical Christians today: Do not be seduced by the temptations of secular culture. … Substitute a sex-drenched mainstream popular culture for the emperor, and you can begin to understand why the "Left Behind" books have hit such a nerve with evangelicals. Jenkins, LaHaye and their readers feel driven to defend their values and way of life against the onslaught of secularism, and for them, Revelation describes the battle lines.
But it's not only pre-millennial dispensationalists who share this concern about the onslaught of secularism. And that's the real story, says evangelical Anglican theologian Kendall Harmon:
The only way I know to teach about eschatology is to teach what Christians have understood about these things, and then to dialogue with dispensationalism and explain why those who teach it are wrong. I believe dispensationalists deserve our great respect, because at least they are

trying

to understand these vital subjects, whereas nearly every Episcopal Church ignores them. It is hypocritical in the extreme for mainline churches to sneer at Tim LaHaye and others without explaining why he is wrong (which he is) and what the

right

theology is in all of this.
In short, Newsweek's piece is fine, but it's just one more pass over overplowed sod (as is a sidebar drawing a spurious line from Left Behind theology to Bush's foreign policy). The magazine is late to the party, but it's still better than its odd Christian music piece a few years back. Examining LaHaye and Jenkins as archetypes for various streams in the evangelical movement actually could have been a fresh angle, so long as it didn't stray into angry fundamentalist vs. friendly evangelical caricatures. Better to focus on LaHaye's longterm efforts to inform, teach, and disciple the church, how this differs from Jenkins's frequent efforts to create cultural (and largely evangelistic) artifacts that have mainstream appeal, and what the popularity Left Behind (along with Jabez, Veggie Tales, The Passion, and other recent Christian entries into popular culture) means when these two items meet. Have evangelicals changed their cultural engagement strategy from overt evangelistic appeals to seeing various aspects of theology as "entry points" into the larger Christian story?
The other article that hasn't yet been done: examining how the dispensationalist theology of the Left Behind books (and of Tim LaHaye specifically) differs from the "progressive dispensationalism" being taught at Dallas Theological Seminary, the cornerstone of such eschatological thought.
There are other stories, too, but time is running out. LaHaye and Jenkins are still writing a prequel and sequel to the core series, but articles on the Left Behind phenomenon are going to seem stale after the 10-year anniversary of the first book's publication.
More articles
Nigerian riots:
20 dead in fresh Plateau violence despite state of emergency | More than 20 Christian villagers have been killed in a fresh outbreak of religious violence in Plateau State in central Nigeria, where President Olusegun Obasanjo imposed a state of emergency earlier this week, residents in the area told IRIN (IRIN)


Nigerian state split on emergency | Residents of Plateau State are divided over the emergency which was declared this week after hundreds were killed in communal clashes (BBC)


Sudan:
Sudan militia violence spreads to the south | Government-backed Arab militias have razed the homes of 23 000 villagers in southern Sudan, despite talks to end 21 years of civil war, a senior church official said on Thursday (Reuters)


Stopping Sudan's slow-motion genocide | Sudan is Rwanda in slow motion (Anthony Lake and John Prendergast,

The Boston Globe

)


Slaughter in Sudan | Unless the world is spurred quickly to rescue the displaced villagers and ensure their safe return home, the likely result is massive suffering and death on a scale comparable to the genocide of 800,000 Tutsis by the Hutu military in Rwanda 10 years ago (Editorial,

The Baltimore Sun

)


Politics of Communion:
John Kerry:
Religion & politics:
Hearts and minds | The post-9/11 world is on PC-overload (Andrew C. McCarthy, National Review Online)


Pueblo bishop joins debate | Pueblo Roman Catholic Bishop Arthur Tafoya has called on his flock this election year to consider not just abortion but also poverty, war, the death penalty and working for peace and justice (

The Denver Post

)


Colombia's priests keep paths of peace open | Last week's agreement between right-wing militia leaders and the government was facilitated by the Catholic clergy (

The Christian Science Monitor

)


Church & state:
Fundamentally unfaithful | By painting his case in black and white, Judge Roy Moore sells out his own religious tradition (James Heflin,

Valley Advocate

, Easthampton, Mass.)


Prayer, angst come to council | Defending the name of Jesus Christ against perceived attack, a pastor invoked Jesus in an unofficial prayer during a Porterville City Council meeting Tuesday and was seconded by the comments of about half a dozen other citizens (

The Porterville Recorder

, Ca.)


Pledge opponent fights legal fees in daughter custody case | The man who challenged the words "under God" in the Pledge of Allegiance argued that he should not be require to pay for lawyers "to take away my child." (Associated Press)


Religious freedom:
War & terrorism:
Kana's Iraq | A story you can't hear enough of (Meghan Clyne, National Review Online)


Blind faith | Muslims, like Jews and Christians, must own up to problems in their holy book (Irshad Manji,

The Wall Street Journal

)


The religious warrior of Abu Ghraib | An evangelical US general played a pivotal role in Iraqi prison reform (Sidney Blumenthal,

The Guardian

; also at Salon.com)


Crime:


You won, now give it back | In every Ponzi scheme, some investors profit early on. But courts can force them to return the money, even if they were unaware of the fraud (

Los Angeles Times

)


Former Lodi pastor assaulted in Sacramento County | Mark Malvitz, a pastor throughout the 1990s in Lodi, Morada and Stockton who is being sued in Sacramento County on allegations of spiritual abuse, fraud and using church members' account numbers, was assaulted after a service last week, the Sacramento County Sheriff's Department said (

Lodi News-Sentinel

, Ca.)


Weigh Down Workshop raided:
Church day care under fire:
Missions & ministry:
Bible proofreaders sweat the small stuff | Thank the Lord — and the proofreaders at Peachtree Editorial and Proofreading — that the Bible refers to "our ancestors" instead of "sour ancestors," and calls for an end to "factions" — not "fractions." The proofreading service caught those typos and others before the latest edition of the Holy Book went to press (Associated Press)


Episcopal diocese puts emphasis on health issues | Last Sunday, as every third Sunday of the month at Christ Episcopal Church in Columbia, Cynthia Willis offered blood pressure screenings to parishioners leaving the service (

The Washington Post

)


4 churches pledge $1 million for shelter | Four large evangelical Christian churches in the suburbs have pledged to raise $1 million to help build a facility in Buffalo for homeless women and children (

The Buffalo News

, N.Y.)


XXXchurch wants no more XXX | The site -- which advertises itself as the No. 1 Christian porn site -- features downloadable bible studies, a virtual prayer wall and free software that records sites visited by Internet users and sends the log to a third party (Wired News)


Faith and the fork | Is it time for religion to examine its role in expanding waistlines? (

San Diego Union-Tribune

, Ca.)


Christian leader campaigns against anti-Semitic views | Earl Cox is the leader of the American Christian Reserve Israeli Defense Force, a group he first organized in South Carolina to combat what he perceives as the media's negative portrayal of Israel (

The Post and Courier

, Charleston, S.C.)


Church life:
Catholicism:
Marriage & divorce:
Italy marriage vow to change to "I receive you" | Italian Roman Catholic bishops said on Wednesday they had approved the change to underscore that marriage should not be seen as one person possessing the other but each receiving the other as a gift from God (Reuters)


Divorce: First, keep all the lawyers | Invented more than a decade ago, collaborative divorce is gaining in popularity around the nation and has recently made its way to New York State (

The New York Times

)


Not a social contract | Marriage is more than affection and good times (Jennifer Roback Morse, National Review Online)


Gay marriage:
Gay marriage in Mass.:
Homosexuality and religion:
Anglicans seek gay bishop removal | Eighteen Anglican archbishops, most of them from Africa and Asia and representing more than 55 million Anglicans, have called on the Episcopal Church to "repent" its pro-homosexual policies within three months or face expulsion from the worldwide Anglican Communion (

The Washington Times

)


Tax rebellion over gay dean | The row over the appointment of gay priest Jeffrey John as Dean of St Albans escalated this week with one church openly rebelling by refusing to pay its diocesan tax (

St. Albans Observer

, England)


Both sides in Presbyterian same-sex marriage dispute disappointed | A Presbyterian Church (USA) minister who resigned in a dispute over same-sex marriages and the church member who sought to rebuke him for performing them said Wednesday they foresee a time of tumult that could split the 2.5 million-member denomination (Associated Press)


Children:
Adoption bills net praise, protest | Adoption agencies would be allowed to use moral and religious judgments when placing children in homes, under a set of bills proposed by a Lapeer County lawmaker (

The Flint Journal

, Mi.)


Bishop calls for total ban on smacking | A bishop will try in the House of Lords today to outlaw parents smacking children (

The Independent

, London)


Baby boy abandoned at church door | A newborn abandoned on the doorsteps of a church will be placed in state custody after the blond-haired boy is released from a hospital, police said (

The Sun Herald

, Biloxi, Miss.)


Education:
Business:
Media:
Related Elsewhere:
Suggest links and stories by sending e-mail to weblog@christianitytoday.com
Check out Books & Culture's weekly weblog, Content & Context.
See our past Weblog updates:
May 19 | 18 | 17
May 14b | 14a | 13 | 12 | 11 | 10
May 7 | 6 | 5 | 4 | 3
April 30 | 29 | 28 | 27 | 26
April 23 | 22 | 21 | 20 | 19
April 16 | 15 | 14 | 13 | 12
and more, back to November 1999
Weblog
Launched in 1999, Christianity Today's Weblog was not just one of the first religion-oriented weblogs, but one of the first published by a media organization. (Hence its rather bland title.) Mostly compiled by then-online editor Ted Olsen, Weblog rounded up religion news and opinion pieces from publications around the world. As Christianity Today's website grew, it launched other blogs. Olsen took on management responsibilities, and the Weblog feature as such was mothballed. But CT's efforts to round up important news and opinion from around the web continues, especially on our Gleanings feature.
Ted Olsen is Christianity Today's executive editor. He wrote the magazine's Weblog—a collection of news and opinion articles from mainstream news sources around the world—from 1999 to 2006. In 2004, the magazine launched Weblog in Print, which looks for unexpected connections and trends in articles appearing in the mainstream press. The column was later renamed "Tidings" and ran until 2007.
Previous Weblog Columns: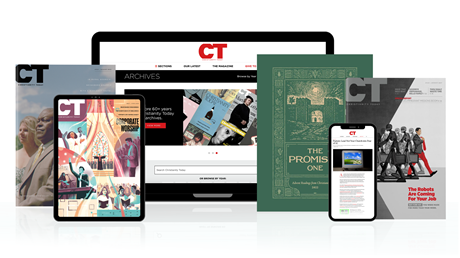 Annual & Monthly subscriptions available.
Print & Digital Issues of CT magazine
Complete access to every article on ChristianityToday.com
Unlimited access to 65+ years of CT's online archives
Member-only special issues
Subscribe
Newsweek catches up to Left Behind
Newsweek catches up to Left Behind