Weblog promises that it doesn't go out looking for denominations fumbling over how to deal with homosexuality. In fact, these stories can all start to sound the same: Minister violates church law, minister brought to church trial, church jurors decide church law doesn't mean what it says, minister let off the hook, other churches upset, journalists ponder possible "schism" in the denomination.
Well, the Presbyterian Church (USA)'s recently reinstated minister, Stephen Van Kuiken, won an appeal after being convicted last year for performing gay marriages. The ten-member Synod of the Covenant, which oversees churches in Ohio, Michigan, and parts of Kentucky and Indiana, voted 6-4 in favor of Van Kuiken. The ruling could be appealed to a higher court. The panel said the PCUSA does not specifically bar ministers from marrying gay couples and does not call for disciplining ministers who do.
What the PCUSA's Book of Order does say is that marriage is "between a woman and a man." However, the church does allow ministers to bless same-sex unions, provided they are not called weddings.
"I don't think it will be ultimately upheld," said Tom Sweets, pastor of the 800-member Madeira-Silverwood Presbyterian Church, which brought the complaint against Van Kuiken. "The decision was made on wordsmithing; it's Bill Clinton's 'whatever the definition of "is" is.'"
For those unfamiliar with the Van Kuiken story, here is a recap with the help of the Cincinnati Enquirer:
In 2002, the General Assembly's highest court holds that ministers can bless same-sex unions, but that marriage is between a man and a woman.


In May 2003, Van Kuiken found guilty of performing gay marriages and given a "rebuke," the mildest punishment the court could use.


In June 2003, Van Kuiken was booted for performing more gay marriages.


Last February, Van Kuiken was reinstated as a Presbyterian minister, because the court that stripped him of his pastorate and church membership did so while Van Kuiken was appealing his previous guilty verdict.


Now, the original verdict has been overturned because the church does not overtly bar ministers from performing same-sex marriages.


The panel spent much of its time debating semantics, according to the Toledo Blade. "While the Book of Order states that same-sex marriages are 'impermissible,' for example, the wording refers to whether ministers 'should' or 'should not' perform such ceremonies rather than 'must' or 'must not.'" Church law and other judicial rulings "fail to define the performance of a same-sex marriage by a minister as an offense subject to disciplinary trial," the panel said. With this ruling, word games over the definition of marriage are now over, Van Kuiken says, though marriage is still defined as between a man and a woman. (Does this remind anyone else of the Monty Python line, "Let's not bicker and argue over who killed who"?)
"This was really a landmark decision," Van Kuiken told the Associated Press. "Even if this is appealed to the highest court, it has established a precedent that will allow the Presbyterian church to move forward." He told the Enquirer, "We are making room at the table of Christ both for our gay brothers and lesbian sisters as well as for those with progressive Christian convictions." Van Kuiken obviously believes he is on a more advanced path than the rest of the denomination. After the ruling, he resigned from the PCUSA to become pastor of The Gathering, a non denominational church formed by members who left his former congregation.
The four dissenting panel members said the ruling is "an improper and unjustified attempt to rewrite the clear and unambiguous meaning" of marriage in the Book of Order. The church's General Assembly will likely debate the issue this June.
More Articles:
UMC debates homosexuality:
Gay marriage:
Anti-gay marriage rally in Seattle:
Message sent from heaven? | Gay marriage leads to a total meltdown of morality in this country. The not-so-sturdy foundation of traditional marriage will be bulldozed. Divorce will rise, Social Security will fall and polygamy will spread across the land. On Saturday, that message reverberated throughout Safeco Field in Seattle (

Everett Herald

, Wash.)


M's, Safeco getting calls criticizing marriage rally | The calls had been coming all week — to the office of the Seattle Mariners as well as to Safeco Insurance, which holds the naming rights to the ballpark where the baseball team plays. (

Seattle Times

)


Thousands protest gay marriage in Seattle | Thousands of people protested gay marriage at a rally Saturday at the city's baseball stadium, facing hundreds of chanting, shouting counter-protesters. (Associated Press)


Church life:
Orthodox church split with Greece:
Orthodox Church split with Greece | The spiritual leader of the world's Orthodox Christians has suspended relations with the head of Greece's Orthodox Church -- a move that could lead to severed ties between the two churches. (Turks.US)


Turf war | Ecumenical Patriarch Vartholomaios has chosen to pour more oil on the flames of the recent spat between the Phanar and the Church of Greece. The spiritual leader of the world's Orthodox Christians appears to be heading for conflict with the Greek government, unless it plays into his hands. Vartholomaios's stand raises questions over the solidity of his judgment and his intentions, which appear, at least in part, to have politically expedient objectives. (

Kathimerini

, Greece)


Missions & ministry:
Calling becomes passion for missionary from Petersburg | Ida Lawson has returned to the city of her childhood. God willing, she won't be here long. Her heart, and most of her belongings, are thousands of miles away, in the Holy Land, her home of 10 years now. Lawson left the United States to become a Christian missionary in the Middle East, following the irrepressible call of God, she said. (

Petersburg Progress Index

, Virginia)


National Day of Prayer:
George Bush's faith:
Religion & politics:
EU and Christianity:
Christian/Muslim violence in Nigeria:
Religious violence in Indonesia:
Music:
Heavens hold off rain for Grace | The daylong rain let up by showtime for Grace 2004. The weather wasn't much concern for the hundreds, armed with chairs and rain gear, who attended the 4-year-old Christian music festival Friday night in downtown Pensacola. (

Pensacola News Journal

)


Books:
God, we hardly knew Ye | God is omnipotent yet has bowel problems. A guy's guy, he loves the smell of barbecued meat, but is also noted to have breasts full of milk. Contrary to contemporary opinion, love isn't really his strong suit. (

Globe and Mail

, Canada)


Book calls for 'God-centered' worship | Essays put forth argument for strictly obeying Bible's instruction on prayer, services (Knight Ridder Newspapers)


Spirituality:
Feeling religious, along with life's rhythms | The chaos of life, the random slings and arrows of fortune, the unpredictability of fate, the fear of disaster and nothingness, propel us to construct physical and emotional scaffolds to hold the whirling universe in check. We create order out of disorder, giving to life rhythms and habits to tame its awful incongruities. There are many ways to do this, but perhaps religion does it best. (

New York Times

)


Lessons from the Dalai Lama | Christians have much to learn from this vibrant 69-year-old who so often seems to giggle (Lorna Dueck,

Globe and Mail

, Canada)


Prescription for health: Forgive freely | In late life, people fare best when they shed grudges and hurts of the past, says U-M researcher (

Ann Arbor News

, Michigan)


Related Elsewhere:
Suggest links and stories by sending e-mail to weblog@christianitytoday.com
Check out Books & Culture's weekly weblog, Content & Context.
See our past Weblog updates:
May 3
April 30 | 29 | 28 | 27 | 26
April 23 | 22 | 21 | 20 | 19
April 16 | 15 | 14 | 13 | 12
April 8 | 7 | 5
April 2 | 1 | March 31 | 30 | 29
and more, back to November 1999
Weblog
Launched in 1999, Christianity Today's Weblog was not just one of the first religion-oriented weblogs, but one of the first published by a media organization. (Hence its rather bland title.) Mostly compiled by then-online editor Ted Olsen, Weblog rounded up religion news and opinion pieces from publications around the world. As Christianity Today's website grew, it launched other blogs. Olsen took on management responsibilities, and the Weblog feature as such was mothballed. But CT's efforts to round up important news and opinion from around the web continues, especially on our Gleanings feature.
Ted Olsen is Christianity Today's executive editor. He wrote the magazine's Weblog—a collection of news and opinion articles from mainstream news sources around the world—from 1999 to 2006. In 2004, the magazine launched Weblog in Print, which looks for unexpected connections and trends in articles appearing in the mainstream press. The column was later renamed "Tidings" and ran until 2007.
Previous Weblog Columns: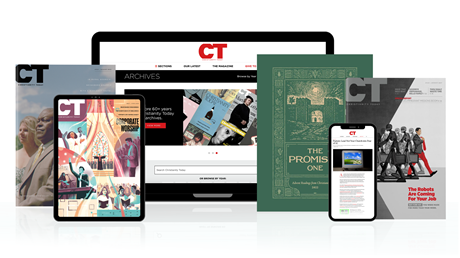 Annual & Monthly subscriptions available.
Print & Digital Issues of CT magazine
Complete access to every article on ChristianityToday.com
Unlimited access to 65+ years of CT's online archives
Member-only special issues
Subscribe
Presbyterian Court Says Church Doesn't Ban Gay Marriages
Presbyterian Court Says Church Doesn't Ban Gay Marriages