true
"No gut, no glory." That's what the billboards advertising Pixar's The Incredibles say, and the picture of Mr. Incredible, with his super-sized mid-section, underlines the point. Yet, while the film is about a middle-aged superhero who is full of nostalgia for the "glory days," Pixar Animation Studios is demonstrating that they are as fit and as formidable as they've ever been. Mr. Incredible and his family—Elastigirl, Violet, and Dash—are sure to become favorite big screen heroes for moviegoers of all ages, and The Incredibles is destined to become one of those DVDs that never strays far from the player. If there is such a thing as an "instant classic," The Incredibles is it.
Moviegoers can thank storyteller and director Brad Bird, who joins forces with John Lasseter (Toy Story) and the Pixar team to unleash his enormous imagination on a scale that makes his previous film The Iron Giant look more like The Iron Dwarf. Packaging The Incredibles as family fun, Bird baits grownups into the cinema for a big fat serving of family therapy. He packs in observations about identity, family dynamics, the dangers of praising mediocrity, and the consequences of cultivating a lawsuit-happy culture (where heroes like doctors and teachers live in fear of offending trigger-happy patients and parents). Bob, Helen, Violet, and Dash learn to stretch their faith in each other, growing from a sullen, spat-prone clan into a rejuvenated and—if you will—purpose-driven family.
Religious press critics are joining mainstream critics in calling it one of the year's best films, and several say this is the peak of Pixar's run of near-perfect family films. I personally prefer Finding Nemo, but I'm giving The Incredibles four stars in my review at Christianity Today Movies.
"How nice to finally have a film that delivers on its title," says Michael Elliott (Movie Parables). "The Incredibles is simply that—incredible. Combining the crucial superhero elements … with the real life concerns that beset a typical family, Bird has crafted a fantasy adventure film that touches us where we live."
David DiCerto (Catholic News Service) determines that the film "falls short of its title—but only slightly. Visually, The Incredibles is a hyper-frenetic tour de force, though it doesn't quite match the bar set by Finding Nemo. Storywise, The Incredibles lacks the heart—not to mention the cuddly, easily merchandised finned and fuzzy protagonists—of past Pixar productions. Still, the script, also by Bird, is extremely clever and supplies enough eye candy for the kiddies and multilayered dialogue and sharp wit for grownups along for the ride."
You won't sense any disappointment in Steven D. Greydanus' assessment (Decent Films). He raves, "The Incredibles is exhilarating entertainment with unexpected depths. It's a bold, bright, funny and furious superhero cartoon that dares to take sly jabs at the culture of entitlement, from the shallow doctrine of self-esteem that affirms everybody, encouraging mediocrity and penalizing excellence, to the litigation culture that demands recompense for everyone if anything ever happens, to the detriment of the genuinely needy. It's an ideal collaboration, a perfect storm of heart, wit, energy, and style."
Greydanus's raves continue in another article as he sizes the film up alongside other recent family films and finds the competition lacking. "The Incredibles is terrific—terrific enough that it would be a contender for the year's best family film in nearly any year. Right now, it just about owns the field. Let's face it: So far, it's been a lousy year for family films. Until now, the fine Two Brothers has been just about the only bright spot."
"Pixar can't seem to make even a single mistake when it comes to elevating the artistry of animation," says Steven Isaac (Plugged In). "Likewise, while illustrating the value of an intact family or the beauty of individuality or the negative results of pride, The Incredibles is, well, incredible. If its director had left more of its computer-generated violence on his hard drive … it would have been sublime." He advises parents, "If anything in any of Pixar's previous projects proved too much for you or your tots, stay far away from The Incredibles."
Phil Boatwright (CBN) says, "For some reason some parents are still under the misguided assumption that if it's animated, it must be okay for all ages. Not so. Though this film is creative, funny and addresses life issues, it is an action adventure about superheroes—which means violent acts of derring do. That said, entertainment-wise, The Incredibles is everything other family adventures such as The Thunderbirds and Agent Cody Banks 2 wanted to be this year and failed."
Keith Howland (Christian Spotlight) says, "Unlike the Shrek films, which are often crass and crude, the humor in The Incredibles is clean fun. Sadly, there are two fleeting instances of God's name used vainly. However, there are several issues that can be used to initiate discussions of spiritual matters. All in all, The Incredibles is another triumph from Pixar, and a great movie for the family, although the very young would find it to be too intense."
Mainstream critics are pulling on their Spandex to accomplish mighty feats of raving.
Based on an exquisite storybook by Chris Van Allsburg, The Polar Express comes to us from Robert Zemeckis, who has transported us to other times (Back to the Future); exotic destinations (CastAway); and through groundbreaking advances in animation technology (Who Framed Roger Rabbit). In this film, he takes us to all three: a simpler time, a far-off and frozen place, and an animated exhibition that glows like a forest of illuminated Christmas trees and roars like a passing train.
The Polar Express is a fantastic feat of animation and a delightful film. It's well worth seeing, especially if you have very young children. But it's important to talk with children after seeing the movie and lead them a little further along the path of what all of this Christmas mythology represents.
"Believe." "Have faith." "The spirit of Christmas." These are phrases that get tossed around far too often in Christmas movies. Most end up implying that belief is about Santa and reindeer, that faith is about trusting that there will be presents under the tree, and that the spirit of Christmas is a warm and gooey feeling of happiness akin to a sugar high. Good storytellers avoid paraphrasing the lessons of their own stories, and the vague and over-used "lessons" like those in The Polar Express lead only to shallow sentimentality.
For all of its pleasures, The Polar Express falls victim to the Curse of the Flimsy Christmas Movie. While some stories of Saint Nicholas remind us of God's extravagant grace through the gift of his son, this one offers only cliché s and slogans about human kindness. My full review is at Christianity Today Movies.
Michael Elliott (Movie Parables) calls it a "must-see holiday experience. Both the story and the telling of it have a timeless feel that will be sure to delight generations of families in the many years to come."
But Steven D. Greydanus (Decent Films) is not so enamored. "The Polar Express manages to achieve a remarkable degree of fidelity not only to the simple structure of its picture-book source material, but also to its look and spirit. But is this trip really necessary? As depicted here, Santa's North Pole is neither a magical fairyland nor a picturesque, snowbound toymaker village, but a quaint European-style city with dark, deserted cobblestone streets and—I am not making this up—canned Christmas muzak. Alas, even at the North Pole, where everyone celebrates Christmas, only 'inoffensive' secular tunes are permitted … 'The real meaning of Christmas is in your heart,' Santa says. Whatever that means."
David DiCerto (Catholic News Service) is impressed, calling it "a beautifully told fairy tale whose heartwarming sentiment is as welcome as a mug of steaming hot chocolate on a cold winter's day. Tinged with menace, the film's storybook images are, at once, both beautiful and haunting, evoking, by turns, Norman Rockwellesque nostalgia and the impressionistic otherworldliness of a childhood dream."
Bob Smithouser (Plugged In) says, "As thoroughly secular Christmas stories go, The Polar Express has a tender heart and enough visual tricks to wow even adults. At times, this film's synthetic imagery is amazing. [It] also takes the depiction of people to another level, though it wasn't a warm, intimate enough level to make me fall in love with the characters. I felt like I was watching a technical marvel with lots of bells and whistles, but a pseudo-soul." He also testifies that small children might be shaken by this "sweet story" that's been transformed into "an often scary thrill ride."
Annabelle Robertson (Crosswalk) has an altogether different take: "There is something very sick about this movie, and it isn't the fact that Tom Hanks plays nearly every role, as annoying as that is.It also isn't the fact that a Christmas movie is being released weeks before Thanksgiving, as inexplicable as that is. It's the way that … Zemeckis has beautifully and alluringly transformed Christmas into Clausmas, beckoning us to worship the jolly old elf as the heart and soul of this all-important holiday. And that's something that Christians should be very upset about indeed."
Mainstream critics are enjoying the ride.
Alfie

gets an update
Michael Caine became a star largely due to his performance as a young libertine named Alfie, but based on the reviews, it looks like Jude Law may have outdone him in the role. The new Alfie, directed by Charles Shyer, gives the story a contemporary spin, in America instead of England. Alfie's still a womanizer, still looking for an answer to the big question: "What does it all mean?" And he's still learning the hard way that sleeping around is not a shortcut to any lasting satisfaction.
Peter T. Chattaway (Christianity Today Movies) calls it "a kinder, gentler, funnier Alfie for the post-When Harry Met Sally age." He concludes, "In this day and age, it may be enough that a film draws our attention to the emotional pain that is caused, both to oneself and to others, by selfish lifestyles. Perhaps the new film does go out of its way to create sympathy for its devil, but … if any impressionable young minds were to leave this film vowing not to form certain habits in the first place, then that would not be a bad thing."
Michael Elliott (Movie Parables) asks, "If Alfie is indeed questioning himself and his behavior, why doesn't he clue in to the fact that he's on such a dead-end path? Instead of seeing him as a selfish, insensitive, or immoral, we simply view him as being rather foolish. The film closes with a question which echoes the original film—'What's it all about?' By the time the closing credits arrive, Alfie has come to the realization that his life amounts to absolutely nothing."
Cliff Vaughn (Ethics Daily) says, "One keeps expecting Alfie to change after a couple of incidents threaten his way of life, but he never really makes the leap, which is one of the movie's disappointments. The filmmakers try to tack on some Ecclesiastical meanderings near film's end, but they ring about as true as one of Alfie's promises to a lover."
Annabelle Robertson (Crosswalk) says, "Alfie is a movie that most Christians will probably never see, and that is definitely the right decision. But for a few … this film may well serve as a well-needed wake-up call. That Alfie is confronted with the vacuity of his actions, without the quick-fix Hollywood panacea of 'the perfect relationship,' is truly astounding, and deserves a commendation. Surprisingly, in the midst of so much smut, we see a Christian message."
Christopher Lyon (Plugged In) writes, "The real shock here is that the filmmakers work so hard to uncover the destructive, soul-killing consequences of sexual 'freedom.' Men who sleep with women for pleasure with no intention of a loving commitment … hurt those women. And they hurt themselves. Everybody loses. Did Alfie need to pile on the sex and drugs in order to deliver that message? Nope. And those who already agree with it don't need to see the film to be swayed toward a 'love, marriage and responsibility' point of view. But hopefully the Alfies of the world (and there are millions of them) will come away with an uncomfortable burr under the saddle of their pleasure-centered approach to life."
Harry Forbes (Catholic News Service) says, "Many will ask how anyone could dare remake the famous 1966 British film which, more than any other, put Michael Caine so memorably on the map. But Charles Shyer's New York-set Alfie … works just as well on its own terms, capped by a superb performance by Jude Law in the title role. The emptiness of [Alfie's] hedonistic lifestyle is beautifully conveyed as the story progresses. The result is a cautionary tale of the first order."
In her comparison of the old and new Alfie films, Elisabeth Leitch (Hollywood Jesus) says the new one has a lot to offer. "While Alfie's question, 'What's it all about?' still hangs in the air at the end of the movie, the answer seems to lie in the love he has seen in others' lives and the love he feels like he is missing."
Mainstream critics are praising Law, but most of them are disappointed in the film itself.
Actor Paul Giamatti won raves last year for his performance as Harvey Pekar in American Splendor. He's winning them again for his role as Miles Raymond, a middle-aged writer and a wine connoisseur who sets out on a road trip with his soon-to-be-married friend, an actor named Jack (Thomas Haden Church). For Miles, the trip is a chance to take a tour of wine country and appreciate the finer things. Jack just wants to score one last fling before his marriage. Sure enough, they find wine, women, and much more than that in Sideways, a comedy exploring the trials of loneliness and the rewards of aging. Such themes are familiar territory for director Alexander Payne (About Schmidt, Election).
"Lest you think that this is a maudlin middle-aged drama, I need to point out that Sideways is hilarious," writes J. Robert Parks (Looking Closer). "Set pieces like a golf course confrontation and a first meeting with Jack's fiancé e are priceless, filled with more laughs than in any other comedy this year. But even better are the moments of recognition, where we see ourselves in a particular character and then chuckle at our own foibles. Payne has a wonderful eye for detail. Sideways wimps out at the very end with a happy-ending coda, but its moments of self-revelation more than make up for any flaw."
David DiCerto (Catholic News Service) calls it "a bittersweet meditation on love, loneliness, fellowship and failed ambition. While entertaining and laced with wry humor, Sideways is also poignant in its gentle dissection of the human condition. And though sardonic in tone, Payne manages to end the movie on a hopeful note without resorting to a pat solution." He adds, "Unfortunately, like red wine on a white sofa, the movie is stained by two sexually graphic scenes, and one other involving full frontal nudity."
Mainstream critics give the film more positive reviews than anything else released this year so far. Looks like we've got an Oscar contender on our hands.
Undertow

gets caught in waves of mediocre reviews

David Gordon Green's new film Undertow is earning comparisons to the famous 1955 film Night of the Hunter, due to its familiar plot line of boys on the run from a murderer after their father is killed. The film stars Jamie Bell, who danced his way into stardom a few years back as Billy Elliott, and Josh Lucas (Sweet Home Alabama, Hulk), who again appears as a sinister and violent man. Dermot Mulroney costars as the boys' father.

"Though the film is imbued with a good sense of place and the suspenseful pace never flags, some of the plot elements strain credulity," writes Harry Forbes (Catholic News Service), "and many viewers will find the violence and gritty realism of the violence a challenge to sit through. Bell is quite plausible as this Southern farm boy with not a trace of his English accent. Lucas, doing a complete turnaround from his sympathetic father role in Around the Bend, is as menacing as they come as the murderous uncle, and Mulroney is all taciturn solidity as the father."

Michael Elliott (Movie Parables) says, "Undertow has scenes that are brilliantly executed but overall the film comes up a bit short. Initially compelling, it begins to break down a little more than halfway through the film and ends a bit too conveniently for all that has come before it. Jamie Bell, who was so impressive in Billy Elliot, does fine work as the pensive teen who finds himself in a do or die situation with the responsibility of his weaker brother weighing on his shoulders. Green films in a gritty, no frills kind of way and the result is a naturalistic style where the actors totally immerse themselves in their characters."

Mainstream critics are divided as to whether the film sinks or swims.

More reviews of recent releases

Film Forum has featured religious press coverage of these films in previous weeks.

Birth:David DiCerto (Catholic News Service) says, "Controversy notwithstanding, Glazer has managed to craft an elegiac meditation on love, loss and mortality, buttressed by exceptional performances from the assembled ensemble, hauntingly evocative visuals, deliberate pacing and a disquietingly plaintive score. Kidman delivers a hypnotic performance. The film ends on a rather ambiguous note, never committing one way or the other to either a supernatural or psychological solution to the central mystery. And while contrary to the Catholic understanding of life after death, the theme of reincarnation is handled in an intelligent manner." He adds, however, that there are troubling scenes that might have been handled better.

Head in the Clouds:Michael Elliott (Movie Parables) says, "This is really the kind of story that calls for glycerin drops be placed in the actresses' eyes for the weepy close-ups. Remarkably, writer/director John Duigan doesn't go for the over-the-top, hankie-wringing melodramatic treatment that the story itself demands. But the film doesn't really work without it. There's no romantic chemistry at play between the actors. With a two hour running time, we need a bit more than that to hold our interest."

Ray:Hal Conklin and Denny Wayman (Cinema in Focus) say the "authentic" film "is worthy of the music which exemplifies his life. Though it can hardly be called 'uplifting' or 'inspirational,' this is a powerful film worthy of telling his life story."

Next week:Finding Neverland, After the Sunset, Seed of Chucky, and more on The Polar Express.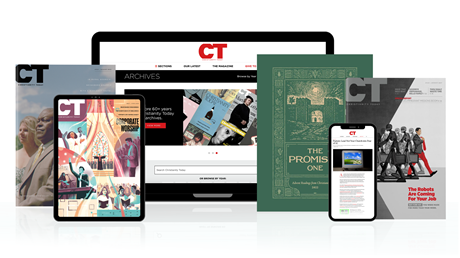 Annual & Monthly subscriptions available.
Print & Digital Issues of CT magazine
Complete access to every article on ChristianityToday.com
Unlimited access to 65+ years of CT's online archives
Member-only special issues
Subscribe
Express Route to Incredible Family Entertainment
Express Route to Incredible Family Entertainment