true
Editor's note: For the whole month of October, Christian music icons Michael W. Smith and Steve Taylor and a bunch of other colleagues were running around Nashville with a bunch of cameras and sound equipment. A new music video? Nope. They're making a movie, starring Smith and directed by Taylor. In the film, called The Second Chance, Smith plays a music star (duh!) who's a bit too comfortable in his white, suburban megachurch. Newcomer Jeff Carr plays an African-American who ministers to gangs, teen mothers and drug addicts through an urban ministry called Second Chance. When these two men are thrown together in a tough neighborhood and forced to work side by side, Smith's character discovers there is no boundary between the streets and the sanctuary. Can these two guys overcome their prejudices to give themselves—and a struggling urban church—a second chance? The film is slated for a Fall 2005 release.
When Christianity Today Movies was invited to the set during filming in Nashville, we sent veteran writer Merrill Farnsworth, who just happens to be a good friend of Smith's and Taylor's, so it was a good fit.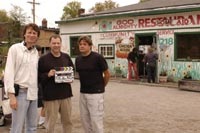 Driving down Jefferson Street toward the river, I didn't have much of a problem finding the spot.
Two catering tents and a production crew—very white in both cases—stood out amid the fenced-in junkyard, the apartments with bars over the windows, and a tiny barbershop across the street. Two men in headsets direct me to a parking space. You can tell they're not from around here.
I park, then walk toward the God Almighty Restaurant, where I spot a circle of African-American men and women seated in folding chairs. They're laughing, talking slow and easy, like folks who've known each other for a while. Turns out they have.
A small woman, graying and adorned with black knitted hat, gives me a welcoming smile. Later I discover she's the owner of the God Almighty, where she's well known for her house specialty: fried chicken served up with the Word of God. Today she's an extra waiting for her scene.
Then I spot an old friend emerging from the catering tent: Michael W. Smith. Our sons were best friends back in middle school, and we've kept up our friendship since. He smiles, gives me a hug, and is his usual gracious, humble self. "Can you believe this?" he asks.
I can believe it. Michael's always looked like a movie star. But can he act? I don't know, but I'm about to find out …
Chicken Legs and Cockroaches
Entering the God Almighty Restaurant, I spot a huge Bible in the entrance. It's open to the book of Kings, but this humble establishment is a long way from Solomon's palace. I wonder if Solomon's wisdom could untangle the racial and spiritual complexities addressed in this film.
It's too early in the morning to solve the world's problems, so I wander into the small kitchen where they're cooking up chicken and turnip greens on a hot stove. A haze of smoke fills the room and I'm doomed to smell like fried food all day. This is the South. All problems can be temporarily solved with comfort food. There's plenty of it here. It's 7 a.m.—not too early for a chicken leg.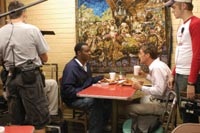 A roach crawls down the wall. Very authentic. And this eatery is just one of the many "honest-to-God" locations for The Second Chance, for which a scene is being filmed here today.
I sit down at one of the tables with Chip Arnold, a dear friend and co-writer on the project, who fills me in on the work in progress. He says Michael's nailing the role—and Chip wouldn't say that unless he meant it. He's always been known for telling it like is.
Extras file in and sit down at the scattered tables. A rug-like tapestry of dogs playing poker hangs on the wall where Michael and co-star Jeff Carr will shoot a lunch scene. A sign over the cash register warns, "Anyone caught eating chicken with a fork will be punished." A crewmember hustles by setting salt, pepper and hot sauce on each table. I'm guessing I should move.
Steve Taylor, director of the film, strides by, his long legs taking him somewhere in a hurry. He clearly wants to get started. His eyes dart around the set, checking things out. A loud noise catches everyone's attention. I see Steve's eyes grow wide and turn just in time to see a large camera falling off the table. A crewmember catches it before it hits the ground. Everyone begins breathing again. I move out of the way.
Smitty Gets into Character
Outside the door, Michael is reading the paper. He doesn't come in to mingle with the locals; because he plays an outsider in the film, part of getting in character means keeping his distance.
When Taylor decided to make this film, he wanted a big name, somebody with star power to attract producers. Co-writer Ben Pearson suggested Smith, and things were on the way.
While Smith is certainly a music star, he's never considered himself an actor. Arnold said he knew Smith "had the stuff inside him," but could he carry a film? After going out to Smith's house for a reading, Arnold came away convinced the singer/songwriter could pull off the starring role. "Michael took the project seriously," says Arnold. "He worked with an acting coach for six months to prepare."
In many ways, Smith is like Ethan Jenkins, the character he plays. In the story, Ethan lives only 10 miles away in a wealthy, predominantly white suburb. Life here on Jefferson Street is foreign to him; his life story hasn't prepared him to walk the inner city streets and meet people's needs. He's come to minister to drug dealers, gang members and teen mothers, but his designer clothes, not mention his white face, get in the way.
Smith says playing the role is opening his eyes and challenging him personally—not just to give money to help the poor, but to get involved in real ministry.
"I know I'm involved [in things like that]," Smith said outside the God Almighty. "But this movie makes me realize I can do more. At first Ethan is willing to serve God as long as it's safe. Then he realizes there's nothing safe about serving God."
Carr, meanwhile, plays Jake Sanders, an urban minister who takes Ethan on a down-and-dirty journey that scuffs up his shoes and stretches his faith to the breaking point. He discovers that while God's love isn't always pretty, it's real.
And now Taylor calls for a rehearsal. Jeff and Michael run through the scene. When it's time to shoot, Taylor takes a seat in the kitchen where the monitor is set up. Taylor yells "cut" a lot, but not necessarily because his cast is messing up. Things just happen. Someone bumps into a chair: "Cut!" People are laughing too loud outside the open door: "Cut!" And so on.
A producer is ready to move to the next scene, but Taylor won't budge till until he's convinced it's done right. A few more takes, and Taylor seems satisfied. And now the producer's smiling. I take that as a good sign.
What's the Story?
In the film, Ethan is a successful musician, basking in the glow of international celebrity. He's flying high—too high, that is. A drug habit lands him in rehab.
Ethan tries to turn his life around, and ultimately ends up on the staff of his father's wealthy suburban church. It's not long before he manages to offend the congregation by allowing Jake, an urban minister with an attitude, to take the pulpit on Mission Sunday. Jake has a short fuse with folks who write checks for missions but never bother to get their own hands dirty. He tells the wealthy Christians to "keep their damn money." People are offended. Things get ugly. And Ethan is exiled to the inner city.
Thus begins the education of Ethan, with street savvy Jake as his teacher. Jake's methods of serving God's people leave Ethan confused and often enraged. The language of poverty, suffering and survival are foreign to his rich white ears. For Ethan, Christ's love does not include giving a bottle back to a drunk or threatening acts of Old Testament violence when confronting drug dealers.
Ethan and Jake are worlds apart—a white world and a black world. Throughout the film, both men are forced to deal with their prejudices …
Striving for Authenticity
When it comes time to film the next scene, plates of fried chicken, greens, potatoes and slices of white bread are set on the table. The scene is perfect until the extra playing the waitress exits the restaurant and lets out of whoop of glee. "Cut!" They shoot it again.
Then it's on to a scene where Ethan and Jake are in an intense conversation over lunch—only they're not supposed to actually eat the food. Michael forgets and takes a bite: "Cut!" All the while, Taylor tells everyone they're doing great. The producer reminds him about the schedule; they haven't got all day, and time is money—the producer's money. Everyone smiles. It's all good.
Maybe I'm the only one who sees the vein popping up on Taylor's forehead every now and then. He never raises his voice. He's just real intense.
It's Taylor's first feature film, and he says he just wants it "to be authentic." Taylor's father was a pastor. He has lived and breathed church life, witnessing moments of grace and hypocrisy. Both are real. He feels that Christians come off as cartoon-like in most media portrayals, though Robert Duvall's The Apostle is an exception: "He got it right," says Taylor.
Taylor wants to get this one right, too. He wants to give audiences a real look at life in the church, challenging the stereotypes. Taylor and co-writers Chip Arnold and Ben Pearson seek to portray the thoughtfulness and complexity of a genuine Christian life. They cast "real people" from the film's various urban locations. Carr is an experienced actor who also works with a ministry to young men in Nashville's inner city. Taylor seeks to incorporate this level of authenticity into every facet of the film.
Taylor is known for his outside-of-the-box music and video productions. His voice and vision are unique in the Christian music business. He doesn't seek to fit his artistry into a particular worldview; rather he simply expresses his creative impulses.
Film producer Coke Sams—who worked on several Ernest movies with Jim Varney in the early '90s, recalls viewing videos submitted for Christian music's Dove Awards over the years. "There was everyone else's work," says Sams, "and then there was Steve's work." Sams believes this film's universal themes, such as overcoming social injustice, will appeal to a wide audience.
Good God Almighty, It's a Wrap
It's a wrap at the God Almighty Restaurant. Time for lunch. Spirits are high. A woman runs up to the restaurant's owner in tears. "We're getting paid for this!" she exclaims over and over, jumping up and down. "You don't know how bad I need this money. And we get lunch too!" It's fun to see her so excited.
Lunch is served family style at long white tables. As I walked to my car, I turned for one last look at The God Almighty Restaurant and Community Center. The movie's star, extras, writers, director, producers and crew are assembled under one of the catering tents, loading their plates.
As I drive away, I realize how much it looks like a congregation gathering for a potluck dinner.
Merrill Farnsworth is a winner of the ASCAP songwriters award for "Heaven's Heart," co-written with Michelle Tumes and a former No. 1 CCM hit. She is also lyricist for several children's productions, including the CBS animated special starring Jim Belushi, The Nuttiest Nutcracker.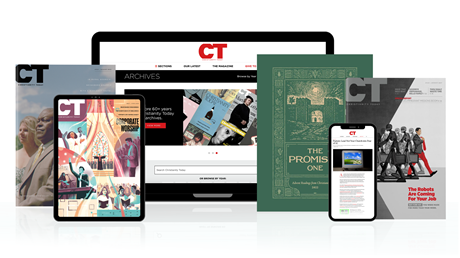 Annual & Monthly subscriptions available.
Print & Digital Issues of CT magazine
Complete access to every article on ChristianityToday.com
Unlimited access to 65+ years of CT's online archives
Member-only special issues
Subscribe
On Location at the God Almighty Restaurant
On Location at the God Almighty Restaurant