On Friday, blogger Christopher Johnson predicted that today's release of the Lambeth Commission on Communion's Windsor Report would be one of the five biggest moments in Anglican Christianity "since Henry VIII first noticed Anne Boleyn."
Conservatives, bolstered by news reports, believed the commission would recommend strong censure of the Episcopal Church USA for consecrating a bishop involved in a homosexual relationship, and would strengthen efforts to reject liberal leadership in the church.
As late as Saturday, The Times of London reported a "scoop" that the commission would create a "star chamber" to rule when Anglican provinces (such as the Episcopal Church USA) have violated church teachings, and would allow conservative parishes in the U.S. to leave their dioceses with their property.
To quote The Daily Show's Jon Stewart, "Eh, not so much."
The 49-page Windsor Report (93 pages with appendices, index, and introductory material) starts with lengthy treatments of the nature of communion (as in unity, not Eucharist), Anglican principles and history, and the Anglican Communion's "instruments of unity"—that is, its global structure.
There's some very good stuff in these sections, particularly the first, where church unity is described as a means to an end (the proclamation of the gospel), and the church's call to "radical holiness." The first few paragraphs are saturated with Scripture (leading some to speculate that they were written by biblical scholar N.T. Wright, one of the orthodox evangelical members of the commission).
After that, Scripture gets quieter and quieter, though its importance does get several nods. "It is by reading Scripture too little, not by reading it too much, that we have allowed ourselves to drift apart," the report says. But how we read it is important, it adds:
The current crisis thus constitutes a call to the whole Anglican Communion to re-evaluate the ways in which we have read, heard, studied, and digested scripture. We can no longer be content to drop random texts into arguments, imagining that the point is thereby proved, or indeed to sweep away sections of the New Testament as irrelevant to today's world, imagining that problems are thereby solved.
This sounds like the commission is telling both conservatives and liberals, "A pox on both your houses," but that would be very un-Anglican. "Morning sniffles on both your houses," perhaps. And, as Weblog will note below, conservatives take bigger lumps than liberals in this report.
So far this morning, media reports are playing up the commission's criticism of the Episcopal Church USA. A few headlines:
Anglicans Criticize U.S. Church on Gays — Associated Press
US Church Scorned Over Gay Bishop — CBS
U.S. Anglicans Told to Apologize in Gay Bishop Row — Reuters
Church report calls for 'moratorium' on gay clergy —

Guardian

, London
Church wants gay bishop apology — BBC
Indeed, when it comes to recommendations, it might seem at first like Episcopalian liberals got a smackdown. The report does indeed recommend that "the Episcopal Church (USA) be invited to express its regret that the proper constraints of the bonds of affection were breached," and put a moratorium on electing more bishops who are in same-sex unions. (Nothing on gay priests or deacons, however.)
Likewise, Canada's New Westminster diocese, which authorized same-sex union ceremonies, was asked to express its regret and enact a moratorium.
"Pending such regret," the report says, those who took part in these actions should "be invited to consider in all conscience whether they should withdraw themselves from representative functions in the Anglican Communion."
Other suggestions include strengthening the responsibilities and authority of the Archbishop of Canterbury (though to much less a degree than earlier reports suggested; there won't be an "Anglican papacy") and approving the Episcopal Church's plan for "alternative oversight" of dissenting parishes.
Alternative oversight? Isn't that what conservatives want? And a demand for an apology sounds strong, doesn't it? But in any document of this type, it's the actual wording that's important. The Episcopal Church was not told to repent for violating the teachings of Scripture, church tradition, and current church law. Instead, it was asked to express "regret" for "breaking the bonds of affection" and for hurting people's feelings. Throughout the document, feelings and sensitivities take precedence over doctrine, holiness, and fidelity.
"The Commission has been made aware of the hurt and alienation felt by individual Anglicans, parishes, and dioceses" as a result of the Robinson consecration and New Westminster ceremonies. The recommendations are made "mindful of the hurt and offense that have resulted from recent events." But orthodox Anglicans have repeatedly insisted that "hurt and alienation" have nothing to do with this. The question is whether the Episcopal Church is apostate, not whether it's unkind.
And as for the call for resignations, it's important to read the fine print. "Those who took part as consecrators of Gene Robinson" are invited only to consider withdrawing themselves. There's not actually a call for them to resign. If they consider it and decide that they should stay in their posts, the language gets stronger: "We urge all members of the Communion to accord appropriate respect to such conscientious decisions."
In fact, all through the document, there's a marked contrast between the language used against liberal revisionists and that used against orthodox leaders trying to bring the church back to the Bible.
The commission sides with the Episcopal Church USA's plan for alternative oversight, which allows conservative parishes to report to someone other than its bishop if it feels that bishop is violating biblical mandates. But under ECUSA's plan, guess who gets to pick the alternate? Yes, the same bishop. Conservatives aren't too pleased by that plan. (The report also emphasizes that such oversight should be "a last resort … conditional and temporary," and only used "where there has been an extreme breach of trust." When your bishop has violated your trust, who better to trust to find a replacement!)
Several churches have felt the need to seek alternative oversight by seeking leadership from Anglican leaders not appointed by their bishop. Those leaders who agreed to oversee these parishes are treated as harshly (in some cases, perhaps more harshly) as those who consecrated Gene Robinson. In a remarkable demonstration of moral equivalency, the report lumps together these conservative leaders with the revisionists who consecrated Robinson as both acting "in ways incompatible with the Communion principle of interdependence."
But the harshest language in the entire report is reserved for those orthodox church leaders, especially in Africa and elsewhere in the Global South, who said that the Episcopal Church's actions last year in effect separated them from the rest of the Anglican Communion. The report has nine references to "regret," including those requests for liberal revisionists to "express regret" for the consequences of their actions. Only once does the report use the phrase "deeply regret" (and in squeamish, political reports like these, the difference between regret and deep regret is huge):
We deeply regret that the appeals of the Archbishop of Canterbury, the primates and of this Commission for a period of "calm" to allow the Commission to complete its report have been ignored in a number of quarters, and that a number of primates and provinces have declared themselves in impaired or broken communion with the Episcopal Church (USA) or the Diocese of New Westminster.
In other words:
Acting against Scripture, tradition, and church teaching isn't as bad as saying these things make you un-Anglican.
A church going off on its own isn't as bad as saying a church is off on its own.
Being apostate isn't as bad as calling someone apostate.
Actions aren't so bad. Words matter more.
Christianity Today's reporters will soon be filing original reports rounding up reaction to the report and explaining what it means for evangelicals in and out of the Episcopal Church USA. But judging from online reaction so far, conservatives are furious.
Episcopal Church USA presiding bishop Frank Griswold, however, isn't. "Given the emphasis of the report on difficulties presented by our differing understandings of homosexuality, as presiding bishop I am obliged to affirm the presence and positive contribution of gay and lesbian persons to every aspect of the life of our church and in all orders of ministry," he said after the report's release. "Other provinces are also blessed by the lives and ministry of homosexual persons. I regret that there are places within our Communion where it is unsafe for them to speak out of the truth of who they are."
So the moratorium is out, apparently. The apology isn't, though: "We regret how difficult and painful actions of our church have been in many provinces of our communion, and the negative repercussions that have been felt by brother and sister Anglicans." Amazingly, this might just fulfill the report's recommendation for an expression of regret. And that's what happens when regret supplants repentance. There are several elements of repentance: recognition (understanding that what you did was wrong), remorse (which expresses moral judgment rather than simple acknowledgement of consequences), resolve (desisting from doing the deed again), and restitution.
This last point, making right the wrong done, is nowhere in the report. There's no challenge whatsoever to Robinson's position as bishop; the report even explicitly rejects the argument that his consecration was invalid since it did not conform to biblical or ecclesiastical norms.
So if all of the commission's plans are implemented, here's what happens: Robinson stays as bishop. New Westminster's same-sex rites stay on the books. Heretical bishops may continue to teach whatever they please. We keep talking about this stuff for another few decades as the Anglican Communion debates its proposed Anglican Covenant. (The commission suggests it be a "long-term process," which is kind of like someone on the floor of Congress promising that his speech will be "dry and boring" or McDonald's proposing a special "junk food" menu.)
But conservative bishops and primates must keep their nose out of other people's business and withdraw from offering alternative leadership. They must treat the Episcopal Church USA and the consecrators of Gene Robinson as being in full communion with their own jurisdiction.
We can't wait for the worldwide responses to come in. Here's where many of them will be:
Anglican Communion News Service (official site, with responses from official officials like the Archbishop of Canterbury and members of the commission)
Classical Anglican Net News (With roots in Canada, this conservative site won't miss the New Westminster angle. Will have more links than anyone else.)
Titus One Nine (The weblog of South Carolina canon theologian Kendall Harmon. "Read it all.")
Anglican-Mainstream (Globally minded conservative site with forums and a chat room.)
American Anglican Council (Official orthodox group pushing for true alternative oversight. Also has its own blog)
Thinking Anglicans (Another blog, likely to be more favorable toward the Windsor Report)
Associated Press story (Updated throughout the day)
Related Elsewhere:
Suggest links and stories by sending e-mail to weblog@christianitytoday.com
Check out Books & Culture's weekly weblog, Content & Context.
See our past Weblog updates:
October 18a
October 15 | 13 | 12 | 11
October 8 | 7 | 6 | 5 | 4
October 1 | September 30 | 29 | 28 | 27
September 24 | 23 | 22 | 21 | 20
September 17 | 16 | 15 | 13
September 10 | 9 | 8 | 7
Weblog
Launched in 1999, Christianity Today's Weblog was not just one of the first religion-oriented weblogs, but one of the first published by a media organization. (Hence its rather bland title.) Mostly compiled by then-online editor Ted Olsen, Weblog rounded up religion news and opinion pieces from publications around the world. As Christianity Today's website grew, it launched other blogs. Olsen took on management responsibilities, and the Weblog feature as such was mothballed. But CT's efforts to round up important news and opinion from around the web continues, especially on our Gleanings feature.
Ted Olsen is Christianity Today's executive editor. He wrote the magazine's Weblog—a collection of news and opinion articles from mainstream news sources around the world—from 1999 to 2006. In 2004, the magazine launched Weblog in Print, which looks for unexpected connections and trends in articles appearing in the mainstream press. The column was later renamed "Tidings" and ran until 2007.
Previous Weblog Columns: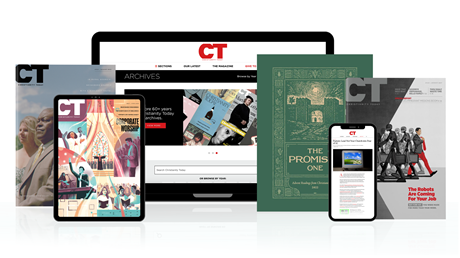 Subscribe to Christianity Today and get access to this article plus 65+ years of archives.
Home delivery of CT magazine
Complete access to articles on ChristianityToday.com
Over 120 years of magazine archives plus full access to all of CT's online archives
Subscribe Now
Anglican Report Treats Conservatives Harsher than Liberals
Anglican Report Treats Conservatives Harsher than Liberals