Evangelical aid organizations were told in early October that global warming is a moral issue because the consequences of global warming disproportionately affect the poor.
Rising temperatures around the world are leading to increasing incidents of famine, hurricanes, and disease outbreaks in developing countries that are ill equipped to handle such disasters.
"Climate change is indeed, I believe, a moral, ethical, and developmental issue, rather than a simple environmental issue," said Robert T. Watson, chief scientist for the World Bank, during an October 4 briefing on climate change at World Vision's Washington, D.C., office.
Watson, the former chair of the Intergovernmental Panel on Climate Change, was among the scientists and government officials addressing Christian aid group representatives learning about current and long-term effects of climate change on hunger, refugees, and human health.
Human activities such as the burning of coal, oil, and natural gas, along with deforestation, have significantly increased the atmospheric content of greenhouse gases, Watson said. As a result, the earth's temperature has increased 0.6 degrees Celsius during the past hundred years.
Global warming, he says, has already triggered floods, heat waves, and other extreme weather events. Water availability and quality in arid and semi-arid regions has declined as the number of malaria and cholera cases in Third World countries has risen.
According to the Evangelical Environmental Network, which co-sponsored the briefing with World Vision, some 160,000 people die annually worldwide due to famine, malnutrition, and other side effects of global warming.
"It's basically a poverty agenda," Watson said, noting that within the next 20 to40 years, the demand for food will double in developing countries where agriculture is critical to livelihoods.
Although industrialized nations are primarily responsible for the emissions, developing countries and the poor are most vulnerable to global warming's destructive effects, he said, quoting climatologists' predictions that the planet's surface will heat up between 1.4-5.8 degrees Celsius by 2100 if greenhouse gas outputs are not reduced
Kristie L. Ebi, a senior managing scientist with Exponent's Health and Epidemiology Practice, said unmitigated climate change will have serious public health consequences in developing countries, particularly in African nations. Diarrhea, malnutrition, and insect-borne diseases will result in thousands of deaths and numerous illnesses, she said.
The heat wave of August 2003 in France in which 14,800 people died illustrates the long-term damage an extreme weather event can have, Ebi said. In addition to the loss of life, French farmers suffered between $1.1-$4.4 billion in damages and the ensuing wheat harvest and corn production are expected to drop by 15 percent and 28 percent, respectively.
Briefing attendees were advised by Ko Barrett of the U.S. Agency for International Development to factor climate change into their development and relief plans.
"What we're hearing," said Galen Carey, advocacy and policy director for World Relief, "is the people who are going to be most effected by climate change are the poor. As Christians, part of our role as stewards of the environment is how we care for the poor."
Carey said the briefing provided information that will help World Relief in its strategic planning and program decisions to prepare for the coming environmental crises.
Earlier in the day, Tim Profeta, a legislative aide to Sen. Joseph Lieberman (D-Ct.) office noted that the senator's faith is the basis for his views on the environment. It is important for the religious community to participate in the development of environmental policy, Profeta said, because faith-based organizations bring a fresh, apolitical voice to the contentious debate.
Senators Lieberman and John McCain have introduced the Climate Stewardship Act, which would create a market-driven system to accelerate the reduction of greenhouse gas emissions in the United States, Profeta added.
Until recently, Christians have generally been slow to embrace environmental causes, participants said. Walter Grazer, who represented the U.S. Conference of Catholic Bishops at the briefing, believes the Church has never been more aware of its stewardship for God's creation than it is now.
"We realize that we have a technological capacity to—for good or for ill—to shape creation," said Glazer, manager of USCCB's Environmental Justice Program.
Glazer is encouraged by what he sees as an increasing environmental consciousness among religious communities, which, he added, are well suited to address issues over the long term.
"Concerning issues like this," he said, "which are multigenerational, not only do we have an ethic that takes care of it, we have an institutional capacity to respond across time in a way that other institutions, perhaps, cannot."
Article continues below
Related Elsewhere:
Religion News Service also reported on the conference.
The Evangelical Environmental Network sponsored the What Would Jesus Drive? Campaign. It also has more about global warming and the environment in its Creation Care magazine.
An Evangelical Declaration on the Care of Creation is a statement on care for the environment signed by many evangelical leaders.
Other Christian Environmentalism associations include the Interfaith Council for Environmental Stewardship, Evangelicals for Social Action, and Green Cross.
The U.S. Conference of Catholic Bishops has a statement on climate change.
The U.S. Agency for International Development has a page on global warming.
BusinessWeek's "Global Warming: Why Business Is Taking It So Seriously" is available from the magazine's website, with registration.
The Intergovernmental Panel on Climate Change has more information on global warming.
More Christianity Today articles on global warming include:
Heat Stroke | The climate for addressing global warming is improving.—A Christianity Today editorial (Sept. 16, 2004)
Tending the Garden | Evangelicals and the environment. (July 07, 2004)
Religious Leaders Rebuke Bush Administration Over Kyoto Protocol | Officials from the National Council of Churches, Presbyterian Church (USA), United Methodist Church, Disciples of Christ, and African Methodist Episcopal Church say U.S. must limit greenhouse gas emissions. (April 6, 2001)
U.S. Churches Join Global Warming Debate | Environmental stewardship is an act of compassion toward the poor, say mainline Protestants and evangelicals, who are joining with other faith groups to reduce the effects of global warming. (October 5, 1998)
More on Christians and creation can be found on our Science & Health page and Books & Culture's Science Pages.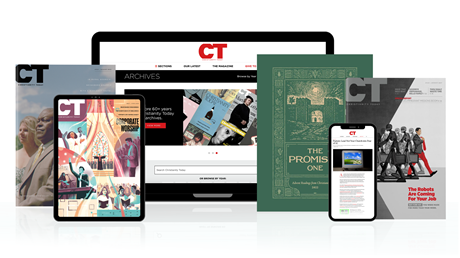 Subscribe to Christianity Today and get access to this article plus 65+ years of archives.
Home delivery of CT magazine
Complete access to articles on ChristianityToday.com
Over 120 years of magazine archives plus full access to all of CT's online archives
Subscribe Now
Climate Change Briefing Brings Together Christian Aid Groups
Climate Change Briefing Brings Together Christian Aid Groups