As states' voter registration deadlines for the November election approach, conservative and liberal religious groups are pounding on doors and ringing every phone in their directory to reach potential supporters.
While there is nothing new about old-fashioned "doorbelling" itself, faith-based groups are out with more intensity and better organization this year than they have been in recent elections, scholars and activists say.
Also, the Help America Vote Act, enacted by Congress in 2002 in response to low voter turnouts, has made it easier to register through third-party registration drives.
The 2000 presidential race was so close and so many people—nearly half the electorate—didn't vote. Conservative and liberal religious leaders have said that if they can get just a few more of their supporters registered and to the polls, it could provide the margin of victory in 2004.
Voter registration drives sponsored by faith-based groups are prohibited from directly endorsing candidates. Instead, they use issues to galvanize voters, and many publish "voter education" material, to let the electorate know where the candidates stand on these issues.
In addition, some groups emphasize the "Bible-based moral responsibility" of Christians to vote.
For dozens of conservative Christian groups, concerns about gay marriage, "activist judges" and the possibility that the next man elected president could make several Supreme Court appointments in the next four years, make this the most crucial election in a generation, according to several conservative leaders.
For the first time in its 179-year history the American Tract Society, an evangelical Christian nonprofit that publishes Bible-based material, added a voter registration kit to its publications this year. The Rev. Daniel Southern, president of ATS, said that the low turnout in the 2000 election motivated him.
"It was a close vote, wasn't it?" Southern said. "It's a shame if things happen in this country that are contrary to the public will because people are not involved," he said.
ATS has sold 161,000 of their "The Choice is Yours," kits in the two months it has been available, Southern said.
Redeem the Vote, another new organization, which has registered thousands of young Christians on their website and at Christian music festivals, approached ATS about putting together the kits, Southern said.
Dr. Randy Brinson, the creator of Redeem the Vote "looked at the success of youth-focused voter drives in getting Bill Clinton elected in 1992 and surmised that there is a large body of young evangelical Christians" at concerts and festivals who would be receptive to this approach, said a Redeem the Vote spokesman, Bob Angelotti.
Veteran conservative groups are also getting involved. For the first time in its 27-year history, the Colorado-based conservative Christian group Focus on the Family has mailed out voter registration kits—1.5 million of them—to supporters, said John Wilson, FOF's manager of special projects.
Wilson cited anger at the Supreme Court and federal district judges over recent decisions about sodomy and gay marriage as the impetus behind the effort.
"Dr. Dobson [James Dobson, the founder and President of FOF], said 'Enough is enough. We're going to register people to vote and we're going to focus them on this issue,'" Wilson said.
To reach the unregistered, yet potential supporters, FOF hired a company to check their 6-million-person mailing list against the voter rolls of each state and identify those who weren't registered.
"It was a pretty sizable number, in the millions, who weren't registered. So, we mailed them a note, saying 'Please get registered in your state, and we told them how to go about that process,'" Wilson said.
Some scholars have compared groups like FOF, in their party loyalty and grassroots strength, to labor unions, who for years have been a leading weapon the Democratic party's get-out-the-vote arsenal.
The coziness between conservative Christians and Republicans make "the religious right virtually a Republican get-out-the-vote campaign," said Jim Wallis, the founder and editor-in-chief of Sojourners, a liberal Christian magazine committed to social justice.
But conservative Christians aren't the only people rallying supporters and scouring the streets for potential voters.
In Minnesota, the Joint Legislative Religious Coalition has been working with the progressive National Council of Churches' "Let Thunder Roll" campaign to register poor people in districts with low voter turnout.
Using census data to find those districts, they have registered about 1,000 people so far, said Jody McCardle, a congregational organizer.
The JLRC will provide voters with a Minnesota Voter Bill of Rights, transportation to the polls on Election Day, free food and a free hotline, where people who have encountered poll-booth problems can speak with lawyers.
Ecumenical Ministry of Oregon is running a similar project. Spurred on by data released by the U.S. Census Bureau on August 26, which showed an increase in the poverty rate and percentage of people without health insurance, the group has sent its army of interns to church services, local fairs and communities in order to register voters.
"I don't think that Judeo Christian ethics just center on gay marriage, abortion and sexuality," said Phil Wong, the director of public policy for the group.
"A large part of the New Testament is centered on bringing the good news to the poor and helping them live better lives. That's what out Judeo-Christian ethic call us to do," Wong said.
Related Elsewhere:
More Christianity Today articles on from our Election 2004 Hot Topic includes:
The Values-Driven Voter | The values bandwagon is being pulled apart. Which way is more scriptural? A Christianity Today editorial (Aug. 27, 2004)
A Question of Faith | Top Democrats have much work ahead to convince voters of their religious sincerity.—A Christianity Today editorial (March 03, 2004)
The Politics of Communion | Church leaders who admonish politicians on moral issues are doing their jobs. —A Christianity Today editorial (May 26, 2004)
Bush Calls for 'Culture Change' | In interview, President says new era of responsibility should replace 'feel-good.' (May 28, 2004)
Weblog: Kerry Touts His Sleeveless Faith | Plus: Mugabe's demand for church support, Economist predicts a new golden age of giving, new claims about the Dead Sea Scrolls, and other stories from online sources around the world. (July 30, 2004)
Weblog: Boston or Bust | Plus: Vonette Bright, a homeschool lawsuit, and a dearth of other religion stories from online sources around the world. (July 29, 2004)
Weblog: Worshiping an 'Awesome God' at the Democratic National Convention | Plus: Amish in the City premieres tonight, challenging Sri Lanka's anti-conversion bill, Christians accused of bad motives in Sudan activism, and other stories from online sources around the world. (July 28, 2004)
Religion at the Democratic National Convention | Plus: Who's talking religion at the Democratic National Convention, council vows to keep praying in Jesus' name, and other stories from online sources around the world. (second item) (July 27, 2004)
Weblog: Why Kerry Is Sincere When He Says He Believes Life Begins at Conception | Plus: AmeriCorps loses suit on Catholic school placements, U.K. considers new religious hate law, Portland's Catholic archdiocese declares bankruptcy, and other stories from online sources around the world. (July 07, 2004)
Article continues below
Weblog: What John Edwards Believes | John Kerry's Methodist running mate oversees his church's urban ministries, but can he win evangelicals' votes? (July 06, 2004)
Weblog: Bush Wants Church Support, Opponents Cry Foul | Plus: Taliban kills Christian in Afghanistan, court rejects judge's ruling in lesbian custody case, and more articles from online sources around the world. (July 02, 2004)
Weblog: Kerry Told to Speak Up, Shut Up About Religion | Plus: British government debates spanking, Pope laments EU Constitution, and other sources from online sources around the world. (June 22, 2004)
Weblog: Bush Campaign Seeks 'Friendly Congregations' | Plus: Canadian Anglicans put off vote on gay marriages, George Beverly Shea leaves hospital after heart attack, Eisenhower's 'crusade' omitted, and other stories from online sources around the world. (June 03, 2004)
Bishop Bans Pro-choice Voters From Communion | Votes may be considered sin if cast for politicians who support abortions. (May 14, 2004)
Weblog: Catholic Life Group to Spend $500,000 Denouncing Kerry-friendly Bishops | Plus: Southern Baptists propose public school boycott, more on the possible Methodist church spilt, death toll rises in Nigeria, faith in China, and more articles from online sources around the world. (May 07, 2004)
Weblog: Kerry's Religion Is Today's Big Politics Story | Plus: Partial-birth abortion ban goes to court three times today, remembering Rwanda's genocide, Moscow bans Jehovah's Witnesses, and other stories from online sources around the world. (March 29, 2004)
'Swing Evangelicals' | Democrats seek to show that they also have faith-based values. (Jan. 09, 2004)
The Southern Baptist Convention has voter guides at its ivotevalues site.
For Roman Catholics there's the United States Conference of Catholic Bishops guide, which has been countered by the Voter's Guide for Serious Catholics.
More of faith and politics is available on our Politics & Law page.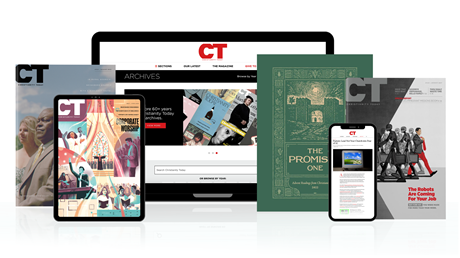 Subscribe to Christianity Today and get access to this article plus 65+ years of archives.
Home delivery of CT magazine
Complete access to articles on ChristianityToday.com
Over 120 years of magazine archives plus full access to all of CT's online archives
Subscribe Now
Faith Groups Turn Out the Vote for Both Candidates
Faith Groups Turn Out the Vote for Both Candidates