It's the battle of the perceptions now that the Federal Marriage Amendment has failed to pass both the Senate and the House of Representatives. Was yesterday's vote the beginning of the end for the marriage amendment, or was it the end of the beginning? According to supporters of the amendment, the "battle for marriage" is just getting underway, and yesterday's vote was only a way of putting representatives on the record.
"The vote by the G.O.P.-controlled House was 227 to 186 in favor of writing the same-sex marriage ban into the Constitution, 49 short of the two-thirds majority needed to approve an amendment and send it to the states for ratification," writes The Washington Post.
Yesterday, the Family Research Council called the vote a "roll-call vote on the future of marriage." (They have not yet responded to the final vote.) The American Center for Law and Justice's chief counsel Jay Sekulow said the vote "is an important first step toward protecting the institution of marriage." Sekulow said, "No one expected the marriage amendment to garner two-thirds approval in the House on the first vote. But this majority vote in favor of the amendment sets the stage for this amendment to return to the House in the next Congress."
The Alliance for Marriage also said the vote was a "first step." Matt Daniels, president of the Alliance for Marriage said, "We introduced our marriage amendment in both the House and Senate in order to let the people decide the future of marriage—and our amendment will continue to gain ground so long as activists continue to strike down our marriage laws in court."
"The people will see how their elected representatives stand on marriage," said Rep. Marilyn Musgrave, a Colorado Republican who sponsored the amendment, reports The Washington Times. "This is just the start of what I see to be a long process."
"We are profoundly disappointed by the news that the House of Representatives has rejected a constitutional amendment to preserve the institution of marriage," James Dobson said. "It is our hope that America will carefully note the names of the Congressmen who pandered to the homosexual lobby and took the easy way out on this issue of unprecedented importance."
Two British Christians fight doctors to keep their baby alive
Two British Christians fight doctors to keep their baby alive
Charlotte Wyatt was born when her mother was 26 weeks pregnant. In the 11 months since her birth, she has never left the hospital, she is fed through a tube, she does not respond to sound or touch, and she cannot see. Wyatt needs a constant supply of oxygen to stay alive. Doctors say "her quality of life is both terrible and permanent." Therefore, Wyatt's doctors say, she should be allowed to die.
A court is scheduled to determine whether to put Wyatt on a ventilator if she stops breathing. Wyatt has chronic lung disease and will likely need intervention again.
Does John Kerry support outsourcing prayers?
Does John Kerry support outsourcing prayers?
The Ig Noble Prizes were announced last night, and the Vatican was awarded the economics prize for outsourcing prayers to India. It seems there aren't enough American priests to celebrate Mass for special intentions. Intentions are "requests for services such as those to remember deceased relatives and thanksgiving prayers," says The New York Times. American, Canadian, and European churches are now outsourcing their prayers to India. John Kerry, who has been critical of George W. Bush and companies that send jobs overseas, has so far declined to comment on his own church's outsourcing. Maybe we'll have to wait for the third debate on domestic issues.
More Articles:
Religion & politics:
Wooing worshippers | When it comes to faithfulness to the home church, neither candidate is a party man—but Kerry must grab religious voters to win (World)
Edwards: Religion shouldn't divide voters | John Edwards says voters should know that religion is important to him and to presidential candidate John Kerry but the issue shouldn't be used to divide people in the election. (Associated Press)
Newsview: Warmup to the campaign | President Bush misses a lot at his campaign rallies. Pastors pray for him. Guitarists rev up the crowd. Ladies in purple shirts sing. Announcers announce, with gravity, over the loud speaker, ``Ladies and gentleman, the president of the United States.'' All before he gets there, just part of the warmup. (Associated Press)
In search of voters, prohibition candidate runs dry | Gene Amondson, 60, freelance evangelist, woodcarver, pie baker and, most recently, the face of Prohibition Party dissent, knew he was one of the most obscure third-party presidential candidates, the man who would not be president. (The New York Times)
Hindering the helpers | Pyongyang's growing suspicion of external aid shows it is retreating further into its shell despite growing pressure to open up. (Guardian, UK)
The religous right era is over | God is not a Republican. Or a Democrat. (Jim Wallis, Sojourners)
'Divided by a common faith' | Evangelicals in the United States are increasingly estranged from their counterparts everywhere else. (Tom Sine, Sojourners)
Teddy Roosevelt quote on Christianity in courthouse to be covered:
Roosevelt quote in courthouse to be covered | A Theodore Roosevelt quote displayed on the wall of a courthouse will be covered up after critics complained the comment about Christianity violated the separation of church and state. (Associated Press)
Lawyer sues to keep courtroom quote | A Southwest County attorney filed suit Thursday to thwart a plan to slide a block of mahogany wood over a controversial quote engraved on a courtroom wall in the historic, century-old downtown Riverside courthouse, at the urging of a civil rights group. (North County Times, Calif.)
Church & state:
Archbishop in Leeds | The controversial reference to Europe's Christian roots is to be brought up in the next few days at the European Bishops' Council plenary assembly in Leeds. (Malta Independent, Malta)
Professor discusses politics, religion | Elshtain says wall between church and state is too high (The Georgetown Hoya)
Town Council's letter sparks debate on government prayer | Is it against the law for religious leaders to invoke the name of Jesus Christ in opening prayers of government meetings? Do sectarian prayers at Town Council meetings violate separation of church and state? The answer is a divisive one. (Culpeper Star Exponent, VA)
L.A. county supervisors sued over vote to delete cross from county seal | A church and nine people sued three county supervisors Wednesday over their vote to remove a cross symbol from the county seal. (San Diego Union Tribune)
Church life:
Opposition delays church site plans | Housing developer, leaders to discuss scaled-back project (Washington Post)
Moved by the dance | Some local Christians worship God by dancing. They believe in the power of dance so much they have a name for what they do: dance ministry. (The Express Times, Penn.)
Churches will celebrate World Communion service | Music will be an added feature of the seventh annual ecumenical World Communion service Sunday, Oct. 3 at First Presbyterian Church. (Fayetteville Online, NC)
Three churches burglarized | Three churches, three burglaries, no suspects. Rochester police are investigating a series of break-ins. (KAAL, Minn.)
South Suburban Free Church expansion underway | Each Sunday, members of South Suburban Evangelical Free Church in Apple Valley file out of the sanctuary into the church's foyer, filling it with a few hundred people. (Sun Newspapers, Minn.)
Local congregations have new pastor | Sandra Hamilton serves churches in Phillips, Hawkins and Kennan (Phillips Bee, Wisc.)
House of many treasures gets the gilding it needed | A miracle of sorts occurred nearly 10 stories above the pews of Trinity Church on Wednesday. Workers restoring the vibrantly ornate Episcopal church, on Copley Square, found a mural, hidden for some reason by a canvas overlay the last 127 years, of a man with one muscular arm stuck in the mouth of a fish. (The New York Times)
Middle East visitors stress religious tolerance, peace | Kingston Presbyterian Church learns about the differences and similarities between the Middle East and the Western World. (South Brunswick Post, NJ)
Missions & ministry:
Graham said to plan crusade in New York | Evangelist Billy Graham, 85 years old and recovering from surgery, is planning what is likely his final crusade in New York City, his representatives said Thursday. (Associated Press)
Vicar taps into pub's pulling power | Villagers will be able to enjoy a pint and a prayer this weekend as a Warwickshire vicar serves up a round of religion in the local pub. (ic Coventry, UK)
Churches, agencies seek to fill gaps in relief | As portable kitchens head to Florida and ice distribution centers close, some Baldwin victims of Hurricane Ivan still find themselves in need of food, clothing, shelter and other relief that local churches and other agencies are working to provide. Starting today, the Christian Life Church in Orange Beach will be distributing several tractor-trailer loads of relief supplies sent in from around the country (The Mobile Register, Ala.)
Tharptown begins '40 Days' | Rick Warren, author of the New York Times bestseller, "The Purpose Driven Life," tries to help answer the age-old question "What on earth am I here for?" in his book that has inspired a spiritual renewal and growth in churches throughout the country. (Franklin County Times, Ala.)
Christian Surfers International hold meeting in Hossegor | Christian surfers ride the waves, spread the word (AFP)
Local church collects soap for needy | The Lutheran World Relief is collecting soap to send to impoverished areas. Locally, women of the United Lutheran Church on Grayson Turnpike Road in Wythe County are participating in the project. (Southwest Virginia Enterprise, VA)
Catholicism:
Pope has difficulty speaking during audiences | A tired looking Pope John Paul had difficulty reading his addresses Thursday at audiences with Pakistani President Pervez Musharraf and Romanian President Ion Iliescu. (Reuters)
Director of Voice of the Faithful resigns | The executive director of the Catholic reform group Voice of the Faithful resigned Thursday, two years after he began building the group in the aftermath of the clergy sexual abuse scandal. (Associated Press)
Roman Catholic Church gets creative to recruit men for priesthood | With Asia's largest Catholic country suffering a shortfall of about 25,000 priests, various seminaries and religious orders are using creative marketing to attract young men. (Manila Times, Philippines)
Jews upset as Pope to beatify Mel Gibson's 'muse' | Never one to shrink from criticism, Pope John Paul is again putting controversial figures on the road to sainthood, including Austria's last emperor and a mystic nun who inspired Mel Gibson's film on Christ's passion. (Reuters)
Italian Mass raises new controversy | When the Prime Minister received Holy Communion on holiday, the advice of the late Cardinal Basil Hume would have been ringing in his ears. (Times, London)
Encyclical makes clear that Anglicans are not welcome | Last year, in April, in the encyclical Ecclesia de Eucharistia, the Pope appeared to harden his line against inter-communion. He said: "While it is never legitimate to concelebrate in the absence of full communion, the same is not true with respect to the administration of the Eucharist under special circumstances, to individual persons belonging to churches or ecclesial communities not in full communion with the Catholic church. (Times, London)
Spain to allow same-sex marriage:
Gay rights bill tests Spanish values | The Spanish cabinet is expected to approve a bill allowing same-sex marriages on Friday. (BBC)
Spain approves gay marriage bill | The Spanish government has approved a draft law which will legalise homosexual marriages. (BBC)
Also: Secular drive challenges Spain's Catholic identity | Socialists want to bolster Spain's church-state barrier. (The Christian Science Monitor)
Austrian bishop resigns after child porn scandal:
Austrians relieved bishop resigned | An influential Roman Catholic lay organization expressed relief Thursday at the resignation of a bishop who oversaw a seminary where authorities found child pornography, calling it an "important first step" in rebuilding trust in Austria's scandalized church. (Associated Press)
Child porn brings down bishop | An influential Roman Catholic lay organisation in Austria expressed relief yesterday at the resignation of a bishop who oversaw a seminary where the authorities found child pornography. (The Guardian, UK)
Jews & Christians:
Christian Day Of Prayer on Sunday | Christian leaders and organizers of the international Day of Prayer for the Peace of Jerusalem will gather in Jerusalem on Sunday for a massive prayer rally, with the participation of thousands of Christians from around the world, Knesset Members and Israeli government figures. (Arutz Sheva, Israel)
Don't be fooled, Christians | Last July, the US Presbyterian Church moved to boycott Israel and firms that do business with the Jewish state, ostensibly in sympathy with the Palestinian people for the harsh treatment they receive under the occupation. Now, the Anglican and Episcopalian Churches are preparing to join in the boycott as well, with a final vote to be held next June. These church representatives, although claiming their decision was one of "moral responsibility," are incredibly naive. (Taipei Times, Taiwan)
Judaism's 'Left Behind' holiday | Most Jews don't realize that Sukkot, the harvest-time festival, is actually Judaism's yearly encounter with the End of Days. (Beliefnet)
Religious freedom:
M.T.A. is sued over its policy on Muslim head coverings | The Justice Department sued the Metropolitan Transportation Authority and New York City Transit yesterday, charging them with discriminating against Muslim and Sikh employees who wear turbans and head scarves for religious reasons. (The New York Times)
New Ohio State policy allows religious groups to exclude non-believers | Ohio State University is changing its nondiscrimination policy to allow religious organizations on campus to exclude people who don't share their religious beliefs. (Associated Press)
Iwas terms forcible conversion as "very bad" strategy | Denouncing forcible conversion as a "very bad" strategy to spread religion, Supreme Head of Syrian Church Ignatius Zakka I Iwas today said some sections were trying to "buy" people to their fold. (India News, India)
Religious intolerance, an ancient inheritance | Two recent events in the Midlands within 24 hours of each other — one at the University of South Carolina, and the other in (The State, S.C.)
Egypt's Copts appeal for end to persecution | Egyptian Coptic leaders from around the world have urged the government of President Hosni Mubarak to initiate a "special legislation" designed to end what they call a "long and enduring persecution" of Christians in Egypt. The Copts expected the help of all Egypt's Muslims in this quest for freedom. (afrol News, Norway)
Attacks on Christians in India:
Attack on nuns: NCW for probe by senior authority | The National Commission for Minorities (NCM) has written to the Kerala Chief Minister, Oommen Chandy, recommending an enquiry by a senior authority into the attack on nuns of the Missionaries of Charity in the Kozhikode district on September 25. (The Hindu, India)
BJP objects to `religion-based' quota | The Bharatiya Janata Party has raised strong objection to the Government move to set up a Commission to look into the issue of reservation in education and employment for the socially and educationally backward sections among the linguistic and religious minorities. (The Hindu, India)
Pope meets Pakistan's president:
Pope meets Pakistani president | Pope John Paul II met Thursday with Pakistani President Gen. Pervez Musharraf, encouraging him to press ahead with a ``spirit of dialogue and tolerance'' in his turbulent region. (Associated Press)
Musharraf visits Vatican: Pope for dialogue on peace in South Asia | President General Pervez Musharraf met Pope Johan Paul-II in the Vatican City on Thursday and discussed matters to promote inter-religion harmony the world over. (Pakistan Times, Pakistan)
Musharraf hails Pope for forging inter-faith harmony Wraps up 3-nation visit | President General Pervez Musharraf, who met Pope John Paul II in Vatican city on Thursday has appreciated the latter's efforts for forging inter-faith harmony and stressed the need for culture of religious tolerance among people of different faiths. (PakTribune, Pakistan)
Other religions:
Pagans cultivate tolerance, humor | Within the loose knit, and reportedly large and growing, pagan community of Volusia and Flagler counties, a wide variety of polytheists (believers in multiple gods and goddesses) and pantheists (those who see the divine in everything) happily coexist. (Daytona Beach News-Journal)
Fatwa against yoga turns Egyptian practitioners defiant | A recent fatwa, or religious ruling, against yoga in Egypt has alienated even some of the most devout Muslims who have decided to defy the decision. (Khaleej Times, United Arab Emirates)
New Quorom members highlight Mormon conference | It appears officials of The Church of Jesus Christ of Latter-day Saints had planned to announce a renovation project and seismic retrofit for its world-famous Mormon Tabernacle at the 174th semiannual General Conference, but the company that will perform the work scooped church leaders earlier this month by announcing the project on its Web site. (KTVX, UT)
War & terrorism:
Iraqi Christians seek to escape pressure from Islamist extremists | It is very difficult to know how many Christians have left Iraq in recent months. (Assyrian International News Agency)
An ecumenical chaplain | NJCU's Edelen takes pride in serving a multi-cultural student body (The Jersey Journal, NJ)
Sudan:
Sudan agrees to more peacekeepers | Peacekeepers from the African Union will be increased to help protect civilians in the afflicted Sudanese region of Darfur, the country's foreign minister said Thursday. (CNN)
Thousands more troops for Darfur | Sudan has agreed to the deployment of some 3,500 extra African troops in its war-torn region of Darfur. (BBC)
Judge to decide on Charlotte Wyatt's life:
Life or death decision day! | A high Court judge must decide today whether to back the Birmingham parents of a desperately-ill baby or the doctors who say she should be allowed to die. (Evening Mail, UK)
Let her die | Charlotte cannot smile. She lives in oxygen box. She is in constant, unbearable pain. She does not respond to cuddles or people. She has absolutely no hope of recovery Yesterday her doctors made the heart-breaking plea. (Mirror, UK)
Doctors' plea: It's time we let this baby die | Since the day she was born, weighing 1lb and measuring five inches, Charlotte Wyatt has spent her life in hospital. (The Herald, UK)
Don't condemn our sick baby to death | The parents of a desperately ill baby went to the High Court yesterday to challenge doctors who do not want to resuscitate her the next time she stops breathing. (Nicole Martin, Telegraph, UK)
Parents fight medics over right to let baby die | The parents of a desperately ill baby girl yesterday challenged at a High Court hearing the view by doctors caring for her that, should her condition worsen, she should be left to die. (The Scotsman, UK)
Reviving sick baby is futile and cruel, doctors tell court | An NHS trust asked a High Court judge yesterday to grant doctors the right to let a severely ill baby girl die in defiance of her parents' wishes. (Independent, UK)
Parents' plea over premature baby | The parents of a seriously ill premature baby want her to have "every chance of survival", a court has heard. (BBC)
Resuscitating baby futile and cruel, say doctors | Parents battling to save their desperately-ill baby today listened at the High Court as a procession of doctors said their child should be refused life-saving treatment if her condition seriously deteriorates. (The Scotsman, UK)
Don't let baby die, pleads father | The father of a seriously ill premature baby has pleaded with the High Court not to allow doctors to let her die. (BBC)
Baby facing a life of pain 'should be allowed to die' | A desperately ill premature baby will endure intolerable pain and suffering if her life is artificially prolonged, the High Court was told yesterday. (Times, London)
Parents who want to save baby Charlotte fight doctors who say it's cruel to let her live | Judge to decide if it would be 'intolerable' to put 11-month-old on ventilator (The Guardian, UK)
Reviving sick baby is futile and cruel, doctors tell court | An NHS trust asked a High Court judge yesterday to grant doctors the right to let a severely ill baby girl die in defiance of her parents' wishes. (Belfast Telegraph, UK)
Life ethics:
A matter of life and death | Italy's attempt to regulate fertility treatment has caused outcry across the country. Now, only six months since the legislation was passed, protesters are forcing a rethink. (The Guardian, UK)
Italians force referendum on fertility law | More than a million people have signed a petition calling for a referendum to abolish a new Italian law on assisted reproduction which will make it harder for infertile couples to obtain treatment. (The Guardian, UK)
Euthanasia meet begins in Tokyo | An international nongovernmental organization calling for terminally ill patients' right to euthanasia convened a conference in Tokyo on Thursday to discuss living wills. (Japan Times)
Attorneys in right-to-die case cite Pope | Attorneys for the parents of a woman at the center of a right-to-die case argued Thursday she would have been profoundly affected by new Catholic teachings on end-of-life issues. (Associated Press)
History:
Norfolk's forgotten Christian | Today it is a village best known for its Roman fort remains and holiday parks. But a retired Norwich vicar, the Rev Canon David Abraham, is leading a passionate campaign to publicise Burgh Castle's less well-known claim to fame - as the birthplace of Christianity in East Anglia. (Norfolk Eastern Daily Press, UK)
Missing page found 500 years on | A 15th Century Italian Renaissance prayer book valued at £10m has finally been completed after a stolen page was reunited with the rest of the volume. (BBC)
Who really wrote the Bible? | The solid faith of Ashkenaz Hasidim in the 12th and 13th centuries did not keep them from reaching some bold conclusions on the writing style and authorship of Judaism's holiest texts (Ha'aretz, Israel)
Woman, Thou Art Loosed:
A troubled past, but promise for the future | Michael Schultz's powerful melodrama "Woman, Thou Art Loosed" renews an important tradition of African-American filmmaking: the movie as revivalist sermon, a genre epitomized by Spencer Williams's magnificent "Blood of Jesus" of 1941. (The New York Times)
Christian struggles toward redemption | The opening scene of "Woman, Thou Art Loosed" should get your attention. At a packed-to-the-rafters revival meeting, the real-life evangelist Bishop T.D. Jakes calls upon those seeking God's love to lay down their burdens on the altar. A young woman (Kimberly Elise) approaches, but instead of getting on her knees, she produces a handgun and starts firing. (Detroit Free Press)
Here comes the evangelist | A one-man empire, T.D. Jakes is expected to draw 5,000 at his film screening tonight in Aurora (Denver Post)
Books:
Speak of the devil, here's Harry | Christians claim J.K. Rowling has usurped God, but her tales of wizardry are deeply moral, writes Paul Byrnes. (Sydney Morning Herald, Australia)
Life After Death? | Western religions that believe in the one God traditionally teach that after the present life, individuals will exist eternally in resurrected bodies. Eastern religions believe the soul is embodied in either human or animal forms in numerous past and future lives. Now comes Alan F. Segal of Barnard College in New York with the latest if not the last word on the Jewish, Christian and Muslim concepts: Life After Death: A History of the Afterlife in Western Religion (Associated Press)
Author to talk about marriage, parenting | Does marriage change after a baby enters the picture? What is normal within the marriage of new parents? Is it possible to maintain self-identity when adapting to the role of parenting? Why are some marriages more susceptible to disharmony than others? (Sun Newspapers, Minn.)
Other articles of interest:
Adams found her voice in writing | As a shy 5-year-old, Stacy Hawkins was once so unnerved by the thought of her church congregation looking at her, she threw up and refused to go inside. Then, reading books and writing down stories from her imagination gave her reason to look up and forward, into her future. (Richmond Times Dispatch, VA)
Insiders worked both sides of gaming issue | Washington lobbyist Jack Abramoff and public relations consultant Michael Scanlon quietly worked with conservative religious activist Ralph Reed to help the state of Texas shut down an Indian tribe's casino in 2002, then the two quickly persuaded the tribe to pay $4.2 million to try to get Congress to reopen it. (Washington Post)
Jesus had a life of interruptions | Think of him the next time you experience an inconvenient intrusion (Charlotte Observer, NC)
Clerical fists fly in holiest of places | Police in Jerusalem reprimanded senior Greek Orthodox and Franciscan clerics yesterday after priests got into a brawl inside the Church of the Holy Sepulchre, one of Christianity's holiest places. (Times, London)
Pastors' gay death threats | Swaggart apologizes; New Orleans pastor sues gay organization (New York Blade, gay magazine)
Professors wrestle question: creation, evolution | More than 200 people crammed themselves into a classroom to hear a discussion on one of the oldest but still hottest philosophical debates -- creationism versus evolution. (Red and Black, University of Georgia)
Ex-reporter asking tough questions on 'Faith Under Fire' | Back in the late 1970s, when he was an investigative newspaper reporter covering legal affairs in Chicago, if someone had tried to tell Lee Strobel that one day he would be the slick host of a television talkfest about religion, he would have laughed. Hard. (Chicago Sun Times)
Related Elsewhere:
Suggest links and stories by sending e-mail to weblog@christianitytoday.com
Check out Books & Culture's weekly weblog, Content & Context.
See our past Weblog updates:
September 30 | 29 | 28 | 27
September 24 | 23 | 22 | 21 | 20
September 17 | 16 | 15 | 13
September 10 | 9 | 8 | 7
September 3 | 2 | 1 | August 31 | 30
August 27 | 26 | 24 | 23
and more, back to November 1999
Weblog
Launched in 1999, Christianity Today's Weblog was not just one of the first religion-oriented weblogs, but one of the first published by a media organization. (Hence its rather bland title.) Mostly compiled by then-online editor Ted Olsen, Weblog rounded up religion news and opinion pieces from publications around the world. As Christianity Today's website grew, it launched other blogs. Olsen took on management responsibilities, and the Weblog feature as such was mothballed. But CT's efforts to round up important news and opinion from around the web continues, especially on our Gleanings feature.
Ted Olsen is Christianity Today's executive editor. He wrote the magazine's Weblog—a collection of news and opinion articles from mainstream news sources around the world—from 1999 to 2006. In 2004, the magazine launched Weblog in Print, which looks for unexpected connections and trends in articles appearing in the mainstream press. The column was later renamed "Tidings" and ran until 2007.
Previous Weblog Columns: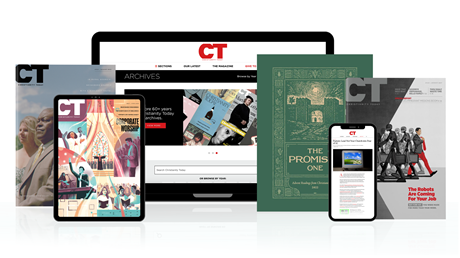 Subscribe to Christianity Today and get access to this article plus 65+ years of archives.
Home delivery of CT magazine
Complete access to articles on ChristianityToday.com
Over 120 years of magazine archives plus full access to all of CT's online archives
Subscribe Now
House Fails to Pass Marriage Amendment
House Fails to Pass Marriage Amendment