Commentary to return tomorrow.
Justice Sunday:
The right to impose Christianity | The religious right worked itself into a righteous fury at "Justice Sunday," using the stalemate over judges to tar Democrats as enemies of God. (Salon)
Chandler, McConnell reflect split over Justice Sunday | Others in Congress are mum on issue (Courier-Journal, Louisville)
Christians on the right go high-tech | Conservative Christian groups trying to characterize congressional filibusters on judicial nominees as "against people of faith" went high-tech with their message on Sunday. (Herald News, N.J.)
All the king's men | I always thought that Satan and his legion of demons were the ones that stood "against people of faith." Right? So if I wish to maintain the filibuster as a mean of protecting the minority from the tyranny of the majority, then I'm in league with satanic forces? Forgive me for asking, but I thought as a Christian I was saved by faith, believing in my heart and confessing with my mouth that Jesus is my Lord. Does being saved now also mean supporting the rewriting of Senate rules? And not to vote the way Dobson instructs means that I'm not "really" a Christian? (Miguel A. De La Torre, Holland Sentinel, Mich.)
'Justice Sunday' raises the ire of both the left and right | The conservative campaign to fight Democratic filibusters has brought the religion & politics debate to a new juncture. (Religion News Service)
The Democrats' intimidation tactics | Democrats have depicted the Family Research Council and Focus on the Family, which sponsored Sunday night's telecast from a church in Louisville, Ky., as demonizing liberal Democratic senators who use the filibuster to block judicial nominations as "anti-Christian." The conservative Christians are right to be upset over the way that Democratic pols and their allies, like People For the American Way, have intimated that judicial nominees who are Christian and who have criticized Roe v. Wade are "outside the mainstream" and unqualified for the federal bench. (Editorial, The Washington Times)
Two who cry 'Wolf!' | With his support of the misbegotten event known as "Justice Sunday: Stop the Filibuster Against People of Faith," Senate Majority Leader Bill Frist managed to mainstream a dubious accusation that has been floating around for several years: that Democrats are invoking a religious litmus test against traditional Christians nominated for the federal bench. (Vincent Carroll, Rocky Mountain News, Col.)
We need more talk and fewer media events | So call me a hopeless optimist, but my first thought upon reading about and watching the less than spontaneous Justice Sunday rally at Louisville's Highview Baptist Church was this: Wouldn't it be wonderful if all churches -- all religious sects -- were actually willing to openly discuss all political and judicial appointments inside their respective houses of worship? (Bob Hill, Courier-Journal, Louisville)
Salazar target of 'Justice Sunday' protestors | Conservative Christian groups across the country staged a nationally broadcast rally Sunday night called "Justice Sunday." (CBS4 Denver, Col.)
Nelson target of critical evangelical ads | Florida Sen. Bill Nelson is one of 20 Democrats targeted nationally by an evangelical Christian group pushing President George W. Bush's judicial nominees. (WESH, Fla.)
Religion & politics:
Bad religion, bad politics | These are scary times. The nation is in the control of extremists who want to merge church and state. A line is crossed when religion demonizes politicians of certain religion -- or no religion -- and when the church-state separation is breached by people believing that their God is better than another God. (The Nation)
Religious conservatives' demands on government may spark backlash | A church-based rally in support of conservative judges has threatened to turn a political debate into a holy war over how much influence religious conservatives should have over both politics and policy. (Knight Ridder Newspapers)
Jesus was no GOP lobbyist | A tortured version of his message is being marketed for political gain. (Jack Hitt,, Los Angeles Times)
No need to fear theocratic coup | Whether the United States is on its way to becoming a theocracy is actually a silly question. No religion is going to impose laws on an unwilling Congress or the people of this country. (Michael Barone, Chicago Sun-Times)
Crusader for a Christian nation | Dr. D. James Kennedy may not be as well-known as Falwell, Robertson, or Dobson, but he packs a powerful political punch in Washington (Bill Berkowitz, WorkingForChange)
Playing the faith card | An ugly new chapter in the religious wars (Reason)
Democratic moral values? | You can forgive Democrats in Washington for feeling somewhat vindicated by the way the controversy over Terri Schiavo played out. For years, after all, they waited in vain for the moment when Republicans might trip over their own arrogance while crusading for moral values, and finally, if polls are to be believed, it happened. (Reuters)
GOP stressing Constitution in judge battle | Buffeted by poor poll numbers, Senate Republicans are stressing the Constitution rather than religion or retribution against activist judges as the reason to deny Democrats the right to block votes on President Bush's court nominees. (Associated Press)
God, politics, & culture:
On a mission from God to sow faith | With Joseph Ratzinger, George Bush and Antonin Scalia about to share the world, body politic and soul between them, I'm beginning to get a feel for what it was like to be Jewish in 13th century Europe or Protestant in 17th century France or conservative in 1960s America for that matter, back when the country was emerging from its latest reactionary trance. (Daytona Beach News-Journal, Fla.)
Benedict XVI and DeLay hard-liners have similarities | You could have called it "the week of the two Hammers.' Cardinal Joseph Ratzinger, the doctrinal enforcer of the Roman Catholic Church, was elected pope. And, in Washington, D.C., House Majority Leader Tom DeLay, R-Texas, escalated his efforts to keep himself in power. (Morton Kondracke, Whittier Daily News, Calif.)
Courts:
Sparing America's courts | GOP would replace sitting judges with ideologues (Richard Larsen, Ventura County Star, Calif.)
Faith 'war' rages in U.S., judge says | A Bush nominee central to the Senate's judicial controversy criticizes secular humanists. (Los Angeles Times)
Judicial insanity | Provocation is no excuse for derangement. And there has been plenty of provocation: decades of an imperial judiciary unilaterally legislating radical social change on the flimsiest of constitutional pretexts. But while that may explain, it does not justify the flailing, sometimes delirious attacks on the judiciary mounted by House Majority Leader Tom DeLay and others in the wake of the Terri Schiavo case. (Charles Krauthammer, Washington Post)
Faith-based courts | Promoters of the "Justice Sunday" sham doubtless hoped to build public support for their notion that the federal courts should be packed with judges predisposed to champion a particular set of religious values. One must hope that won't be the case. (Editorial, Courier-Journal, Louisville)
Bill Frist:
Frist plays it cool | The Family Research Council kept things polite at Justice Sunday, but they still didn't make sense. (The American Prospect)
Frist angers conservatives by distancing from DeLay | Conservatives yesterday expressed anger at Senate Majority Leader Bill Frist for what they described as his swipe at House Majority Leader Tom DeLay. (The Washington Times)
Frist, Reid work on judge-approval deal | Majority Leader Bill Frist, Sen. Harry Reid may have a compromise on judge approvals (ABC News)
Bill Frist, God, and the GOP | By appearing at the "Justice Sunday" event, Frist punched his ticket with the Religious Right. Conservative evangelical leaders say that's just the beginning of what they expect from the GOP. Critics charged Frist with fanning "religious war" and encouraging a Republican "theocracy." (On Point Radio, Mass.)
Frist's nuclear option: Another opinion | U.S. Senate Majority Leader Bill Frist (R-Tennessee) believes he's found the perfect vehicle to bring legal abortions to an end in this country, through a twisted attack on filibustering in the Senate. (Nora Walls, Bayou Buzz, La.)
The filibuster:
Congress clash over politics and religion | An attempt to change an arcane rule of Congress has unleashed the most heated political battle of President George W Bush's second term, one made even more bitter by the involvement of the Christian Right. (Daily Telegraph, UK)
Democrats rally to protect power of the filibuster | More than 100 rallies are planned across America tomorrow in defence of an arcane Senate rule that conservatives and liberals see as the key to the makeup of the US judiciary. (The Guardian, UK)
Nuke the filibuster | Born-again conservative Christians who strongly want to see President Bush's judicial nominees voted on are leading the charge against the Senate filibuster, and liberal Democrats are born-again believers in that reactionary, obstructionist legislative tactic. (Editorial, Los Angeles Times)
Filibuster rule change opposed | As the Senate moves toward a major confrontation over judicial appointments, a strong majority of Americans oppose changing the rules to make it easier for Republican leaders to win confirmation of President Bush's court nominees, according to the latest Washington Post-ABC News poll. (Washington Post)
Democrat/parent disconnect:
Wary Democrats discover a severe 'parents gap' | An analysis by a Democratic think tank argues that Democrats are suffering from a severe "parent gap" among married people with children, who say the entertainment industry is lowering the moral standards of the country. (The Washington Times)
DNC is told where to move into Bush bloc | Howard Dean's Democratic National Committee has been studying the electorate, and the party's problem with voters of faith is both worse and better than he feared. "Democrats wonder why people vote against their own economic interest," he said. "The answer is that Democrats don't connect with people's fears about how to raise their children in a difficult social environment." (Washington Post)
Democrats examine ties to people of faith | The Democratic National Committee recently commissioned a survey looking at the party's connection to people of faith. We'll take a look at poll's results. (Talk of the Nation, npr)
Religion & politics (non-U.S.):
To soothe Dutch-Muslim nerves, try a Jewish mayor | Job Cohen is not just the mayor of Amsterdam, the brash and boisterous Dutch capital. He is also a calm, somewhat reserved Jewish intellectual who has made it his task to keep the peace between the city's Muslims and Christians. (The New York Times)
United Kingdom: Christian party launches manifesto | Campaigning candidates for the Christian People's Alliance (CPA) - the UK's first "Christian" political party - have launched their General Election campaign and manifesto. (Religioscope, Switzerland)
Praise the Lord and pass the legislation | The intervention by Stoner, who worships weekly at a Christian Outreach Centre, is another sign that Australia's once-marginal evangelical Protestants are restive and eager to assert themselves politically. (The Australian)
Same-sex marriage:
Christians protest Conn. civil union law | Some on other side say homosexual couples should get marriage (Associated Press)
Church to weigh gay marriage resolutions | The United Church of Christ, a denomination known for its progressive stand on social issues, will consider opposing resolutions on same-sex marriage at its biennial meeting in July, a church official said Friday. (Associated Press)
Spanish parliament gives approval to bill to legalize same-sex marriages | The Spanish Parliament approved a bill on Thursday that would allow same-sex couples to marry, a critical step toward making Spain's laws on marriage among the most liberal in Europe. (The New York Times)
Triumphs, defeats mark gay-rights battle | Gay and lesbian activists are tearful in Washington state, joyful in Connecticut and angry in Texas after a series of legislative votes that reflect America's tumultuous, seesaw debate over whether to broaden or narrow their rights. (Associated Press)
Navajo council outlaws same-sex marriage | The Navajo Nation on Friday outlawed same-sex marriages on its reservation. The Tribal Council voted unanimously in favor of legislation that restricts a recognized union to that between a man and a woman, and prohibits plural marriages as well as marriages between close relatives. (Associated Press)
Microsoft backs down on support for gay-rights bill:
Microsoft C.E.O. explains reversal on gay rights bill | The chief executive of Microsoft, Steven A. Ballmer, sent what company officials described as an unusual e-mail message on Friday evening to roughly 35,000 employees in the United States, defending Microsoft's widely criticized decision not to support an antidiscrimination bill for gay people in Washington State this year. (The New York Times)
Microsoft comes under fire for reversal on gay rights bill | The Microsoft Corporation, at the forefront of corporate gay rights for decades, is coming under fire from gay rights groups, politicians and its own employees for withdrawing its support for a state bill that would have barred discrimination on the basis of sexual orientation. (The New York Times)
Microsoft draws fire for shift on gay rights bill | Activist minister had threatened a boycott (Washington Post)
Microsoft retreats in fear of red state retribution | Shall we call it Micro-too-soft? (Robert L. Jamieson Jr., The Seattle Post Intelligencer, via MSNBC)
Abortion:
Hey Hillary, is this legislation pro-life? | What does it mean when a group of Democrats gets together to announce a package of legislation and the press conference merits a wave of coverage from the Christian Communication Network, the Conservative Voice network and LifeNews.com, but the event receives no coverage at all in the mainstream media? (GetReligion.org)
Plan to reduce the number of abortions unveiled | Congressman Tim Ryan to introduce legislation modeled after DFLA's 95-10 Initiative (The Conservative Voice)
Pro-life Democrats unveil legislative package to reduce abortions | A national group of pro-life Democrats has joined pro-life Democratic members of Congress, adoption agencies and pregnancy centers unveil a package of legislation designed to significantly reduce abortion in the next 10 years. (LifeNews.com)
Sexual ethics:
Senator decries sex event at GMU | College says fair promotes safety (Washington Post)
Anti-sex shop 'Task force' expanding focus | More than 100 people gathered at North Anderson Baptist Church to protest the opening of Pandora's Boxxx and other sexually oriented businesses in Anderson County (Anderson Independent Mail, S.C.)
Sex and the unmarried Christian | Lauren Winner, the author of a frank book on chastity, talks about sex ed, 'just say no,' and 're-writing' her own sexual history. (Beliefnet)
Excerpt: First comes love, then comes marriage … then comes sex | Try as we might, there's just no wiggling out of Christianity's teachings on chastity. (Beliefnet)
Church & state:
Loosening religious grip at Air Academy | The school launches a sensitivity course in response to complaints about evangelical Christians infringing on other faiths. (Los Angeles Times)
The disappearing wall | Apart from confirming an unwholesome disrespect for traditional American values like checks and balances, the assault on judges is part of a wide-ranging and successful Republican campaign to breach the wall between church and state to advance a particular brand of religion. (Editorial, The New York Times)
Jesus recruited to fight tax cheats | Tax officials in Sierra Leone have infuriated Christians with the publication of newspaper advertisements saying Jesus Christ supported the paying of taxes. (Sydney Morning Herald, Australia)
Saudi elections:
Islamic activists sweep Saudi council elections | Saudi Arabia's limited 10-week experiment with electoral democracy ended here Saturday in a sweeping victory for slates of Islamic activists marketed as the "Golden List," who used grass-roots organizing, digital technology and endorsements from popular religious leaders to defeat their liberal and tribal rivals, even here in Jiddah, for decades Saudi Arabia's most diverse and business-driven city. (Washington Post)
Islamists dominate Saudi Arabia elections | Candidates on a so-called "golden list" backed by conservative Muslim clerics swept the final stage of Saudi Arabia's landmark municipal elections, according to results announced Saturday. (Associated Press)
NJ Copt, Muslims vow healing:
In Jersey City, religious leaders vow healing | Following months of vitriol in the Egyptian community here between Muslims and Coptic Christians after the slaying of a Coptic family in January, leaders of more than a dozen religious groups met in City Hall on Wednesday to sign a pledge of solidarity. (The New York Times)
Groups pledge peace after N.J. slayings | Declaring an end to "a period of agony in our community," Muslim, Christian and other religious leaders signed a pledge to strengthen interfaith ties in the aftermath of the slaying of an Egyptian Christian family. (Associated Press)
Religious freedom:
Christians detained in Saudi Arabia | Forty Christians living in Pakistan have been arrested by Saudi Arabian police for praying together at a house in the Muslim nation. Local newspapers said a group of men, women, and children were praying together when police raided the house. The practice of any religion other than Islam is illegal in Saudi Arabia. (Catholic World News)
Swedish Muslims march against anti-prophet priest | After vowing to take him to court, several hundred Muslims demonstrated Sunday, April 24, outside a Pentecostal church in Stockholm against a preacher who made improper remarks about Prophet Mohammed. (Islam Online, UK)
Reconverting Christians again | BJP leader and Rajya Sabha MP Dilip Singh Judeo is in news again reconverting Christians into Hinduism. On Sunday anchored a ceremony in which 35 residents of Lafin Khurd were reconverted to Hinduism. Judeo's sun Yudhavir Singh Judeo accompanied him in the operation codenamed 'Ghar Vapsi' (home coming). (Webindia123, India)
Vast changes in postwar Vietnam | In recent years, Vietnam has shown a more tolerant approach to religion, including evangelical churches, and during our visit a prominent Buddhist monk who had been in exile for 40 years was invited back home. (BBC)
Sudan:
Sudan gunmen prey on South despite peace –villagers | Southern Sudanese villagers say government-backed militiamen are attacking them in an extortion campaign that is undermining faith in a peace accord meant to end civil war in Africa's largest country. (Reuters)
In Sudan, the daily battle to provide aid | Humanitarian workers feel political heat (Washington Post)
Sudanese pray peace will return abducted relatives | Southern Sudanese are demanding freedom for loved ones believed kidnapped as human shields in one of the most widespread abuses of a civil war supposed to have ended under a January peace deal. (Reuters)
Middle East:
Syria withdraws from Lebanon, but Israel and Christians remain concerned | Syria marked its withdrawal of soldiers and intelligence agents from Lebanon Tuesday, April 26, after a 29-year military presence, but commentators warned it will not speed up a regional peace settlement with neighboring Israel. (BosNewsLife, Hungary)
A Templar house travels 20 meters | Over 100 years have passed since the members of the Templar community built a residential building in a neighborhood familiar today as Hakirya, the headquarters of the Defense Ministry in Tel Aviv. Last week, workers equipped with modern technological means needed only two hours to move the building a distance of slightly more than 20 meters. Another four buildings will join that one in the next few weeks. All of them were once part of the Sharona colony of the Templars, German Christians who came to Palestine and built several neighborhoods. (Ha'aretz, Israel)
War & terrorism:
Inmates recall Croatian 'Auschwitz of the Balkans' | Roman Catholic, Orthodox and Muslim clergy showed rare unity Sunday in marking the 60th anniversary of a mass break-out by inmates of a death camp that became known as the ``Auschwitz of the Balkans.''(Reuters)
Armenian Genocide victims are not forgotten | Today is the 90th anniversary of the Armenian Genocide. Between 1915 and 1923, more than 1.5 million Armenians were murdered or forcibly exiled because they were the wrong religion and ethnicity. Thousands of Armenians were offered their lives in exchange for their conversion to Islam. They refused and died as a result. Their steadfast faithfulness to the Christian faith is not surprising. Armenia was the first Christian nation and remains the only Christian nation in the Middle East. (The Illinois Leader)
Catholics & Orthodox:
Russia Church urges resolve with Catholics | The head of the Russian Orthodox Church said Monday a visit by Pope Benedict XVI to Russia would be possible only after the two churches resolve their longtime differences. (Associated Press)
Orthodox-Catholic future dialogue early to talk of—Patriarch | The future will show whether the Orthodox-Catholic dialogue will develop, Patriarch of Moscow and All Russia Alexii II has said in Moscow on Monday.( RIA Novosti, Russia)
Catholicism:
Diocese OKs school's plan | St. Stanislaus avoids ax (New York Daily News, N.Y.)
Priest ordered to stop protests in Mass. | The Archdiocese of Boston has ordered a priest to stop demonstrations outside the home of the state Senate president, protests the priest said were necessary because of the politician's support of embryonic stem cell research. (Associated Press)
Dissident priests not punished, but their fate is still unclear | The Episcopal bishop of Connecticut seemed to soften his stand yesterday against six priests who face suspension for defying him in protest of his support for gay clergy, according to two priests who attended a diocesan meeting on the issue in Hartford. (The New York Times)
Our role in the church | Before I went to Rome to do my doctoral work in theology in the mid-1990s, I was inclined to believe, like many American women, that the Catholic Church's teaching on women was a bit skewed, if not flawed. At times, it seemed to me that there was no unique place for women in the church. Yet over the course of six years of study at pontifical universities and a short time working at the Vatican, I found that I was actually more respected as a woman there than I have been in most other environments. (Pia de Solenni, Washington Post)
Pope Benedict XVI:
Pope Benedict hints at less papal travel | Pope Benedict has made his first papal trip outside the Vatican -- but he is already hinting that he won't be globetrotting as much as his predecessor. (Reuters)
John Paul's presence still felt at Vatican | Pope Benedict XVI won rousing applause when he borrowed some of his predecessor's most popular sound bites. Pilgrims snapped up postcards with the late pontiff's image. Polish flags appeared to outnumber German banners in packed St. Peter's Square. John Paul II's presence was keenly felt Sunday during the formal installation of his German successor Benedict as leader of the 1.1-billion member Roman Catholic Church. (Associated Press)
Benedict says he prayed not to be elected | Pope Benedict XVI said Monday he had viewed the idea of being elected pope as a ''guillotine,'' and he prayed to God during the recent conclave to be spared selection but ''evidently this time He didn't listen to me.''(Associated Press)
Can a shy theologian transform into a pope for the people? | Joseph Ratzinger has spent his entire life trying to ignore real life. He has been more successful at doing this in Rome than at home in Germany. Now the world's Catholics hope that this rigid guardian of the faith will transform himself into a good shepherd. (The New York Times)
Pope's homeland a place apart from Germany | Benedict XVI is not just German -- he's Bavarian. The pope's homeland is a place apart from the rest of Germany, and not just because of its scenic beauty and quaint traditions. Along with spectacular summits, oompah bands, and lederhosen, the southern region is the most religious part of the country. (Associated Press)
Pope Benedict XVI shows humor and warmth | Pope Benedict XVI is showing his humorous side and that he knows how to work a crowd, traits the public rarely saw during his quarter-century as the stern German guardian of the church's conservative doctrine. (Associated Press)
Out of the darkness | The new Pope's faith was forged as a child in Nazi Germany, where he believes his Catholic Church stood firm against Hitler. But is he right? His biographer, John Allen, investigates (Daily Telegraph, UK)
Benedict XVI to be 'missionary pope' | Pope Benedict XVI has reached out to Muslims, saying the church wants to continue "building bridges of friendship" with other religions and announcing his intention to become, like John Paul II, a "missionary pope". (AFP)
Pope Benedict vows new battle for souls | Pope Benedict pledged the Roman Catholic Church to a new push for converts on Monday on his first papal visit outside the Vatican to the shrine of Christianity's first missionary. (Reuters)
'Nazi leanings' are a spurious charge | The echo of the Vatican City bells heralding Cardinal Joseph Ratzinger of Germany's election as Pope Benedict XVI had barely faded when critics asserted that the Bavaria-born Ratzinger had, as a teenager, served in the Hitler Youth and was conscripted as a non-soldier "helper" in the German Army during World War II. (Editorial, Harlingen Valley Morning Star, Texas)
Selling the new pope | Items featuring new pontiff sell, but the old one's memorabilia remains popular (Associated Press)
Pope foresees renewed vigor for Church | Pope Benedict XVI predicted yesterday during a solemn pilgrimage to the shrine of Christianity's first missionary that the Roman Catholic Church will enjoy a major revival in its third millennium. (The Washington Times)
New pope prepares to emerge from John Paul's shadow | In death and in life, John Paul II and Cardinal Joseph Ratzinger have been inseparable. It took the death of his friend to show the world the human side of the longtime guardian of church orthodoxy, who moved to the forefront of papal contenders after giving an emotional sermon at John Paul's funeral, choking up as he invoked images of the late pope. (Newhouse News Service)
Pope prayed: 'God, don't do this to me' | Pope Benedict XVI told yesterday how he had prayed to God not to impose the burden of the papacy on him during last week's conclave to chose a successor to John Paul II. (Times, London)
Benedict reaches out:
Pope Benedict reaches out to Muslims | On his first official full day as pope, Benedict XVI on Monday reached out for the first time to Muslims, saying he was "grateful" for their presence at his investiture ceremony and hoped for a "growth of dialogue between Muslims and Christians" at local and international levels. (The New York Times)
Benedict XVI makes broad call for peace | Pontiff reaches out to Muslims, others (Chicago Tribune)
Anglican leader says pope to give energy to united Christian witness | The spiritual leader of the worldwide Anglican Communion said he is encouraged by Pope Benedict XVI's commitment to Christian unity and believes his papacy will give special energy to a "united Christian witness" in an increasingly secularized Europe. (Catholic News Service)
Benedict reaches out to Muslims | Pope Benedict XVI met leaders of the Muslim community yesterday, welcoming progress in Christian-Muslim dialogue and saying the Catholic Church wanted to continue "building bridges of friendship" with all other religions. The new leader of the Roman Catholic Church was speaking after he received leaders of other faiths and Christian Churches in the first private audience of his pontificate. (Gulf Daily News, Bahrain)
Pope reaches out to Muslims, other churches | Pope Benedict XVI reached out to Muslims, saying the Church wants to continue "building bridges of friendship" with other religions and announcing his intention to become, like John Paul II, a "missionary pope". (Sify, India)
Pope calls for unity and Muslim friendship | Pope Benedict XVI reached out to other faiths and Christian denominations yesterday with a message of reconciliation that was welcomed by the Archbishop of Canterbury, Dr Rowan Williams. (Daily Telegraph, UK)
Benedict XVI begins papacy with message of openness | After extending a hand to other Christians, Jews and "nonbelievers," Pope Benedict XVI made a meeting with religious leaders his first public appointment today. (Ireland Online)
Pope praises Pinoys | Newly installed Pope Benedict XVI expressed his gratitude to Filipinos for leading Roman Catholicism in Asia during his meeting Sunday with Vice President Noli de Castro at the Vatican. (The Philippine Star)
Pope Benedict XVI: A message of dialogue with other faiths | His was a message of openness and reconciliation, he said, to his Roman Catholic flock, to other Christian communities and to "everybody, even those who follow other religions or who simply look for an answer to life's questions and still haven't found it". (Monday Morning, Lebanon)
U.S. Muslims hail new pope's meeting | Muslims in the U.S. hailed Pope Benedict XVI's meeting with Islamic leaders at the Vatican on Monday, saying they are increasingly confident the new pontiff wants better ties between the world's two largest religions. (Asbury Park Press, N.J.)
Pope psychology: Pay not heed to predictions | A liberal Catholic friend of mine tried humor to mask his disappointment at the choice of Pope Benedict XVI, the rigid Bavarian-born Cardinal Joseph Ratzinger, to succeed the late John Paul II: "We were looking for a 'good shepherd,' and instead we got a German shepherd." (Mark Shields, CNN)
Benedict against moral relativism:
Christians must keep God's rules, new pope reminds us | The sermon Joseph Ratzinger preached to his fellow cardinals just before they decided on a new pope must rank as one of the most effective appeals of modern times. Within a few hours, he was chosen to succeed the sainted John Paul II as pontiff. (David Yount, Scripps Howard News Service)
Pope Benedict warns against moral relativism | The new leader of the Roman Catholic Church has denounced moral relativism, the idea that moral principles have no objective standards. Pope Benedict XVI has characterized it as the major evil facing the church. Some observers believe he is taking a stance in the tense cultural wars in the United States. (Morning Edition, npr)
Responses to Benedict:
Most U.S. Catholics support choice of pope | Benedict XVI expected to defend traditional church policies, poll finds (Washington Post)
God in his many disguises | The first reactions to the elections of Cardinal Josef Ratzinger to the papacy covered the whole spectrum from pleasant to unpleasant surprise, from startled to rude shock! I must confess that Cardinal Ratzinger was not my candidate for Pope, but I was not an elector. Now Benedict XVI is my Pope because I am a Catholic. (Indian Express, India)
M'sian Catholics hope for a transformation in new pope | While Pope Benedict XVI, previously the Cardinal Joseph Ratzinger, formally begins his pontificate on Sunday, some Malaysian Catholic activists and clergy are worried that the church under the new pope would become more insular and clamp down on movements working with the poor. (Malaysia Kini, Malaysia)
New pope: He's one protestants can appreciate | As a Presbyterian of what's called the "reformed" tradition, my heroes are people like John Calvin, Martin Luther and Jonathan Edwards. Of course, they didn't think a whole lot of popes. But this reformed Presbyterian already likes this new pontiff. (Betsy Hart, Scripps Howard News Service)
Pope: TMC rejoices with Christians | The Muslim Congress (TMC) at the weekend congratulated Christians especially Catholics all over the world over the election of a new Pope. (This Day, Lagos, Nigeria)
Abuse:
Former priest sentenced to 6 years for molestation | The ex-clergyman was convicted of abusing three teenage boys in his Koreatown parish. (Los Angeles Times)
Diocese agrees to pay woman $3.3 million to settle sex-abuse case | A woman molested by a priest when she was a teen won a $3.3-million settlement from the Diocese of Santa Rosa, attorneys for the woman said Friday. (Los Angeles Times)
Ex-priest in L.A. gets prison in sex abuse | A judge Friday sentenced a defiant former Roman Catholic priest to more than six years in prison for molesting three boys. (Associated Press)
Church life:
Theological illiteracy is rampant | In Christianity, some branches do better than others in steeping followers in knowledge of the Bible, the nuances of doctrinal statements, the history of church tradition and explanations of how all of this should play out in a life well lived. But, in fact, few churches can claim to do a great job educating adherents to articulate their beliefs clearly. (Bill Tammeus, Knight Ridder Newspapers)
Size curbs sought for churches on Md. reserve | With plans in limbo, congregations vow fight (Washington Post)
A call for a compassionate faith | At installation, cathedral's new dean laments 'divisive' fundamentalism (Washington Post)
Congregation swamped by water, worry | Flooding after move-in leaves church 'strapped' (Washington Post)
Lutheran Church set to help flood victims | Reverend calls on other faiths in effort. (Express-Times, Pa.)
Education:
Analysis: Campus hate an education | Minority students returned to classes at Trinity International University in Deerfield, Ill., Monday just days after racially charged handwritten notes sent via internal campus mail threatened possible hate crimes on the Christian campus. (UPI)
Gay rights group rallies at Liberty University | Representing a dozen universities, sixty members of Soulforce met at Liberty University to hold a gay rights rally on campus. (WSLS, Va.)
Crime:
Accused BTK serial killer thanks church | The man accused of the BTK serial killings wrote a "very generic, very laid-back" letter to his former congregation, thanking church members for their support and asking for their prayers, the pastor said Friday. (Associated Press)
Greek church scandal fugitive arrested | Greek police announced the arrest in Italy on Friday of Apostolos Vavilis, a central figure in a wave of scandals that engulfed Greece's powerful Orthodox Church earlier this year. (Associated Press)
Barry Minkow strikes again:
Former con man helps FBI track down offenders | Barry Minkow's most recent undercover work for the FBI last week led to the arrest of a man who allegedly was running a phony hedge fund, said Minkow, an evangelical minister in San Diego who also has set up a business to help track down stock swindlers. (Newsday)
A flip to aid the Feds | Barry Minkow earned national fame by founding a multimillion-dollar carpet- cleaning business when he was only 16. But his real talent turned out to be taking other people to the cleaners - including the organized crime figures who loaned money to him at exorbitant interest. Now sources say Minkow has surfaced again, this time helping authorities to nab a Bermuda-based swindler. (Newsday)
Ex-con man stars in sting | Former stock swindler Barry Minkow, now a minister, helps the FBI in the arrest of a man on LI who allegedly ran a phony hedge fund scheme (Newsday)
New Zealander facing US$1m fraud charges | Bahamas-based New Zealander Derek Turner is in a New York jail facing fraud charges allegedly involving millions of dollars. (New Zealand Herald, New Zealand)
Kiwi caught in FBI sting | A New Zealander who once had hopes of building a World Trade Center replacement is in jail after being busted by the FBI for allegedly swindling millions of dollars. (Stuff.co.nz, New Zealand)
Music:
For meditating or just listening | Religion and classical music are loosely but firmly linked in the general consciousness. Classical music survey courses usually begin with Gregorian chant and continue with Bach cantatas, Mozart Masses and the Brahms "German Requiem." Today classical music concerts are irreverently said to resemble organized religious services: both are somewhat tedious events that one attends weekly, endures in silence and leaves with a sense of being a better person for it. (The New York Times)
Making 'joyful noises' in Round Rock | If you don't have a smile on your face before you encounter the Joyful Noises Kitchen Band, it's a safe bet that will change once you hear them. At least that's what the band members hope. (WEAN, Austin, Texas)
Television:
Faith-based initiatives in ratings game | Now that we have a new pope, might the day be nearing when we get our first TV pope? I'm picturing a show called "The Vatican" (ethereal theme song, white smoke billowing from the chimney of the Sistine Chapel, establishing shot of St. Peter's Square, montage of the new pope in his various costumes saying Mass and meeting dignitaries as the opening credits roll). (Los Angeles Times)
Last Supper advert 'not so Shameless' | A poster for the TV show Shameless—which is set on a tough Manchester housing estate—was one of the most complained about in 2004. The poster, which advertised the return of the popular TV series, echoed the scene of Leonardo da Vinci's Renaissance painting of The Last Supper. (Manchester Evening News, UK)
Religion takes over from sex in making viewers hot under collar | Controversial religious imagery took over from sex last year as the main way advertisers chose to get their message across, according to an industry watchdog. (The Herald, UK)
People:
Police lieutenant appreciates the thrill and challenge | MacPhail says she still has another goal. "I'd like to find time to serve in the Christian ministry in some way. My beliefs and my life are based on Christianity." She says her upbringing has much to do with her work ethic and her love of family. (Enterprise-Record, Calif.)
Eye to eye with Bill Nye the Science Guy | along with this resurgence or embracing of fundamental Christianity is this rejection of science. And that's bad. (Seattle Times, Wa.)
Flashback: State's fastest miler lost Olympic dream, found faith | John Quade won only one state championship but is rightfully regarded as one of the best runners in state history. (Seattle Times, Wa.)
The soul of a lost cause | Ernesto Cardenal is still the poet-priest of Nicaragua's Sandinistas. But he knows that the church and the times have turned against him. (Los Angeles Times)
'Dead Man Walking' nun to speak to grads | Sister Helen Prejean, the Roman Catholic nun whose campaign against the death penalty was chronicled in a best-selling book and an Oscar-winning movie, will speak to graduates at a western Pennsylvania university next month. (Associated Press)
Tammy Faye OK with losing eyelashes | Former televangelist Tammy Faye Messner says losing her trademark eyelashes during her struggle with cancer was a liberating experience. Messner was a celebrity judge for a beauty pageant where men dressed as women Thursday at Lancaster High School. The event raised money for the American Cancer Society. (Associated Press)
Settlement is reached in Texas pool deaths | The families of three children and an adult who drowned last summer in a water park have agreed to a $750,000 settlement with the city. (Associated Press)
Deaths:
Diane Knippers dies at 53; strategist for Christian right | Diane Knippers, a religious strategist who helped conservative Christians raise an increasingly loud and unified voice in the traditionally liberal bastions of mainline Protestantism in recent years, died on Monday in Arlington, Va. She was 53. (The New York Times)
United Methodist pastor Edward B. Lewis | The job of the Rev. Edward B. Lewis, a United Methodist pastor in the Washington area over the past 45 years, was to save souls. He also managed to save and grow congregations as the District's demographics changed. And in a dramatic incident early in his ministry, he also managed to save a despondent man's life. Mr. Lewis, 84, died of cancer April 12 at his home in Silver Spring. (Washington Post)
History:
3rd piece of Axum obelisk back in Ethiopia | The third and final piece of the Axum obelisk was returned to Ethiopia from Italy on Monday, as thousands cheered the end of an almost 70-year dispute over a symbol of African civilization stolen by European troops as a war prize. (The New York Times)
The Crusades as a lesson in harmony? | Sir Ridley Scott's new blockbuster, "Kingdom of Heaven," could hardly be more topical. It shows Muslims resisting Christian invaders, battles raging in wind-whipped deserts, ancient cities under siege and civilians cowering. It even shows prisoners decapitated for their beliefs. O.K., so all this screen mayhem is meant to be happening more than eight centuries ago, but doesn't it sound like recent news from Iraq? (The New York Times)
Other religions:
Youth is served for an aging congregation | The fate of the Lincoln Park Jewish Center might have been easily predicted. Members of the congregation were aging and membership was steadily declining. There was no sign of a revival. (The New York Times)
Satellite to help determine Islamic dates | Muslim countries are to use satellite technology to help in moon sightings, used to determine Islamic holidays, the 57-nation Organization of the Islamic Conference said Sunday. (Reuters)
For New York's bagel shops, Passover week is no festival | If it is hard to be a Jew on Christmas, it may be even tougher to run a bagel shop at Passover. The eight-day festival, which started Saturday evening, celebrates the Jewish people's exodus from slavery in Egypt, and in accordance with tradition, many Jews eat only unleavened bread. (The New York Times)
Indian Israelis hope to end their 2,700-year exodus | In two of the remote states of India-Mizoram and Manipur-thousands of people, who believe themselves to be one of the Bibilical 10 lost tribes of Israel, celebrate what they hope is their last Passover before ending a 2,700-year exodus. (Webindia123, India)
More articles of interest:
Christians captured the castle | When its owners sell their historic Herefordshire pile, the proceeds will be used to fund a religious theme park in Florida, finds Caroline Donald. (The Sunday Times, London)
Santa Feans not reacting to anti-gay protests | Most Santa Feans turned their backs on the anti-gay picketers from Westboro Baptist Church as they antagonized churchgoers with their stinging message on Sunday. (Albuquerque Journal)
FCA banquet a 'big success' | The Lookout Mountain Fellowship of Christian Athletes kicked off the second season for the local chapter in a big way recently. (Walker County Messenger, Ga.)
Marriage changing, for better or worse | If history runs true to form, the ties that bind the sexes together will in all probability wind up right back where they started. It doesn't take long to figure out the bottom line here is that two can live cheaper than one. (Rose M. Nolen, Columbia Missourian, Mo.)
Study: Faith helps African Americans heal | Religious beliefs may improve people's physical health, according to University of Chicago researchers who have completed a study that shows religious African Americans feel less depressed and alienated. (Chicago Defender)
Hot topic, but there's no heat | A performance troupe doesn't name itself Culture Clash without some awareness that its material — which often skewers racial, ethnic, religious and gender stereotypes — might occasionally result in just such a clash with its audience. (Los Angeles Times)
Related Elsewhere:
Suggest links and stories by sending e-mail to weblog@christianitytoday.com
Check out Books & Culture's weekly weblog, Content & Context, and the Christianity Today Movies weekly weblog, Reel News.
See our past Weblog updates:
April 25
April 22 | 19
April 15 | 14 | 13 | 11
April 5 | 1 | March 31 | 30
March 24 | 23 | 21 | 16 | 11
Weblog
Launched in 1999, Christianity Today's Weblog was not just one of the first religion-oriented weblogs, but one of the first published by a media organization. (Hence its rather bland title.) Mostly compiled by then-online editor Ted Olsen, Weblog rounded up religion news and opinion pieces from publications around the world. As Christianity Today's website grew, it launched other blogs. Olsen took on management responsibilities, and the Weblog feature as such was mothballed. But CT's efforts to round up important news and opinion from around the web continues, especially on our Gleanings feature.
Ted Olsen is Christianity Today's executive editor. He wrote the magazine's Weblog—a collection of news and opinion articles from mainstream news sources around the world—from 1999 to 2006. In 2004, the magazine launched Weblog in Print, which looks for unexpected connections and trends in articles appearing in the mainstream press. The column was later renamed "Tidings" and ran until 2007.
Previous Weblog Columns: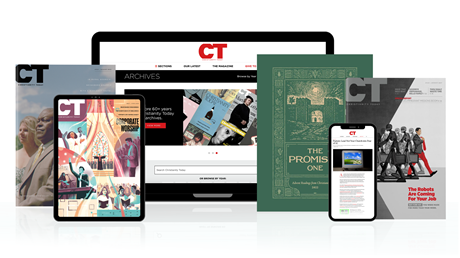 Subscribe to Christianity Today and get access to this article plus 65+ years of archives.
Home delivery of CT magazine
Complete access to articles on ChristianityToday.com
Over 120 years of magazine archives plus full access to all of CT's online archives
Subscribe Now
Justice Sunday Leaves Opponents Hopping Mad
Justice Sunday Leaves Opponents Hopping Mad