Mulder and Scully and Jenkins and LaHaye
It has been hard to miss NBC's promotions for Revelations, its six-part end-times miniseries that debuts tonight. But almost all of the positive buzz seems to be coming from the network. TV critics and dispensationalists seem agreed that the show is rather … predictable.
"Revelations reminds me of those dreadful end-times films I used to see in church, only with better production values," says The Kansas City Star's Aaron Barnhart. "Every few minutes a passage from Scripture, though not identified as such, appears ominously on the screen. Not all of these come from Revelation; for instance, the verse 'a little child shall lead them' is from Isaiah, another book often quoted by end-timers."
As such, "non-Christians may have trouble taking its signs and shadows and omens seriously, while some Christians may be put off to see their beliefs mashed into some occult-conspiracy stew," says USA Today's Robert Bianco.
"It's a stark mash of lightning storms and glaring Satanists and overly dramatic music that shouts too loudly for its own good. As it leaps from Ominous Religious Event to Ominous Religious Event, the first hourlong chapter of this six-part series could easily have been called 'Hellsapoppin!'" complains The Boston Globe's Matthew Gilbert.
The "events, tone, and spiritual underpinnings [are] drawn directly from the apocalyptic predictions of the New Testament's Book of Revelation," explains the San Jose Mercury News's Charlie McCollum. But Weblog just checked, and there's nothing in there about babies surviving Aegean Sea shipwrecks, crucifixes on Mexican mountains, Satan-worshiping killers who don't bleed, and girls who get zapped by lightning for taking the Lord's name in vain. (Uh, didn't that last one happen to a bishop in Caddyshack? recalls Entertainment Weekly's Gillian Flynn. "Thankfully, the girl here does not yell, 'Rat farts!'")
Strict adherence to John's vision clearly isn't a priority. In fact, while the Revelations website has a link that says "Book of Revelation," the link simply brings up a box that says (appropriately, given the context) "Coming soon!"
Biblical illiteracy pervades the show from its very title, complains Left Behind co-author Jerry Jenkins. "I realize this is a niggling matter, but even the title jangles in the ears of evangelicals, the base audience to which the producers claim they're trying to cater. From Sunday school we're taught that the title of the last book of the Bible is 'Revelation,' singular. Those who add the S are akin to those who pronounce it in 'Des Moines' or 'Illinois.'"
From there, Jenkins says, it's "a mishmash of myth, silliness, and misrepresentations of Scripture. Acknowledging that not everyone agrees with my particular take on end times prophecies, at least my interpretations are based on some commonly accepted study. Revelations seems to draw from everywhere and nowhere."
Indeed, if Jenkins and Tim LaHaye "had taken such liberties with biblical doctrine, they would have been denounced by the faithful, not devoured by tens of millions of faithful readers," says Richard Land. Still, he's glad that the show "takes the reality of supernatural evil and Satanic power very seriously and portrays its sinister malevolence quite effectively. … The first episode at least is entertaining and at times compelling television, even if it's not biblically accurate."
It's about time that television "abandoned the antiseptic, feel-good, something-for-everyone flavoring that for so long has characterized its religious programming," sighs USA Today's Gerald L. Zelizer. But "in swinging from New Age to hard edge, television still hasn't got religion right."
On a strange level, says Barnhart, the show is like "recent media saturation coverage of the death of Pope John Paul II, which was both too much and not enough. These superficial treatments of Christianity seem to flow from a television mindset that recognizes the importance of religion in the lives of ordinary Americans, but is unable to explore the idea much further than that."
Beyond the Schiavovertones (Lighting Girl ends up in a persistent vegetative state in a Florida hospital) and the self-plagiarism of writer/creator David Seltzer (who wrote The Omen three decades ago), the show apparently falls prey to the No. 1 problem of Hollywood's apocalyptic dramas: All the good Christians want to stop Jesus from returning.
In American eschatology, only bad Christians—by which people like The New York Times columnist Frank Rich mean "Mr. Bush's base," and the red-staters for whom Revelations was presumably created—are rooting for the Apocalypse.
In Sunday's Times, Rich explains that Revelations is part of the Christian right's culture of death: From The Passion to Terri Schiavo to Pope John Paul II, we conservative Christians are apparently obsessed with death over life. "No one does the culture of death with more of a vengeance — literally so — than the doomsday right," Rich wrote. "The Left Behind novels by Tim LaHaye and Jerry B. Jenkins all but pant for the bloody demise of nonbelievers at Armageddon. And now, as Eric J. Greenberg has reported in The Forward, there's even a children's auxiliary: a 40-title series, Left Behind: The Kids, that warns Jewish children of the hell that awaits them if they don't convert before it's too late. Eleven million copies have been sold on top of the original series' 60 million."
Rich, of course, misses the point (in the same way that Scottish soccer fans recently missed the point). Granted, some dispensationalists over the years have missed the point, too. But most have kept focus: The Second Coming of Jesus is something that all Christians agree on and eagerly await. "Come, Lord Jesus" is not a curse, but a prayer of hope.
When Christ returns, as the Nicene Creed says, he will come "in glory to judge the living and the dead." And yes, he will burn the chaff with unquenchable fire. We Christians eagerly await that day. But what we look forward to isn't seeing unbelievers destroyed while we scoff, "See ya, suckas!" The chaff that we most eagerly await the destruction of is the destruction of our own chaff, the immolation of that part of us that keeps us from seeing and following God as he truly is.
Thunderstruck's Steve Beard reports that the show's creators deliberately tried to be specific in the show's religious perspective rather than shoot for the bland, vaguely monotheistic spirituality of Touched by Joan's Highway to Heaven:
"We felt what needed to be done is a television show that expressed itself as Christian," [executive producer Gavin] Polone told The New York Times. "We're very clear about that here. … The words 'Jesus Christ' or 'Christ' are used three times a minute." Of course he exaggerates to make the point that the networks adhere to a draconian gag rule regarding the most-well-known figure in human history.
"I think it's going to be provocative because we actually say the name Jesus Christ, and we talk about the Bible, and we talk about specific Scriptures and what they mean," writer David Seltzer further elaborates in a teleconference with reporters. "I think an audience also will become aware of the fact that the world really is on the cusp of ending, and will look at their own faith and their own doubt and their own ability, perhaps, to affect the outcome of the very dangerous times that we live in."
A spectacular focus on signs and wonders with a direct references to Jesus Christ thrown in for good measure, with the point being how we have the power to change the times? Actually, that does sound rather biblical after all. Just not in a good way.
More articles
More on Revelations | End times | TV & film | Books | Bible | Principalities & powers | Money & business | Life ethics | Assisted suicide | Terri Schiavo | Stem cells | Abortion | Morning-after pill | Pharmacists | Politics | War & terrorism | Eric Rudolph | Human rights & religious freedom | Black churches | Sacred vs. secular | Sexual ethics | Abstinence & AIDS | Homosexuality | Gay ELCA pastors | Non-gay Episcopal bishops | Marriage & family | Bad parents | Episcopal Church | Anglicans & Catholics | Church life | Missions & ministry | Holy Land property | Generation Y's faith | Education | Davidson trustees | School prayer | Local school battles | Evolution | Brit schools to avoid 'Holy Ghost' | Church & state | Bush & the pope | Pope John Paul II | Ratzinger | Idiot soccer fans | Catholicism | Latino Catholics & ex-Catholics | Abuse | People | Archbishop Iakovos | Andrea Dworkin | Other religions | More articles
The divine ick factor | How creepy religion heightens television dramas (Teresa Blythe, Beliefnet)
End is expected, but there's still time to debate morality | The real appeal behind NBC's spooky and suspenseful mini-series is that politics is part of the scenery, and ethical and moral dilemmas are woven into the plot (The New York Times)
NBC's 'Revelations': It's a long way to Armageddon | The least we can ask of the end of the world is that it be entertaining. But lo, NBC has unleashed the armies of the night in a six-game tournament against the armies of the day, and "low" sums up the whole thing pretty well (Tom Shales, The Washington Post)
On new NBC show, Revelation meets ad rates | Approaching Revelation with caution and careful scholarship doesn't make for exciting TV (Bill Tammeus, The Kansas City Star)
NBC's 'Revelations': A leap of faith | Natascha McElhone and Bill Pullman star as Sister Josepha Montifiore and Dr. Richard Massey, who investigate signs that the end of world is nearing as predicted in the Bible's Book of Revelation (The Washington Post)
Apocalypse now | Doomsday scenarios abound on TV, pushing buttons while preying on fears, and hopes (The Boston Globe)
TV miniseries latest in Apocalypse fixation | The End is Near. And it's hot (The Mercury News, San Jose, Ca.)
End times:
Apocalypse how | In a wildly popular series of books and now an NBC show, modern times are interpreted through ancient prophecy (Chicago Tribune)
Armchair armageddon | Jesus and the military seem embedded in the Colorado Springs landscape - the home base of the Christian right and the U.S. Air Force - just as they form the bedrock of Revelation (The Denver Post)
Book of Revelation: Is it literal Scripture or allegory? | Evangelicals believe Revelation is literal, God-given prophecy (The Denver Post)
"Left Behind" co-creator transcends religious realm to mass market | Arguably, they've enraptured the world (The Denver Post)
Scripture as foreign policy | Israeli-Palestinian compromise runs counter to the return of Jesus (The Denver Post)
Television & film:
TV gets religion | A surge in Christian-themed programming could be one more sign of the conservative times. Or perhaps it's the almighty dollar (The Baltimore Sun)
Dramatizing a scandal that rocked the church | The creators of "Our Fathers," Showtime's new film about the sexual abuse scandal in the Boston archdiocese, intend to provoke outrage and discussion in viewers of all faiths (The New York Times)
In its search for profits, Hollywood finds God | Some of the religious thrillers and dramas worry me (T.R. Fehrenbach, San Antonio Express-News, Tex.)
Books:
Pope's death ups Angels and Demons sales | Dan Brown's Angels and Demons, a thriller that includes purported details on the conclave — the secret gathering of cardinals that picks the next pope — has seen a "significant" increase in sales, according to publisher Simon & Schuster (Associated Press)
Few of those in the collar are looking at the stars | Laurence Wareing reviews The Bible's Hidden Cosmology by Gordon Strachan (The Herald, Glasgow)
Breaking free of the flock | Ralph Frammolino reviews Leaving the Saints: How I Lost the Mormons and Found My Faith by Martha Beck (Los Angeles Times)
Pat Robertson a prominent force in publishing | An author of 16 books, Robertson remains coveted by Christian publishers, who printed 1.1 million copies of his three latest books in just the past two years (The Virginian-Pilot)
Tocqueville remixed:
Touring an America Tocqueville could fathom | While repeating Tocqueville's journey across America, philosopher Bernard-Henri Lévy shares his view of the country in an account for The Atlantic Monthly (The New York Times)
Related: In the footsteps of Tocqueville | How does America look to foreign eyes? This year marks the bicentennial of the birth of Alexis de Tocqueville, our keenest interpreter. We asked another Frenchman to travel deep into America and report on what he found (Bernard-Henri Lévy, The Atlantic)
Bible:
Happy, happy times in the feelgood Bible | Here are some suggestions for explaining other bits of the Gospel in a comfy, non-scary way (Christopher Howse, The Telegraph, London)
Do you believe in unicorns? | What do you think? Were Christians misled by their Bibles for 1,900 years, or do unicorns really exist? (Charles W. Hedrick, News-Leader, Springfield, Mo.)
Principalities & powers:
Evangelical exorcists do battle with devils | Denver's Bob Larson among the 'well-paid' exorcists (The Daily Camera, Boulder, Co.)
3rd suit says hospital psychologist used witchcraft | A Geneva hospital has been hit with a third lawsuit saying a former staff psychologist practiced witchcraft under the guise of therapy, and asked for a sample of her ex-husband's DNA so the psychologist could "perform a spell" on him. (Chicago Tribune)
Money & business:
Jesus, the talking doll version | Company also plans dolls of Mary and Moses at start, with dolls able to recite Bible verses (CNN/Money)
Founding a spiritual start-up | Four pals who started their own companies filled a spiritual need in their community (Inc.)
Shares of religious broadcaster Salem jump on ratings upgrade | The stock of Salem Communications Corp. rose sharply Tuesday after Stanford Financial Group raised its investment rating on the religious broadcaster, saying new stations will provide a competitive advantage (Associated Press)
Life ethics:
French parliament adopts 'end of life' law | France's parliament has approved a law that will allow terminally ill patients to opt for death instead of further treatment, but which supporters say stops short of permitting euthanasia (Reuters)
Pendulum begins swing away from death penalty | 'Culture of life' agenda pushes advocates of capital punishment to rethink positions (San Francisco Chronicle)
Jehovah's Witness, 14, loses fight to refuse transfusions | Cancer sufferer cannot turn down blood, judge rules (The Province, Vancouver, B.C., Canada)
Panel updates ethics guidelines for doctors | The influential American College of Physicians is weighing in on abortion, assisted suicide, and other thorny issues in its newly updated Ethics Manual (Chicago Sun-Times)
Our near-death experience | Wherever our spirits go, or don't, ours is a species that down the millenniums has learned to deal with death (the idea of the thing) by dealing with the dead (the thing itself) in all the flesh and frailty of the human condition (Thomas Lynch, The New York Times)
Ca. panel approves assisted suicide:
California Assembly panel approves assisted-suicide bill | Those testifying include supporters, who say the terminally ill could die with dignity. But foes see the measure as a step toward legal euthanasia (Los Angeles Times)
Aided-suicide bill passes first hurdle (Los Angeles Daily News)
Legislators to take up end-of-life measure | Supporters of a bill allowing doctor-assisted suicide face opposition on several fronts (Los Angeles Times)
Terri Schiavo:
A fight to the death | The great hangover from the Schiavo experience has to do with the question of execution presided over by oneself (William F. Buckley Jr.)
Issues raised by Schiavo case will be difficult to resolve | Condemnations all around (John Leo)
King target of Schiavo partisans | Powerful senator is being attacked by for blocking a bill that could have helped her; he's mounts re-election bid (The Times-Union, Jacksonville, Fla.)
What Schiavo taught | We are all bioethicists now (Editorial, The New Republic)
Necessary decisions | Taking sides for Schiavo (Allen Verhey, The Christian Century)
Schiavo stokes Europe euthanasia debate | Since Schiavo's death March 31, after courts ordered her feeding tube removed, the ethics of euthanasia have become a hot topic in Austria and Germany, where attitudes toward euthanasia are clouded by Hitler's horrors. (Associated Press)
Schiavo fallout fallacies | Conventional wisdom is clear. Wrong, but clear. And clearly wrong. Oh, and it's not so clear. (Debra J. Saunders, The Washington Times)
Congress should revisit issues of Schiavo case | The fact that Congress adopted a bad law in the Terri Schiavo case -- unwise, unprincipled, and unconstitutional -- does not mean Congress must never again return to the subject (Barney Frank, The Boston Globe)
Stem cells:
Echoes of horror | Our contemporary debate over embryonic stem cells sounds like the eugenics movement in the United States in the early 20th century (Christine Rosen, The Dallas Morning News)
Stem-cell vote met with anger | House conservatives, upset that Republican leaders have agreed to a vote on expanding President Bush's embryonic stem-cell research policy, are deciding how they will fight back (The Washington Times)
Congress's default on stem cells | House republicans have another chance to open up the debate on stem cell research, but it remains to been seen if they can avoid making it another circus for the religious right (Editorial, The New York Times)
Stem cells and politicians | With science's advances pushing us into ethical black zones, and with the nation strongly divided on these issues, the best possible resolution will come through the people via their elected representatives (Editorial, The Washington Times)
The other stem-cell debate | To test the potential curative powers of human embryonic stem cells, biologists want to inject them into lab animals. Creating such chimeras makes perfect sense, to a point: A sheep with a human liver? O.K. A mouse brain made up of human cells? Maybe. But a chimp that sobs? (Jamie Shreeve, The New York Times Magazine)
Abortion:
Hard labor | Susan Ali was determined to give birth to a severely handicapped baby. Her husband was determined to stop her (The Washington Post Magazine)
Advocating alternatives to abortion | 'Pregnancy centers' are in line for a $2.5 million state grant (St. Paul Pioneer Press)
A political tornado in Kansas | Phill Kline, the state's attorney general, often preaches from pulpits as he pushes a conservative agenda aimed at curbing abortions and gay rights (Los Angeles Times)
Abortion bill would mandate counseling | If made law, patient would bear cost (The Times-Picayune, New Orleans)
Also: Bill would require counseling for women seeking abortions (Associated Press)
Morning-after pill:
Plan would expand access to 'morning after' pill | Committee to hear testimony Wednesday (WCVB, Boston)
Bill seeks access to morning-after pill | Issue may weigh on a Romney run (The Boston Globe)
Emergency birth control | Morning-after pills are far from ideal as a means of birth control. But they should be a readily available option for women (Editorial, The Boston Globe)
Pharmacists & birth control:
Whose conscience rules? | Pharmacists don't have the same claim to refuse filling a prescription as a doctor has to refuse performing an abortion. But there are other ways to exercise a private conscience clause. Indeed, in a conflict between your job and your ethics, you can quit (Ellen Goodman, The Boston Globe)
Religion in the pharmacy | A Senate solution? (Rick Santorum and John Kerry, The New York Times)
Pharmacists 'denying birth control' | The latest religious voice to emerge in US society is that of the pharmacist (BBC)
Gov digs in as foes attack pharmacy rule | Both sides are preparing for what may turn into a legal battle over Gov. Blagojevich's order that pharmacists dispense contraceptives, even those that some pharmacists say kill embryos (Chicago Sun-Times)
Pharmacists could deny drugs they find immoral | Bill would ensure pharmacists can apply morals to filling drugs (Jackson Sun, Tenn.)
Religion & politics:
Ministers gather to protest state lottery | A group of Baptist preachers told lawmakers Tuesday they don't want a lottery here in the Tar Heel state (News14, Charlotte, N.C., video)
In theocracy they trust | Christian right leaders denounced separation of church and state and prayed for a judge's deliverance to Satan. And their Capitol Hill allies were right there with them (Michelle Goldberg, Salon.com)
Religion now more a part of politics | Talk of faith, values is nearly omnipresent (The Plain Dealer, Cleveland)
The Christian Right's fundamental problem | If you believe in Armageddon, you don't need to save the planet. That's a concern if you also influence the White House and US foreign policy (Terry Lane, The Age, Melbourne, Australia)
Faith-based initiatives not taken by many | Sometimes, officials say, grants are more trouble than they're worth. Fair for all, Bush official says (Intelligencer Journal, Lancaster, Pa.)
For the health of the nation | Our uses of the earth must be designed to conserve and renew the Earth rather than to deplete or destroy it (Jim Wallis, Sojourners)
Democrats approve agenda in final push | Maryland bills include gay rights, labor issues; slots effort fails again (The Washington Post)
Revealed: Tony Blair's Catholic secret | He really did receive Communion from the Pope (Damian Thompson, The Telegraph, London)
Preacher gives Democrats faith for future | Jim Wallis, America's leading Left-wing Evangelical, is a popular man at the moment as Democrats search for a way to appeal to the country's moral majority and a return to power (The Telegraph, London)
Booting the bench | There's new ferocity in talk of firing activist judges (Ruth Marcus, The Washington Post)
In Missouri, GOP is riven over embryonic stem-cell research | Among Republicans, early-year expectations of a conservative agenda have been replaced by angst, as a proposal -- to ban a form of embryonic stem-cell research involving cloning -- pits two core constituencies against each other: Forces opposed to abortion are squaring off against business leaders seeking to nurture scientific and medical research industries in Missouri (The Boston Globe)
My party is leaving the faithful behind | The Democratic Party elite have succeeded in pitting social democracy against the very values that gave rise to social democracy in the first place (Kevin Starr, Los Angeles Times)
Art vs. the church lady | When politicians who play to the religious right seek to impose a Scripture-based code of conduct on legislative and political decisions, painting their opponents as "secular" and all but calling them heathens, they sooner or later expose themselves as hypocrites (Eugene Robinson, The Washington Post)
War & terrorism:
Rites prompt archfoes to surprising gestures | Rival world leaders sit close, and the Israeli president shakes hands with his counterpart from adversary Syria (Los Angeles Times)
Police thwart demonstrators at shrine | Tensions increase over upcoming Israeli pullout (The Boston Globe)
Rehearsals for the rapture | Will Christian Zionists and radical right wing Jewish groups head to Israel to disrupt the dismantling of Gaza settlements? (Bill Berkowitz, WorkingForChange)
Rudolph pleads guilty:
Rudolph to plead guilty to bombings | '96 Olympics killer to get life in prison (The Washington Post)
Rudolph plea may reveal assistants | Although no one has admitted assisting Rudolph during his five years on the run in the Appalachian wilderness, investigators suspect he had help (Associated Press)
Rudolph lawyer known as death penalty foe | Judy Clarke, a "one-woman Dream Team," has helped keep other big-name defendants off death row — including Unabomber Ted Kaczynski (Associated Press)
Sources: Eric Rudolph stashed dynamite | Eric Rudolph stashed dynamite near a building that government agents used as a headquarters during the huge manhunt for the serial bomber, federal sources close to the case told The Associated Press on Monday (Associated Press)
Rudolph reasons unclear | Although there is only speculation on the reason Eric Rudolph will plead guilty to four bombings, the government's reason was his agreement to disclose the location of five stashes of dynamite (Les Kjos, UPI)
Closing the book on Rudolph | Mountain town is ready to end its chapter in the saga of the bombing suspect (The News & Observer, Raleigh, N.C.)
Eric Rudolph pleads guilty to Ala. bombing | Eric Rudolph pleaded guilty Wednesday to a 1998 abortion clinic bombing that killed a police officer, the first in a string of bombings that he has admitted to as part of a plea deal (Associated Press)
Human rights & religious freedom:
China said to step up religious persecution of minority in its west | Two human rights groups say China has enacted new policies that tighten controls on religious worship, assembly and artistic expression among the western region's Turkic-speaking Muslims (The New York Times)
U.S. official ties Sudan aid to Darfur | Support for North-South Accord Conditional on Progress in West (The Washington Post)
U.N. calls for combating 'defamation' of Islam | The United Nations Commission on Human Rights called on Tuesday for combating defamation of religions, especially Islam, and condemned discrimination against Muslims in the West's war on terrorism (Reuters)
Canada court hears Sikh dagger case | Canada's supreme court heard testimony Tuesday on a Sikh teenager who argued that fidelity to his religion would be broken if the government forces him to remove a ceremonial dagger concealed beneath his clothes at school (Associated Press)
Black churches & politics:
Black churches' bad tradeoff | In trying to figure why so many black pastors are adopting issues and causes dear to white evangelicals, I realized that, more often than not, these black pastors hope to score points with the Bush administration and, therefore, increase their chances of winning big bucks from the president's "faith-based initiatives" program (Bill Maxwell, St. Petersburg Times)
GOP's faith-based quest for a touch of color | The black church, which often has been portrayed as a monolithic hub of progressive activism, has a strong conservative tradition (Salim Muwakkil, Chicago Tribune)
Sacred vs. secular:
The return of God | The return to God happens because the secular messianic ideals have been terribly disappointed (Haaretz, Tel Aviv)
Religion under a secular assault | A network of secularist organizations shares logistics, troops, board members and funding sources and includes radical feminists, humanists, atheists and liberal Jewish and Christian groups. Four organizations furnish most of the leadership (The Washington Times)
America having doubts about Christian right | Christian fundamentalism has crept over American life: steadily (Leonard Pitts Jr, The Miami Herald)
The sacred, the secular and you | Like a vampire cowering in fear when the dreaded cross is flashed in front of him, militant secularists recoil in horror when confronted with religious symbols in their everyday lives (Barrett Kalellis, The Washington Times)
The God Gap: Japan and the clash of civilizations | There are many differences between Japan and the West, both historical and contemporary, but there is no gap so gaping and, perhaps, unbridgeable as the "God Gap" (Roger Pulvers, The Japan Times)
French Christ advert ban upheld | A French court has upheld a ban sought by the Catholic Church on a clothing advertisement based on Leonardo da Vinci's painting Christ's Last Supper (BBC)
Sexual ethics:
Lower teen birthrate reduces child poverty | A decadelong decline in teen birthrates helped stymie a double-digit growth rate in child poverty cases in 14 states and the District, a study says (The Washington Times)
Petition opposes sex-ed program | A group of Montgomery County parents yesterday presented the school board with 3,500 signatures opposing a new sex-education curriculum (The Washington Times)
Misleading.gov | A new HHS Web site misinforms parents about how to protect their kids from sexually transmitted diseases (Chris Mooney, The American Prospect)
Abstinence & AIDS:
The battle over Uganda's AIDS campaign | Push for abstinence and faithfulness in the fight against HIV/Aids has been welcomed by some sections of society, especially religious groups (BBC)
The missing link in combatting AIDS | The abstinence-only philosophy thwarts one of the best tactics: the use of condoms (Clarke Thomas, Pittsburgh Post-Gazette)
Religion & homosexuality:
Bristol church may leave over gay bishop | Acceptance of a gay bishop by Connecticut Episcopal Bishop Andrew D. Smith is threatening to rive a Bristol congregation from the church. Its priest, threatened with removal, contemplates leaving (Bristol Press, Conn.)
A father's vote for gay rights | Md. delegate helps pass partnership registry (The Washington Post)
Repeal the gay ban | There are no good arguments for keeping patriotic men and women out of honorable service because of their sexual orientation (Editorial, The Washington Post)
Groups hold dueling pro- and anti-gay days | Irked by the success of the nationwide Day of Silence, which seeks to combat anti-gay bias in schools, conservative activists are launching a counter-event this week called the Day of Truth aimed at mobilizing students who believe homosexuality is sinful (Associated Press)
In Chile, custody battle puts focus on sexual mores | Ruling vs. lesbian mother inspires push for gay rights (The Boston Globe)
Hundreds gather in religious rallies to support same-sex marriage legislation | Hundreds of same-sex supporters hooted, sang and clapped their hands to a choir singing Chapel of Love at a boisterous rally Sunday that saw Christian, Jewish, Muslim and other religious leaders calling for the right to perform gay and lesbian marriages (Canadian Press)
Same-sex marriage:
Bloomberg will honor gay unions | City Hall won't tear asunder same-sex marriages performed in Canada or Massachusetts, according to a new city directive that has gay activists cheering (New York Daily News)
Referendum eyed on marriage definition | A Republican Maryland delegate yesterday called for a referendum to clarify that marriage involves only a man and a woman one day after the General Assembly passed a bill giving "life partners" some rights once reserved for couples in traditional wedlock (The Washington Times)
Male inmates' bid to marry denied | State cites security of sex offenders (The Boston Globe)
ELCA may allow gay pastors:
Lutherans eye new gay clergy policy | Church may ordain those in committed, lifelong relationships (Chicago Tribune)
Lutherans propose possible gay clergy path | Lutheran bishops could allow gay and lesbian clergy in committed relationships to become pastors of congregations under a proposal advanced Monday by a council of the Evangelical Lutheran Church in America (Associated Press)
6 Episcopal priests warned of ouster for opposing gay bishops:
Priests face possible removal | Episcopal bishop cites six over unresolved dispute (The Hartford Courant, Conn.)
Episcopal leader warns 6 priests of ouster | The state's Episcopal bishop has warned six Connecticut priests who opposed the election of the first openly gay bishop that they could be removed as rectors of their parishes by Friday (Associated Press)
Retired bishops come to defense of priests opposed to gay clergy | A group of retired Episcopal bishops on Tuesday came to the defense of six Connecticut priests who face removal from their posts for opposing the election of a gay bishop (Associated Press)
Marriage & family:
Baby lust | I have four children. Four is plenty. So why can't I stop thinking about having a fifth? (Ayelet Waldman, Salon.com)
Life after birth | Everyone blames the parents - but some scientists say parenting has zero impact on how kids turn out (Emily Wilson, The Guardian, London)
Rowan Williams attacks bad parents:
Archbishop attacks poor parenting | "Infantile" parents are depriving children of the skills needed to function properly as adults, the Archbishop of Canterbury has said (BBC)
Archbishop tells parents to grow up | The pressures of modern life are eroding the time and space children need to develop, the Archbishop of Canterbury said yesterday as he warned that adults who refused to grow up could become "abusers" of children by default (The Telegraph, London)
Archbishop launches attack on government | Welfare-to-work program is 'undermining parenting skills' (The Guardian, London)
Episcopal Church:
Episcopal dispute in state draws national ire | Out-of-state bishops assail move against priests (The Hartford Courant, Ct.)
Gay bishop divides city church | For the second time in less than six months, a local Montgomery Episcopal church has split with the national church over its appointment of an openly gay bishop (Montgomery Advertiser, Ala.)
Liberal church gets new bishop | Appointment is believed to be the first in which a liberal Episcopal parish has requested and been granted alternative oversight by its conservative bishop. (Pittsburgh Post-Gazette)
Anglicans & Catholics:
Anglicans talk of unity with Rome | The Archbishop of Canterbury has signalled that the rift between Anglicans and Catholics stemming from the Reformation could finally be healed, following the reconciliation between the churches during the reign of John Paul II (The Australian)
Anglicans fall under papal spell | Church of England leaders seem to have forgotten the centuries of enmity with Rome (Muriel Porter, The Age, Melbourne, Australia)
Catholics, Anglicans reconcile | The Catholic Diocese and the Anglican Diocese of South Rwenzori in Kasese District have formed a joint committee to resolve their differences instead of resorting to court (The Monitor, Uganda)
Church life:
Messianic temple plans open house, Torah dedication | Former Baptist minister Curtis Jones leads the Temple Ariel Messianic Congregation (Palm Beach Post, Fla.)
The sanctuary vs. the oasis | A Brooklyn church is trying to build rental apartments on a patch of land that is home to a neighborhood garden (The New York Times)
Ten sure-fire ways to put more men in the pews | Women outnumber men 3 to 2 in most Christian worship services, according to various studies (David Waters, The Commercial Appeal, Memphis, Tenn.)
Three cultures meet in one church | English, Korean, Taiwanese meld (The Courier-Journal, Louisville, Ky.)
Maronite church nurtures their ties to Lebanon | Congregants, many of them immigrants, find solace in a West L.A. parish with deep roots in the old country (Los Angeles Times)
Amish split on time | Some members of northeast Ohio's Amish community are among remaining holdouts who refused to move their clocks forward an hour when daylight saving time began (The Washington Post, second item)
The Lord is my shepherd, I will not font | Baptisms in a sheep dip are proving popular at a Coventry church (icCoventry.co.uk)
Missions & ministry:
Taking homeless services to a new level | A $17-million state-of-the-art center for the homeless will have 360 recovery and emergency beds, up from 230, seat 500 for meals and have restrooms and showers available 24 hours a day (Los Angeles Times)
Missionary zeal: To convert or comfort? | Money raised by our Christian missionaries was never meant for the impoverished. That money went into saving souls, not saving lives. It was money misspent, just like the Bibles provided to the orphans of the recent tsunami (Danielle Steinfeld, The Denver Post)
Church property in Holy Land:
Church property deal report worries Palestinians | The Palestinian Authority is concerned about reports that the Patriarch of the Greek Orthodox church had sold or leased property in Jerusalem to overseas Jewish investors. Palestinians fear the reported sale could undermine their claim to Jerusalem as a future capital (All Things Considered, NPR)
Unorthodox deals | Since any event at the Church of the Holy Sepulchre is fraught with tensions as various Christian groups vie over administration of the site, the current sale scandal is especially explosive (The Jerusalem Post)
Generation Y's faith:
Generation Y embraces choice, redefines religion | Most young Americans strongly believe in having choices, an attitude that is likely to shape their identification with traditional religions, a study says (The Washington Times)
OMG!: How Generation Y is redefining Faith in the iPod Era | This is the most diverse generation in history –- only 7% of those polled have friends who are mostly the same religion as they are (Reboot, PDF)
Finding their religion | Young people are seeking faith in nontraditional ways (The Boston Globe)
Winding paths and spiritual journeys | Inherently restless and questioning, young people often travel a circuitous route rather than a straight line toward spiritual belief (The Boston Globe)
Education:
Bill would require schools to allow time to say pledge | Legislators seek to make pledge a daily ritual. Some say choice should rest with local educators (Lansing State Journal, Mi.)
Yale ending its affiliation with a church | Congregants of Yale University's Battell Chapel have criticized the university for turning its back on its Congregational past (The New York Times)
Evangelicals get £1.5m of state money for youth work | Proselytising Christian organisations, including the Crusaders, whose patron, Sir Cliff Richard lent his Caribbean villa to Tony Blair for a holiday, have been given grants by the Department for Education to run courses for children and teenagers and run youth support groups (The Independent, London)
Davidson trustees split after college allows non-Christian board members:
Lost faith | Two Davidson trustees — including the college's most generous donor — quit over board's decision to allow non-Christians to serve (Inside Higher Ed)
Davidson loses Belk by lifting restriction | 2 prominent donors quit college board (The Charlotte Observer, N.C.)
Trustees resign in spat over board (News14, Charlotte, N.C., video)
Davidson family feud | Times change, and colleges must change with them (Editorial, The Charlotte Observer, N.C.)
School prayer:
Arkansas House approves school-prayer bill | ACLU attorney warns bill is probably unconstitutional under U.S. Supreme Court rulings (Associated Press)
Praying in schools | Last month, Simon Gratz High School became one of nine Philadelphia public high schools to have started a student-organized club for religious study, according to the district (Philadelphia Daily News)
Suit against prayer spurs backlash | 'If they don't like it - go to another school,' one resident said of religious minorities (The News Journal, Wilmington, Del.)
Local school battles:
Religious issues spark public school discord | East Valley school officials have gotten religion this year — more than they bargained for in some cases (East Valley Tribune, Mesa, Az.)
School board considering guidelines for plays | Plays dealing with sexual themes, particularly homosexuality, may be banned (The Washington Post)
Evolution:
Creationism's assault on science | We must reject the creationists' argument that evolution and intelligent design are alternative theories that should be given equal attention (Editorial, Toronto Star/Financial Times)
Prof feels 'Volcanoes' heat | Rutgers scientist churns as IMAX film sparks evolution fight (The Star-Ledger, Newark, N.J.)
Standing up by sitting out | Scientists are boycotting Kansas hearings to debate the pros and cons of evolution (Inside Higher Ed)
Evolution backers to boycott Kansas hearings | "Intelligent design is not going to get its forum, at least not one in which they can say that scientists participated," says Harry McDonald of Kansas Citizens for Science (The Kansas City Star, Mo.)
Backward evolution | The assault on evolution is an assault not just on science but on thinking and truth and skepticism (Richard Cohen, The Washington Post)
Science, creation discussed | Panel: Ideas need not conflict (The Cincinnati Post)
Brit schools to avoid 'Holy Ghost':
New look at 'ridiculous' religious education teaching guide | Education authority officials are to take a second look at a guide to religion teaching after it was criticised for being "politically correct" (PA, U.K.)
Norfolk schools told Holy Ghost 'too spooky' | Teachers are being urged to avoid using the words Holy Ghost and Old Testament in religious education lessons under guidelines drawn up for schools in Norfolk (The Guardian, London)
Holy Ghost too spooky for children, teachers told (The Telegraph, London)
'Holy Ghost' faces classroom ban | New guidelines for religious education in Norfolk suggest expressions such as the Holy Ghost be banned from lessons because they could confuse pupils (BBC)
Update: 'Holy Ghost' school ban delayed (PA, U.K.)
Church & state:
Getting religion | The national motto is a pawn in the culture wars (Editorial, Pittsburgh Post-Gazette)
Precincts and prayer meetings | Do Ohioans really want to get their marching orders from the pulpits across the state? (Editorial, Toledo Blade, Oh.)
Town Council to readdress prayer issue at meeting | The place of prayer at government meetings is again up for question in Culpeper. At tonight's meeting, the Town Council will discuss whether it should be brought back (Culpeper Star Exponent, Va.)
Air Force Academy plans sensitivity training | Climate survey revealed charges of religious slurs (Rocky Mountain News, Denver)
Bush & the pope:
Preacher Bush | Uplifted by the pope's funeral, President Bush on Friday called the seven reporters traveling with him on Air Force One into his airborne conference room, sat them around a table and talked to them about Jesus (The Washington Post)
Transcript: President speaks to press pool (WhiteHouse.gov)
Bush pays final homage to pope | President Bush yesterday used his weekly radio address to pay his final respects to the late Pope John Paul II, calling him a major force in the fall of communism who "showed us the path to a culture of life." (The Washington Times)
Bush hails pope's stand against communism | "Today's ceremony, I bet you, for millions of people was a reaffirmation for many and a way to make sure doubts don't seep into your soul," he said (Los Angeles Times)
Bush recalls a spiritual moment | Returning from the Vatican, the president discusses his faith, Mideast politics and what he felt as he prayed near the deceased pope (Los Angeles Times)
Bush: funeral a 'reaffirmation' | President says service for pope strengthened his own faith (The Washington Post)
A gesture life | What John Paul II got across, and how (Colm Toibin, The New York Times)
Pope John Paul II:
The right vs. the culture of life | Except for Abortion, The Pope Was a Liberal (Ted Rall)
Christianity in a Godless age | Here was no triumphalism, only the triumph of the Cross (Editorial, The Telegraph, London)
After John Paul II: The message of Christ must be spread | And the next messenger must be credible (Amy Welborn, The Dallas Morning News)
Progressive, conservative, or rock star? | In the pause between papacies, journalists have two tasks: to assess the last pope, and to guess who will take his place (Kenneth L. Woodward, The New York Times)
What evangelicals can learn from the pope | He was a consistent, manly man (Janice Shaw Crouse)
Issue for cardinals: Islam as rival or partner in talks | Relations with Islam will not be the decisive issue for the cardinals who will meet to select the next pope, but the debate is seen as vital because it intersects with other issues (The New York Times)
Church visible and invisible | The funeral of Pope John Paul II Friday showed one side of a strange phenomenon within Christianity, according to religion scholars of varying traditions: Never before was the church as visible as now; yet there also exists overseas an invisible component contributing to the dramatic growth of Christianity worldwide (Uwe Siemon-Netto, UPI)
North Koreans celebrate mass for pope | About 100 Roman Catholics in the North Korean capital celebrated a memorial Mass for Pope John Paul II at the only Catholic church in the communist nation (Associated Press)
Catholic-Orthodox tensions resurface | A Russian backlash greets coverage of a reconciliation-minded pope. Many in ex-Soviet lands say proselytizing is a threat to their identity (Los Angeles Times)
New pope will need a bigger collection plate | The Vatican has run deficits in recent years, its statements show. But the Holy See may have difficulty finding new revenue sources (Los Angeles Times)
S. African Catholics aren't practicing what pope preached | Leaders advocate condoms to curb spread of AIDS virus (The Washington Post)
Let fathers be fathers | Here's my prophecy about the next pope: He will allow married men to become priests (Editorial, The New York Times)
As Catholic as the pope | The spirit of the Roman Catholic Church in Africa is closest to the kind of Catholicism Pope John Paul II worked to engender across the globe (The New York Times)
Ratzinger leads in pope polls:
Ratzinger ahead in pope politicking, issues book | Conservative Cardinal Joseph Ratzinger has gained strong support among Roman Catholic cardinals seeking a successor to Pope John Paul but many of them are still undecided, a Church official said on Wednesday (Reuters)
Swing to Ratzinger boosts chance of becoming Pope | A late upsurge in support for Cardinal Joseph Ratzinger days before next week's conclave has boosted the chances of the Vatican's doctrinal chief becoming the next Pope (The Telegraph, London)
Soccer fans criticized for jeering during pope tribute:
Fans at soccer game in Scotland jeer Pope | Fans at a Scottish Cup soccer game jeered during a minute's silence for Pope John Paul II on Sunday, forcing the tribute to be cut short (Associated Press)
Fans criticized for jeers during tribute | Booing forced referee to end Pope memorial less than halfway through (Associated Press)
'God has no favourites in football' | We know it's a bit late, but we just thought we'd let our friends in Gorgie know that the late Pope John Paul II was not a Celtic fan. Honest. He didn't even support Poland (Simon Pia, The Scotsman)
Catholicism:
Reilly blasts Vatican on Law's prominence | Attorney general says cardinal's role sends 'wrong message' (The Boston Globe)
Religious hypocrisy, not spirituality | If Jesus were to descend to earth today, I don't think he would be comfortable in the opulent Vatican (Matt Golan, The Jerusalem Post)
Poll finds clerics' support for wedded priests and gay men | More than 40 per cent of Scottish Catholic priests believe the Church should relax its rules on celibacy and allow them to marry, a new poll claims (The Scotsman)
In Africa, a vibrant yet conflicted faith | Some Catholics defy Rome, shaping church to continent's needs, customs (The Boston Globe)
5 parishes to keep vigils | 3 others say they may join them (The Boston Globe)
Spyware threatens to pierce Vatican walls | Computer hackers, electronic bugs and supersensitive microphones threaten to pierce the Vatican's thick walls next week when cardinals gather in the Sistine Chapel to name a papal successor (Associated Press)
Catholics in U.S. keep faith, but live with contradictions | The views of American Catholics on social and moral issues have come to mirror those of other Americans (The New York Times)
Church's influence waning in once fervently Catholic Spain | Religion's decline in Europe among biggest challenges for next pontiff (The Washington Post)
Not so united after all | Despite the comity among religious people that was witnessed this week in Rome, the fissures separating the faithful may be greater than the theological agreements uniting them (Colbert I. King, The Washington Post)
U.S. priests hopeful about papal reforms | "What I really look for is someone who genuinely understands the complexities of modern life," said the Rev. Paul Gallatin, a priest from Oklahoma City. "And the fact that there is no moral white or blackness. Most of us live in very gray areas" (Associated Press)
Latino Catholicism:
U.S. Catholic Latinos drawn to evangelical Christianity | Record numbers of Latin American Catholics are turning to evangelical Pentecostalism after living in the United States (Day to Day, NPR)
A battle for souls in Latin America | Catholic clergy try to revitalize flock (The Boston Globe)
Protests from Guatemala's pulpits | Mine dispute kindles resurgent activism in Catholic Church (The Washington Post)
Abuse:
Girls sue Church of God, alleging sex assaults | The suit accuses Pastor Terence Passmore, now living in Virginia, of fondling the girls' breasts and genitals in the church's parsonage, the sanctuary and during church outings to swimming pools at Big Timber and Chico Hot Springs. (Bozeman Daily Chronicle, Mont.)
Defrocked priest will get new trial | Less than two months after he was convicted of molesting a boy who later shot him, defrocked priest Maurice Blackwell was granted a new trial by a judge who said testimony about other alleged victims was inappropriate. (Associated Press)
One man's actions do not undermine Christian beliefs | It has been suggested that Graham Capill's criminal actions not only illuminate his own character flaws but prove the lack of integrity or sincerity of conservative Christians in general. This line of argument is mistaken (Matthew Flannagan, The New Zealand Herald)
One sinner's repentance | Santa Cruz church embraces confessed sex offender, now assistant pastor (Mercury News, San Jose, Ca.)
Supreme Court hears suit against Milwaukee Archdiocese | A man who says he was abused by a Catholic priest in the 1960s should be allowed to pursue his lawsuit against the Milwaukee Archdiocese because it covered up for decades that it was complicit in the abuse, an attorney for the man told the Wisconsin Supreme Court Tuesday (Associated Press)
Court blocks church from releasing priest abuse files | The California Supreme Court on Tuesday blocked the Roman Catholic Archdiocese of Los Angeles from releasing summaries of the confidential personnel files of more than 100 priests accused of molesting children (Los Angeles Times)
Calif. court blocks release of priest info | Only minutes before the personnel files of 117 priests accused of molestation were to be released to the public on the Internet, the California Supreme Court stepped in to halt the process without explaining why (Associated Press)
People:
Jerry May dies at 64 | Founder of Shalem Institute for Spiritual Formation mixed psychiatric, spiritual therapy (The Washington Post)
Evangelist Clint Brown hit by suit | $100,000 not repaid, Denver church says in Orange filing (The Orlando Sentinel)
Cambodian returns home to preach where he suffered | Long road to faith (The Modesto Bee, Ca.)
Pastor who helped break down city's racial barriers dies at 87 | The Rev. J. Sherrard Rice had been pastor of First Presbyterian Church for just a year when, in 1960, he quietly confronted one of the great moral questions of the day: What should white Christians do when faced with inequality and racism? (The State, Columbia, S.C.)
Oprah visits church in Cleveland | From the moment Oprah Winfrey appeared at Olivet Institutional Baptist Church, she presented herself as a simple churchgoer who merely wanted to visit the church of her favorite minister, the Rev. Otis Moss (Associated Press)
Charles, Camilla go to church on honeymoon | Prince Charles and Camilla, the Duchess of Cornwall, emerged from their rural estate Sunday to attend a small church service with about 200 villagers in their first public appearance since beginning their honeymoon in Scotland (Associated Press)
'Govt. not involved in Benny Hinn's crusade' | Pentecostal Fellowship of Nigeria debunks claims that the Federal Government is involvement in the organization of Benny Hinn's crusade coming up at the ending of this month (This Day, Nigeria)
Former Greek Orthodox archbishop dies:
Greek Orthodox Church head Iakovos dies | Archbishop Iakovos, who led the Greek Orthodox Church in the Americas for 37 years, reaching out to other religious groups as a champion of ecumenism, was 93 (Associated Press)
Archbishop Iakovos, major ecumenical force, dies | In his stewardship, Archbishop Iakovos became an imposing religious figure and a champion of social causes, and the Greek Orthodox Church moved into the mainstream of religious and political life (The New York Times)
Archbishop Iakovos, 93; led Greek church | During his long tenure as archbishop, Iakovos led the U.S. Greek Orthodox church out of immigrant isolation and into the mainstream of American religious life, playing a leading role in bringing English into the liturgy (Los Angeles Times)
Radical feminist writer Andrea Dworkin dies:
Radical feminist writer Andrea Dworkin dies | Andrea Dworkin, 58, a self-proclaimed radical feminist whose scathing writings about sexuality, and pornography in particular, made her a provocative icon of the women's movement, died April 9 at her home in Washington (The Washington Post)
Radical feminist Andrea Dworkin dies at 58 (Associated Press)
Related: Smut's insidious threat | The single most powerful force in undercutting sex equality at work remains the cultural sexualization of women (Catharine A. MacKinnon, Los Angeles Times)
Other religions:
Proxy baptisms not unique to LDS | At least one other group, Jordan's little-known Gnostic Mandaean sect, performs a similar rite, though it's not really a baptism as we understand it (The Salt Lake Tribune)
Prayer breakfast's insult leaves bad taste | My role was to read a selection from the Psalms, a welcome task. But it was hardly welcoming to be followed directly by the reading of the well-known passage from the Gospel of John (14:6), which quotes Jesus: "No man cometh unto the Father, but by me" (Yitzhak Husbands-Hankin, The Register-Guard, Eugene, Ore.)
More articles of interest:
Britain may have to give up oldest known Bible | The British Library is facing the possible loss of one of its most important manuscripts, the world's oldest Bible, to a Middle Eastern monastery (The Times, London)
Going forward by going back | Multiplatinum Christian band Jars of Clay drifts easily between music of many ages and genres (The Tennessean, Nashville)
Seeking out lives of faith, in all their awesome absurdity | Passionate, idiosyncratic expressions of roadside religion challenge a scholar's cynicism and ironic distance. Timothy K. Beal, a professor of religion and director of the Baker-Nord Center for the Humanities at Case Western Reserve University, takes us on a drive (The Chronicle of Higher Education)
Related Elsewhere:
Suggest links and stories by sending e-mail to weblog@christianitytoday.com
Check out Books & Culture's weekly weblog, Content & Context, and the Christianity Today Movies weekly weblog, Reel News.
See our past Weblog updates:
April 11
April 5 | 1 | March 31 | 30
March 24 | 23 | 21 | 16 | 11
March 9 | 8b | 8a 7 | 2
February 25 | 24 | 23 | 22
February 18 | 17 | 16 | 15
February 11 | 10 | 9b | 9a
Weblog
Launched in 1999, Christianity Today's Weblog was not just one of the first religion-oriented weblogs, but one of the first published by a media organization. (Hence its rather bland title.) Mostly compiled by then-online editor Ted Olsen, Weblog rounded up religion news and opinion pieces from publications around the world. As Christianity Today's website grew, it launched other blogs. Olsen took on management responsibilities, and the Weblog feature as such was mothballed. But CT's efforts to round up important news and opinion from around the web continues, especially on our Gleanings feature.
Ted Olsen is Christianity Today's executive editor. He wrote the magazine's Weblog—a collection of news and opinion articles from mainstream news sources around the world—from 1999 to 2006. In 2004, the magazine launched Weblog in Print, which looks for unexpected connections and trends in articles appearing in the mainstream press. The column was later renamed "Tidings" and ran until 2007.
Previous Weblog Columns: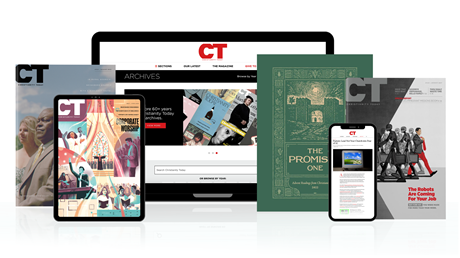 Subscribe to Christianity Today and get access to this article plus 65+ years of archives.
Home delivery of CT magazine
Complete access to articles on ChristianityToday.com
Over 120 years of magazine archives plus full access to all of CT's online archives
Subscribe Now
How to Stop the End of the World
How to Stop the End of the World