Now that Josef Ratzinger, the erstwhile "Panzerkardinal," has become the leader of the Catholic Church, some will doubtless be tempted to call him the "Panzerpapst," or panzer pope—just for alliteration's sake.
But those who know him and his work well have an entirely different image of Pope Benedict XVI, as he will now be known after his speedy election Tuesday.
To be sure, he will be a counterrevolutionary, just like John Paul II, with whom Ratzinger collaborated closely. His blunt condemnation of the "tyranny of relativism" in his last sermon before joining 114 colleagues in the conclave that eventually opted for him, indicated as much.
This "tyranny of relativism" is in part the consequence of the youth rebellion of the 1960s, a phenomenon that has turned him from a liberal to a staunch voice for Christian orthodoxy.
It was during his liberal phase as a theological adviser to Cardinal Josef Frings, the hugely popular archbishop of Cologne after World War II, that he called the Inquisition a "scandal to the world." Later John Paul II would make him prefect of this very office now called Congregation for the Doctrine of Faith.
Ratzinger bemoaned the relegation of Christianity to a ghetto since the 19th century; he wrote sadly against the "leaden loneliness and inner boredom of a world emptied of God."
Germany, his own country, is more affected by this gloomy state of affairs than most others. He has watched and fought its decline into godlessness since its darkest hour when he was drafted into the Hitler Youth, the Nazi boy scouts, and had the guts to resign his compulsory membership in this organization—and then to desert from the German army.
You don't have to be a soothsayer to guess why Ratzinger was chosen over Italian, Latin American, and African candidates to lead the church. As the Rev. Anthony Figueirero, an Indian-born former papal adviser, said Tuesday prior to Ratzinger's elevation, "Let the Church in the Third World continue its growth—it is the global North that has to be re-evangelized," meaning it is that part of the globe with which the pope must be particularly familiar.
Hence a pope from an almost post-Christian country was needed to continue the missionary dynamism to which John Paul II gave top priority during his long ministry. John Paul, even as an old man, was stellar in the eyes of young people. He had promised to travel to Cologne, Germany, in August to be with the hundreds and thousands of young people attending World Youth Day in that ancient Roman city on the Rhine.
Now Ratzinger, as Benedict XVI, will undertake his first journey abroad since his election to that very place where he was once a priest. And there he will address his fellow Germans—and others—not in the snarling tone of a Panzer officer but with the mild and melodious voice that always seems to surprise those who meet him for the first time.
He will doubtless baffle many of his former detractors by stressing the need for a return to reason, which is a central theme of his theology. For Ratzinger, the significance of reason was precisely why John the Evangelist used the word, "Logos," in referring to Christ in the opening sentence of his Gospel.
"'Logos' denotes reason and meaning, but also Word," Ratzinger wrote. "The God, who is Logos, assures us of the rationality of the world, the rationality of our being, the divine character of reason, and the reasonable character of God, even though God's rationality surpasses ours immeasurably and appears to us as darkness."
Ratzinger insists, "Rationality has been the postulate and the condition of Christianity and will remain a European legacy with which we can confront peacefully and positively Islam as well as the great Asian religions."
But where this rationality "reduces the great values of our being to subjectivity, then it will endanger and destroy man, it will amputate man."
Hence, he continued, "Europe must defend reason. To this extent we must be grateful to secular society and the Enlightenment. It must remain a thorn in our side, as secular society must accept the (Christian) thorn it its side—meaning the founding power of the Christian religion in Europe."
The tenure of this 78-year old Bavarian on St. Peter's throne may be a relatively short one but it is bound to bring surprises. Coming from the land of the Protestant Reformation, this allegedly doctrinaire Catholic has already made it clear by his very actions the journey out of the "tyranny of relativism," whose properties are suspended ethical principles, must be an all-Christian enterprise.
Almost unnoticed by the world's media looking for sensations at the memorial service for John Paul II, Ratzinger quietly communed with Brother Roger Schutz, the Swiss Protestant pastor and founder of the vibrant ecumenical community in Taizé, France.
Benedict XVI, arguably the foremost Catholic theologian of our time, has always been an ecumenist, though never a fuzzy one. If he gives the Sacrament to a member of another Christian church—and Schutz was not the only one—he makes it abundantly clear he consider this person a fellow member of the mystical Body of Christ, which is the Church.
This is not the way narrow-minded blockheads behave.
There is nothing stiff, hard or dogmatic about Benedict XVI. He is, as those close to him have always insisted, simply a "coherent thinker," and coherence is precisely what the confused secularized world appears to be longing for.
It is well worth listening to the ecumenical tenor of his vision for faith to leave its ghetto by going public with a property that is intrinsically its own—the suffering God (a favorite expression by Protestant theologian Dietrich Bonhoeffer) who is also judge.
"This God," Ratzinger wrote in a frontal attack on postmodern relativism, "is the God setting standards for us; the God whence we originate and where we shall return."
Related Elsewhere:
Cardinal Joseph Ratzinger, a German, Is Pope Benedict XVI | "Simple and humble worker" had served as head of the Vatican office on church doctrine.
Conservative Evangelicals Say New Pope Speaks Their Moral Language | "He's going to hold the line," says Norm Geisler.
From 'Erstwhile Liberal' to 'Vatican Enforcer | A review of John Allen's Cardinal Ratzinger: The Vatican's Enforcer of the Faith.
Earlier articles on Cardinal Ratzinger and Pope John Paul II include:
The New Pope's Relationship with Protestants | In this 1998 Christianity Today article, Richard John Neuhaus examined Joseph Ratzinger's dialogue with the Reformation traditions and his vision for Christianity in the new millennium. (May 18, 1998)
The Pope We Never Knew | The unknown story of how John Paul II ushered Campus Crusade into Catholic Poland. (April 19,2005)
Pope's Funeral Spotlights Kinship Between Catholics and Evangelicals | Once antagonistic communities are now on the same side of several cultural issues. (March 08, 2005)
Christian History Corner: Signs of the Reformation's Success? | Reformation scholar Timothy George discusses Pope John Paul II's historical significance and this 'momentous' era of Catholic-evangelical dialogue. (March 08, 2005)
Article continues below
Pope Gave Evangelicals the Moral Impetus We Didn't Have | Timothy George discusses how "the greatest pope since the Reformation" changed evangelicalism without us knowing. (April 06, 2005)
Pope 'Broadened the Way' for Evangelicals and Catholics | Theologian Tom Oden sees continued cooperation ahead. (April 05, 2005)
How the Pope Turned Me Into An Evangelical | A Christianity Today associate editor recalls growing up Catholic in John Paul II's Poland. (April 04, 2005)
Pope John Paul II and Evangelicals | Protestants admired his lifelong admonition to "Be not afraid! Open the doors to Christ!" An interview with George Weigel. (April 04, 2005)
A collection of earlier coverage of Pope John Paul II is available online.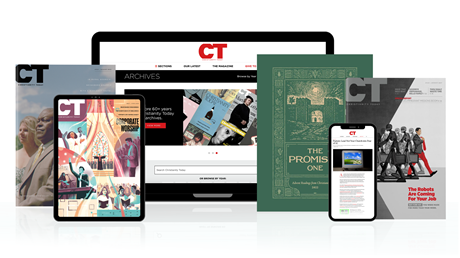 Annual & Monthly subscriptions available.
Print & Digital Issues of CT magazine
Complete access to every article on ChristianityToday.com
Unlimited access to 65+ years of CT's online archives
Member-only special issues
Subscribe
Upright But No Panzer Pope
Upright But No Panzer Pope