So Weblog was just finishing up its collection of links Tuesday when the online VatiCam started showing white smoke. Weblog got distracted and forgot to post those Tuesday links. Since then, it's been a bit difficult finding religion stories that aren't about the new pope, but we're still digging them out for you. With a bit of grace, we'll be caught up next week (though the Evangelical Press Association is coming to town … ). Thanks for your patience.
Religion & politics:
Focus faction attacks Salazar | Springs group pushes for Bush court picks (Rocky Mountain News)
Psst … Justice Scalia … you know, you're an activist judge, too | When it comes to judicial activism, conservative judges are no better—and no worse—than liberal ones (Adam Cohen, The New York Times)
Evangelicals cool to Bush's focus on Social Security accounts | Some evangelical leaders, though not all, now express dismay with both Bush's priorities and his Social Security proposal, which they say could hurt their predominantly working class constituency (Bloomberg)
Faith-based pandering | Frist's mad pursuit of the presidency requires him to prove to the Christian right, the core of the Republican Party, that its cause comes before his principles (Richard Cohen, The Washington Post)
Christians in lion's clothing | These days, being a card-carrying member of the so-called "anti-Christian left" may be the better part of valor, democratically speaking. Too many Christians, indeed (Tony Norman, Pittsburgh Post-Gazette)
Henry Hyde to retire from Congress:
Hyde will retire from Congress | The Hyde amendment worked (The New York Times)
U.S. Rep. Henry Hyde to retire in 2006 | Stalwart against abortion cites health issues (Associated Press)
Marriage & family:
Married with problems? Therapy may not help | Does marital therapy work? Not nearly as well as it should, researchers say (The New York Times)
Divorce rate: It's not as high as you think | Though the number of divorces has been rising in the United States, more married couples stay together than divorce (The New York Times)
Life ethics:
From myth to reality | Scientists can create animals with the cells of other species, but are these chimeras medical marvels or high-tech monsters? (The Boston Globe)
Pharmacies balk on after-sex pill and widen fight in many states | The debate has attracted many of the same advocates and prompted much of the same intensity as the fight over abortion (The New York Times)
Abortion clinic "buffer zones" on free speech allowed:
Mass. abortion clinic law allowed to stand | US Supreme Court declines an appeal (The Boston Globe)
Court won't rule on clinic buffer zones | The Supreme Court yesterday declined to take up the question of whether states are in violation of the Constitution when they enforce "buffer zones" around abortion clinics to keep protesters away (The Washington Times)
Church & state:
Purging religious influence | God is dead, at least in the chambers of the Colorado Supreme Court (Bruce Fein, The Washington Times)
Air Force cadets see religious harassment | Less than two years after it was plunged into a rape scandal, the Air Force Academy is scrambling to address complaints that evangelical Christians wield so much influence at the school that anti-Semitism and other forms of religious harassment have become pervasive (Associated Press)
Supreme Court to hear religious freedom vs. drug case:
Supreme Court to hear case of dispute over religious group's use of banned drug | The Supreme Court agreed to decide whether the government can ban the importation of a hallucinogenic tea used by a church in New Mexico (The New York Times)
Supreme Court to decide whether church can import drug | The Supreme Court accepted a Bush administration request to rule on a clash between religious freedom and drug-control law yesterday, announcing that it will review a lower court's ruling that blocked enforcement of a federal ban on a church's importation of hallucinogens (The Washington Post)
Supreme Court to hear religious tea case | The Supreme Court agreed Monday to consider whether a church in New Mexico can continue using hallucinogenic tea in its religious services (Associated Press)
Religious freedom:
Anti-conversion stand led to US visa denial: Modi | The Gujarat government's stand against religious conversions in the state was the main reason for him being denied a visa to the United States recently, Chief Minister Narendra Modi said on Monday (PTI, India)
Bush on the spot over religion in Saudi Arabia | A bipartisan, congressionally appointed commission on religious freedom criticized the State Department yesterday for failing to punish Saudi Arabia after it censured the regime last fall for its restrictions on non-Muslim worship (The New York Sun)
Mormon wins bias settlement | A Canadian aerospace company has agreed to pay a Mormon man $159,000 to settle a religious discrimination lawsuit, the U.S. Equal Employment Opportunity Commission announced Monday (Associated Press)
U.S. appeals court reinstates Vatican Holocaust suit:
Holocaust case against Vatican Bank revived | A federal appeals court Monday reinstated a lawsuit brought by survivors of the Holocaust who allege the Vatican Bank accepted millions of dollars worth of their valuables stolen by Nazi sympathizers (Associated Press)
U.S. appeals court reinstates Vatican Holocaust suit (Reuters)
Church life:
Residents oppose church | A small religious sect that adheres strictly to the Bible may have to appeal to the state's planning tribunal to build a church for its members in Eltham. The Exclusive Brethren, an evangelical Christian church, faces residents' opposition (The Age, Melbourne, Australia)
Suspended church minister speaks out | The mudslinging between leaders of the African Methodist Episcopal Church (AME) in Namibia is rooted in the chaotic atmosphere within the rank and file of the church, says Reverend Hendrik Gariseb (The Namibian)
Church revokes 8 memberships in building dispute | Atlanta Unity Church on Chamblee Dunwoody Road revoked the memberships of eight congregants who opposed a church plan to tear down a 1920s-era building on its property (The Atlanta Journal-Constitution)
Missions & ministry:
Habitat founder forms new housing ministry | Habitat for Humanity founder Millard Fuller has formed a new charity to raise money for the home-building ministry that fired him, but the move could trigger a legal fight over his use of the Habitat name (Associated Press)
A purpose in Africa | Rick Warren, best-selling author and pastor of flock of 20,000, to invest millions in Rwanda aid mission (The Orange County Register, Ca.)
Faithful fashionistas | Models for Christ guides Christians through fashion-industry challenges (The New York Sun)
Local pastors lend support to fired health-care worker | A group of pastors is rallying around a nursing home worker they say was fired after she spoke out about alleged substandard conditions at the home where she worked (Whittier Daily News, Ca.)
A lawyer on the mend is a force for the helpless | James P. Broderick, who is blind and suffers from a form of short-term memory loss, offers legal advice to a South Bronx Roman Catholic group that serves a large and needy immigrant population. (The New York Times)
The spirit of the evangelicals moves masses of the poorest | It's group exorcism night at the Universal Church of the Kingdom of God, one of the fastest growing Pentecostal movements in Latin America - a region so enthralled with Protestant evangelist sects that some religion experts predict they will eclipse Roman Catholicism within a quarter-century (Newsday)
Episcopal church:
No accord by Episcopal clerics after long session on gay issues | The Episcopal bishop of Connecticut and six dissident, conservative priests met for nearly four hours last night but made little progress toward reconciliation, officials of the diocese said (The New York Times)
No resolution in sight in dispute | Conservative Episcopal priests, bishop apparently at impasse (The Hartford Courant, Conn.)
Episcopal priests face possible discipline in dispute with bishop | Six Episcopal priests face possible discipline after failing to reach an agreement with a bishop they oppose for his support of gay clergy (Associated Press)
Religion & homosexuality:
GOP gays and the 'Finkelstein phenomenon' | We are witnessing a slow but inexorable societal acknowledgment that gay people are real people living real lives, not an abstraction or a subculture (Robert Scheer, Los Angeles Times)
Gay and God t-shirts clash at area high school | gay tolerance group, Christian group wear opposing t-shirts (NBC5, Chicago)
Couple admits to terrorizing church vicar:
Doctor and lover terrorized vicar in campaign of hate | The attacked his car, sent him obscene letters and even told his parishioners that he was being investigated over allegations of child abuse (The Guardian, London)
Village undertaker and GP bombarded vicar with threats and sex smears (The Telegraph, London)
GP and lover subjected vicar to terror campaign | A doctor and an undertaker yesterday admitted an eight-month terror campaign that left a vicar fearing for his life (The Times, London)
Crime:
Vicar caught in vice swoop | Married Reverend Austen Komon, 34, a preacher at an evangelical church, admitted cruising with a male friend around the notorious red light district of Kings Cross on November 9 (South London Press)
Former 'duo of deceit' now lecture students about ethics | Al Porro said his spiritual beliefs made it agonizing to try to reconcile his reckless nightlife, his crimes and his faith (USA Today)
People:
Max Lucado named top preacher in U.S. | By Reader's Digest (San Antonio Express-News, Tex.)
Episcopal priest who turned Druid changes his mind | In a rapid change of heart, a local Episcopal priest is abandoning Druid spirituality - a decision made one day after it was reported that he had renounced his Episcopal ordination and become the founding priest of a Druid group (The Philadelphia Inquirer)
More articles of interest:
The war against abstinence | Clearly, it's in society's interest to discourage teen sex (Robert Rector, The Washington Times)
Religion by the roadside | A scholar hits the road to study homespun sites of the sacred and discovers a moving journey (The Orlando Sentinel)
Related Elsewhere:
Suggest links and stories by sending e-mail to weblog@christianitytoday.com
Check out Books & Culture's weekly weblog, Content & Context, and the Christianity Today Movies weekly weblog, Reel News.
See our past Weblog updates:
April 19
April 15 | 14 | 13 | 11
April 5 | 1 | March 31 | 30
March 24 | 23 | 21 | 16 | 11
March 9 | 8b | 8a 7 | 2
Weblog
Launched in 1999, Christianity Today's Weblog was not just one of the first religion-oriented weblogs, but one of the first published by a media organization. (Hence its rather bland title.) Mostly compiled by then-online editor Ted Olsen, Weblog rounded up religion news and opinion pieces from publications around the world. As Christianity Today's website grew, it launched other blogs. Olsen took on management responsibilities, and the Weblog feature as such was mothballed. But CT's efforts to round up important news and opinion from around the web continues, especially on our Gleanings feature.
Ted Olsen is Christianity Today's executive editor. He wrote the magazine's Weblog—a collection of news and opinion articles from mainstream news sources around the world—from 1999 to 2006. In 2004, the magazine launched Weblog in Print, which looks for unexpected connections and trends in articles appearing in the mainstream press. The column was later renamed "Tidings" and ran until 2007.
Previous Weblog Columns: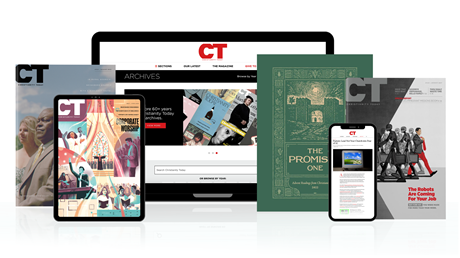 Annual & Monthly subscriptions available.
Print & Digital Issues of CT magazine
Complete access to every article on ChristianityToday.com
Unlimited access to 65+ years of CT's online archives
Member-only special issues
Subscribe
Before the Smoke
Before the Smoke