The day before he was elected chair of the Democratic National Committee last week, Dean went to the leaders of different Democratic constituencies outlining an approach that will emphasize outreach to evangelicals and people of other faiths. His talks sought to distance himself and the Democratic Party from an image as a secular party out of touch with common Americans.
To a standing-room-only caucus of women Democratic leaders, Dean urged them to learn to talk and cooperate with people of faith. "People of faith are in the Democratic Party, including me," Dean declared.
In response to a question from CT, Dean said, "We are definitely going to do religious outreach. Even in my campaign I was interested in reaching out to evangelicals." Later, Dean tactfully expanded his remarks, noting "our religious outreach will not solely be to evangelical Christians but to Americans of all faiths."
Earlier in the week, congressional Democrats hosted a study session with University of California-Berkeley linguist George Lakoff on how to communicate the Democratic commitment to moral and religious values. The congressional Democrats also asked evangelical Jim Wallis, a veteran of many left-leaning causes, to teach Democratic press secretaries on how to reach evangelical audiences. Wallis told CT that he foresees a rising presence of evangelicals among Democratic leaders. Democrats in the U.S. House of Representatives designated Congressman James E. Clyburn of South Carolina, the son of a minister, as their leader of a "faith working group.
To reach the voters alienated from the Democratic Party, Dean has been studying the way that the Christian Coalition built its movement, according to people who have spoken with the former governor. He promised that he would decentralize and fund the Democratic National Committee responsibilities into all 50 states. Many committee party leaders said that this promise played a big role in his election as party chairman.
The Democratic and Republican parties each consist of two parts. Most people know the parties by the personalities of their most famous elected leaders. U.S. Senator Ted Kennedy's name instantly invokes the party "Democratic." Behind the elected leaders stands party organizations that raise money, research issues, and plots strategies for elections. The leadership of this vote-getting machinery for the Democrats is the Democratic National Committee (DNC), which is made up of 447 members who elect a chairman every four years.
This year the race to lead the DNC took on the tone of a desperate struggle for survival against an onslaught of Republican victories in the fall elections. Howard Dean bounced back from a failed bid for the Democratic presidential nomination to win the DNC chairmanship against opposition from congressional and conservative Democrats who supported former Congressmen Tim Roemer (IN) or Martin Frost (TX) or another candidate. His opponents feared that many Americans perceive him as an erratic leftist promoter of a homosexual agenda.
Past fumbles in handling religion
At least two years ago Democrats started to worry that they were painting themselves into a small corner of a mostly religious America as the secularist party. Democrats started holding workshops on how they could win the support of religious voters. However, they couldn't quite master their lessons or demonstrate their sincerity in time for the 2004 elections.
The outgoing Democratic leader Terry McAuliffe declared that one of his outstanding accomplishments was the establishment of a Center of Faith at the DNC. However, the current confidential staff directory of the DNC doesn't list the name, director, or phone number of the Center. A DNC staffer says that a consultant who works out of her home handles the Center's work.
As governor of Vermont, Dean promoted homosexual civil unions. His presidential campaign stumbled over clumsy attempts to display biblical literacy and religious values. At one point the governor was quoted as declaring that the Book of Job is his favorite New Testament book.
The eventual Democratic nominee for President, John Kerry, professed himself uneasy about talking of his Catholic faith, and his pro-abortion-rights views generated a lot of criticism from his church leaders.
Dean's response
Early analyses of exit polls of the 2004 presidential election indicated that the largest block of voters that made a difference in the election were the "moral values voters." Although some later analyses have disputed that claim, Democratic consultants who briefed the DNC groups just before each appearance by Dean said they accepted the conclusion that the election was decided by perceptions of voters that the Democrats were indifferent, at best, to religion and moral values. Pollster Celinda Lake told the women Democratic leaders that "the most powerful predictor of the 2004 vote was religion. The religious 'others' and the nonreligious voted for us. The worst voters were against us." Catching her misstatement, Lake said she meant that the voters among whom the Democrats had the worst support were the evangelicals and Catholics.
Immediately after Lake's presentation, Dean launched a volley of well-prepared pro-religion, pro-moral-values remarks. This time there were no biblical misquotes.
Dean told the women not to say that the Democrats are pro-abortion. "We are not pro-abortion!" was his lead off sentence. "There is not anyone I know who is pro-abortion." The former governor attacked the Bush administration for there being more abortions per capita than there were under President Bill Clinton. Dean embraced Clinton's goal to make abortion rare while allowing women the right to choose. The incoming leader of the Democrats also recalled how an evangelical supporter from Texas had told him that her compassion encompassed more issues than just abortion.
Dean asked the Democratic women to figure out how to reach women who feel alienated from the Democratic Party. Pollster Lake pointed out that in the presidential election the Democrats suffered a big drop in the women's vote. Noting that her party lagged 15 percentage points behind the GOP among married women and 10 to 11 points among white women, Lake said that unless these gaps are closed that the Democrats can't win.
Dean seemed to be trying to leave the impression that the Democratic women need to reach out to pro-life women. "There are a lot of women's groups," Dean observed. "We need to figure out how they can all get together."
Dean mocked the Republicans as family values hypocrites. "The GOP wants to cut the money for feeding kids. They only get two of the values of the New Testament. Do they talk about having walked among the least of these?"
Comparing the Republicans to Sadducees and Pharisees, Dean said, "I haven't heard the Republicans talk about that it is easier for a camel to go through the eye of a needle than a rich man through the gates of heaven."
A problem of finding the right language?
Dean said that Democrats have failed to use language that common Americans could relate to. "We need to get away from slogans and ideology," he said. "We learned in the last election that language makes an enormous difference."
Dean declared that though the Democrats have tried to follow maybe 25 of the 27 main values of the New Testament, they have been poor at communicating this story. Invoking God, Dean declared, "Lord, family values—how could we possibly lose! We are the party of family values!"
Will the Democrats walk the talk?
Dean told the African American caucus that people can judge his commitment to a more diverse party by the appointments to his transition team. "You will see we will walk the talk." Dean then launched into a story of how an evangelical couple came to support him. He asked the wife, "How can you support me, one who has a strong conviction on gay marriage and a woman's right to choose [an abortion]?" The lady said first, their daughter has a kidney disease that isn't covered by health insurance. Second, she respected Dean's deep and honestly expressed convictions about many issues of compassion other than the abortion issue. "'Evangelical Christians are people of deep convictions,'" Dean quoted the woman. "'When something happens, I want to know that someone with deep conviction will stand up and do what they think is right.'"
However, after this stirring anthem to openness to evangelicals, Dean was still not ready to say that he would name an evangelical to his transition team. He told CT that his planning hadn't "got that far yet."
Dean did not address the controversy of the fierce personal attacks against pro-life Democrat Tim Roemer while he was still in the running against Dean. One night earlier, outgoing Democratic chairman Terry McAuliffe called the attacks on Roemer "way over the top." Many pro-life Democrats who don't feel welcomed in the party, likely feel that Dean's supporters savaging of Roemer is a sign that the party hasn't changed.
Maybe it is because so few evangelicals were in evidence at the Democratic National Committee meeting. Few rank-and-file Democratic leaders had yet to catch a hold of Dean's new way of talking. The director of the Kerry campaign in West Virginia said, "We haven't really dealt with that yet." Leaders of the women's caucus couldn't name a single pro-life member of the caucus. Several state chairman polled by CT either declined to answer or professed that they didn't know of any evangelicals in their delegations.
In fact there were a few evangelicals sprinkled here and there—a deacon from Alabama, a minister from Maryland, or a faith-based community service leader in a few states. But most Democrats preferred to duck the issue. Jim Fraser of the Oklahoma delegation declared that he was "pro-choice, pro-life" and that he didn't ask people what their religion was. "I am not being very cooperative with you, am I," he chuckled as he walked away. A delegate from Texas professed, "I have a strong background in my faith—but that isn't necessarily to be quoted." She said she didn't know of any pro-life Texas delegate. "That's who we are as Democrats."
A few delegates that CT interviewed articulated a Christian approach to politics. Charles Saechting, chairman of the Texas Democrats, regaled his audience with declarations that the Republicans "are probably the least Christian party that has ever been." He talked of his own upbringing by an African American who became a pastor, but also unconvincingly argued that "pro-life falls within the pro-choice belief."
The Rev. Zina Pierre, who forthrightly states her evangelical conviction, walked the Democrats out with her benediction that her party coworkers "be not dismayed at their faces, the Republicans; they shall fight against thee … but I am with thee." However, after the chairs started to be stacked up and the clean-up crews swarmed in, the minister from First Baptist Church in Annapolis, Maryland, reflected on how the Democrats seemed to place evangelicals at the end of their attention. "The party needs to put reaching evangelicals at the onset of a campaign, not at the end two weeks before election." She also found it hard to name any evangelical allies who would know she was quoting from Jeremiah 1:17-18. While Pierre's role was relegated to a time when most Democrats were exhausted and streaming out of the auditorium, the emotional high point of the convention occurred with Dean's embrace of Democratic lesbians.
In the gathering of Hispanic Democratic leaders, Gloria Nieto, vice chair of the Gay, Lesbian, Bisexual, and Transgender Caucus, broke down in sobs as she lamented her feeling of rejection as a woman who had illegally married a woman in Boston. Responding to her wondering if the Democratic Party would still be a welcoming home for lesbians, Dean leaped off the stage into the audience to hug her. With a sob of his own catching his voice, he brought the audience to a standing ovation with his declaration, "That's why I am a Democrat." Many evangelicals may well respond, "That's why we are not Democrats."
Related Elsewhere:
Articles elsewhere about Howard Dean and religion include:
Postscript To Howard's End | How did Howard Dean, whose presidential campaign got derailed by endless replays of a barbaric yawp, go from public laughingstock to party leader? (TIME, Feb. 21 issue, 2005)
New DNC Head Dean Looks to Rebuild Party | New national Democratic Chairman Howard Dean promised Saturday to rebuild the party in the most conservative regions of the country, help develop state and local organizations and let congressional Democrats set the tone on policy. (Associated Press, Feb. 14, 2005)
Article continues below
Democrats Elect Dean as Committee Chairman | Howard Dean, once a grass-roots outsider, rode to an easy victory on Saturday to become the chairman of the Democratic National Committee with support from hundreds of party insiders and operatives he carefully cultivated during an uphill two-month campaign. (New York Times, February 13, 2005)
Text of Howard Dean's remarks at DNC event | But we have a bright future, exemplified by the other candidates who joined me in this race. They are all great Democrats. (Houston Chronicle, Feb. 12, 2005)
Trying Out a More Soulful Tone | A few days after the Democrats' November defeat, Maryland Congressman Elijah Cummings suggested that the party needed a " come to Jesus" moment. His colleagues seem to have taken him literally. (TIME, Feb. 7, 2005)
Other recent Christianity Today political coverage includes:
Jim Wallis: 'I See Genuine Soul-Searching Among Democrats' | Evangelical activist says it's time to find common ground on abortion and other issues. (Feb. 11, 2005)
Aliens in Our Midst | America is hardening its heart to refugees and immigrants. (Feb. 10, 2005)
Q&A: John Thune | The Republican from South Dakota, who defeated Senate Minority Leader Tom Daschle last November. Daschle had taken a leading role in blocking some of President Bush's pro-life judicial nominees. (Feb. 10, 2005)
More Culture of Life, Please | We like what we heard, we just didn't hear enough of it. (Feb. 03, 2005)
Iraq's Christians Disenfranchised at Home and in U.S. | Assyrians are fighting for survival in a region that has long sought their ouster. (Jan. 31, 2005)
No Compromise? | Calls for restraint and civility work both ways. (Jan. 28, 2005)
Opportunity of a Generation | Five issues will test the strength and unity of Christian conservatives in the new term. (Jan. 20, 2005)
Faith-based, Results-focused | Jim Towey says Bush will push hard for compassion initiative in second term (Jan. 20, 2005)
Same Song, Second Term | It is a unique political moment for Christian conservatives—or is it?—A Christianity Today editorial (Jan. 10, 2005)
The New Civil War | Christians must be driven by the common good, not by any ideology. (Jan. 19, 2005)
Full Court Pressure | The battle for marriage shifts from voters to lawyers and lobbyists. (Dec. 30, 2004)
Dobson on the Gay Marriage Battle | The Nov. 2 election was the first step in a long fight for traditional marriage. (Dec. 30, 2004)
'Moral Values' Tops Voters' Concerns—But What Does It Mean? | Sexual morality probably trumped social justice concerns, say observers. (Nov. 04, 2004)
Evangelicals' Political Power: From Question Mark to Exclamation Mark | Activists say same-sex marriage ban, abortion limits, and judicial appointments top agenda. (Nov. 04, 2004)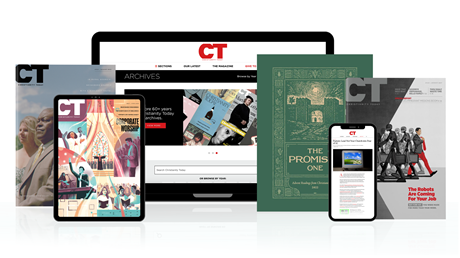 Annual & Monthly subscriptions available.
Print & Digital Issues of CT magazine
Complete access to every article on ChristianityToday.com
Unlimited access to 65+ years of CT's online archives
Member-only special issues
Subscribe
Dean Vows to Reach Evangelicals as Democratic Leader
Dean Vows to Reach Evangelicals as Democratic Leader