It's a bit of a slow news day when your headlines is about British royalty. There are some interesting items below, but we'll spare you the commentary today. By the way, if you missed it, there were two Weblogs yesterday, not just one. Here's the morning posting, and the afternoon update.
Prince Charles & Camilla:
The Church, Charles, and Camilla | The Archbishop of Canterbury has welcomed the announcement that Prince Charles and Camilla Parker Bowles are to marry (BBC)
Archbishop to lead prayers after Charles-Camilla ceremony | According to reports, Rowan Williams dropped his objections to the marriage after a confidential meeting with the prince (The Telegraph, London)
A radical union | How Charles and Camilla have plotted their way through a minefield of rules and sensitivities (Stephen Bates, The Guardian, London)
Church & state:
Greek Goddess statue causes conflict of Herculean proportions | Sculpture erected in 1908 by the Women's Christian Temperance Union now "divisive" (Associated Press)
America isn't a 'Christian' nation | It has been only four months since the election, but already we have discovered fissures in this special relationship between evangelicals and Jews (Shmuley Boteach, The Jerusalem Post)
Protecting the faith | Eroding America's - and Virginia's - wall of separation between church and state would do more to harm religion than to help it (Editorial, The Roanoke Times, Va.)
The 60% solution | Worried about the ACLU? Display only the commandments Jesus taught us (Gregg Easterbrook, The Wall Street Journal)
Immigration & asylum:
House to vote on immigration bill | The administration wants Congress to abolish the annual limit on the number of asylum recipients who can get permanent residency, and asked for changes to ensure the bill doesn't create new barriers to obtaining asylum (Associated Press)
House immigrants bill gets White House okay | Asylum measures in the bill have drawn heavy criticism from several religious and human rights groups and Democrats (Associated Press)
Airports treat asylum cases differently | A report by the United States Commission on International Religious Freedom found extreme variation in the handling of potential asylum cases at different airports (The New York Times)
Politics:
Assembly works on prayer, marriage | Plans would change Virginia constitution (The Washington Post)
Let's legislate consensus-building | A successful bridge-building process on faith-based public services can be duplicated on other issues (John Marks and Susan Collin Marks, The Christian Science Monitor)
Tim Roemer:
Repairing the Democratic tent | We Democrats are long overdue for an open discussion of the vitally important issue of abortion (Tim Roemer, The Washington Post)
Hoosier ends his bid to lead Democrats | "It was a very difficult mountain to climb from the beginning and some people tried to hang a radioactive anvil around my neck on abortion," Roemer said (The Indianapolis Star)
Democrats missing Roemer's message of inclusion | Despite his emphasis on inclusiveness, militant pro-choicers have made it clear that he's not welcome at the table (Ruth Holladay, The Indianapolis Star)
Abortion:
Morality play | By acknowledging painful emotional truths about abortion, pro-choice activists have reenergized their movement. But is all the talk about fetuses overshadowing women's rights? (Rebecca Traister, Salon.com)
Looking abortion in the face | My second-trimester baby had a genetic abnormality, and I decided to terminate my pregnancy. I know exactly what I did, I wept for the fetus I killed -- and I have no regrets (Ayelet Waldman, Salon.com)
Pastor says FBI probed sermon comments | A pastor said Wednesday he was investigated by the FBI after he gave a sermon comparing abortions to casualties of war (Associated Press)
Life ethics:
Cell out | Bush's stances on stem cells and cloning drift ever further from scientific reality. (Chris Mooney, The American Prospect)
Embryo ruling could have ripple effect | Though most legal experts believe the ruling that a test-tube embryo is a human being will be overturned, some in the fertility business worry it could have a chilling effect, threatening everything from in vitro fertilization to abortion rights and embryonic stem cell research (Associated Press)
Baby Charlotte bid rejected again | The latest attempt by the parents of a seriously-ill baby to get a court order lifted, which gives doctors permission not to resuscitate her, has failed (BBC)
Embryo research targeted by Pell | The Sydney Catholic Archbishop, Cardinal George Pell, has opened a new front in the moral debate over the sanctity of embryonic life, saying the church would renew its push for a ban on the use of leftover embryos created during fertility treatment (The Sydney Morning Herald)
Rudolph defense wants eyewitness expert | Eric Rudolph's defense team hopes to use an eyewitness identification expert to discredit the testimony of a key prosecution witness who claims to have seen Rudolph near a Southside abortion clinic around the time it was bombed (The Birmingham News, Ala.)
Same-sex marriage:
Senate boss plans to delay gay marriage vote | Fearing the contentious issue might become a distraction, Senate President Robert E. Travaglini plans to delay a vote on gay marriage until as late as the fall to allow the Legislature time to focus on a busy agenda (The Boston Globe)
Gay marriage ban vote OK'd | Lawmakers yet to set date for referendum (The Birmingham News, Ala.)
Gay marriage ban on fast track | Legislator questions need for law (Birmingham Post-Herald, Ala.)
Anger simmers among clergy over gay rites | Not consulted, for the most part, by politicians or the press, many New York religious leaders expressed anger at a state Supreme Court judge's decision redefining marriage and frustration at receiving the cold shoulder from Mayor Bloomberg on the issue of gay marriage (New York Sun)
Picking gay or nay | Legalization of gay marriage in New York could come down to just one man — brainy, moderately conservative Court of Appeals Judge Albert Rosenblatt, say legal scholars (New York Post)
School board member's letter stirring homosexuality debate:
School board statement reprimanding Hunt | School Board member Steve Hunt recently sent a letter directly to all Fairfax County high school principals on the subject of homosexuality (The Washington Post)
Hunt doesn't speak for the board | Mr. Hunt's letter was not authorized by nor does it reflect the views of the School Board (Phillip A. Niedzielski-Eichner, The Washington Post)
Text: Controversial words on gays | Letter from Fairfax County School Board member Steve Hunt (The Washington Post)
Hunt's apology to school board | I understand that my actions could be perceived as attempting to direct principals to change their curriculum or how they address this issue (Stephen M. Hunt, The Washington Post)
Sex ed:
Middle ground on sex ed | Fights over abstinence education are gearing up on Capitol Hill, even as interest grows in a new sex-education program that claims to bridge the abstinence versus "safe sex" debate (The Washington Times)
Sex-ed battles raging in region | Montgomery and Fairfax counties' sometimes angry debates about homosexuality in public school curriculums are generating national attention and attracting advocates from both sides of the issue (The Washington Times)
Christian higher education:
In front of God and Oregon | Religious colleges are a uniquely unregulated subculture of academe (Alan Contreras, The Chronicle of Higher Education)
Sex on the religious campus | God on the Quad is a fascinating study (Stanley Kurtz, National Review Online)
Evolution & creation:
US school's new challenge to Darwin | The high school in Dover, Pa., has just become the first in the country to discuss an alternative Darwin's theory of evolution in class, called Intelligent Design. (BBC)
Evolution in the classroom | Plans take shape State board's conservatives create new ways to decide science standards (The Wichita Eagle, Kan.)
Education chief to resign in June | State Education Commissioner Andy Tompkins, who helped develop statewide curriculum standards, leaves at a critical time (The Wichita Eagle, Kan.)
Fear of evolution | This latest round of the evolution vs. creationism debate sounds like echoes of the Scopes monkey trial 80 years ago (Editorial, The Baltimore Sun)
Bill Moyers apologizes to James Watt for misquote:
How a fictional anecdote leaped from the internet to the media mainstream | Watt never said "After the last tree is felled, Christ will come back" (Knight-Wallace Fellows)
Bill Moyers apologizes to James Watt for apocryphal quote | Bill Moyers has apologized to former U.S. Interior Secretary James Watt for referencing a quote, which has been wrongly attributed to Watt for years, during a speech Moyers gave last December upon receiving an award from Harvard Medical School (Editor & Publisher)
Related: Blind faith | One of the biggest changes in politics in my lifetime is that the delusional is no longer marginal. For the first time in our history, ideology and theology hold a monopoly of power in Washington (Bill Moyers, In These Times)
Television & film:
It's February; pucker up, TV actresses | Sapphic love is in the air. And why not? It's that extended prom night for television lesbians — sweeps (The New York Times)
'Buster's' chops busted over gay episode | If the tape from WGBH had come in a plain brown wrapper, I wouldn't have been surprised. The fuss over this episode of "Postcards From Buster" — you know, with the lesbian mothers — had me nervous it might be a junior version of "The L Word" (Associated Press)
How Dirty Harry turned Commie | What really makes conservative critics hate "Million Dollar Baby" is not its supposedly radical politics, but its lack of sentimentality (Frank Rich, The New York Times)
Music:
A higher calling | Caedmon's Call takes its Christian-music label seriously (Richmond Times-Dispatch, Va.)
Kanye West runs away with 'Jesus Walks' | Three years ago, when Kanye West was trying to get a record deal, the then-rising producer was told that Jesus Walks would never get any radio play (USA Today)
People:
Eden in exile | Is she a martyr or a nut case with serious issues? The coolest chick in New York City or the biggest nerd? A budding public intellectual or just a girl with a blog and a plump rump? (George Gurley, New York Observer)
Army grants discharge to first black chaplain | Henry Vinton Plummer died in 1905 (Associated Press)
Pope getting better:
Vatican says Pope ready to leave hospital | Papal spokesman Joaquin Navarro-Valls said John Paul planned to return later Thursday to his apartment in the Vatican (news - web sites)'s Apostolic Palace, which would coincide with a traditional Lenten period of spiritual reflection for the pontiff with no public ceremonies. That way, he could try to regain strength before Easter without having to cancel anything (Associated Press)
Vatican: Pope to leave hospital today (Reuters)
Pope receives visit from boy with cancer | The pope's personal secretary, Archbishop Stanislaw Dziwisz, had earlier paid a visit to the children being treated at the Gemelli Polyclinic's oncology ward, giving them a rosary. The ward is next to the pope's room on the 10th floor (Associated Press)
Victim soul | What Pope John Paul II is teaching us through his suffering (Peggy Noonan, The Wall Street Journal)
Next pope:
Pope's possible resignation sparks debate | No pope has resigned for centuries, and the archbishop of Paris said Wednesday that for the frail 84-year-old pontiff, showing "his weakness can also be a sign of strength" (Associated Press)
Illness stirs talk of pope quitting | For the first time senior Vatican prelates openly discussed the issue that had long been taboo: should the pope step down? (Roland Flamini, UPI)
A black pope? It wouldn't be the first | There were three others, all Africans (BET)
Catholicism:
Diocese to close 22 schools in Brooklyn and Queens | The Roman Catholic Diocese of Brooklyn announced the biggest round of school closings in the history of the city's Catholic education system (The New York Times)
Catholics asked for closer bond | Cardinal Theodore E. McCarrick began the Lenten season yesterday for the District's Catholics with a noon Mass in which he asked parishioners to strengthen their relationship with God by becoming closer to their neighbors (The Washington Times)
ND sponsorship of festival conflicts with church teachings | For the second time, the University of Notre Dame is sponsoring, through six of its departments, a seminar and film festival under the title Queer Film Festival. The presenters who have been scheduled have a history of not supporting, and indeed openly opposing, church teaching concerning the morality of homosexual acts (Bishop John M. D'Arcy, South Bend Tribune, Ind.)
Priest defies bishop, refuses to go quietly | Despite an order from the bishop of the Norwich Roman Catholic diocese, the Rev. Justinian B. Rweyemamu is standing his ground, refusing to leave the rectory of St. Bernard's Church (The Hartford Courant, Conn.)
Church life:
Neighbors alarmed by church plans | Expansion would bring more traffic, some say (The Washington Post)
Church ends dispute over SE gas station | Worshipers to use site for parking (The Washington Post)
Theological dispute | A report on the growing divisions within the Episcopalian Church at home and abroad. Episcopalians throughout the United States are deeply divided over the church's decision to ordain its first homosexual bishop and many are looking for support overseas (The NewsHour with Jim Lehrer, PBS)
Politicians move to protect church | Migden's bill aids city's efforts for St. Brigid (The San Francisco Examiner)
Altar egos | An Episcopalian gets bounced from her church for pressing the issue of female priests (Houston Press)
Abuse:
Defrocked priest proclaims his innocence | Blackwell speaks out on eve of sex abuse trial (The Baltimore Sun)
Former priest faces molestation trial | Dontee Stokes' link to the Rev. Maurice Blackwell began early. It was Blackwell who baptized him as a baby and later made him an altar boy. But Stokes says his relationship with Blackwell changed. He alleges that years of sexual abuse culminated with rape when he was 17, prompting him to shoot Blackwell in 2002 with a .357 Magnum handgun (Associated Press)
Priest resigns post over '90s sex case | George to review appointment to U. of C. ministry (Chicago Tribune)
Priest admits 1990 sex, quits campus post | A Roman Catholic priest who ministered to students at the University of Chicago resigned his post Tuesday, following an accusation of sexual misconduct in the 1990s by a former student at Niles College Seminary (Chicago Sun-Times)
Religious prisoner abuse:
Detainees accuse female interrogators | Pentagon inquiry is said to confirm Muslims' accounts of sexual tactics at Guantanamo (The Washington Post)
U.K. to air show on torture techniques | Channel 4 says it wants to make the public aware of such abuses, but a human rights group said Wednesday the program violates U.N. conventions banning torture and shouldn't be shown (Associated Press)
Crime:
Court action calls for dismissal of Habhab case | In a court action calling for dismissal of a case filed by Habhab's Towing, Auto and Truck Repair, the state patrol argues that any derogatory comments by the patrol to potential customers does not warrant a violation of the law (The Ames Tribune, Ia.)
A CIA cover-up? | No one accountable on death of a missionary and her baby (Joe Scarborough, MSNBC)
Bilked church sues former employee | Longtime church member and former administrative assistant was convicted of stealing $356,000 from Bethalto United Methodist Church (St. Louis Post-Dispatch)
Man is charged with harassment after archbishop gets phone threat | Officials filed a misdemeanor harassment charge Wednesday against a man they said left a phone message threatening to shoot St. Louis Archbishop Raymond Burke, apparently over the controversy about St. Stanislaus Kostka Church (St. Louis Post-Dispatch)
Missions & ministry:
U.S. missionaries face taxing times | The Kenyan government has reportedly threatened to charge Protestant missionary groups a 30 percent monthly tax on property, vehicles, missionary salaries and health benefits (The Washington Times)
Church aids well drilling in Kenya | Right now, a well-drilling machine from New Hampshire is on its way to Nairobi, Kenya, with a mission to do one thing: help Kenyans dig deep into the earth to find clean water (The Boston Globe)
Open wide | First Family Church's Jerry Johnston has his orders for Kansas City (Pitch, Kansas City, Mo.)
Native Americans:
Indian and Christian cultures rise in ashes | Traditions tweaked for annual ritual (Milwaukee Journal-Sentinel)
Church won't allow Lakota funeral rituals | Martin Waukazoo believes his late mother, Muriel, may be continuing her American Indian activism from beyond the grave since American Indian Baptist Church in Oakland, Calif., refused to allow some traditional Lakota rituals at her funeral (Rapid City Journal, S.D.)
Lent:
Penance and reflection mark day | On Ash Wednesday, cardinal urges faithful to use Lent to set aside more time for God (Chicago Tribune)
Why some feasts are movable | How come Lent moves around while Christmas stays put? (Slate.com)
AIDS:
Five African church groups petition US | Five African Church organizations have petitioned the American government for rejecting their financial requests for HIV/AIDS related programs on the continent in preference to United States faith-based organizations (The Times of Zambia)
Experts urge routine HIV tests for all | Urging a major shift in U.S. policy, some health experts are recommending that virtually all Americans be tested routinely for the AIDS virus, much as they are for cancer and other diseases (Associated Press)
More articles of interest:
Evangelicals seek to clarify their beliefs to a wary public | Recognizing that many Americans worry about their influence following President Bush's re-election, evangelicals are saying that they have been misunderstood and - in some ways - remain underdogs in a nation they consider hostile to public talk about faith (Associated Press)
Tsunami was 'God's punishment' | A Presbyterian church minister caused anger yesterday after he compared the Asian tsunami to Noah's flood and claimed it was an act of God to punish "pleasure seekers" who broke the Sabbath (The Times, London)
An English Talmud for daily readers and debaters | The about-to-be-completed 73-volume Schottenstein edition of the Talmud has helped attract a new audience for the rabbinic texts (The New York Times)
Love machines | Relationship sites are a booming online business, as lonely hearts look to 'scientific software' to find mates. But are the biggest players hiding disturbing agendas? (Los Angeles City Beat)
Jesus with the O.J. | Area rabbi 'shocked' by openly Christian content of supposedly nondenominational prayer breakfast (The Jewish Week)
Iowa morality meter | Sioux County is highest — if you assume statistics don't lie (Des Moines Register, Ia.)
Religion news in brief | Mainly stuff Weblog has already linked to (Associated Press)
Related Elsewhere:
Suggest links and stories by sending e-mail to weblog@christianitytoday.com
Check out Books & Culture's weekly weblog, Content & Context, and the Christianity Today Movies weekly weblog, Reel News.
See our past Weblog updates:
February 9b | 9a
February 4 | 3 | January 31
January 28 | 27 | 26 | 25
January 19 | 18 | 17
January 14 | 13 | 12
Weblog
Launched in 1999, Christianity Today's Weblog was not just one of the first religion-oriented weblogs, but one of the first published by a media organization. (Hence its rather bland title.) Mostly compiled by then-online editor Ted Olsen, Weblog rounded up religion news and opinion pieces from publications around the world. As Christianity Today's website grew, it launched other blogs. Olsen took on management responsibilities, and the Weblog feature as such was mothballed. But CT's efforts to round up important news and opinion from around the web continues, especially on our Gleanings feature.
Ted Olsen is Christianity Today's executive editor. He wrote the magazine's Weblog—a collection of news and opinion articles from mainstream news sources around the world—from 1999 to 2006. In 2004, the magazine launched Weblog in Print, which looks for unexpected connections and trends in articles appearing in the mainstream press. The column was later renamed "Tidings" and ran until 2007.
Previous Weblog Columns: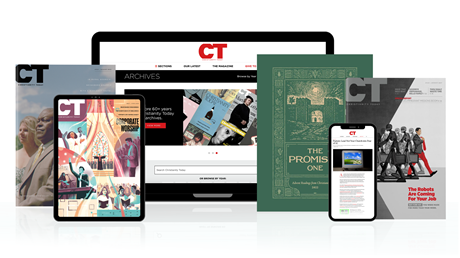 Annual & Monthly subscriptions available.
Print & Digital Issues of CT magazine
Complete access to every article on ChristianityToday.com
Unlimited access to 65+ years of CT's online archives
Member-only special issues
Subscribe
Read These Next
Trending

American Christians Should Stand with Israel under Attack

While we pray for peace, we need moral clarity about this war.

From the Magazine

Frozen Embryos Are the New Orphan Crisis

More than a million unused IVF embryos are in cryostorage. Are they the next pro-life frontier?

Português

Editor's Pick

Don't Miss These African Christmas Hits

Jam out this season to highlife, Afrobeats, jazz, a cappella, R & B, rap, dance, and hip-hop artists from Nigeria, South Africa, and more.
Church of England Backs Charles-Camilla Marriage
Church of England Backs Charles-Camilla Marriage