true
Last year's No. 1 film in France was about an immensely talented young teen at a boarding school that resembles an old castle—and where scary and magical things often take place. Harry Potter and the Prisoner of Azkaban? Nope, that was No. 2 at the French box office. Tops on the list was Les Choristes, a poignant story set in 1949, about a school for troubled boys and where hope is in short supply. But in walks a new teacher, Clement Mathieu, who works his bit of "magic"—by forming a choir and teaching the boys to sing, bringing joy and light to a place of darkness and despair. And the whiz kid? A boy named Morhange who has a bad attitude—and an angelic voice. Which will win out in the end? Will his rebellious spirit take him down a dark path, or will his musical gifts take him to better places?
The man behind the film—which opens in limited release this Friday—is 41-year-old director Christophe Barratier, who grew up in a theatrical family but ultimately ended up as a professional musician, playing classical guitar. He ended up disillusioned with music, and turned to film—and in Les Choristes, he brings both passions together.
Barratier says he was inspired by a little-known 1945 French film, The Cage of the Nightingales, about a young teacher who starts a choral group in a home for delinquent boys. Barratier says the "combination of music and childhood" drew him to that film, from which he says "two main things stayed with me: the emotion produced by the children's voices, and the inspiration of a failed musician who tries, in spite of everything, to transform the world around him. All the films I like have this in common: they are all about how one individual can make the world more livable."
Think of it as a French version of Mr. Holland's Opus or To Sir, With Love. Gerard Jugnot, one of France's most popular actors, plays the lead role with sensitive acuity, and Barratier coaxes a fine performance out of the boys, most of them untrained as actors. The result is a beautiful story of grace and redemption.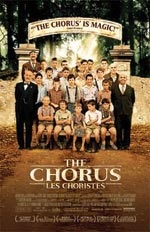 We recently chatted with Barratier about Les Choristes and his own artistic journey.
Jean-Baptiste Maunier, the boy who plays Morhange, what a heavenly voice.
Christophe Barratier: Yes, he's a really good singer. For Morhange, I wanted absolutely wanted a real singer, so I made a specific search in France in all the boys' choirs searching for such a kid. I was very discouraged because I met a lot of singers at auditions. There was always something bad—they were not very good actors, they weren't handsome, they didn't have a great voice, etcetera. But with Jean-Baptiste, I really discovered something incredible, because he's a marvelous voice and he can act very well. So I was very lucky to find him.
And that really is his voice we're hearing in the film?
Barratier: Of course. It's not a special effect; it's him.
Why do you think this film was such a big success in France?
Barratier: Many reasons. At the beginning, maybe the first million people say, "Oh, it's because of Gerard Jugnot [in the lead role], because he's very famous in France." After two million people, maybe people say, "It's not only that; it's maybe because it's the music." After three million, they say, "Oh, it's not just Jugnot or the music." And finally, after of these reasons, maybe it's just one answer: Maybe because it's a good film and a good story.
It is the No. 1 film of the year in France, even ahead of Harry Potter. Why? One thing is sure: People are really touched in their deep intimacy by the story, because they felt very much like they remember when they were children. When people left the theater after viewing Les Choristes, they wanted absolutely to come back with somebody else. So it's really something that touched them very deeply. It's not just entertainment. It's more than that.
Why did you set the story in the 1940s instead of the present?
Barratier: I didn't want to focus on the current affairs of France, because the problems we have in Paris are not the same as you have in Chicago or Los Angeles. I wanted absolutely to focus on universal childhood feelings—the feeling of injustice, the feeling to be afraid to be abandoned, to be afraid of the headmaster, all those things we feel very much when we are kids. And above all things I've felt myself, because when I was a kid, my parents divorced, and so I was raised in a boarding school near my grandmother's village. I was very shy, very sensitive and very lonely. I think that if I had shot a movie from 2004 in Paris, we would have to talk about current events, and I didn't want to do that. I just wanted truly to focus on universal childhood problems, not current affairs.
It's funny, but the top two movies at the French box office are Les Choristes and Harry Potter—both boarding school movies!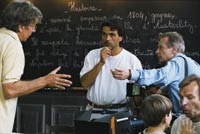 How old were you when you went to boarding school?
Barratier: I was six. But my mother took me with her back when I was ten. I spent four years there.
I understand you used to be a musician.
Barratier: Yes. And I still am. But I was born in a family where everybody was into movies. My brother was an actor. My father was a director. My grandfather and grandmother were theatre actors. My uncle is a producer. So I've been raised with people who are talking to me about actors, movies, theatres, and etcetera. So really I've been in movies since I was a kid; I even directed my first feature when I was seven with my 8 mm camera. It was a scary movie about vampires. That was my beginning.
But when I met music when I was eight years old, I fell in love in music. It was passion. And maybe I did it to avoid cinema, because for me, cinema was like a symbol of my parents' separation. So maybe I wanted to say, "My god, cinema brings me a lot of pleasure when I go to the theater, but for my life, my parents were working too much and they didn't take care about me." My mother was very happy I did not want to be an actor and I wanted to study music. So I studied music very seriously until I was 18 years old, when I went to the Paris Conservatory.
At the age of 25, I said, "Oh my gosh, you are living with your music." I was teaching a lot, I was doing concerts, but something wasn't very happy in my life. I felt a little depressed and I came back to cinema. Everybody I knew was totally shocked. They said, "But you have spent so much time with music. How can you give up now?" At first, I didn't know if I had been courageous to quit music or if I had been a coward. But today, I am so happy to be involved in cinema and to be a director. I feel great when I am directing. I feel very grateful in this place now, and I wouldn't change for anything in the world. But in my first movie, Les Choristes, I mixed my two passions, music and cinema. It was kind of a catharsis.
When you were in boarding school, did you have a teacher like Clement Mathieu?
Barratier: Absolutely.
And he really inspired you?
Barratier: Yes. He was a very, very nice man, but he was very terrified by the headmaster. At first, we thought he was very weak, but we found he was not. He was quite strong. He was a Spanish immigrant, and he was not very self-confident. He was not speaking French very well, so we were laughing at him. But when I had some private lessons with him, I learned that he was not a great musician, but he was a very good teacher. Kids don't need to be taught by a superstar of classical music; kids need to be taught by a good teacher. And of course his character inspired me most.
Watching this film as a Christian, one sees the difference in the law, represented in the stern headmaster, and grace, represented in Clement. Did you intend that?
Barratier: It's not so explicit for me, but I think when you are telling a deep story, there are always under-messages that you are not really conscious of. It was not made in that sense that you describe, but it could be understood in that sense.
What was it like working with a cast of mainly children? Was that difficult?
Barratier: Not as difficult as with some adult actors I know! There are times when the kids are tired and a little bit nervous, but it's like a classroom. You have to have good incentives to keep them quiet and so on. But at the end of the shooting they were so involved in the story, they were so fond of the music, they changed a lot from the beginning to the end. When I saw them for the first time they were very shy, very sensitive, a little bit like savages. But after two months it has opened a lot of things in the soul, I think. After the shooting, they felt very proud and felt very confident because they had done something good.
Apparently choral music in France practically disappeared after the French Revolution and only in recent years has made a comeback. Why do you think it disappeared for so long?
Barratier: Because with the French Revolution, the Catholic practice had been really reduced. And the most important place to sing with a boys' choir was in the church, and boys' choirs have always been linked to the Catholic practice. So for a long time it has been not very important. That was not the case in England or Germany, because the choirs did not have religious connotations. In France it was only linked to religion. But now thanks to the film, there is a 300 percent increase of new choirs.
That must make you feel great.
Barratier: Yes, I am very happy. Also the soundtrack has been sold over one million, number one for the charts for every kind of music for six months now. So it's like an earthquake in the record industry in France, because nobody would have bet just one dime the success of the soundtrack.
The choral compositions in the film, were those your compositions?
Barratier: No. I wrote two things, but most of the songs in the score has been written by a famous French composer, Bruno Coulais. In the story, they are supposed to be composed by Clement Mathieu himself, so it was very important to have the new compositions totally original.
When Mr. Holland's Opus came out, there were a lot of public service announcements telling schools to take music seriously. The film became sort of a political statement. Were you making a political statement to the French school system with your film?
Barratier: No. But yes, of course, it is part of my ambition to have music in the schools. Sometimes even with a very attractive story, you think it's just for entertainment, but sometimes with entertainment you can have another message which is a bit more political. I think music is very, very important in schools, just like sports—to have things that require discipline, because in sport there is discipline and in music there is discipline. And this discipline would not seem boring, like studying mathematics.
What will you do next?
Barratier: I'm writing a new script and it's filled with music. The music is once again very important and the action takes place in the late thirties in Paris, just before World War II. I'll start shooting that film in 2006.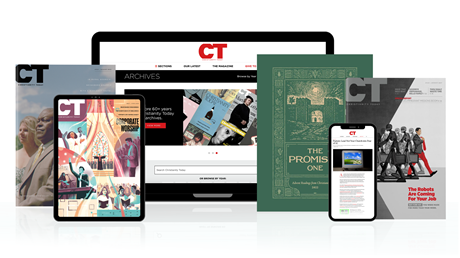 Annual & Monthly subscriptions available.
Print & Digital Issues of CT magazine
Complete access to every article on ChristianityToday.com
Unlimited access to 65+ years of CT's online archives
Member-only special issues
Subscribe
The Sound of Music
The Sound of Music