Ex-gay ministries have become popular among the Religious Right as they seek to seem friendly toward homosexuals while they forbid them to marry. But everyone knows the Right really hates gays.
At least that's the story according to a series on Salon.com. Author Mark Benjamin says, "In the nation's divisive culture wars, gay issues have proved to be winners for Christian conservatives, who helped power right-wing Republicans into control of two branches of the federal government. … Religious conservatives are on a mission to ban more than gay marriage. They want to outlaw civil unions giving same-sex partners some of the legal privileges of married heterosexuals, reinstate state sodomy bans, and defeat hate-crimes legislation that would increase penalties for violence against gays."
In the second of his four-part series, Benjamin says, "The theory that homosexuality is a mental disorder that needs to be cured is the moral underpinning of the Christian right's crusade against gay marriage, sodomy laws, gay adoption, and sex-ed curriculums in schools. "
The New York Times is also following a story, circulating around the internet, about a 16-year-old who discusses being gay on his blog. After telling his parents, the boy's parents sent him to Love in Action, a Memphis Christian group with a program that helps gay men and women change their sexual orientation. After his blog entries circulated around the internet, Queer Action Coalition began protesting outside the Memphis church where Love in Action holds Refuge, its treatment program.
Both articles focus on the difficulties of changing sexual orientation, saying that mainstream psychiatric organizations don't support such therapy, that success rates are usually low, if counted, and for participants who don't change their orientation can result in simply feeling more guilty. "Critics of programs that seek to change sexual orientation say the programs themselves can open a person to lifelong problems, including guilt, shame, and even suicidal impulses."
The Times and Salon have a point. For the most part, those of us who sin sexually don't need to be "repaired." Homosexuality isn't always or mostly a "mental disorder that needs to be cured." Testimonies of many ex-gays include accounts of loveless fathers or child molestation. But many straights also have to cope with such childhood traumas. The issue isn't the psychological treatment of an abnormality. We're all abnormal, we all have wounds. We all have sinned, and we all need a Savior.
More Articles:
Politics & homosexuality:
History knocks at Karen Minnis' door | An idea whose time has come, civil unions bill deserves a hearing. House Speaker Karen Minnis has said the bill will not receive a hearing. Civil unions for gays is a hot-button issue—a guaranteed meal ticket for the Christian right, and that is why Speaker Minnis hesitates to answer history's call. (Editorial, The Daily Astorian, Ore.)
Hotels and register offices to turn away 'pink weddings' | Gay and lesbian couples will soon gain official recognition, but it won't stop discrimination (The Independent, UK)
Sexual ethics:
Laura Bush's advocacy of condoms doesn't go far enough | But the Christian right likes its women pregnant (and some would say barefoot) and condoms are a form of birth control promulgated by the vile left. Doesn't that violate every biblical principle down to the non-Darwinian molecular level? (Bonnie Erbe, Scripps Howard News Service)
Teenagers need contraceptive advice, not just abstinence counseling | In revised guidelines, the American Academy of Pediatrics has recommended that teenagers receive counselling to postpone sexual activity but also information about and access to contraception, including over the counter emergency contraception without a prescription (British Medical Journal)
Religion & politics:
GOP senator in Democrats' cross hairs | A conservative favorite, Rick Santorum's blunt take on cultural issues may give ammunition to opponents in the battle for his seat next year. (Los Angeles Times)
Congressman threatens Islamic holy sites | A Colorado congressman told a radio show host that the U.S. could ''take out'' Islamic holy sites if Muslim fundamentalist terrorists attacked the country with nuclear weapons. (Associated Press)
The pulpits vs. the pews | Why are so many news stories on religion in America about sex, politics, and litigation? Answer: Religion in America is grappling, as seldom before, with hot-button issues that congregate under the broad topics of sex, politics, and litigation. (New York Sun)
Five from the 5th Circuit mentioned for high court | Southern appeals bench known for conservatism (Washington Post)
Environmental 'crisis' can unite religions, rabbi says | The degradation of the environment is a "universal human crisis" that affects rich and poor, Democrat and Republican, Christian, Jew and Muslim - and cooperation across these national and cultural boundaries may be the only way to meet such an overwhelming challenge, according to Rabbi Lawrence Troster, a world-renowned scholar of the relationship between religion and science. (Bangor Daily News, Maine)
London bombings:
Blair appeals for Muslim backing as parties agree to fast-track terror laws | British Muslim leaders will be asked today to assist state authorities preparing an unprecedented encroachment into mosques, Islamic schools and community organisations. (Times, London)
We have the laws: use them | Defeating terrorism, the Prime Minister explained in a robust speech yesterday, means arguing against "the terrorists' politics and their perversion of religious faith". He is right. The trouble is that the Government has so far not shown much inclination to tackle the fundamentalist preachers whose hate-filled sermons incubate suicide bombings. (Daily Telegraph, UK)
Pakistani religious schools face scrutiny | Pakistan's religious schools face intensified scrutiny after the London suicide bombings, with Western leaders claiming that madrassas are breeding grounds for violent extremists. Defiant, educators insist their schools are unfairly targeted in a campaign against Islam. (Associated Press)
Extremists orbit around Islam's rebirth | Every morning, Jean-Pierre Timbaud street bursts forth with a bouquet of sights, sounds and smells that belie its location -- eastern Paris. Like a magnet, the long, narrow street draws young Muslims from throughout the region trying to fill a void in their quest for Islamic culture in the West. (Associated Press)
Islamic leader, son agree to be deported | A San Francisco area Islamic religious leader and his son have agreed to be deported to Pakistan after being detained on immigration charges in connection with a federal investigation into possible terrorist activity. (Associated Press)
Islam is a weapon that can be turned against the suicide bombers | The horrific bombings in London last week drew immediate response from dozens of Muslim leaders and organisations worldwide, condemning the attacks as barbaric acts that stand contrary to the teaching of Islam. Their statement sounded unequivocal, but unfortunately secular condemnations, however sincere, are ineffective when dealing with fanatics capable of such irrational and cruel crimes. (Times, London)
Public split over new hate laws | Public opinion is divided over controversial plans to ban incitement to religious hatred, according to an ICM poll for the BBC News website. (BBC)
Are Britain's fringe churches preaching a deadly message? | An African girl is murdered in the name of religion. A boy's torso is found floating in the Thames. Hundreds of children go missing from school. Paul Vallely investigates (The Independent, UK)
Muslim reaction:
Religious seminaries fear backlash | Two of Pakistan's leading religious scholars fear thousands of religious seminaries in the country could face a backlash in the aftermath of the London suicide bomb blasts. (Daily Times, Pakistan)
US Muslims fear the enemy within after London attacks | US Muslim leaders watched with foreboding as their worst nightmare played out in Britain, where home-grown suicide bombers were blamed for London's worst attacks since World War II. (AFP)
US Muslims launch ad campaign against terror | American Muslims have launched an advertising campaign to denounce acts of terrorism after bombers believed to be British Muslims killed at least 54 people in attacks on London. (Daily Times, Pakistan)
Not enough being done to condemn terrorism by Arab and Muslim groups in US | American Arab and Muslim groups quickly and sharply condemned the terrorist attacks in London last week. Yet one week later, when a Palestinian suicide bomber struck a shopping mall in Netanya near Tel Aviv, nearly all the Arab and Muslim organizations were silent. The attack was blamed on the Palestinian Islamic Jihad, the sibling of Hamas. These American organizations are playing a duplicitous and dangerous game. (Arab News)
London-based radical salutes bombs 'victory' | Hani Al-Siba'i, an Egyptian-born academic, described the attacks that killed at least 55 people as "a great victory" that rubbed the noses of G8 countries in the mud. (Times, London)
US Muslims launch TV ad against terrorism | American Muslims have launched an advertising campaign to denounce acts of terrorism after bombers believed to be British Muslims killed at least 54 people in attacks on London. (Reuters)
Anxious Muslims pray in Leeds | Faithful gather near alleged site of bombmaking (Washington Post)
Muslim chiefs condemn London blasts | Britain's top Muslim leaders have sent out a united message condemning the suicide bombings in London. (Press Association, UK)
Bombers 'should not be regarded as martyrs' | Britain's leading Muslims strongly condemned the London suicide bombers last night, insisting that no one should consider them as martyrs. (Daily Telegraph, UK)
Muslim leaders in call for action | Britain's top Muslims have branded the London suicide bombings "utterly criminal, totally reprehensible, and absolutely un-Islamic". (BBC)
Multiculturalism:
A victory for multiculti over common sense | Consider the Bishop of Lichfield, who at Evensong, on the night of the bombings, was at pains to assure his congregants: "Just as the IRA has nothing to do with Christianity, so this kind of terror has nothing to do with any of the world faiths." It's not so much the explicit fatuousness of the assertion so much as the broader message it conveys: we're the defeatist wimps; bomb us and we'll apologise to you. That's why in Britain the Anglican Church is in a death-spiral and Islam is the fastest-growing religion. There's no market for a faith that has no faith in itself. (Mark Steyn, Daily Telegraph)
Multiculturalism has fanned the flames of Islamic extremism | It has been only over the past decade that radical Islam has found a hearing in Britain. Why? Partly because the idea that we should aspire to a common identity and a set of values has been eroded in the name of multiculturalism. (Kenan Malik, Times, London)
Tolerating a time bomb | While most of Europe points to that epochal year of 1968 as a watershed, perhaps no country was affected as profoundly by the radicalism of the times as the Netherlands. In less than 15 years most forms of traditional authority and hierarchy, the counterbalancing forces that made Dutch tolerance possible, were undermined. (The New York Times)
Reason to be cheerful | Much of our contemporary discourse has degenerated into a competition between the relative woundedness of people's feelings. I am not saying that wounded feelings do not matter, only that saying "I'm more hurt than you are" cannot settle an argument on a point of principle. Unfortunately, since victimhood is the only high moral ground left after the collapse of reasoned discourse, speeches become harangues, name-calling replaces respectful engagement and party spirit trumps public wisdom. (Tom Wright, The Guardian, UK)
War & terrorism:
Iraqi Christians find safety in Syria | Religious violence prompted many to flee homeland (San Francisco Chronicle)
Police seize temple raid suspects | Indian police arrested two people in Kashmir yesterday who they said helped gunmen last week to attack a bitterly disputed religious site claimed by both Hindus and Muslims. (Reuters)
Religious freedom:
Two Christians sentenced to three years in prison | Two Laotian Christians, Khamchan and Vangthong, were arrested three months ago and later sentenced to three years in prison. (AsiaNews, Italy)
Should all mosques be watched? | The London bombings have raised fears that a similar attack could happen in Germany. But would a strategy of spying lower fears and suspicions towards the three million strong Muslim population in the country? (Deutsche Welle, Germany)
Storm in a teapot | A man who claims he's God and a cult that venerates tea? In many places, this would be viewed as harmless eccentricity. But in Malaysia, where the limitations on religion are growing ever more rigid, they are seen as dangerous deviants (The Independent, UK)
Human rights:
Demolitions are suspended in Zimbabwe | Zimbabwe has temporarily halted its demolition of illegal business premises to allow their owners time to register them with authorities, The Herald, the nation's official newspaper, said Saturday. (Reuters)
Hostility toward Jews in Russia `deepening,' report says | In the summary to one of the sections on Russia and the former Soviet Union, the report's authors say that "it seems safe to state that hostility toward the Jews in broad circles of the surrounding society is spreading and deepening." (Ha'aretz, Israel)
Sudanese take case to Oregon lawmakers | Senate OKs bill that ends all business ties with war-torn nation (Statesman Journal, Ore.)
"How can I be sold like this?" | The trafficking of North Korean women refugees. (Donna M. Hughes, National Review Online)
Thriving women-only village is attacked by jealous locals | A group of Kenyan women who fled abusive husbands to set up their own women-only community are facing increasingly violent attacks by local men angry at their success. (Daily Telegraph, UK)
Eric Rudolph:
Victims have say as Birmingham bomber is sentenced | It was Emily Lyons's first chance to address Eric R. Rudolph, the bomber whose attack on an abortion clinic here in 1998 left her half-blind and maimed. And she had plenty to say. (The New York Times)
Defiant U.S. bomber Rudolph gets life sentence | Insisting that he had ``kept the faith,'' convicted Olympic bomber Eric Rudolph was sentenced to life in prison without parole on Monday for the 1998 bombing of an Alabama abortion clinic that killed a police officer and maimed a nurse. (Reuters)
Clinic bomber gets 2 life sentences | Rudolph is unrepentant, says abortion must be fought 'with deadly force' (Associated Press)
Crime:
Pair held for 'sectarian' attacks | Police are investigating a sectarian motive for attacks on a number of Protestant homes in the Suffolk area of south west Belfast. (BBC)
Second cult member 'arrested' | A second Australian member of a religious cult had been arrested in Kenya over the alleged abduction of a young single mother, it was claimed today. (Brisbane Courier Mail, Australia)
Officers shot at church begin to recover | A day after he was shot in the head at close range during a gunfight with a suspect in Queens, Officer Dominick Romano emerged yesterday from several hours of cranial surgery with his sense of humor intact. (The New York Times)
Abuse:
London care home chief 'used games to lure Thai boys for sex' | A former deputy director of a children's home in north London has been charged with molesting young boys in Thailand. (Daily Telegraph, UK)
Briton held on child sex charges | A British man has been arrested in Thailand accused on charges of molesting under-age boys. (BBC)
Act of faith | For Gilhooley, now 42, the sexual abuse was less serious than for some other students, but it was there and the repercussions were intense. Several of his contemporaries would later attempt, or actually commit, suicide. He underwent therapy, was advised to write down his experiences, and the result was the publication in 2001 of a searing memoir called The Pyjama Parade. (Scotland on Sunday)
Abortion:
Hospital to appeal abortion case order | The Royal Women's Hospital will seek leave to appeal a court decision ordering it to hand over the files of a woman who had an abortion at 32 weeks to a medical board for investigation. (The Age, Australia)
Operation free speech | The First Amendment protects not only views we dislike but views we despise — a thought to keep in mind as Operation Save America prepares to descend on Boulder. The members of Operation Save America (a descendant of the militant anti-abortion group Operation Rescue) believe that abortion is murder, that homosexuality is sin, that Islam is "a lie," and that anyone who disagrees with this harsh version of Christianity is doomed. (Editorial, Boulder Daily Camera)
Abortion lobby in campaign to expose pro-life doctors | Abortion groups are launching a campaign to name doctors who refuse to help women seeking terminations. Marie Stopes International, Britain's largest chain of abortion clinics outside the National Health Service, wants lists displayed in GP surgeries stating whether individual doctors are prepared to refer women for the procedure, writes Sarah-Kate Templeton. (Times, London)
Life ethics:
Mass. AG nixes stem cell ballot initiative | The state's attorney general on Monday halted a proposed ballot referendum that sought to repeal the state's stem cell law, saying the law's reference to religion exempts it from the referendum process. (Associated Press)
Birth-control patch may pose health risk | About a dozen women, most in their late teens and early 20s, died last year from blood clots believed to be related to the birth-control patch Ortho Evra. (Associated Press)
Dutch doctors adopt guidelines on mercy killing of newborns | Dutch paediatricians have voted unanimously to adopt as national guidelines the so called Groningen protocol that covers the mercy killing of newborn babies who are incurably sick and are suffering severely. (British Medical Journal)
New rules on storing and using human organs put out for consultation | The authority, set up under the Human Tissue Act 2004, launched its first round of public consultation with five draft codes covering the key areas of consent, donation for transplantation, post mortem, anatomical examination and removal and storage and disposal. (British Medical Journal)
Catholicism:
Hundreds attend Mass at revived Quincy church | Hundreds of worshipers filled a Quincy church yesterday for an overflow Mass, its first since the Archdiocese of Boston decided to close the church nine months ago. (Associated Press)
Catholics are struggling to make room for Mass in a material world | Roman Catholic families feel in danger of being swept away by a "tide of materialism" and want the Church to do more to counter it, according to a report today. (Times, London)
Pope may be turning into an icon . . . of fashion | After his election in April, Benedict displayed a high-minded indifference to clothes, walking about in vestments six inches too short, leaving his red leather moccasins and white socks in full view. And, as he raised his hands to salute the faithful in St Peter's Square for the first time, his loose sleeves fell away to reveal what appeared to be an old-fashioned black wool vest. But there are also signs that the former Cardinal Joseph Ratzinger may prove more progressive in office than his record would suggest. (Times, London)
Venezuelan cardinal criticizes Chavez:
Venezuela church tells Chavez act like a president | Venezuela's Roman Catholic Church told President Hugo Chavez on Monday he had failed to behave like a head of state by using a state television broadcast to berate a cardinal who called him a dictator. (Reuters)
Venezuelan cardinal criticizes Chavez | A Venezuelan cardinal accused President Hugo Chavez of accumulating too much power amid growing tensions between the government leaders of the Roman Catholic Church. (Associated Press)
Religion & politics, non-U.S.:
Sikh school wants a mix of faiths | The UK's only state-funded Sikh secondary school wants to change its admission rules to keep a mixture of faiths among its pupils. (BBC)
State schools to be less secular | Teachers in Victorian public schools will be given the legal right to discuss religion in the classroom, in a historic modification of legislation governing the state's secular education system. (The Age, Australia)
Germany's Merkel seeks reshaped French alliance | Angela Merkel meets French leaders on Tuesday, vowing to reshape a Franco-German alliance that has powered Europe for decades if she wins expected German national elections in September as opinion polls suggest. Merkel, the leader of the center-right Christian Democrats, has called for an overhaul of EU policy, criticizing agricultural subsidies that benefit French farmers and urging closer ties to the newer member states in Eastern Europe. (Reuters)
Former Anglican church head backs revised version of draft | Retired Anglican Church archbishop David Gitari has thrown his weight behind the revised Bomas Draft. He said that the draft had given Muslims more privileges than Christians, and said this was a serious issue, which needed to be addressed. (The Nation, Nairobi)
Church & state:
Panel chairman cites progress in resolving religious intolerance at academy | The chairman of the Air Force Academy's oversight board said Saturday that Air Force officials have made progress in resolving religious intolerance problems at the academy. (Associated Press)
Judge narrows Pledge of Allegiance lawsuit | An atheist who convinced a federal appeals court three years ago that the words ''under God'' in the Pledge of Allegiance are unconstitutional returned to court Monday and made his case a second time. (Associated Press)
'Agnostic' seeks removal of commandments plaque | A Freemansburg man has asked Northampton County's president judge to remove a Ten Commandments plaque from a courtroom wall. (The Express-Times, Pa.)
FEC clears Rev. Jerry Falwell on complaint | The Federal Election Commission has dismissed a complaint against the Rev. Jerry Falwell that said he broke federal election law by urging followers last summer to re-elect President Bush. (Associated Press)
Church life:
The Church Of Spongebob | The United Church of Christ stands up for all sorts of political issues while their flocks stand up and head for the doors. (The Weekly Standard)
Showtime under the stars | Drive-in behind Evangelical Friends Church is a 'fun place to be' (The Ann Arbor News, Mich.)
Archbishop says Churches have lost touch with society | Christian Churches in Ireland have suffered because of a lack of ecumenism and largely have themselves to blame for losing touch with society, Church of Ireland primate Most Rev Robin Eames said last night. (Irish Examiner, Ireland)
Catholic parish priest excommunicated | The High Court yesterday excommunicated beleaguered parish priest Father Gert Petrus from the Roman Catholic Church. The court order comes a year after the Archdiocese in Windhoek first tried to remove Petrus after a group of parishioners complained of alleged inappropriate behaviour, including allegations of drunkenness and practising witchcraft. (The Namibian, Windhoek)
Pastors Racing League takes congregations to the races | Last July, the Christian Family Journal hosted the Christian Family Day at the I-70 Speedway. In only its second year at the track, the Faster Pastor Race was held, an enduro car competition featuring pastors from all over the Kansas City area. "It was the single most unifying thing going that day as far as bringing Christians of all denominations together is concerned, which was our primary goal," said Steve Blahut of the Christian Family Journal. (Associated Press)
Missions & ministry:
Kagame graces global charity | President Paul Kagame on Saturday caused great ululation when he joined thousands of jubilant Christians at Amahoro National Stadium in a festival to launch a worldwide charity ministry by renowned American cleric, Rick Warren. (The New Times, Kigali)
Life's storms shaped man's mission to help religions heal | V. Lonnie Peek Jr. is a man who watches the seasons. Not the earthly ones but the spiritual ones that too often go unnoticed. (Desiree Cooper, Free Press, Detroit)
How linguists and missionaries share a Bible of 6,912 languages | Ethnologue, which began as a 40-language guide for Christian missionaries in 1951, has grown so comprehensive it is a source for academics and governments, and the occasional game show. (The New York Times)
How today's church is failing black men | As the grandson of a preacher and a licensed minister himself, former Post reporter John W. Fountain grew up in the church and has always loved it. But lately, as a black man watching the struggles of black neighborhoods across the country, and especially the plight of black men lost in a sea of desperation and pathology, he has wondered, Where is the church? (John W. Fountain, Washington Post)
Screening with holes in it? | For anyone with $109, a mobile clinic offers tests for health problems. Some experts say this is no bargain (Washington Post)
On a mission | Christianity is back on the march in Cumbria. Keswick is receiving its annual influx of 12,000 visitors from all over the world, and the 3,000 seats in the huge Skiddaw Street tent are being filled to overflowing twice a day. The Christian soldiers are marching onwards. (News & Star, UK)
Joel Osteen:
Message of hope draws thousands to mega church | They had come to see Joel Osteen, America's most popular preacher, christen the arena as the new $95m (€80m, £55m) home of the Lakewood Church. It was the weekend's third service, and some members of the non-denominational, racially mixed, Christian congregation admitted attending all three to repeatedly hear the charismatic 42-year-old. (Financial Times, UK)
The preacher with 16,000 in his congregation | America's largest church has moved into a 16,000-seat sports stadium to accommodate its giant congregation. (Daily Telegraph, UK)
James Meeks:
Meeks interviewed in police probe | The Chicago Police Department's Office of Professional Standards investigators interviewed state Sen. James Meeks Monday about the traffic stop last week in which he said a patrol sergeant pulled a gun and shouted profanities at him. (Chicago Tribune)
Meeks backed by top police brass | Reverend says reprimand of officer may suffice (CBS 2, Chicago)
Police chief goes to Meeks | In lawmaker's church, Cline calls traffic stop an unfortunate incident (Chicago Tribune)
Top cop attends Meeks' church, blasts profiling | Salem Baptist Church, the state's largest black congregation, is where thousands gather on the South Side to praise Jesus with hand-waving, foot-stomping worship. On Sunday, Chicago police Supt. Phil Cline was an unfamiliar face in the front row. (Chicago Sun-Times)
Meeks says cop put gun to his head | Sen. James Meeks says a Chicago Police sergeant pulled him over in Roseland earlier this week and, Meeks claims, put a gun to his head and cursed him. "That's the moment that you realize that you are black. No matter what you have achieved or accomplished, you are still black," a shaken Meeks, (D-Chicago), told the Sun-Times Thursday. (Chicago Sun-Times)
Sen. who alleged mistreatment meets police | A black state senator who says he was the victim of racial profiling and mistreatment when a white officer pulled over his car told a church congregation Sunday that he wants a uniform code of conduct for traffic stops. ''America has a problem,'' Sen. James Meeks told worshippers at the 10,000-seat House of Hope Church, where he serves as head pastor. ''It should not be left to the individual discretion of each and every police officer on what to do and not to do.'' (Associated Press)
Church zoning:
Easton zoners deny variance to convert closed bar into a church | With a 2-2 vote, the Easton Zoning Board on Monday denied a parking variance to a couple seeking to convert the former Berwick Street Bar and Grill into a church. (The Morning Call, Allentown, Pa.)
Permit rule brings lawsuit | A religious group running a rehab center in Calimesa says a $3,600 fee violates its rights. (The Press-Enterprise, Calif.)
Other religions:
Preserving modesty, in the pool | Because Islam requires Muslim women to fully cover themselves in public, swimming in pools or the ocean is largely off-limits for many. But across the Puget Sound area, that's starting to change as public and private pools at times are sending home their male staff members, covering up their windows and allowing women of faith to swim alone and in private. (Seattle Times)
Muslim Taj Mahal claim rejected | The Indian government has dismissed claims by a Muslim trust, the Sunni Waqf Board, that it owns the Taj Mahal. (BBC)
India's yuppies flock to gurus for stress relief | When business gets stressful some managers call in the consultants. In India, however, the stressed-out consultants are calling in the gurus. (Times, London)
Books:
Religion in America: A Christian thorn speaks out | As the bishop of the Episcopal Diocese of Newark, Jack Spong ordained the first openly gay Episcopal priest in 1989. He has claimed that over 50 percent of Roman Catholic priests are gay and that even the Apostle Paul was homosexual. For these and other opinions, his opponents have called Spong a heretic. His latest book, Sins of the Scripture: Exposing the Bible's Texts of Hate to Reveal the God of Love (HarperSanFrancisco), brings a new round of criticism. (U.S. News & World Report)
Author says Potter can teach Biblical messages | Pastor has wizard book club, Bible study (Associated Press)
Television:
A warning from the past that the BBC does not want us to hear | A small news item this week announced that BBC Radio 4 had dropped its dramatisation of John Buchan's Greenmantle from the schedule. It contained "unsuitable and insensitive material" at this difficult time. A different reaction, you may remember, from the one the BBC displayed to another of its programmes: Jerry Springer - the Opera. Then the BBC said that it would not be dictated to. Faced with potential Muslim anger, its courage is less visible. (Charles Moore, Daily Telegraph)
The silliness and brilliance of religion on the box | TV has opened up a whole new kind of ministry (Times, London)
Related Elsewhere:
More articles of interest:
Another rap at Darwin | Many scientists simply have given up any efforts to debate with ardent proponents of creationism, which in its newest guise is called "intelligent design." (Editorial, Toledo Blade)
'Evangelists will create jobs' | Christian Evangelical tourist center to be built in north will solve region's jobless woes, Bibi says (Jewish.com)
Moses' top ten | The Israelites Moses himself led out of Egypt apparently witnessed the rather unprecedented parting of a sea by their deity to save their lives. Yet about 10 minutes go by and the ungrateful sinners start melting their earrings to make a cow they can pray to. That's what I find so reassuring about the Ten Commandments: the fact that they were necessary in the first place. (Sarah Vowell, The New York Times)
Weblog
Launched in 1999, Christianity Today's Weblog was not just one of the first religion-oriented weblogs, but one of the first published by a media organization. (Hence its rather bland title.) Mostly compiled by then-online editor Ted Olsen, Weblog rounded up religion news and opinion pieces from publications around the world. As Christianity Today's website grew, it launched other blogs. Olsen took on management responsibilities, and the Weblog feature as such was mothballed. But CT's efforts to round up important news and opinion from around the web continues, especially on our Gleanings feature.
Ted Olsen is Christianity Today's executive editor. He wrote the magazine's Weblog—a collection of news and opinion articles from mainstream news sources around the world—from 1999 to 2006. In 2004, the magazine launched Weblog in Print, which looks for unexpected connections and trends in articles appearing in the mainstream press. The column was later renamed "Tidings" and ran until 2007.
Previous Weblog Columns: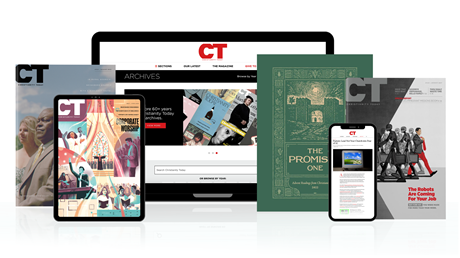 Annual & Monthly subscriptions available.
Print & Digital Issues of CT magazine
Complete access to every article on ChristianityToday.com
Unlimited access to 65+ years of CT's online archives
Member-only special issues
Subscribe
Against the Ex-Gays
Against the Ex-Gays