If it were any slower of a news day, we'd be linking to articles about church picnics.
Church and state:
ACLU sues over court oaths | The North Carolina chapter of the American Civil Liberties Union has filed a lawsuit asking the state to rule that the term "Holy Scriptures" refers not just to the Bible but to other sacred texts (The News & Observer, Raleigh, N.C.)
Swazi king signs new Constitution, keeps powers | Mswati had earlier asked lawmakers to reconsider a clause stating that Christianity was the only recognised religion in Swaziland. It was dropped in the final version (Sapa-AFP)
John Roberts:
AG: High court not bound by Roe v. Wade | Talking about the landmark court decision legalizing abortion, Attorney General Alberto Gonzales said a Supreme Court justice does not have to follow a previous ruling "if you believe it's wrong" (Associated Press)
Also: Roberts's right to vote against Roe is defended | Gonzales cites high court's special role (The Washington Post)
Also: Excerpts from Gonzales interview (Associated Press)
Durbin was source for column about Roberts | Senate Minority Whip now says he was the source, but says Jonathan Turley incorrectly captured the private conversation (The Washington Times)
The religious test | Dick Durbin and the Democrats persist in violating the constitution (Editorial, New York Sun)
Keeping the faithful | If Democrats aren't careful, the Supreme Court confirmation battle over John Roberts could turn the "God gap" into a chasm (Michael Goodwin, New York Daily News)
Terrorism:
Poll: Fewer people link Islam, violence | Just over a third, 36 percent, now say the Islamic religion is more likely to inspire violence, while 44 percent said that in July 2003 (Associated Press)
Report: Views of Muslim-Americans hold steady after London bombings | Fewer say Islam encourages violence (The Pew Forum on Religion & Public Life)
A papal omission | There was no conceivable, let alone moral, rhyme or reason to omit Netanya (Editorial, The Jerusalem Post)
Crime:
Killings of alleged sorcerers must stop | The apparent upswing in sorcery murders and in subsequent court cases must be addressed by parliamentarians, by the churches, and by the courts (The National, Papua New Guinea)
Bishop had last supper with suspect | A source from the diocese, who was present during the supper, said the priest sat several tables away from the deceased (The East African Standard, Nairobi)
Indictment says East Side priest funneled $800,000 to himself | Msgr. John G. Woolsey, 67, is accused of second- and third-degree grand larceny for funneling church donations to his bank account, according to prosecutors, and then using the money to buy luxury watches, golf vacations and expensive meals (The New York Times)
Breaking his long silence | He claims he was molested by a priest as a Minturn teen in the '70s. The church says it takes allegations seriously, but he's not convinced (The Denver Post)
Praise to the pastors who are cutting crime | They pray and sing before patrolling the streets and aim to connect with the community. And they are coming to a street near you (The Times, London)
Life ethics:
Roe vs. Wade vs. technology | The 32-year old constitutional right to an abortion may face its gravest challenge not from red-state values triumphing on the Supreme Court, but from medical research being carried out in elite blue-state universities and in Europe and Asia (Helle Dale, The Washington Times)
The too-weak rule | The organ factory, part 3 (William Saletan, Slate)
Mitt Romney's veto:
Romney stand called pragmatic | Some analysts label his view as 'centrist' (The Boston Globe)
Healey, pro-choice GOP women distance selves on abortion issue | Yesterday, some of the Women for Romney volunteers were furious with Romney's declaration that he is ''pro-life." (The Boston Globe)
Romney's choice | Emergency contraception is not abortion, and for Romney to resort to that description reveals that he is taking his instructions from religious conservatives who oppose birth control as well (Editorial, The Boston Globe)
Prisons:
Inmate wins religious-freedom ruling | A convicted murderer who converted to Islam sued the state after being denied religious headgear and special red meat (The Denver Post)
Prisons try to build character | Programs based on faith, values (The Courier-Journal, Louisville, Ky.)
Youth ministry:
Pastors reach out to youths at risk | One Hundred Male March is Sunday (The Cincinnati Enquirer)
Faith & fun | In an age of Sunday morning sports, religious camps give kids spiritual grounding — and good times with friends (The Christian Science Monitor)
Non-religious kids find refuge in 'godless' camp | Camp takes religion out of everyday life (Good Morning America, ABC News)
Church life:
Lutheran leader hopes to avoid split | The Evangelical Lutheran Church in America General Assembly is scheduled to vote during an Aug. 8-14 meeting in Orlando, Fla., on whether gays in committed relationships should be ordained and their same-sex unions blessed by the church (Associated Press)
Fire makes the faithful ask why | Members of St. Justin Martyr in Anaheim wonder about Sunday's suspected arson at the church. 'That person is a sick person,' says one (Los Angeles Times)
Christians with a broader view | The Christian Church (Disciples of Christ) has elected Sharon E. Watkins as leader (The Oregonian)
Archdiocese, plaintiffs edge | As the two sides argue about a proposed settlement form, a U.S. bankruptcy judge says she expects to proceed on schedule (The Oregonian)
Bishops in the mire | The Church of England has given its blessing to gay clergy who want to enter into civil partnerships, but they will have to remain chaste. The Church's maneuverings are in danger of making it look ridiculous (Ruth Gledhill, The Times, London)
No end to the schism? | There was optimism in the Russian Orthodox Church that a new Roman Catholic pontiff would bring a warming in relations between the two churches, but, although the message from Rome might be clearer than in the past, it still holds little hope for a swift rapprochement (Andrei Zolotov Jr., The Moscow Times)
Books:
A dread come true? | Melding current affairs with Bible prophecy, Joel C. Rosenberg's novels stick to an evangelical Christian perspective (The Washington Times)
Our God problem | Adam Kirsch reviews Noah Feldman's Divided by God (New York Sun)
Hollywood adds its own brand of magic to historic Rosslyn Chapel | Rosslyn Chapel will close its doors to tourists and open them to Hollywood star Tom Hanks at the end of September for the filming of Dan Brown's bestselling book The Da Vinci Code, it was confirmed yesterday (The Scotsman)
George Gilder:
The evolution of George Gilder | The author and tech-sector guru has a new cause to create controversy with: intelligent design (The Boston Globe)
Also: Gilder unplugged | Quotes from the interview (The Boston Globe)
Other stories of interest:
U.S. returns 10-foot altarpiece to Peru | The piece, made between 1575 and 1595, comes from the town of Challapampa, near Peru's border with Bolivia (Associated Press)
Texas churches to seek rights in N. Korea | Christian supporters from President Bush's Texas hometown, said to have been instrumental in pressuring the White House to raise concerns over war-ravaged Sudan, have begun another international human rights campaign -- this time against North Korea (Associated Press)
Maine may consider, for a third time, a gay bias question | After saying no twice before, voters in Maine may be going to the polls again to decide whether to add sexual orientation to the state's human rights act (The New York Times)
Related Elsewhere:
Suggest links and stories by sending e-mail to weblog@christianitytoday.com
See our past Weblog updates:
July 26b | 26a
July 22b | 22a | 21 | 20 | 19 | 18
July 15 | 14 | 13 | 12 |
July 8 | 7
July 1 | June 30 | 27
June 24 | 23 | 20
Weblog
Launched in 1999, Christianity Today's Weblog was not just one of the first religion-oriented weblogs, but one of the first published by a media organization. (Hence its rather bland title.) Mostly compiled by then-online editor Ted Olsen, Weblog rounded up religion news and opinion pieces from publications around the world. As Christianity Today's website grew, it launched other blogs. Olsen took on management responsibilities, and the Weblog feature as such was mothballed. But CT's efforts to round up important news and opinion from around the web continues, especially on our Gleanings feature.
Ted Olsen is Christianity Today's executive editor. He wrote the magazine's Weblog—a collection of news and opinion articles from mainstream news sources around the world—from 1999 to 2006. In 2004, the magazine launched Weblog in Print, which looks for unexpected connections and trends in articles appearing in the mainstream press. The column was later renamed "Tidings" and ran until 2007.
Previous Weblog Columns: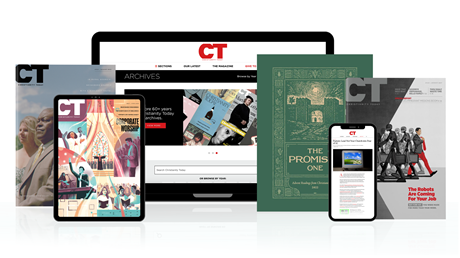 Annual & Monthly subscriptions available.
Print & Digital Issues of CT magazine
Complete access to every article on ChristianityToday.com
Unlimited access to 65+ years of CT's online archives
Member-only special issues
Subscribe
ACLU Sues to Allow Qur'an Oaths in N.C. Courts
ACLU Sues to Allow Qur'an Oaths in N.C. Courts