If you're looking for reaction to the Frist speech, check out our original report.
The Vatican and Israel:
Vatican rejects Israeli complaint | The Vatican has rejected Israel's criticism that Pope Benedict XVI failed to condemn Palestinian militant attacks against Israel in his recent remarks (BBC)
Taut times for Israel and Vatican | Harsh words have been exchanged between the Vatican and Israel as a diplomatic row bubbles between the Jewish state and the Catholic Church, threatening to unbalance a delicate relationship (BBC)
Vatican responds | Accusations are groundless and untenable (Vatican.va)
Vatican denounces some Israeli retaliation | Responding to Israeli criticism, the Vatican said Thursday it hasn't condemned every strike by Palestinian militants against the Jewish state because Israel's military response to the attacks has sometimes violated international law (Reuters)
Kind of related: Indefensible | The Disciples of Christ apparently believe Israel shouldn't defend itself (Martin Peretz, The New Republic)
The Vatican & China:
China, Vatican agree on new bishop, priest arrested | The Vatican is reported to have given its blessing to atheist China's choice of a new bishop, the second such appointment in as many months in a sign of a thaw in decades-old icy relations. But the Connecticut-based Cardinal Kung Foundation said Chinese authorities had beaten up parishioners in the southeastern province of Fujian who had been trying to prevent the arrest of an underground Roman Catholic priest, undermining reconciliation efforts (Reuters)
U.S. group says China police detain priest | Police have detained a priest in China's unofficial Roman Catholic church and beat parishioners who tried to prevent him from being taken away, a U.S. monitoring group said Friday (Associated Press)
An evangelist in central China | For decades, Chinese people were told what to believe. Despite restrictions, thought control is a thing of the past, and people are flocking to religions new and old in an effort to fill the spiritual vacuum left by weakened communist ideology (All Things Considered, NPR)
Pope arrives at vacation palace near Rome | It was his 100th full day as pope (Associated Press)
Catholicism:
Challenges of heeding call of God | So few men are becoming Roman Catholic priests that some parishes in the London area may have to close with others compelled to share priests, according to a church consultation document (BBC)
Scituate levies tax on disputed church | Parishioner vigil blocking closure (The Boston Globe)
Pope should spell out views on Potter | Five sentences aren't enough (Edmund Kern, The Evening News, Edinburgh, Scotland)
From Anglican to married Catholic priest | I am pleased and humbled to announce that my bishop, the Most Rev. Gerald R. Barnes of the Diocese of San Bernardino, has received permission from Rome to ordain me to the Catholic priesthood (Gregory Elder, Redlands Daily Facts, Ca.)
Catholics and Protestants:
Religion Today: Is the Reformation over? | Mark Noll, one of the top U.S. evangelical thinkers, has co-authored a book that finds an increasingly warm relationship between Catholics and evangelicals (Associated Press)
Is the Reformation Over? | An excerpt (Books & Culture, July/August 2005)
John Roberts:
Roberts and Rome | Does Catholic belief interfere with judicial reasoning? What kind of question is that? (Douglas W. Kmiec, The Wall Street Journal)
John Roberts' Catholic connections | By all outward measures, Supreme Court nominee John Roberts has faithfully followed the teachings of the Roman Catholic Church (George Neumayr, Beliefnet)
Senators demand Roe be upheld | A group of female Democratic senators said yesterday that they will vote against Supreme Court nominee John G. Roberts Jr. unless he vows to uphold abortion rights (The Washington Times)
Church & state:
Evangelical chaplains test bounds of faith in military | The percentage of Evangelical Christian chaplains is higher than their faith's representation in the ranks. The military directs them not to proselytize. But many say that would force them to deny a basic tenet of their faith (All Things Considered, NPR)
Also: 'The Soldier's Bible' draws fire | Even though it's privately funded, critics think the emblem on the front brings up legal questions -- and may even violate the Constitution's ban on government-established religion (All Things Considered, NPR)
Issues of church, state tough to tackle | The court is correct in attempting to find a compromise solution: the Ten Commandments may be displayed on public property, as long at their presence is not understood as a government endorsement of Christianity (Martin Albl, Aberdeen American News, S.D.)
Oaths and freedom | If there's any justice in this state, or at least any understanding of the constitutional separation of church and state, a judge will soon clarify state law so that non-Christians can swear to tell the truth on their own religious texts - instead of the Bible (Editorial, Winston-Salem Journal, N.D.)
The view from Saturday | Secular Israelis try to rescue the Sabbath (Judith Shulevitz, Slate)
Life ethics:
Pharmacists' duties subject of hearings on Hill | Several states allow pharmacists to decline to fill prescriptions based on their conscience. Other states are trying to require that pharmacists provide medicines that doctors have prescribed. Now federal lawmakers are holding hearings on so-called "duty to fill" laws (Morning Edition, NPR)
New stem-cell source sought | Moral and ethical issues aside, getting an adequate supply of human eggs for research is a major logistical hurdle. Deriving stem cells from an adult cell requires that an egg be "reprogrammed" so the adult cell nucleus behaves like an embryonic cell. But several groups around the world are trying to find an alternative to the egg for reprogramming (All Things Considered, NPR)
'One embryo' rule to cut multiple births in IVF | Regulators of fertility treatment are reviewing whether Britain should follow other European countries in making single-embryo transfer the norm (The Telegraph, London)
Also: IVF multiple embryo use reviewed | The UK's fertility watchdog is to consider whether women undergoing IVF should only be able to have one embryo implanted at a time (BBC)
Commission backs off Planned Parenthood | Led by Ronda Storms, the county cuts funding to a teen educational program (St. Petersburg Times, Fla.)
Death ethics:
Dying man loses legal battle over right to be fed | A man who is terminally ill and fears that doctors may allow him to die of thirst said he was "disappointed" yesterday after the Court of Appeal overturned an earlier judgment in his favor (The Telegraph, London)
Patient loses right-to-food case | The General Medical Council has won its appeal against a ruling which gave a seriously-ill patient the right to stop doctors withdrawing food and drink (BBC)
Doctors win appeal over rights of the terminally ill | A legal challenge by a man with a degenerative brain disease, who feared doctors might end his life prematurely by cutting off artificial food and water, need never have been brought, three appeal court judges ruled yesterday in a case which has brought fresh scrutiny to the rights of the terminally ill (The Guardian, London)
This is not euthanasia by the back door | Despite the judgment on treatment withdrawal, doctors unsure of patients' wishes will still act in favor of life (Ilora Finlay, The Guardian, London)
Abuse:
Release of data on priests urged | Mahony's attorney says summaries of accused clerics' personnel files should be made public (Los Angeles Times)
Archbishop appeals for abuse info | Denver Roman Catholic Archbishop Charles Chaput faxed letters Tuesday to 11 parishes across Colorado where a priest accused of child molestation formerly served, asking parishioners to come forward with information about child sexual abuse (The Denver Post)
"Our little secret" | More alleged victims recount haunting words, actions (The Denver Post)
Homosexuality:
Love is the answer | Anglican clergy should be allowed to bless gay couples (Giles Fraser, The Guardian, London)
Back in the closet | Growing conservatism has been blamed for less tolerance of homosexuality (Julie Szego, The Sydney Morning Herald)
Freed sex offenders | The Traditional Values Coalition's latest tactic against gay pride festivals (The Washington Times)
Pastor finally at peace being gay, Christian | Phyllis Hunt knows the pain of rejection and isolation and now leads others on the path to inclusion and love (St. Petersburg Times, Fla.)
Church life:
Property deals at Hillsong | The couple at the helm of the nation's fastest-growing church, Hillsong, have used a church association to offload their own personal properties (The Australian)
Quest Church makes race a matter of faith | Conference opens doors on hard-to-discuss topic (Seattle Post-Intelligencer)
Megachurch's pastor to step down | The Rev. Clark Whitten of Calvary Assembly opposes the decision to eliminate a senior pastor position (The Orlando Sentinel)
New religion: Faith is useful for a profit | Gone seem to be the days when Christians worshipped in order to give thanks to God, confess their sin, receive absolution and make communion with their creator. The idea of sacrifice, care of others and service to God seems no longer to be the point (Steve Gushee, Palm Beach Post)
'Sermons in the hat' Sundays | Once a month, parishioners offer topics, pastor improvises (South Bend Tribune)
Buildings reborn as churches | Commercial properties get new lives (The Dallas Morning News)
Missions & ministry:
Charity's funds drying up | Lake County's needy face halt in services from Catholic Charities (Chicago Tribune)
Livingstone's prayer | Will affluent America fulfill the great missionary's vision? (Marvin Olasky, World)
Higher education:
10th Circuit: controversial campus statue not unconstitutional | Plaintiffs claimed phallic-looking clergy figure at Washburn University represented an anti-Catholic message (Associated Press)
Despite controversial decision, The King's College receives accreditation | Despite a decision in March that limited The King's College accreditation to one year and required it to undergo an additional review, the New York State Board of Regents voted to extend the college's accreditation for five years on July 21 (Press release)
Eastern Orthodox:
Orthodox leave NCC | The General Convention of the Antiochian Orthodox Christian Archdiocese of North America voted overwhelmingly to leave the National Council of Churches USA. The clergy unanimously approved the withdrawal, followed by a unanimous vote of the lay delegates supporting the move (Mere Comments)
Murder case rocks Russian Church | A funeral is being held for the murdered abbot of a Russian Orthodox monastery south of Moscow, whose body showed signs of torture (BBC)
Also: Mafia secret of murdered abbot | When police found the abbot dead in his cell at the Davydova Pustyn monastery, at first they thought that it was just another case of violent robbery (The Times, London)
History:
Translators turning to magic texts for a spell | Lost tales about Adam, the Queen of Sheba and the apocalypse are among ancient stories from biblical times to be translated by scholars in Scotland (The Times, London)
Also: Religious scholars to translate old texts | Ancient quasi-biblical texts written by Jews, Christians and pagans are to be translated for the first time by scholars of divinity (The Telegraph, London)
Roman ruler's head found in sewer | A 1,700-year-old, two-foot carved marble head of Emperor Constantine has been found in a sewer in central Rome (BBC)
St Olav Festival underway | The festival commemorates the life and death of St Olav, the former Olav Haraldsson, who tried to bring Christianity to Norway but was killed for his efforts at the battle of Stiklestad in 1030 (Aftenposten, Oslo, Norway)
Music:
Salty dogma | Bono gives an explicit confession of being saved by Grace, not Karma (World)
Pete deity | Troubled rocker turns to God on advice from his football hero (The Mirror, U.K.)
Doherty turns to Christianity | Babyshambles frontman Pete Doherty has vowed to become a born-again Christian after seeking life-coaching from his British soccer hero, former Queens Park Rangers striker Dennis Bailey (ContactMusic.com)
Other articles of interest:
Love thy neighbor, love the neighborhood | Debate over global warming heats up among evangelicals (World)
Mormon portion of Utah population steadily shrinking | If current trends continue, LDS residents no longer will constitute a majority by 2030 (The Salt Lake Tribune)
Charge dropped against Army wife | Her husband, however, remains convicted of intent to avoid hazardous duty (Associated Press)
Catholic hospital adds meditation room for non-Christians | On Thursday, St. Alexius Medical Center in Bismarck, N.D., dedicated a $350,000 solarium and meditation room that may be used for such things as burning sage, cedar or sweetgrass, or for singing or drumming (Associated Press)
What would Jesus eat? | Someone has found a new way to use Jesus as a role model - this time as a dietician - while managing to create sufficient financial spin-off to cope with out-of-pocket and stay-in-the-pocket expenses (Ray Chesterton, The Daily Telegraph, NSW, Australia)
Related Elsewhere:
Suggest links and stories by sending e-mail to weblog@christianitytoday.com
See our past Weblog updates:
July 28 | 27 | 26b | 26a
July 22b | 22a | 21 | 20 | 19 | 18
July 15 | 14 | 13 | 12 |
July 8 | 7
July 1 | June 30 | 27
June 24 | 23 | 20
Weblog
Launched in 1999, Christianity Today's Weblog was not just one of the first religion-oriented weblogs, but one of the first published by a media organization. (Hence its rather bland title.) Mostly compiled by then-online editor Ted Olsen, Weblog rounded up religion news and opinion pieces from publications around the world. As Christianity Today's website grew, it launched other blogs. Olsen took on management responsibilities, and the Weblog feature as such was mothballed. But CT's efforts to round up important news and opinion from around the web continues, especially on our Gleanings feature.
Ted Olsen is Christianity Today's executive editor. He wrote the magazine's Weblog—a collection of news and opinion articles from mainstream news sources around the world—from 1999 to 2006. In 2004, the magazine launched Weblog in Print, which looks for unexpected connections and trends in articles appearing in the mainstream press. The column was later renamed "Tidings" and ran until 2007.
Previous Weblog Columns: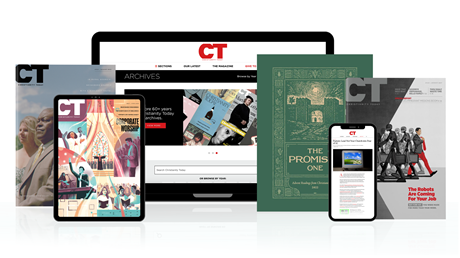 Annual & Monthly subscriptions available.
Print & Digital Issues of CT magazine
Complete access to every article on ChristianityToday.com
Unlimited access to 65+ years of CT's online archives
Member-only special issues
Subscribe
Why the Pope Didn't Mention Netanya
Why the Pope Didn't Mention Netanya