Baylor regents reaffirm 2012 and Christian education, but debate continues
The "Battle for Baylor" has more than its share of intrigue, not to mention ample opportunities for tea-leaf reading and code cracking.
The story took a turn to the ridiculous last week as the Waco Tribune-Heraldreported (and editorialized) on a private investigator who claimed to be hired by "rich and powerful people" to dig up dirt on interim president Bill Underwood. Former Baylor insider Hunter Baker thinks it's a hoax—or that the investigator was actually hired by Underwood supporters in an attempt to "make Underwood look like a victim of evil conservative Christian types and let him ride into the presidency full time on a righteously indignant sympathy vote."
The Baylor Board of Regents (whose meeting coincided with the news of the investigator) attempted to defuse some speculation over the weekend by unanimously reaffirming the school's Vision 2012, an ambitious project largely shepherded by Sloan designed to place Baylor in "the top tier of American universities while reaffirming and deepening its distinctive Christian mission."
A statement from the regents said:
In furtherance of Baylor's commitment to outstanding teaching, Baylor will continue to enhance opportunities for research and scholarship among its faculty. Baylor will continue to recruit and hire highly qualified faculty who are committed Christians, including Christian scholars and scholars who are Christians. We expect every faculty member to examine and consider how his or her faith impacts his or her professional life. The Baylor Board of Regents reaffirms its commitment to the University's historic Baptist heritage.
Many who lamented that Sloan's forced resignation as president and Underwood's firing of provost David Jeffrey may have breathed a sigh of relief at the statement. But media reports say it's not the full story. Both the Waco Tribune-Herald and Inside Higher Ed suggest that the school is actually easing its mandate that faith and learning be integrated in all classrooms.
"Some faculty had previously expressed concern that they would be expected to bring faith into course material, regardless of the subject matter," reports the Tribune-Herald. But now, the paper says, they're told that "religious issues need not be part of the curriculum of every class."
"I think the board reaffirmed the wide range of approaches to the integration of faith and learning that is appropriate and what we are looking for here at Baylor," Underwood said at a press conference after the regents' meeting.
Regent Wes Bailey explained what he thought the resolution meant: "There are classes where course material doesn't lend itself to a lot of Biblical principles, such as accounting or mathematics. We want Christian character to be demonstrated in the classroom and in interactions with students."
But "Christian character" is different than integrating faith and learning. At Wheaton College, for example, all new faculty members—including those in mathematics—must participate in a year-long Faith and Learning seminar, which generally includes writing and deep scholarship.
There's a remarkable difference between Wheaton's integrationist model and what Baylor sociology and anthropology professor Susan Wallace explained to Inside Higher Ed. "Being in forensic science, I did not feel comfortable talking about my faith to my students," she said. "But I feel comfortable teaching them how we interact with grieving families in a Christian manner. It's what I've done all along, but I feel validated in that by the new president."
Validated how? Maybe by making integration voluntary. Inside Higher Ed reports that after the regents' meeting, "administrators also stressed — in a way that they haven't before — that the rights of individual professors mattered too. Randall O'Brien, the interim provost, who was at the regents' meeting, said the resolution 'is definitely talking about voluntary inclusion' of faith in learning."
So many tea leaves. Read into them what you will.
In other Baylor news, another high-ranking official who had supported Sloan has resigned. Beck Taylor, economics professor and associate dean for research & faculty development, has taken a position as dean of Samford University's School of Business. Several other pro-Sloan officials, including three vice presidents, have also left the school since Sloan was removed as president in January.
Also, the Truett Seminary student who made headlines in 2004 when he announced that he was gay and thereby lost his scholarship is back in the news. A court ordered James Matthew Bass to pay Baylor $47,000 in damages and $30,000 in attorneys' fees for sending more than 1,000 pornographic and obscene e-mail messages to university officials and their families.
More Weblog
Rob Moll has a Christianity Today Weblog Bonus today, focusing on Zimbabwe. Be sure to check it out.
More articles
John Roberts:
A year of work to sell Roberts to conservatives | The White House worked behind the scenes to shore up support for Judge John G. Roberts among its social conservative allies (The New York Times)
Poll: Roberts' abortion stance of interest | Just over half of all Americans — and a solid majority of women — want to know John Roberts' position on abortion before the Senate votes on whether to elevate him to the Supreme Court (Associated Press)
Abortion & justice | Let's hope John Roberts is a genuine moderate (Edward Whelan, National Review Online)
Playing the Catholic card | Democrats have taken this religion-baiting long enough. It's time to stand up to the Republicans' libeling through labeling (Amy Sullivan, Beliefnet)
Roberts rules | President Bush has picked for the Supreme Court one of Washington's top legal minds and resumés. But John Roberts' conservative record may tell us less than many think about the type of justice he will be | by Lynn Vincent (World)
Jane Roberts:
Nominee's wife is a feminist after her own heart | Those scouring the writings of John G. Roberts to assess how he would vote on future Supreme Court cases involving abortion will not find much clarity from his wife's record. Like him, she seems unequivocally antiabortion in her personal views, but from there she does not follow the usual path (The Washington Post)
Wife's role in women's group now in focus | Jane Sullivan Roberts's story is a complex one (The Boston Globe)
Life ethics:
Major abortion rights group gives approval to Bloomberg | Naral Pro-Choice New York said that Mayor Michael Bloomberg's record of support outweighed his affiliation with a party opposed to abortion (The New York Times)
Law may change on mercy killing | Mercy killing could be reclassified and no longer treated as murder under the first major shakeup of murder laws for 50 years (The Guardian, London)
One free IVF treatment for all | All patients will be able to get a free cycle of IVF treatment on the NHS providing they meet certain criteria drawn up by experts (BBC)
Specter threatens an end run to get vote on stem cell bill | With prospects dimming for a simple Senate vote on a bill to loosen President Bush's restrictions on human embryonic stem cell research, Sen. Arlen Specter (R-Pa.) threatened yesterday to circumvent the political logjam by attaching the wording to the appropriations bill for the Department of Health and Human Services (The Washington Post)
Crime:
Rwandan archbishop testifies in genocide case | Archbishop Thadde Ntihinyurwa, a Hutu, was summoned after dozens of genocide survivors accused him of taking part in several meetings they said were held to orchestrate the slaughter of ethnic Tutsis in the southern province of Cyagungu (Reuters)
Why do they hate us? Not because of Iraq | The terrorists' only true cause is global Islamic dominion (Olivier Roy, The New York Times)
Preacher pleads guilty in fake-passport case | Detained here, the Salvadoran televangelist may be sentenced to time served (Houston Chronicle)
Housecleaner held in double slaying | Pastor, daughter killed during theft, cops say (Chicago Tribune)
Also: Housecleaner charged in Ill. slayings | Murder of pastor and his daughter apparently began as a burglary (Associated Press)
Police ask DA for advice on signature flap | Councilor calls probe into church declaration a 'vendetta' (The Boston Globe)
Law:
Samaritans say they haven't crossed a line at the border | Two volunteers drove migrants to a hospital -- and then found themselves behind bars (Los Angeles Times)
MP govt may amend Religious Freedom Act | Police report blames Christian missionaries for violence (NDTV, India)
Evangelist settles 2 suits over money lent to him | After three years of legal wrangling, high-profile evangelist Clint Brown and his 6,000-member church, FaithWorld, have settled a lawsuit filed by a former church member who said the evangelist asked her for a $200,000 loan and then refused to pay the money back (The Orlando Sentinel)
Mending morality | Where do we stand? What comes next? (Rick Santorum, National Review Online)
Politics:
Marriage fund for poor proposed | Senator's plan in budget bill would offer up to $9,000 to D.C. couples (The Washington Post)
Utah's Mormon influence creates First Amendment challenges | State ACLU often in middle of showdowns between majority beliefs, minority rights (First Amendment Center)
Unholy opposition | A moral case for CAFTA (Rev. Robert Sirico, National Review Online)
Get rid of religion:
Fundamentalists of all stripes harm free societies | When a large portion of the world's population -- Christian, Jew, Muslim, whatever—dismisses hard science in favor of religious belief then some sort of serious strife will result (Stephen Dobyns, The Day, New London, Ct.)
In the name of God | Blair has appeased and prevaricated. Now, as the death cult strikes again, he must oust religion from public life (Polly Toynbee, The Guardian, London)
Abuse:
Santorum meets group upset by comments | Catholic Sen. Rick Santorum assured abuse victims Thursday that he would look into why the Justice Department has yet to respond to their request for an investigation of sexual abuse by Catholic clergy (Associated Press)
Religion Today: Emerging from bankruptcy | Is the Tuscon Diocese a model? (Associated Press)
Payments to diocese will go up | Parishes to give more to help with costs of abuse suit, land fight (The Dallas Morning News)
Sexual ethics:
Falwell encourages ex-gays at Ridgecrest | Before speaking at what has been called the largest annual gathering of former homosexuals, the Rev. Jerry Falwell said Thursday that he wanted "to encourage the people who are trying to encourage the people to get out." (Asheville Citizen-Times, N.C.)
Vatican paper condemns Canada gay marriage | The Vatican newspaper on Thursday attacked Canada's legalization of gay marriage, calling it a distortion of God's plan for the family (Associated Press)
Birth certificate policy draws fire | Change affects same-sex couples (The Boston Globe)
Religion, gays face tense struggle | Lifestyles, beliefs collide on local, national stage (The News-Leader, Staunton, Va.)
Church life:
Russian patriarch returns icon to Kazan | The leader of the Russian Orthodox Church celebrated the return of a religious icon from the Vatican Thursday, but reiterated criticism of the Roman Catholic church (Associated Press)
Bishop feels safe returning to Sudan diocese | The Roman Catholic bishop of El Obeid, in south-central Sudan, plans to return to his war-torn country after fears for his own safety prompted him to flee in 1990 (The Washington Times)
Catholicism:
Cardinal takes evolutionary leap over pope | Catholics have to believe that God created everything and set the various natural processes in motion (and sustains the cosmos in existence), but we do not have to believe that God is intervening constantly in the processes, fiddling with them, as it were, to make sure of the outcomes (Andrew Greeley, Albany Times-Union)
Catholic conservatism on the rise as priest refuses funeral for 'sinner' | Father Giuseppe Mazzotta, parish priest at Marcellinara, near Catanzaro in Calabria, said that he had denied a Christian funeral to Maria Francesca Tallarico, who died of breast cancer at the age of 45, because she had lived with her partner but never married him (The Times, London)
Catholic hierarchy 'satisfied' with excommunication ruling | The Roman Catholic Archdiocese has expressed satisfaction with a High Court decision, which declares that Father Gert Petrus has been excommunicated and is not allowed to live or preach at the St Mary's Help of Christians parish in Khomasdal (The Namibian)
Also: Catholic parish priest excommunicated (The Namibian, Tuesday)
Also: Past coverage of the Gert Petrus controversy (The Namibian, via Google)
Conferences and meetings:
Gaia gets top billing at interfaith conference | Wallis, Lerner et al., well aware of the historic tensions between church and state, have decided to resolve the problem by tossing faith overboard as if that somehow will convert disaffected Southern Bible thumpers and disillusioned Rust Belt Catholics (Tony Snow, The Washington Examiner)
"God said it, that settles it" | Deity's evidence muddled, contradictory as Creation Mega-Conference wraps (Ronald Bailey, Reason)
Camping with God | Camp meetings today are still serving many of the same functions they did more than 200 years ago (Voice of America)
Divestment:
Religious radicals | Mainline churches launch a policy to punish Israel (Eugene Kontorovich, The Wall Street Journal)
Should churches divest? | The Presbyterian Church (USA): A case study (Don Wagner, Sojourners)
A question of tactics | Is divestment the right tactic? (Arthur Waskow, Sojourners)
'Nonviolence is our only hope' | Only justice for all is justice at all (Editorial, Jim Rice, Sojourners)
Is divestment anti-Semitic? | Constructive engagement must ensure safety for both Israelis and Palestinians (Editorial, Haim Dov Beliak, Sojourners)
Higher education:
Pittsburgh Theological Seminary names president | Pastor of First Presbyterian Church in Dallas called 'a visionary' and leader (Pittsburgh Post-Gazette)
Ava Maria's church plan scaled back | Oratory to anchor new university, town (The News-Press, Fort Myers, Fla.) Also: Ave Maria downsizes church plans | Domino's entrepreneur scales back the oratory to better fund the town's university (The Orlando Sentinel)
Also: Centerpiece of Ave Maria university, town unveiled (Naples Daily News, Fla.)
Books:
Church, state gulf goes way back | P.J. Slinger reviews Noah Feldman's Divided by God (The Capital Times, Madison, Wi.)
Church website denounces Da Vinci book | The Roman Catholic Church in England and Wales begins a campaign today against Dan Brown's bestselling The Da Vinci Code, denouncing it as logically and historically flawed and a risible hoax (The Times, London)
Hogwarts horror | Critics are falling all over themselves to praise the latest Harry Potter release, but the book has all the moral problems of earlier volumes with considerably less charm (Susan Olasky, World)
Television:
Board asks for KOCE rehearing | Rejected bidder Daystar files lawsuit against college district, trustees, citing religious bias (Daily Pilot, Newport Beach, Ca.)
KOCE's future belongs with the public, viewers | If Daystar ends up getting control of KOCE, it will be a loss for Newport-Mesa and the county (Editorial, Daily Pilot, Newport Beach, Ca.)
Gospel of John on TV | Acclaimed film to be shown twice this weekend on TBN, airing in its entirety with no commercials (Christianity Today Movies)
'Desperate Housewives' claims gay attitude | "It's just gay," series creator Marc Cherry said at Outfest. "But I don't start with that. I don't start with an agenda." (Associated Press)
Parental groups lobby for cable options | Cable television companies should be forced to allow customers to choose which channels they want to subscribe to because it will help parents prevent their children from seeing racy fare geared toward adults and teens, several religious and conservative groups said (The Washington Times)
Sports:
If you billed it around faith, they will certainly come | The dozens of Faith Nights at ballparks this summer are the latest manifestation of Christianity's increasing involvement in sports (USA Today)
Softball together | In which our correspondent investigates the spiritual value of slow-pitch softball (Marc Gellman, Newsweek)
Religion looks to have left the arena | Is it just me or has God abandoned his interest in sports? (Frank Fitzpatrick, The Philadelphia Inquirer)
Other articles of interest:
Church's members embrace different route on mission trip | Instead of work in Mexico, group sticks closer to home (The Dallas Morning News)
Different strokes for godly folks | For U.S. evangelicals, one size doesn't necessarily fit all (Vermont Guardian)
Fighting AIDS behind bars | The aim must be to slow the spread of AIDS in the prison system so as few people as possible get out with infections that endanger society (Editorial, The New York Times)
Religion news in brief | United Methodist Church is down, Vatican is up, and other stories (Associated Press)
It's official: Son of Chabad movement's founder converted to Catholicism | Documents have recently come to light proving that the youngest son of the founder of the Chabad movement, Rabbi Shneur Zalman of Liadi, Russia, converted to Catholicism (Haaretz, Tel Aviv)
Biblical center backers cling to hopes | Fire officials now looking at whether blaze at Christian art museum was accidental (The Dallas Morning News)
Grand theft adult | As always in America, sex and nudity create the scandals, not systemic violence (Editorial, The New York Times)
Related Elsewhere:
Suggest links and stories by sending e-mail to weblog@christianitytoday.com
See our past Weblog updates:
July 22b | 21 | 20 | 19 | 18
July 15 | 14 | 13 | 12 |
July 8 | 7
July 1 | June 30 | 27
June 24 | 23 | 20
Weblog
Launched in 1999, Christianity Today's Weblog was not just one of the first religion-oriented weblogs, but one of the first published by a media organization. (Hence its rather bland title.) Mostly compiled by then-online editor Ted Olsen, Weblog rounded up religion news and opinion pieces from publications around the world. As Christianity Today's website grew, it launched other blogs. Olsen took on management responsibilities, and the Weblog feature as such was mothballed. But CT's efforts to round up important news and opinion from around the web continues, especially on our Gleanings feature.
Ted Olsen is Christianity Today's executive editor. He wrote the magazine's Weblog—a collection of news and opinion articles from mainstream news sources around the world—from 1999 to 2006. In 2004, the magazine launched Weblog in Print, which looks for unexpected connections and trends in articles appearing in the mainstream press. The column was later renamed "Tidings" and ran until 2007.
Previous Weblog Columns: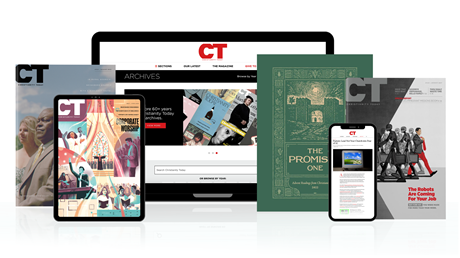 Subscribe to Christianity Today and get access to this article plus 65+ years of archives.
Home delivery of CT magazine
Complete access to articles on ChristianityToday.com
Over 120 years of magazine archives plus full access to all of CT's online archives
Subscribe Now
Reading Baylor's Tea Leaves on Faith-Learning Integration
Reading Baylor's Tea Leaves on Faith-Learning Integration