Those worried that evangelicals' participation in politics may produce a theocracy may take comfort from Western Europe, where church and state have mingled for centuries. The closer church and state get, the more the church looks like the state.
Almost two years ago, a Danish minister said, "There is no heavenly God, there is no eternal life, there is no resurrection." After making the statement in an interview, Thorkild Grosboell was suspended by his bishop. But because the Evangelical Lutheran Church is the state church of Denmark, the bishop could not fire the disbelieving pastor. Only the government can do that, and "the government refused, saying he should be given another chance to explain himself to Jan Lindhardt, a regional bishop who has been one of his few defenders," according to the Associated Press. "Lindhardt has said that although he disagrees with Grosboell's views, there should be room for him in Denmark's state church."
On Sunday, Grosboell returned to his pulpit in Taarbaek. Grosboell recently renewed his ministry vows, but said his views about God have not changed.
In England, the intricacies of church/state relations have produced a strange requirement for gay clergy who are now allowed to register for civil unions. "The new law leaves [church officials] little choice but to accept the right of gay clergy to have civil partners," says the London Times. Despite the legal requirement, the church still requires gay clergy to remain celibate.
So the church compromised. "Homosexual priests in the Church of England will be allowed to 'marry' their boyfriends under a proposal drawn up by senior bishops, led by Rowan Williams, the archbishop of Canterbury. … They will, however, have to give an assurance to their diocesan bishop that they will abstain from sex."
That's far from the Puritan requirement that a marriage be consummated before it is official.
Though the requirements may be changed before a final draft is approved by the House of Bishops, some bishops are already uncomfortable with them. "We all have clergy in gay partnerships in our dioceses, and there is a genuine reluctance on the part of a number of us to make their lives more difficult," said one bishop.
It seems those fearing theocracy have little to worry about.
More Articles
Church & state:
Baptists, remember who you are | It's time for America's Baptists to hear that message. And helping them remember that they were pioneers — champions of not only religious freedom but a separation between church and state — is the goal of a new effort involving two Baptist-based media organizations — Associated Baptist Press and the journal Baptists Today — and the Baptist Joint Committee on Religious Liberty. (Charlotte Observer, N.C.)
Air Force Academy has become 'Team Jesus Christ' | There is significant cross-pollination between the local evangelical groups and the academy, to the point where cadets are reportedly cajoled, harangued and even bullied into being ''saved.'' (Robyn Blumner, Salt Lake Tribune)
It's Academic: Off we go, into wild Christian yonder | Air Force Academy has no business evangelizing (Jonathan Chait, Houston Chronicle)
Religious expression by government officials | Is Hawaii becoming a theocracy? (Hawaii Reporter)
High court to decide prickly cases soon | By the term's end, the justices are expected to rule on several hot-button issues, including religion and file sharing. (Los Angeles Times)
Thou shalt know commandments' standing soon | Should the U.S. Supreme Court rule that the tablet's placement in the seat of Texas government violates the constitutional separation between church and state, the monument could become the centerpiece for emotional protests. (Express-News, San Antonio)
Judge gives offenders option of church | A Kentucky judge has been offering some drug and alcohol offenders the option of attending worship services instead of going to jail or rehab _ a practice some say violates the separation of church and state. (Associated Press)
Judge OKs Utah polygamous church request | A judge on Friday approved the state's request for independent parties to temporarily take control of a polygamous sect's assets. (Associated Press)
Is there a god-country link? | As conservative Christian groups in America protest against the Air Force Academy's decision to investigate complaints of institutionalised proselytisation at its Colorado Springs campus, questions arise about the status of religious freedom in that country. (Sandhya Jain, Daily Pioneer, India)
Religion & politics:
Bitter battle over judges | Conservatives work to undo successes by the left (Terry Paulson, Ventura County Star, Calif.)
Waiting for Harris has GOP antsy | Republicans are hoping that U.S. Rep. Katherine Harris will run against incumbent Democrat Bill Nelson in next year's Senate elections. James Dobson, the evangelical leader who warned in January that some U.S. senators ''will be in the bull's-eye'' if they block President Bush's judicial nominees, has already run ads targeting Nelson. (Miami Herald)
'Bad faith' has tainted evangelical Christianity | In the most recent exercise of presidential hypocrisy, Bush told reporters that he would not support federally-funded stem cell research because he did not support the destroying of life in order to save life. (Ryan Bachtel, Elkhart Truth, Ind.)
Right wing losing pull with electorate | Polls finding conservative agenda less popular. Americans seem to grow increasingly uncomfortable with an agenda shaped by evangelical Christians. (Connecticut Post)
Extremes are always on the march | Religious extremism joins forces with political opportunism, tribal hatred buys weapons, the rich demand too much, mobs shout for blood, and the crafty plot while their targets relax. (Tom Ehrich, Religion News Service)
N.Y. court rules mayor will face trial | The village mayor who challenged New York law by attempting to marry gay couples last year will face trial, the state's highest court ruled Friday. (Associated Press)
What happened to compromise? | The increasing prominence of religion in politics is adding passion and moral certainty to issues like embryonic stem cell research and the judiciary, where the struggles over abortion and gay marriage are playing out. Christian conservatives say they are fighting to preserve a "culture of life," while the left accuses the right of trying to impose its morality on the nation. (The New York Times)
Microsoft cuts ties to lobbyist | The Microsoft Corporation said on Friday that it had severed ties with Ralph Reed, a Republican lobbyist and former leader of the Christian Coalition who is running for lieutenant governor of Georgia. The move came a month after liberals, upset that Microsoft had withdrawn its support for a gay rights bill here, urged the company to stop using Mr. Reed as a political consultant. (Associated Press)
Fault lines apparent at the polls | Religion remains divisive in Beirut. (Washington Post)
Christian Democrat to challenge Germany's Schröder:
Christian Democrats name challenger to Schröder in elections | Angela Merkel was confirmed Monday by the Christian Democrats as their candidate to challenge Gerhard Schröder for chancellor, as her party put its differences behind it and exulted in even the possibility of regaining power. (The New York Times)
Germany has 1st female chancellor nominee | Germany's conservative opposition on Monday nominated Angela Merkel, a former chemistry researcher who entered politics during the collapse of communism, as its challenger to Chancellor Gerhard Schroeder. (Associated Press)
"Kohl's girl" makes good | Angela Merkel's quiet but determined rise to the top of German politics shows that it's not necessarily a disadvantage to be underestimated by political opponents or inner-party rivals. (Deutsche Welle, Germany)
A German contender is hard to read | The pictures in the German papers these days show the contrast. One is of Chancellor Gerhard Schröder of Germany in a pose of grim fortitude. In the other Angela Merkel, often shown against a blue backdrop printed with the word "Better," smiles confidently. She looks like the relaxed beneficiary of a political gift - not just a chance to become chancellor of Germany but to do so a year before anyone thought it would be possible. (The New York Times)
Life ethics:
Romney vetoes stem cell bill for Mass. | Gov. Mitt Romney vetoed a bill Friday to expand stem cell experiments in Massachusetts because it would allow the cloning of human embryos _ a practice he has called morally wrong. (Associated Press)
Bush's Jewish allies demur on stem cells | The fight to fund embryonic stem cell research has opened a fissure of biblical proportions. When President Bush last week branded as unethical the stem-cell legislation making its way through Congress, he found himself in a dogma dispute with Orthodox Jews, one of his most valuable constituencies. (Washington Post)
Beware of stem cell theology | Secular scientists are often quick to dismiss faith as having any relevance to their work, but in fact much of our moral code, personal and civil, is rooted in religious tradition. The Bible and its commentaries are a wealth not only of ethical imperatives but also of insights into character and behavior. It is foolish or naive to ignore this fact. But it is also foolish, and wrong, to use the founders of Judaism, Islam and Christianity as foils to support the current administration's views on pressing moral questions in medicine. (Jerome Groopman, Washington Post)
Stem cell reasoning | Critics of the president's position frequently charge Mr. Bush is influenced by religious belief and that his objections to stem cell research are therefore illegitimate. (Mona Charen, Washington Times)
Without apology, leaping ahead in cloning | To his supporters, Dr. Hwang's report on May 20 that he had created new colonies of stem cells that matched the DNA of their donors was a major leap toward the dream of growing replacement tissues for conditions like spinal cord injuries, juvenile diabetes and congenital immune deficiencies. (The New York Times)
Catholics split on embryo issue | 'Adoption' embraced by evangelicals in stem cell debate (Washington Post)
Does science trump all? | It was a White House photo-op with a stern message: President Bush, surrounded by a passel of babies, warned last Tuesday against a Congressional bill that would increase federal spending on embryonic stem cell research. The legislation, which had threatened to veto, "would take us across a critical ethical line," he said. (The New York Times)
Pope challenges Italian fertility law:
Pope backs boycott of fertility measure | Benedict supports a call urging Italians to let limits on reproductive treatments stand. But some complain that he is interfering in politics. (Los Angeles Times)
In political step, Pope confronts law on fertility | Pope Benedict XVI waded gingerly into Italian politics on Monday for his first time, endorsing a call by Italian bishops for a boycott of a contentious referendum on medically assisted fertility. (The New York Times)
Pope enters fray on Italian fertility debate | Pope Benedict, taking his first plunge into Italian politics, on Monday backed a controversial campaign by bishops who have urged voters to boycott an emotionally charged referendum on assisted fertility. (Reuters)
Catholicism:
Clergy-abuse victims group urges D.A. to investigate Orange diocese | Armed with newly released church documents, advocates for victims of clergy sexual abuse asked the Orange County district attorney Friday to open an investigation into whether Roman Catholic officials acted criminally by covering for molesting priests and failing to report their crimes to authorities. (Los Angeles Times)
No room for dissent? | On the Sunday after Pope Benedict XVI was elected, I attended Mass at a parish whose pastor I like and respect, even if we have rather different political views. (E. J. Dionne Jr., Washington Post)
Diocese gets a new spiritual leader tomorrow | Bishop Thomas J. Tobin succeeds Bishop Robert E. Mulvee at the ceremony at the Cathedral of SS. Peter and Paul in Providence. (Providence Journal, R.I.)
Plan to close church with Latin mass upsets parishioners | On most Sundays, Dan Linnell drives from his home on Cape Cod to the South End of Boston to worship at Holy Trinity Church, the lone Roman Catholic congregation in the region that celebrates Mass in Latin. (Associated Press)
Taiwan faithful doubt Vatican will side with China | Father Louis Shen, a Chinese Catholic who has spent half his life in labor camps, dismisses talk that Beijing will grant religious freedom to his countrymen in order to forge ties with the Vatican. (Reuters)
Rome diocese opens John Paul sainthood cause | The Rome diocese has officially opened the procedure that could lead to sainthood for Pope John Paul, asking Catholics to come forward with evidence ``in favor or against'' his reputation of holiness. (Reuters)
Diocese says it can't use parishes to pay | The Roman Catholic Diocese of Spokane said Friday it does not own 81 parish churches and nearly 100 other assets _ and cannot use them to pay alleged victims of sexual abuse by priests. (Associated Press)
Despite few followers, 'Pope Michael I' holds to beliefs | This is David Bawden. He has never been ordained a priest and hasn't been to Mass since 1989. But to his tiny flock, numbering about 100 and scattered as far away as India and Australia, he is the rightful leader of the Catholic Church. (Associated Press)
Benedict XVI's first trip:
Pope visits Italian port, his first official trip | Pope Benedict XVI made his first official trip today, pledging at a huge outdoor Mass in this seaside city to work toward reuniting the long-torn branches of the Roman and Orthodox churches. (The New York Times)
Benedict XVI and the church that may shrink. Or may not. | Joseph Ratzinger, as a theologian and cardinal, returned to the question often over the years. And now that he is Pope Benedict XVI, his paper trail on the issue provokes skepticism about him among more liberal Roman Catholics. (The New York Times)
Benedict stresses message of Christian unity | Pope Benedict XVI made his first trip outside Rome since his election as head of the world's 1.1 billion Roman Catholics and took the opportunity Sunday to emphasize two issues he has already made clear will be fundamental to his mission: Christian unity and resistance to materialism and increasing secularism. (Washington Post)
Benedict urges dialogue among Christians | In his first foray outside Rome, the new pontiff aims his message at Eastern Orthodoxy. (Los Angeles Times)
Pope to work for reunification with Orthodox church:
Benedict reaches out to Orthodox church | Pope Benedict XVI pledged Sunday to work to end Roman Catholicism's 1,000-year-old rift with the Orthodox Church, delivering a message of healing on the first trip of his papacy. (Associated Press)
Pope vows to try to end split with the Orthodox | Pope Benedict XVI made his first official trip on Sunday, pledging at a huge outdoor Mass in this seaside city to work toward reuniting the long-divided Roman and Orthodox Catholic Churches. (The New York Times)
Orthodox church:
Greek Orthodox Church names interim leader | Leaders of the Greek Orthodox church in the Holy Land on Monday unanimously selected a temporary replacement for its embattled patriarch, who has steadfastly refused to heed growing calls for him to resign. (Associated Press)
Russian Orthodox Church praises Pope's call for unity | A top Russian Orthodox Church official praised Pope Benedict XVI's call for unity but expressed caution Sunday, saying that it should be followed by concrete actions and warning of differences that cannot be bridged easily. (MOSNEWS, Russia)
Jerusalem clergy appoint new head | Leaders of Jerusalem's Greek Orthodox Church have appointed a temporary substitute for its embattled patriarch. (BBC)
Orthodox Easter | Ukrainians rejoice at midnight Pascha service and meal (Elkhart Truth, Ind.)
Church life:
Lord Carey of coalface | Preaching in a London church, Lord Carey has suggested that, if the Church of England wants to reverse the decline in churchgoing, it should appoint bishops who have increased their congregations "at the coalface" (as, coincidentally, he did in his Durham parish) rather than those who have spent most of their career as academics (which, equally coincidentally, could be a description of Dr Rowan Williams). (Telegraph, UK)
Holy spirits | Two Savannah ministers from different Pentecostal branches say spirit-filled worship and excitement about God are swelling the attendance numbers at their churches. (Savannah Morning News, Ga.)
For these worshipers, it's Jesus tattoos and praise the Lord | A lithe, 22-year-old redhead with silver loop earrings and tattoos of Jesus on his left forearm and the word "Zealot" on the back of his neck, Mr. Williams quotes the Book of Matthew and Agnostic Front lyrics with equal ease. And in 2002 he started the Underground Church, an organization intended to minister to Christian punks. (The New York Times)
Inter-church collaboration advocated | The Very Reverend Julius Dzodzordzi of the Hohoe Methodist Church at the weekend, called for inter-church collaboration to achieve closer ties as the necessary tool for the growth and development. (GhanaWeb, Ghana)
2 hurt when semi hits church van in Ind. | A semitrailer slammed into a church van at an intersection Friday, injuring the van's 11 passengers and the truck driver. (Associated Press)
Saint Paul-Unveiled in Damascus countryside | At the Covent of Saint Paul the Messenger Revelation in Tel Cawkab in Damascus countryside, a memorial for Saint Paul was unveiled yesterday in the presence of Metropolitan, Germain Representative of his holiness Patriarch of Russia Alexy II. (Arabic News)
Closing churches:
Church worships together for last time | Nearly 90 percent of the congregation is leaving St. Nicholas' to begin Christ Church Midland (Anglican Communion) after Bishop Wallis Ohl of the Episcopal Diocese of Northwest Texas told those who were dissatisfied with the direction of the national Episcopal Church to leave the St. Nicholas church building by June 1. Controversy has been over Biblical teachings and the denomination's election of a gay bishop and stance on same-sex marriage blessings. (Midland Reporter-Telegram, Texas)
St. Matthew's closes next week | Membership in the 114-year-old church at Broad and Rapp streets has declined significantly in recent years, said Leetsdale native Margaret Maccaglia, a longtime member. The church has 20 active members; in 1966, it had 160 active members. Maccaglia, 76, attributes the decline to the exodus of young people to other areas where job prospects are better. (Beaver County Times, Penn.)
Missions & ministry:
Bales lands on Skid Row | In April, Bales became president of Union Rescue Mission on Skid Row in Los Angeles. The mission is the largest organization of its kind in the nation and the oldest in Los Angeles. (Pasadena Star-News, Calif.)
Church hosting support program | Hoping to provide a needed service for people in the area recovering from a drug or alcohol addiction, Calvary Chapel of Fredericktown has started a Bible-based support program. (Uniontown Herald Standard, Pa.)
Lucky tsunami survivors begin moving to new homes | Stumbling in the tropical heat after a 40-hour flight from St. Louis, volunteers from the evangelical charity Service International have been put right to work building homes for Sri Lankan tsunami survivors. (Reuters)
For the young, hip and Christian, these stores rock | Religious bookstores expand their offerings and become destinations for live music and good, clean hangin' out. (Los Angeles Times)
Ex-gangster tells students about his experiences | A reformed East End gangster gave a talk at a local school about the error of his ways. (Waltham Forest Guardian, UK)
Physical therapist leads medical group on mission | Rick Schurman made his first medical mission trip to the Dominican Republic last year and is now helping coordinate another. (Wausau Daily Herald, Wisc.)
Communal Christian group donates kidneys | Medical ethicists are intrigued by a communal group called Jesus Christians, many of whose members have donated one of their kidneys to total strangers. (KRQE, N.M.)
New Christian games are praiseworthy | Religion and computer games are new best friends. (Houston Chronicle)
People:
Elderly sisters killed when car bumped into river | Two sisters carrying a carload of food for a relative's graduation party died over the weekend when a car of teenagers hit them from behind and sent their vehicle into the Pere Marquette River. Family and acquaintances remembered the sisters as born-again Christians who loved to cook, specially for their church's Easter meals, play games and shop. (Associated Press)
Bennett professor in elite group | Coleman, a preacher in the African Methodist Episcopal Church and in her first year as an assistant religion professor at the Greensboro women's college, has been named one of "20 to Watch" in an upcoming edition of a clergy publication. (Greensboro News Record, N.C.)
The Very Reverend Frank Curtis | The Very Reverend Frank Curtis, who has died aged 82, was Provost of Sheffield from 1974 to 1988, and before that spent 19 years on the staff of the Church Missionary Society, responsible for the fostering and organising of overseas missionary concern within the Church of England. (Telegraph, UK)
Religion & spirituality:
Bless me, blog, for I've sinned | Online confessors are like flashers. They exhibit themselves anonymously and publicly, with little consideration for you, the audience. Browse some of the confessionals on the Web: grouphug.us, notproud.com or dailyconfession.com. You can see for yourself. (The New York Times)
Witches, druids and other pagans make merry again in the magical month of May | In a ritual that represents the connection between the earth and the sky, more than 300 pagans danced around the maypole on Thursday in the woods at a campsite in southwestern Massachusetts. (The New York Times)
Conference a first step in understanding faiths | Islanders have been opening their minds to different religious views at Guernsey's first inter-faith conference. (Guernsey Weekly Press, UK)
Marriage & family:
Discipline do's & don'ts | Most, but not all, experts say spare the rod - it won't spoil the child (Cincinnati Enquirer)
Have more babies appeal by church | More than 100,000 members of the German Evangelical Lutheran Church were told yesterday to produce more babies to save their society from collapse. "A society with no children has no future," Eckhard Nagel, president of the Evangelical Church Congress, said on the final day of the church's 30th assembly here. (Gulf Daily News, Bahrain)
Israel:
Christian donations welcome here | A real revolution has occurred, however, in the field of donations emanating from the Christian world. Today these contributions represent the major form of assistance for welfare projects in local government; there is hardly a needy local council in Israel that does not get assistance from the International Fellowship of Christians and Jews. (Ha'aretz, Israel)
Jews, Protestants heading to Israel | Jewish and mainline Protestant leaders are planning a joint trip to Israel in September, hoping to break an impasse in their sensitive talks over Israeli treatment of Palestinians. (The Journal News, New York)
War & terrorism:
Rite honors Iraq dead | Interfaith group remembers soldiers, civilians (Rochester Democrat and Chronicle, N.Y.)
Filling in a memorial's blank space | How best to honor all the war dead of a church that was built almost 10 years before the Civil War, when the view across Court Street still offered a clear view of the Narrows that gave it its name? (The New York Times)
How can pacifists honor and respect soldiers? | Christians will not accomplish peace, will not be able to end war and discontinue the practice of Christians killing Christians (and others), until a pacifist way is found to honor soldiers who have served in past wars. (Editorial, Roanoke Times, Va.)
Indonesian bombing targets Christian village:
Christians bury their dead after market bombings | Families have been burying the victims of twin bombings that killed at least 20 people in a crowded marketplace in a Christian-dominated town in Indonesia. (Scotsman)
Two held over Indonesian bombings | Two people have been detained over twin bombings in Indonesia that killed 20, the country's vice president said today, adding that the pair were witnesses who could lead to the capture of those responsible. (Melbourne Herald Sun, Australia)
Sulawesi push for peace blown up | Whether the work of Islamic extremists from outside the region or local agitators, the deadly bombing on Indonesia's Sulawesi at the weekend would unravel months of effort to reconcile warring Christians and Muslims on the island, community leaders said yesterday. (AFP)
Indonesia steps up hunt for market bombers | Indonesia held a crisis meeting on Sunday in the wake of bomb attacks that killed 22 people in a Christian town, as the president said he would cut short an overseas trip if authorities could not handle the situation. (Reuters)
Indonesian police hunting bombers | Security has been stepped up on the Indonesian island of Sulawesi following deadly bomb attacks at a market. (BBC)
Suicide bomber investigation into market blast | Indonesian police are investigating whether twin explosions that killed 20 people in a busy market on the island of Sulawesi at the weekend were the work of a suicide bomber. (NEWS.com.au, Australia)
Indonesia police looking at possibility of suicide bomber in Sulawesi blasts | Police said they are investigating whether twin explosions that killed 20 people in a busy market on the island of Sulawesi at the weekend were the work of a suicide bomber. (Forbes)
Indonesian Christians bury bombing dead as church leaders plead for calm | Tearful mourners Sunday began burying the victims of twin bombings that killed at least 20 people in a crowded marketplace in a Christian-dominated town—the deadliest terrorist attacks in Indonesia since the 2002 Bali bombings that killed hundreds. (Associated Press)
Persecution:
Eight Protestant leaders arrested in Riyadh | Vijay Kumar, a 45-year-old Indian national from the state of Tamil Nadu, and seven other Protestant leaders were arrested by the Muttawa, Saudi Arabia's religious police. (AsiaNews)
Iranians find freedom in Q-C | Ms. Bazdar grew up as a Muslim in Iran but converted to Christianity with her husband, Saeed Sabetghadam, while studying in Malmo, Sweden. The decision to convert was a difficult one for Ms. Bazdar and her husband, because they understood their secret conversion could not be revealed to their families in Iran. The result would be death. (Quad-Cities Online, Ill.)
Measuring progress in the Arab world: Check the "Christian barometer" | The heated debate over the prospects for change in the Middle East has yet to provide us with a method to measure the progress towards democratic reform in the Middle East. Leon Hadar proposes a novel multicultural approach — one that includes monitoring the status of the large Christian minorities. (The Globalist, DC)
'Qur'an abuse':
Reports of mishandling Koran bring protest worldwide | Thousands of Muslims joined hands Friday in waves of protest across the Muslim world to denounce reports that American interrogators at the prison camp at Guantánamo Bay, Cuba, had desecrated the Koran. (The New York Times)
Muslims rally over Koran report | Alleged desecration leads to protests in several countries (Washington Post)
Also: If Muslims called Allah 'God,' would the U.S. be more respectful? | Whether or not a Koran was desecrated at Guantanamo Bay, as Newsweek magazine reported recently before issuing a retraction, no one doubts that it could have happened. (Remember Gen. William Boykin, a deputy undersecretary of Defense who suggested that Allah is not a "real God" and told Christian congregations how he was strengthened in his battle with a Muslim warlord in Somalia by his conviction that "my god was bigger than his"?) (Michael McGough, Los Angeles Times)
Christians on campus:
Christian group boasts 120 in general membership | Here at the College, the evangelical group Navigators maintains a lower profile, but thrives nonetheless. The organization attracts scores of students to its weekly meetings, and a member of the group — Noah Riner '06 — was just elected Student Body President. (The Dartmouth, N.H.)
Conservative Christians active at OU, but say they feel hostility | Shimrock is just one of a large and dynamic group of conservative Christians on campus, many of whom feel their presence isn't welcome in the Athens community. Shimrock belongs to Campus Crusade for Christ, an OU religious student organization that boasts about 400 members. This makes it one of the largest student organizations on campus. (Athens News, Ohio University)
Local religion has variety and commitment | According to the Ohio University Web site, 32 places of worship and 19 different religious student organizations, ranging from Islam to Christianity to Judaism and more, provide students plenty of opportunities to practice, study and explore their religion and spirituality. (Athens News, Ohio University)
Mass appeal to Catholics on campus | The Catholic Church has moved to extend its reach into Sydney, planning to double its chaplaincy staff on at least three campuses and provide a daily Mass for students. (Sydney Morning Herald)
Education:
School panel agrees on plays policy | A committee of the Loudoun County School Board voted Wednesday to recommend a policy that would ban obscenity in school plays and require that student drama take account of community sensibilities. The policy, however, would not directly mention sexuality. (Washington Post)
School prank fails to amuse its audience | The senior class at Lighthouse Christian Academy thought they were pulling a harmless graduation prank, according to a report from The Associated Press. Class members sneaked into the school and slathered Crisco on door handles, covered toilet seats with plastic wrap and barricaded stairways with plywood. (Bob Caudle, The Morning News, AR)
Countering stereotypes | Imagine a religion where a goddess is chief of all the elves that wander the Earth and where people play in cow dung and urine during holy festivals. These are some of the glaring errors and misconceptions about Hinduism that Mona Vijaykar, a Saratoga mom, has spotted in state-approved textbooks, literature and other teaching materials at her son's school and elsewhere. Over the years, Vijaykar more often has seen subtle mistakes because teachers are unfamiliar with prominent Indian religions such as Hinduism, Islam and Sikhism. (Mercury News, Calif.)
Evolution:
Evangelicals divided over evolution | For many evangelical Christians, the debate over teaching evolution in public schools touches a vital spiritual nerve. Some see evolution as a path to perdition, while others see it as a crowning example of God's handiwork. (Philadelphia Inquirer)
Darwinism, left and right | Darwinism is, yet again, under attack from creationists via the allegedly new theory of "intelligent design." (Peter Foster, National Post, Canada)
Smithsonian to screen a movie that makes a case against evolution | Fossils at the Smithsonian Institution's National Museum of Natural History have been used to prove the theory of evolution. Next month the museum will play host to a film intended to undercut evolution. (The New York Times)
Books:
Q. Whose Bible is it? A. Whose isn't it? | Today, as in the long-ago past,the scriptures may divide but, in a wider sense, they conquer (The Christian Science Monitor)
A mystery: When will 'Da Vinci' go into paperback? | Until now, anyone who had predicted that "The Da Vinci Code" was on the verge of losing momentum had been proven wrong, as the book has remained near the top of nearly every national best-seller list for more than two years. Nevertheless, "The Da Vinci Code" now appears to be losing momentum. (The New York Times)
'No god but God': The war within Islam | These are rough times for Islam. It is not simply that frictions have intensified lately between Muslims and followers of other faiths. There is trouble, and perhaps even greater trouble, brewing inside the Abode of Peace itself, the notional Islamic ummah or nation that comprises a fifth of humanity. (The New York Times)
Winner's latest offers a sexual reality check | In the first sentence of her book Real Sex, 28-year-old doctoral student Lauren Winner writes that chastity is "an unabashedly churchy word." Yet this very unstereotypical prude with a past spends her entire volume touting the advantages of that concept. (Cox News Service)
History:
A race to save Sudan's past from progress | The affected locations, according to government scientists, include the noted Pharaonic and Napato-Meroitic towns and cemeteries at Gebel Barkal, the post-Meroitic tumuli of Zuma and the Christian monastery of Ghazali, among others. (The New York Times)
Canadian scholar to join team searching for Noah's Ark | A New Brunswick biblical scholar will join a team of evangelical Christians this summer as they scale a Turkish mountain in search of Noah's Ark. David Graves, the only Canadian on the team, will join a dangerous and frigid expedition up Mount Ararat, where the ark is said to have landed after the great flood. (Canadian Press)
Music:
A soundscape of people oppressed - and moving up | Today's focus on 'roots music' gives new interest to the cries, hollers, hymns, and sermons known to slaves (The Christian Science Monitor)
From island roots, often solemn, always loving | Mr. Guerra's current tour celebrates a 20-year career that has actually been multiple careers. He has no equivalent in English-speaking pop. (The New York Times)
Slipknot plays in Greece despite protest | Metal band Slipknot hit the stage here despite a request by the Greece's Orthodox Church for concert organizers to cancel the show because of the group's violent lyrics and references to the devil. (Associated Press)
Earlier: Greek Church seeks ban on Slipknot show | Greece's Orthodox Church urged concert organizers Monday to cancel a planned show by extreme metal band Slipknot because of the group's violent lyrics and references to the devil. (Associated Press)
Film & television:
A cruel choice for a priest manipulated by the Nazis | Tall, hollow-cheeked and unnervingly thin, the German actor Ulrich Matthes is well suited to playing men living at moral extremes. (The New York Times)
Ultra-Orthodox Jews turn to movie-making | Traditionally insular, the ultra-Orthodox world has shunned popular culture, worrying it would undermine its way of life and impart foreign ideas to devout followers. So much so that they are known as haredim, Hebrew for those ``fearful'' of sinning. But the haredim are beginning to use the same media they have shunned to woo younger devotees. (Reuters)
Fans take action over 'Joan' cancellation | Even God is vulnerable to low television ratings. CBS' decision this month to cancel the drama "Joan of Arcadia" after two seasons has baffled and angered its fans. Many are peppering CBS and anyone who will listen with e-mails trying to find some way to keep the series alive. (Associated Press)
Arabs praise 'Kingdom of Heaven' for even-handed treatment of Crusades | When the mere mention of America seems to spark riots in Muslim cities, a Hollywood epic about the Crusades could easily ignite real rage. Yet director Ridley Scott's film "Kingdom of Heaven" has inspired mostly favorable reviews from theater audiences here and from a largely anti-U.S. Arab press. (Pittsburgh Tribune-Review)
Related Elsewhere:
Suggest links and stories by sending e-mail to weblog@christianitytoday.com
See our past Weblog updates:
May 27 | 26 | 24 | 23
May 20 | 17 | 16
May 13 | 11 | 9 | 6
April 28 | 26 | 25 | 22 | 19
April 15 | 14 | 13 | 11
April 5 | 1 | March 31 | 30
Weblog
Launched in 1999, Christianity Today's Weblog was not just one of the first religion-oriented weblogs, but one of the first published by a media organization. (Hence its rather bland title.) Mostly compiled by then-online editor Ted Olsen, Weblog rounded up religion news and opinion pieces from publications around the world. As Christianity Today's website grew, it launched other blogs. Olsen took on management responsibilities, and the Weblog feature as such was mothballed. But CT's efforts to round up important news and opinion from around the web continues, especially on our Gleanings feature.
Ted Olsen is Christianity Today's executive editor. He wrote the magazine's Weblog—a collection of news and opinion articles from mainstream news sources around the world—from 1999 to 2006. In 2004, the magazine launched Weblog in Print, which looks for unexpected connections and trends in articles appearing in the mainstream press. The column was later renamed "Tidings" and ran until 2007.
Previous Weblog Columns: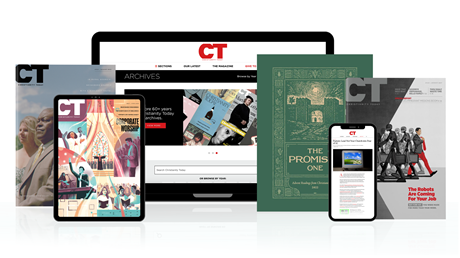 Annual & Monthly subscriptions available.
Print & Digital Issues of CT magazine
Complete access to every article on ChristianityToday.com
Unlimited access to 65+ years of CT's online archives
Member-only special issues
Subscribe
The Joys of a State Church
The Joys of a State Church